Thousands of Thais to return by the end of May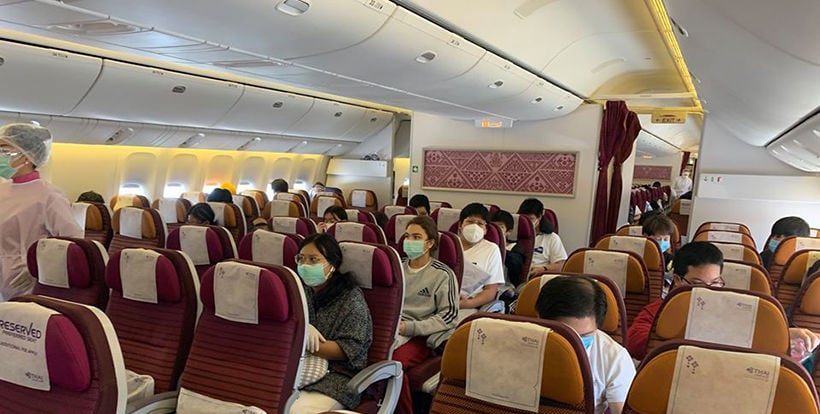 The Centre for Covid-19 Situation Administration has announced that all Thai nationals, stranded abroad during the peak of the outbreak, will be repatriated. The government is preparing to welcome around 7,000 returnees who will arrive by the end of the month.
Taweesilp Visanuyothin, spokesman for the CCSA says that the centre is working closely with the Ministry of Foreign Affairs and related other agencies to bring more stranded Thais home.
"Since April 4, we have repatriated 4,637 Thais stranded in 27 countries across the world, and we are now planning to bring another 7,000 back by the end of this month."
Taweesilp says any Thai citizen abroad wishing to return must inform the Thai embassy in the country they are staying of their plans, so quarantine arrangements can be made. He stressed the 14 day state quarantine is mandatory for all returnees.
According to the CCSA, around 9,000 Thais overseas have lodged requests to return to Thailand. The largest number of requests came from Thais in the US, which also has the highest confirmed number of virus cases and fatalities.
"Those seeking to return must contact the nearest Thai embassies or consulates as soon as possible because the government needs to know the number of returnees and their date of arrival."
"If the number of returnees from a single destination is greater than the capacity of the repatriation flight, some people will have to wait for the next flight, and those who registered earlier will be given priority
Thai PM Prayut Chan-o-cha has ordered the Ministry of Foreign Affairs to do its best to help all Thais who want to return home. Yesterday 161 Thais arrived at Suvarnabhumi Airport on a repatriation flight arranged by the Thai Consulate-General in Hong Kong, along with 131 other Thais from the Maldives.
Taweesilp says 59 Thais from Myanmar, 110 from Germany and 122 from Pakistan are scheduled to arrive today, and another 150 each from South Korea and South Africa will arrive tomorrow.
The government has also organised special flights to repatriate Thai citizens stranded in the United Arab Emirates, Egypt, Japan, the Netherlands, Vietnam, Taiwan, India, and the US. Those flights will depart beginning tomorrow through Monday. The government has prepared 796 quarantine facilities nationwide with a total of nearly 21,000 beds to handle the influx.
SOURCE: Bangkok Post
Keep in contact with The Thaiger by following our
Facebook page
.
Bangkok braces for Black Lives Matter rally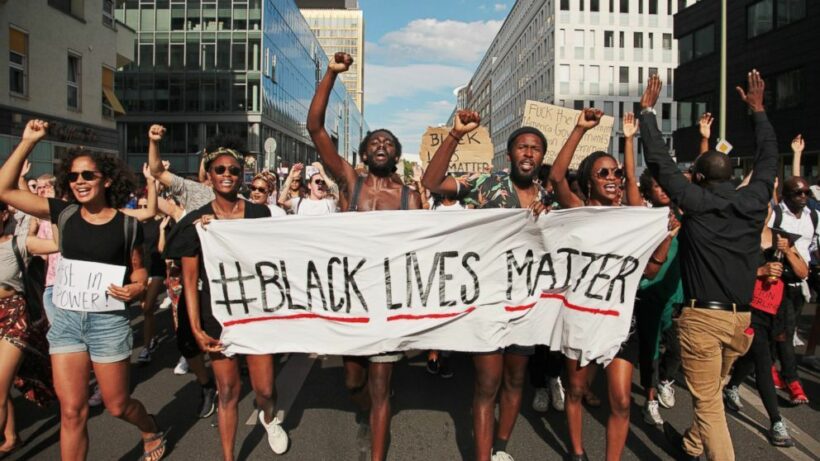 The death of black American George Floyd at the hands of police burgeoned into a storm of protests reaching across the globe; one that will reach Bangkok this weekend. The vast majority of demonstrations over the past 8 days in the US have been peaceful, but some have turned violent and curfews have been imposed after looting in a number of US cities. "Justice for George Floyd (Peacefully Paying Our Respects)," a rally in support of the Black Lives Matter movement, is expected to be held Sunday from 1pm-3pm at a location to be confirmed.
Attendees are encouraged by the event's organisers to wear black, wear masks, bring signs and practice social distancing. The event was announced Tuesday, and more than 800 people have so far expressed interest. Reached for comment this afternoon, organisers said the event is more likely be held "virtually". Public assembly is currently banned in Thailand under the Emergency Decree enacted to fight the spread of Covid-19.
Thailand, which has its own history of police brutality, denied using using that decree last month as a pretext to quash an anti-government rally.
New charges have been announced against all of the sacked US police officers present at George Floyd's death in Minneapolis, Minneota. The charge against the officer who held his knee on Mr. Floyd's neck, has been elevated to second degree murder. 3 other officers, previously uncharged, now face counts of aiding and abetting murder.
SOURCES: Coconuts Bangkok | BBC
Keep in contact with The Thaiger by following our
Facebook page
.
Beauty clinic designs special face masks for facial treatments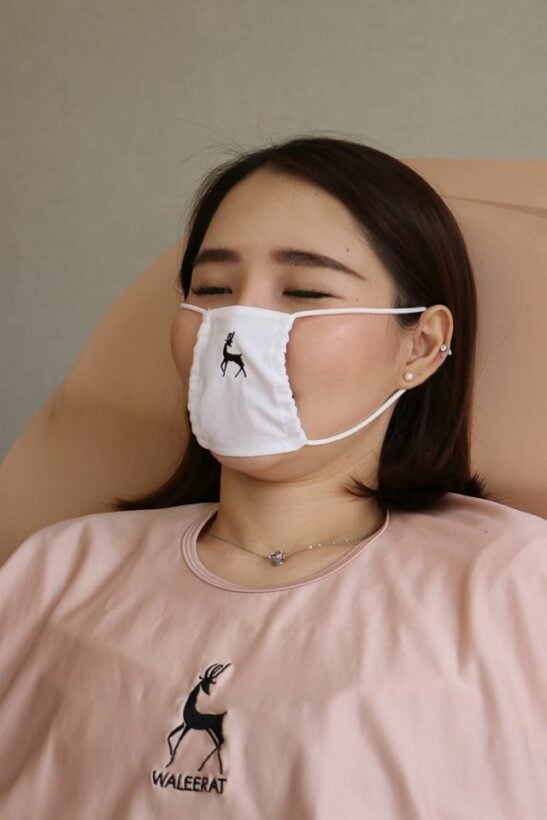 A skin and beauty clinic has designed a mini face mask for clients getting close-up facial treatments to prevent the spread of the coronavirus and comply with the rules set out by the government. But the mask allows therapists to still get to most of the face so they can apply the same procedures.
Waleerat Clinic in Bangkok made re-usable cloth masks that are narrower than typical face masks, covering the mouth and nose but leaving the cheeks open. The staff also protect themselves by wearing face shields. The clinic's chief told Reuters they also plan to design another mask the leaves most of the nose out so they can treat that area without taking the mask off the client.
"At first, I thought it was weird but it is actually really great because it's specifically designed to keep us safe during facial treatments," a laser treatment customer told Reuters.
The clinic, which opened in the third phase of restriction lifts, says they've drastically cut down the amount of clients coming in the centre each day from more than 100 people to just 15. They also require temperature and health checks.
SOURCE: Reuters
Keep in contact with The Thaiger by following our
Facebook page
.
Huge Nike flagship store opens in Bangkok's Siam Center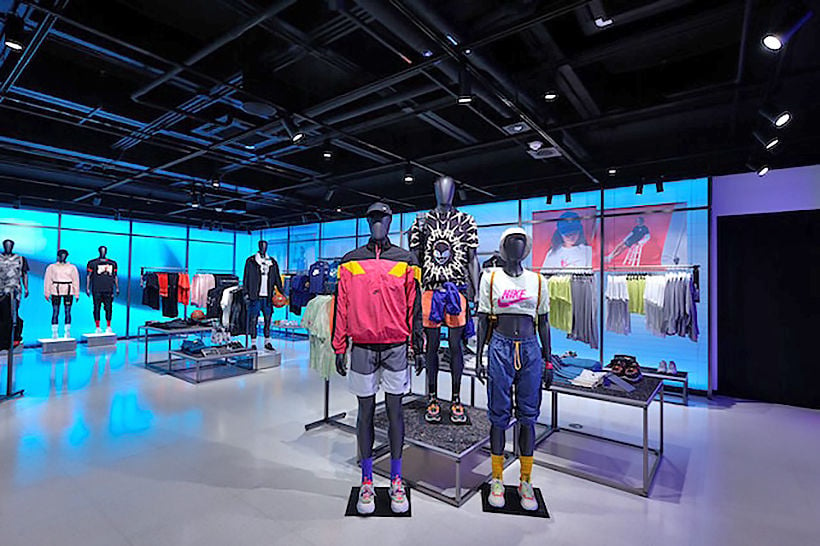 A massive Nike flagship store is now open in Bangkok's Siam Center, with a 'footprint' spanning more than 836 square metres of prime retail space in the capital. Intended to showcase Nike's innovation across multiple product categories, the store offers the brand's first "Nike By You" in-store customisation service in Thailand.
Retailers are now pulling out all stops to lure you back to their stores. The rise on online retail is having a massive effect on retail traffic – the Covid-19 pandemic isn't helping either. But Valiram, the Southeast Asian luxury and lifestyle retail specialist, who have opened the store are defying the trend and invested in a stunning shop-front in one of Bangkok's more sophisticated shopping precincts.
According to the director of Nike stores for Southeast Asia & India…
"Nike Bangkok at Siam Center exists to offer everyone the ability to make sport a daily habit, ensuring they are inspired and committed to staying active. The top Nike offerings have been carefully curated for this community, and the store has been conceptualised with multiple touch points for a fully immersive and seamless Nike experience that is truly personalised and unique."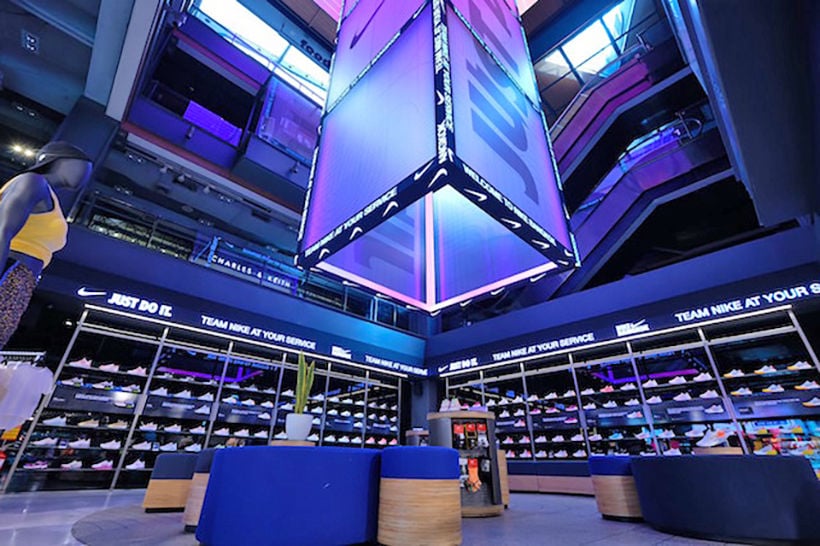 Services like head-to-toe apparel fitting and footwear trial are offered to provide consumers opportunities to deepen their connection with the brand and select products suited to their needs. Customers can also book one-on-one sessions with running experts and styling specialists.
Valiram describes the new store as a "truly unique and immersive experience that pushes the boundaries of retail, empowering consumers to engage with Nike products in new ways."
"Creating a world-class retail environment is a Valiram hallmark and the opening of Nike Bangkok at Siam Center in partnership with Nike reaffirms that."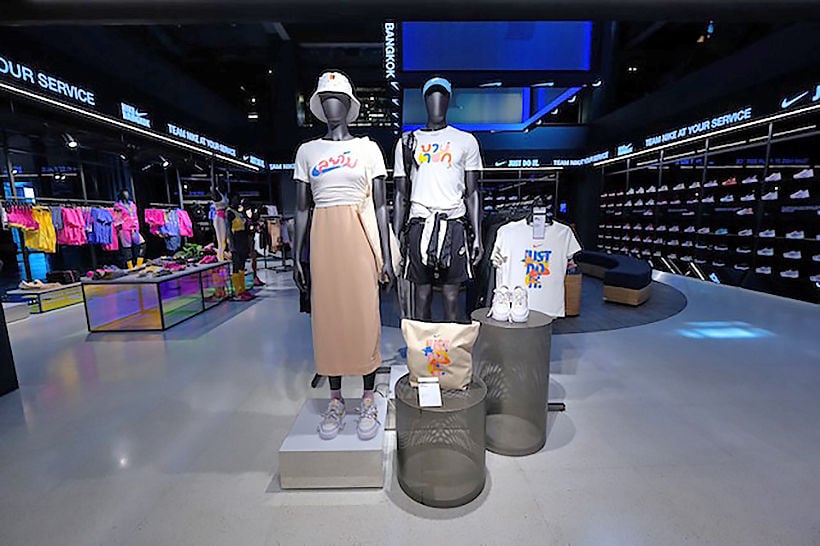 SOURCES: thaivisa | insideretail
Keep in contact with The Thaiger by following our
Facebook page
.