Tobacco giant lobbies Thai government to reverse vaping laws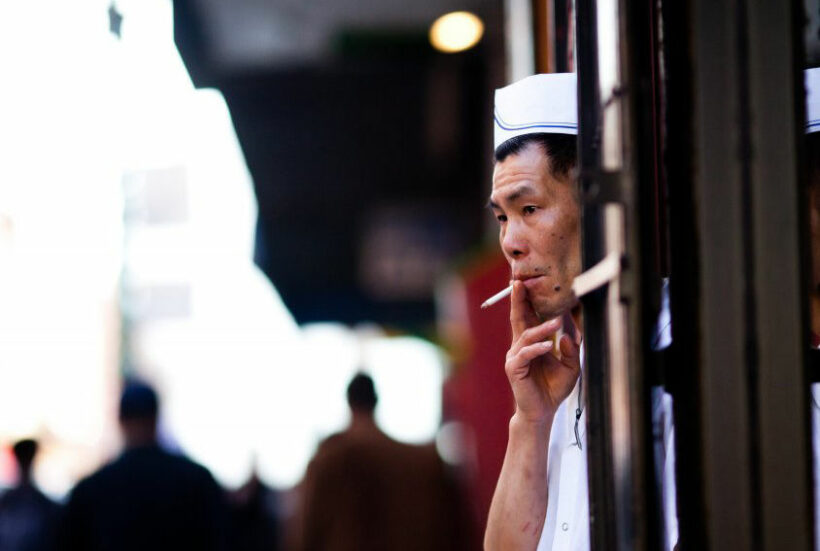 PHOTO: Sampan.org
Leading Thai cigarette importer Philip Morris Trading wants the new government and policymakers to start talking with the tobacco industry to find constructive solutions to reducing harm caused by smoking.
The tobacco giant is hoping the new government will consider innovative "smoke-free products" (vaping) for smokers, who would otherwise continue smoking.
Cut to the chase – Philip Morris, under attack from bad PR and decades of law suits, are now swinging their product lines around to e-cigarettes and vaping, instead of combustible cigarettes
Thailand has banned the import, sale and servicing of e-cigarettes since 2014, with violators facing arrest and a jail sentence. Philip Morris want the law changed so they can swing cigarette smokers over to a vaping habit instead.
Gerald Margolis, managing director of Philip Morris Thailand, says the company wanted to call on the government to make way for a discussion that is backed by findings about the impact of smoking and encourage policymakers to review scientific evidence indicating that smoke-free products are a safer alternative to cigarettes and could significantly reduce risks once smokers switch completely to e-cigarettes (which Phillip Morris also produce).
"With current developments in technology and science, it's a great opportunity that we could get away from some ideological dialogues that we have had in the past and have more talks about fact and science instead to help create a smoke-free future in Thailand."
Philip Morris International, along with its sister organisation in Thailand, is working to create a smoke-free environment by planning to completely discontinue the production and distribution of combustible cigarettes and replace it with smoke-free products as soon as possible, according to Margolis.
Since 2008, Philip Morris has invested more than 1.8 trillion baht to develop smoke-free products or "heat-not-burn" cigarettes that remain well below the point of combustion when lit.
Scientific research has found that the primary source of harm from smoking comes from harmful chemicals in the smoke from a burning cigarette, not the nicotine that is consumed.
In the past, the tobacco firm held regular discussions with the Commerce Ministry and Excise Department to share its scientific results and studies on alternative products, but it never held face-to-face meetings with public health agencies.
Margolis said moves to cut down on tobacco-related harm and promote smoke-free products was mostly successful in countries where scientific findings were shared with and embraced by public health agencies, and companies like Philip Morris were allowed to share related information with consumers so they could learn about the products and their benefits.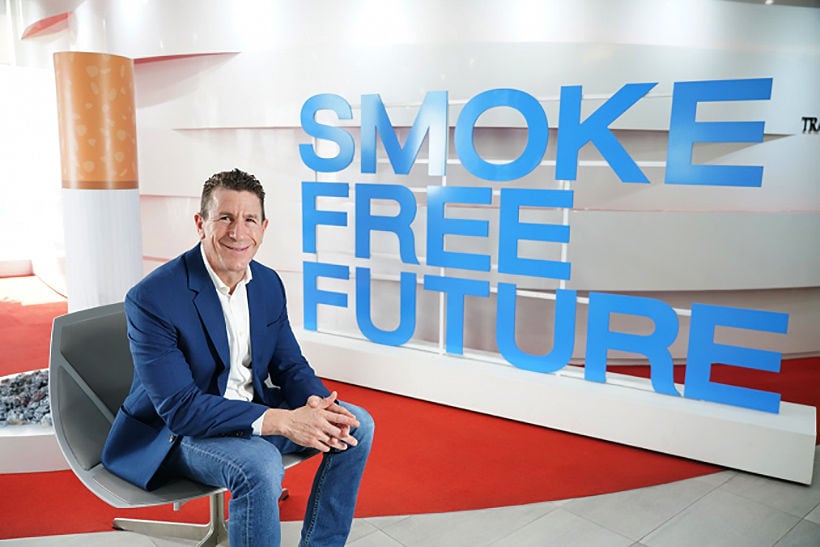 Gerald Margolis, managing director of Philip Morris Thailand
SOURCE: The Nation
Keep in contact with The Thaiger by following our
Facebook page
.


Are you considering a medical procedure abroad? With Thaiger Medical you can research hospitals and doctors, choose a destination in Thailand or abroad, and book an appointment today.

Read more headlines, reports & breaking news in Thailand. Or catch up on your Thailand news.

Cooler weekend on the way across Thailand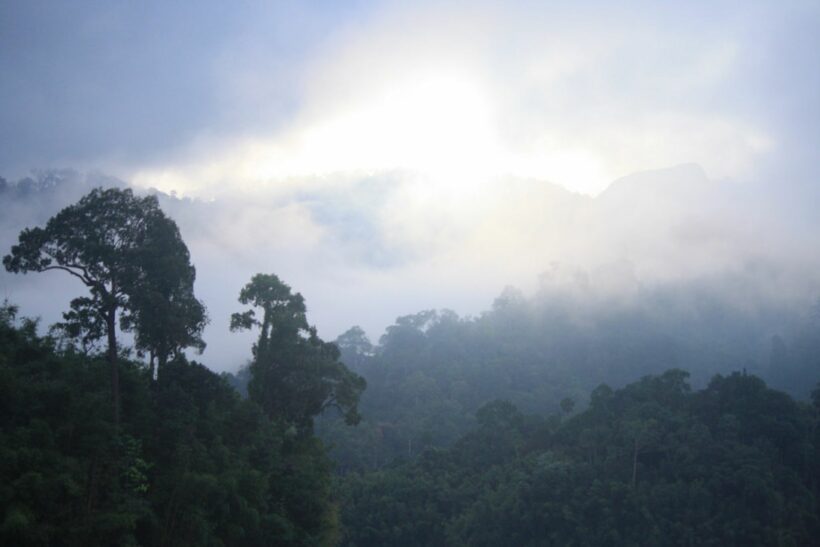 PHOTO: rove.me
It's winter, but not in the smow/sleet/icy roads sort of way. Winter in Thailand means clear blue skies in the south and cooler temperatures in the central and northern regions. (Five day forecasts below)
Most parts of Thailand are forecast to experience cooler weather this weekend, when temperatures in the north and north-east are forecast to drop to between 6oC and 12oC and as low as 1oC on mountain tops due to an intense cold front now looming over southern China and parts of Thailand.
Temperatures in Bangkok, as well as provinces in the central and eastern regions, are also forecast to dip to 13-18oC from December 7–9, according to Thailand's Meteorological Department today.
Because of the cold, but dry weather, the TMD is warning of the possibility of fires spreading from the burning of farm waste.
Strong winds and high waves are also expected in the Gulf of Thailand, with waves from 2-4 metres.
Five day forecast for Chiang Mai (below)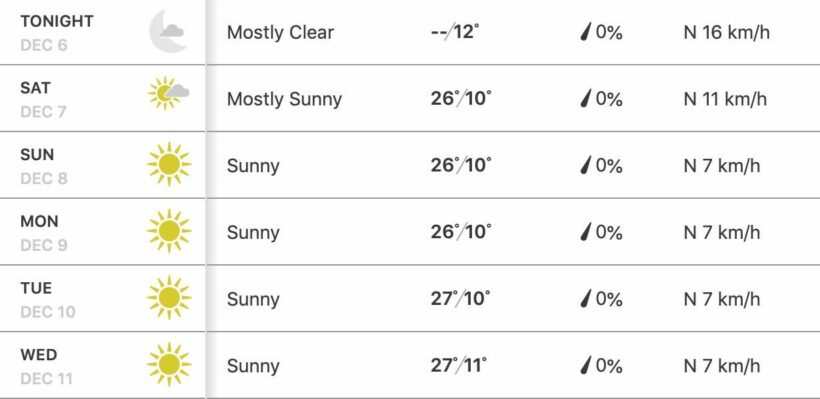 Five day forecast for Phuket (below)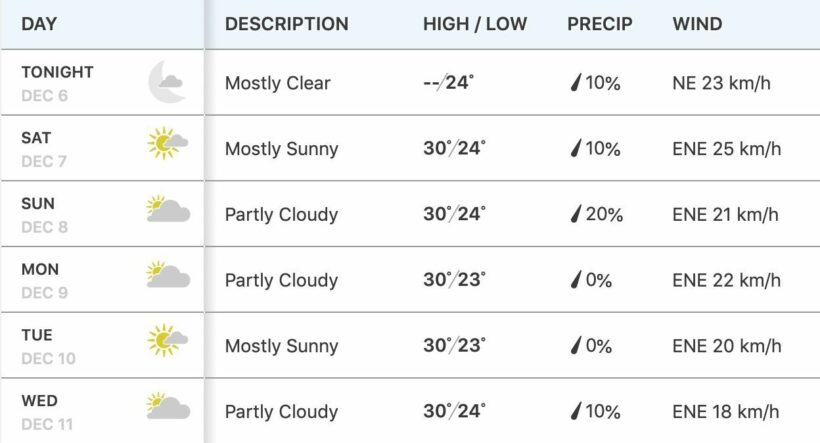 Five day forecast for Bangkok (below)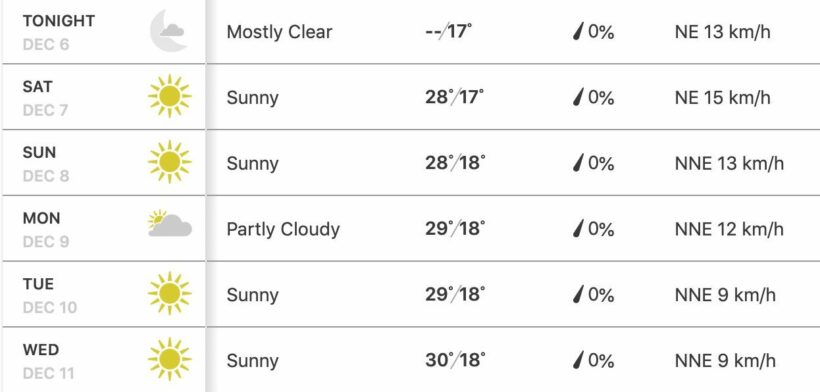 Five day forecast for Koh Samui (below)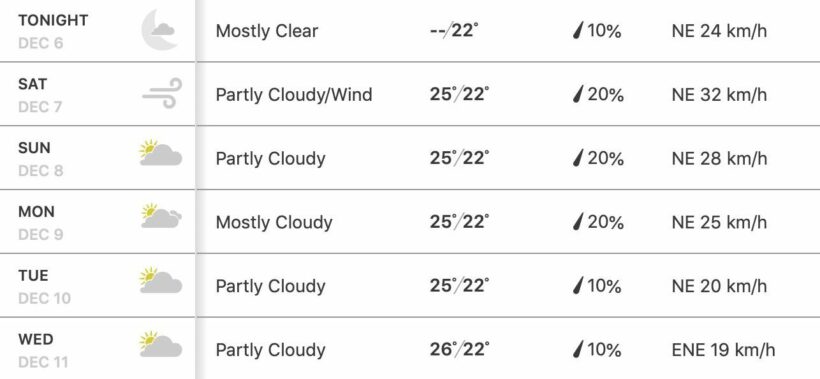 Five day forecast for Pattaya (below)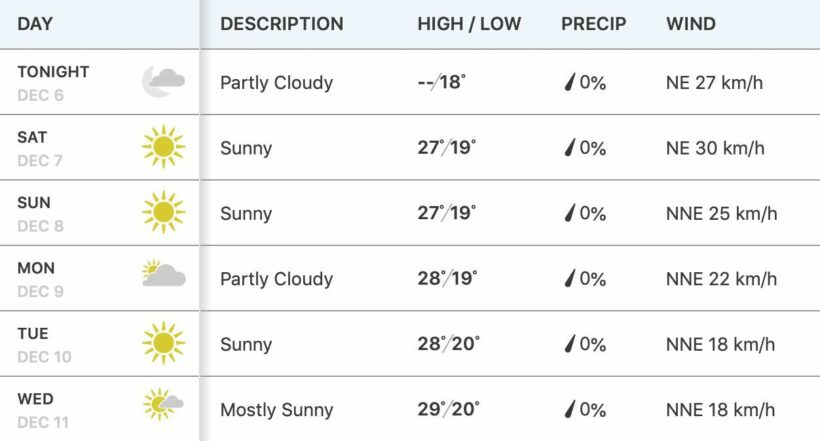 Keep in contact with The Thaiger by following our
Facebook page
.
Number of foreign companies investing in Thailand up over 100%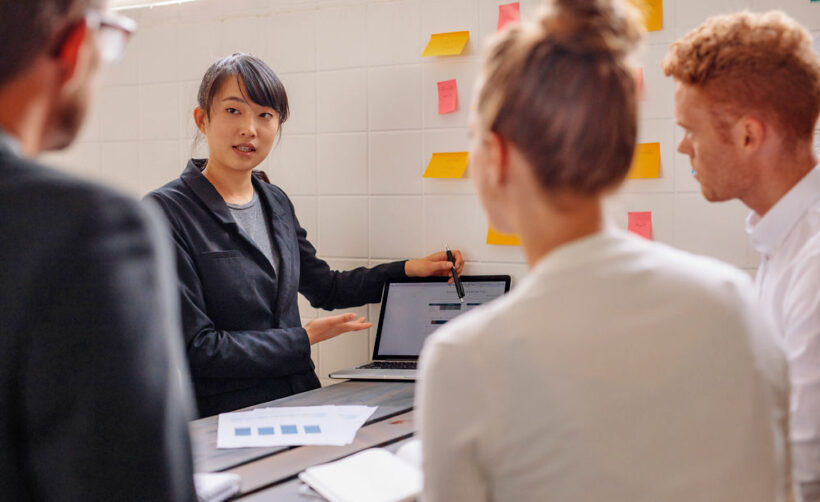 Foreign investment in Thailand has grown by 106% according to the National News Bureau of Thailand, with officials rolling out a number of measures to make foreign investment less complicated. The latest increase is despite a fall in the number of foreign companies approved to carry out business in the Kingdom – down 23% from last year.
Poonpong Naiyanapakorn, deputy director general of the Department of Business Development, cites various ongoing projects for the increase, including services to assist in the exploration of natural resources, mining for petroleum, and various metro projects.
During the first nine months of 2019, the Board of Investment (BOI) processed 1,165 foreign investment projects worth over 314 billion baht, reflecting an 11% increase compared to the previous 12 months.
The Department of Business Development is reported to be improving the application process, simplifying regulations and assisting investors who've requested investment promotion from the BOI. While foreign investors who've received business promotion still need to apply for foreign business certification within 30 days, they are exempt from having to process a business operations permit.
An information sharing scheme is now in the works that will enable foreign organisations to pay fees online, meaning they should be able to get their foreign business certification in just one day.
SOURCE: National News Bureau of Thailand
Keep in contact with The Thaiger by following our
Facebook page
.
Number one cause of death among Thais is cancer-related diseases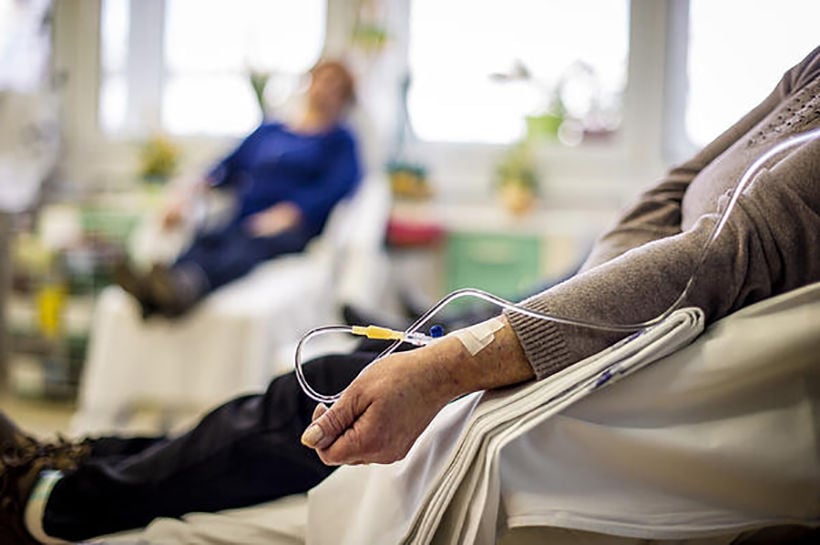 The Ministry of Health has identified that cancer is the number one killer of Thai citizens since 1998, adding that out of 122,757 new cases diagnosed in 2019, 73,000 patients have died. The article did not list the specific cancers although other research indicates that lung cancer is a leading disease amongst Thais.
In comparison, the number of road deaths has decreased from 36.2 per 100,000 people in 2015 to 32.7 out of every 100,000 in the World Health Organisation's latest report – around 21,000-24,000 annually over recent years.
Thai-language media Thai Rath reports that the dean of Mahidol University's Medical Department, Dr Piyamit Sitara, says the university has signed a Memorandum of Understanding with the National Cancer Institute of Thailand to implement a joint analysis plan, leading to precision treatment for patients.
Mahidol University is Thailand's premier medical research institute based in Nakhon Phatom, north west of Bangkok.
Both parties will collect blood samples and tissue from cancer patients, checking DNA for a pattern of cancer growth, as well as monitoring how patients are responding to treatment. It's hoped that DNA and genetic analysis will help in designing precision treatment. This would consist of treatment that is tailor-made for the individual, improving both the quality of the treatment and its chance of succeeding.
The average life expectancy of a Thai citizen is now 75.3 years, compared to the average in many western countries – around 83-86 years of age.
SOURVE: Thai Residents
Keep in contact with The Thaiger by following our
Facebook page
.