5 metre King Cobra interrupted lunching on a monitor lizard in Krabi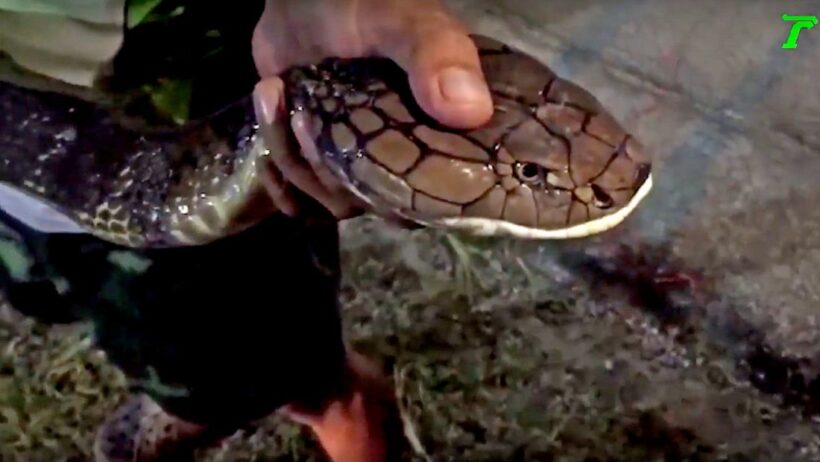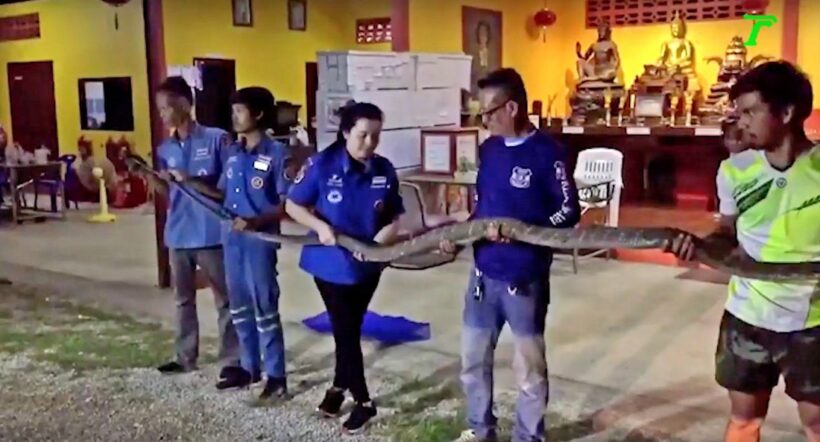 Volunteer snake catchers from the Phitak Pracha rescue foundation were called to a house in Krabi.
The owner of the Krabi house arrived home and heard her dogs barking. She went to investigate and found a five metre King Cobra making a meal out of a water monitor lizard.
Anantaya Phonbamrungwong told Thai Rath that the tail of the water monitor was still sticking out of the snakes mouth.
She called Krabi Phitak Pracha rescue volunteers who caught the snake but the suspected monitor lizard dinner was beyond retrieval. The five metre reptile needed six people to handle it for the cameras before it was taken by foundation volunteers and released back to the wild. The King Cobra wasn't smiling for the camera.
SOURCE: Thai Rath
Keep in contact with The Thaiger by following our
Facebook page
.
Never miss out on future posts by
following The Thaiger
.
Large "chunk" breaks off Krabi island, damaging coral reef at popular dive site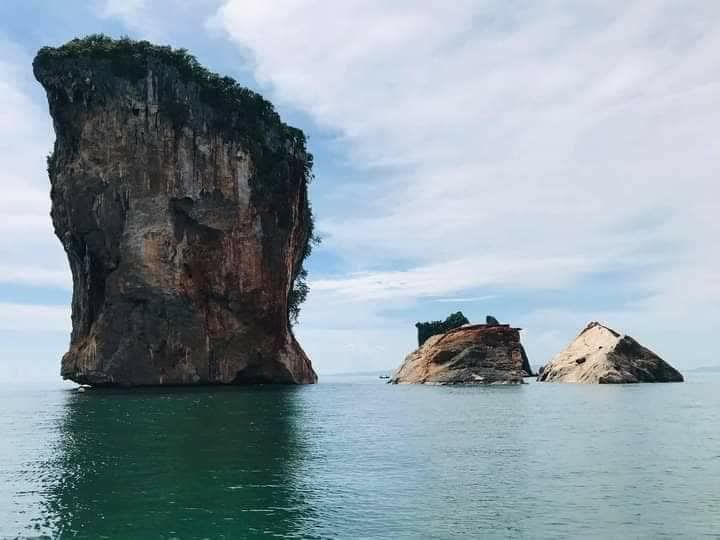 A large chunk of an island near Koh Phi Phi in southern Thailand has broken off and collapsed on top of a coral reef at a popular dive site. No one was around when the cliffsides sheered off and collapsed into the sea, but national park officers on a routine patrol noticed a section of the island had broken off and saw two large sections of rock above the water.
There has been considerable rain in the region over the past 2 months.
A section of Koh Mae Urai, located between Koh Phi Phi and Krabi, broke off in 2 large pieces estimated to weigh around 30,000 to 50,000 tonnes. Divers headed down to examine the site to see how much damage has been done to the coral reef. The water has been murky, so it's hard to tell how much damage was done, but Koh Phi Phi National Park chief, Prayoon Phongphan, says he thinks 20% of the coral around the island was damaged.
"At this stage, we do not know how much of the reef was damaged, but the reef is home to important coral, including staghorn coral, and was a popular dive site for tourists."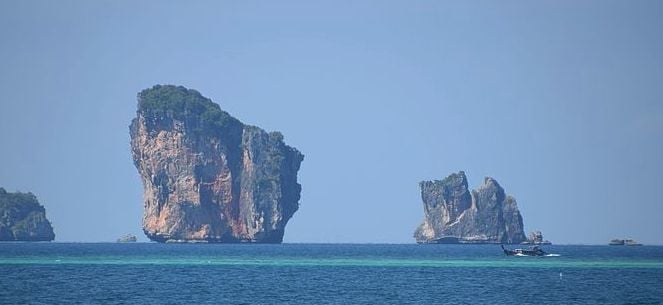 PHOTO: Wikipedia
Koh Mae Urai is a unique local dive spot with 2 tunnels lined with soft and hard corals, according to Lonely Planet. When the current isn't too strong and the visibility is good, Koh Mae Urai is "the most beautiful dive site in the Ao Nang area with number soft coral as well as seahorses", according to Krabi Magazine.
For now, the area around the island is closed off and boat operators are warned not to approach the site until marine officials can inspect the island's structure and be sure of the safety for divers and visitors.
"Please be careful. Boat operators must not approach the site. It can be dangerous… Park officers will mark off the area with buoys with a sign clearly explaining no entry to the sealed-off area."
SOURCE: Phuket News
Catch up with the latest daily "Thailand News Today" here on The Thaiger.
Keep in contact with The Thaiger by following our
Facebook page
.
Never miss out on future posts by
following The Thaiger
.
New delivery application focuses on reducing Thailand's food waste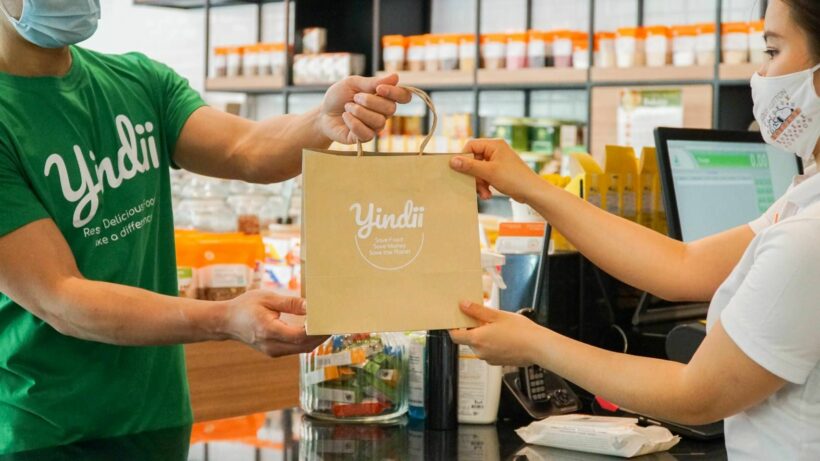 The following story was sent to The Thaiger from the Yindii, a business focused on sustainability and reducing waste produced from the food industry.
Yindii, a Thai anti-food-waste startup, launches a mobile application designed to match hungry, deal-seeking Bangkok residents with environmentally-conscious restaurants, grocery stores and cafes offering delicious food that could otherwise go to waste. Through its discounted "flash sales," Yindii helps battle an escalating societal problem while enabling restaurants to gain potentially lost revenue.
Yindii's mobile application is designed to be a direct-to-consumer platform created for restaurants and cafes who can create exclusive and immediate "Happy Hour Deals" offers regularly, with up to discount from 50 to 70%. Once a Yindii box offer is published, Yindii users can then purchase the Yindii box before heading to the restaurant to collect their items or getting them delivered. Transactions are completed electronically.
Consumers can discover what is inside when they open their surprise gift box. Aside from the savings – and committing to the reduction of food waste – consumers benefit from the app by connecting with their favourite food joints to easily find highly discounted items.
"33% of all food produced globally is wasted or lost every year. That is close to a billion and a half tons which is never consumed, accounting for 8% of the greenhouse gas emissions around the globe, 4 times more polluting than the airline industry. All this is an ecological disaster!"
"The growing problem of food waste is challenging to solve for endless reasons including logistics, the complexities of short-lived items and the lack of a set market, which is what we are working to help solve – with a simple system for people and restaurants of surplus food to connect and enact." – Yindii founder and tech entrepreneur Louis-Alban Batard-Dupre
"All the food available on Yindii is delicious and untouched, coming from premium places, that just cannot wait for tomorrow to be eaten. Think about pastries in coffee shops or fresh meals in restaurants. Our community, the Food Waste Fighters, can rescue the food and provide access to quality meals at an affordable price."
For the first 100 users who download the app, Yindii is offering free delivery up to 5km from any store with the code: SAVETHEPLANET.
Available for download on Apple's app store for iOS devices and on Google Play for Android devices, the Yindii app features an initial group of restaurants and cafes including: Sofitel Sukhumvit, Veganerie, Ohana Poke, Broccoli Revolution, Delifrance, Sunshine Market, Banana Warrior, among others.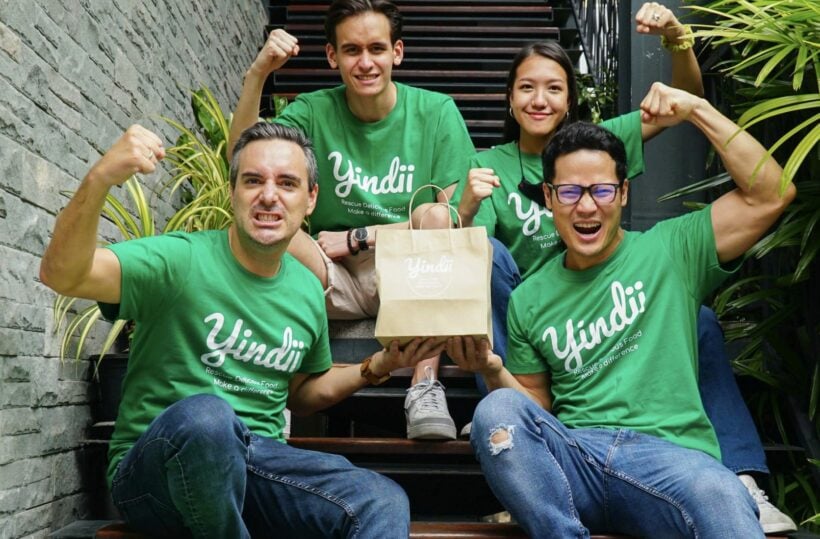 Keep in contact with The Thaiger by following our
Facebook page
.
Never miss out on future posts by
following The Thaiger
.
Bangkok residents not satisfied with floodwater management-Nida Poll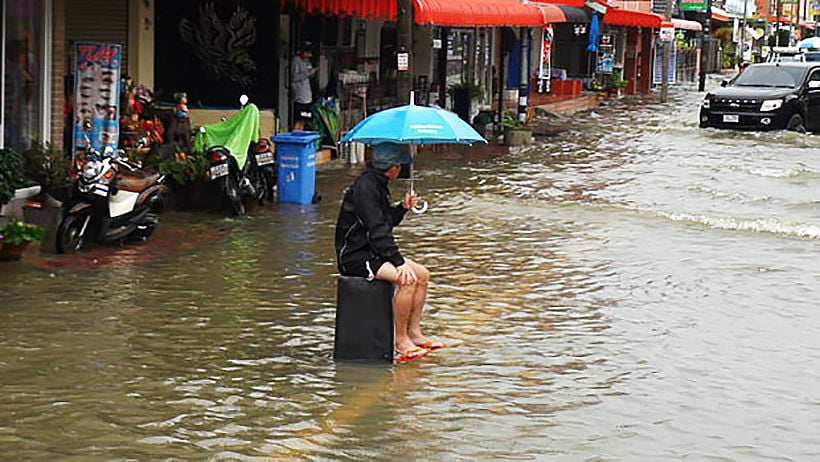 Bangkok residents are largely unsatisfied with the floodwater management in the capital, according to a recent poll. The National Institute of Development Administration conducted the poll on October 6-7 with 1,322 respondents from various levels of education and occupations.
Almost 60% of people say they are not satisfied with 33% of those saying poor preparation and flood management contributed to the dissatisfaction. Almost 27% say they are totally dissatisfied because the BMA was very slow to drain floodwaters, leaving some areas flooded for extended periods of time.
However, almost 31% say they were "quite satisfied" with the BMA's preparations with 9% being "very satisfied" as they reported some areas were not flooded at all. 40% of respondents said they are confident in the BMA's flood prevention strategy while a majority, 59% said they are not.
Keep in contact with The Thaiger by following our
Facebook page
.
Never miss out on future posts by
following The Thaiger
.