Sea Turtle found dead on Chumpon beach, choked on plastics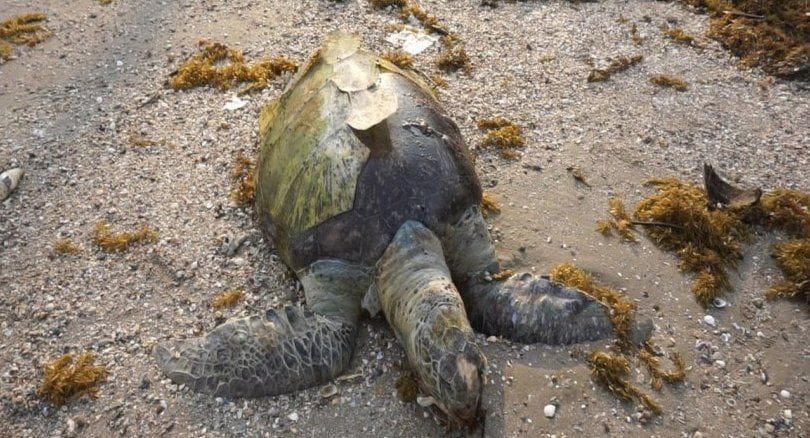 A large green turtle has been found dead on Chumphon's Bang Nam Jeud Beach, believed to have died from plastic waste it ingested.

"I found a piece of plastic in its throat, so I think it's the latest victim of sea-borne plastic waste," said Amnuaykiat Timnakha, deputy chief of the Tambon Bang Nam Jeud Organisation.

He was the first to find the carcass, about 20 metres from his home in Lang Suan district.

"This female green turtle was 1.8 metres long and weighed about 50 kilograms."

It was already decomposing when Amnuaykiat found it.

"We informed the relevant officials and they advised us to bury it first until they get here on Monday to do an autopsy," he said.

Reports of aquatic animals ingesting plastic waste at sea and dying as a result have become frequent in recent years. Plastic discarded into or swept to the sea can appear as food to some marine creatures and, once swallowed, it prevents them from eating or digesting actual food.

In other cases, they can get entangled in plastic and are strangled or suffocated to death.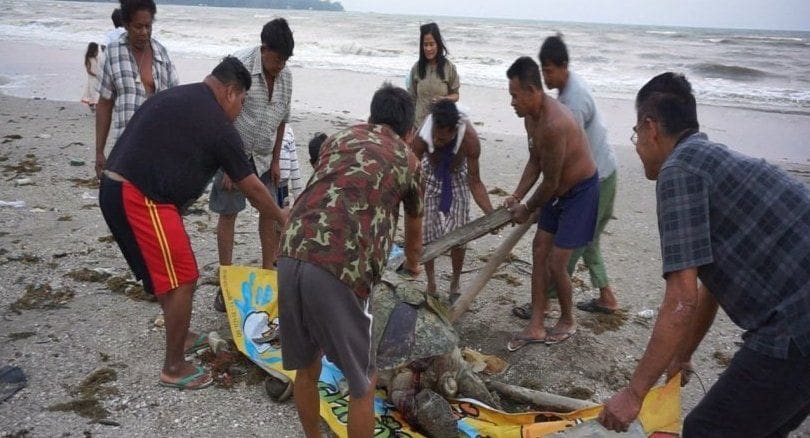 SOURCE: The Nation
Keep in contact with The Thaiger by following our
Facebook page
.
National Covid-19 figures with 1 additional death (June 2)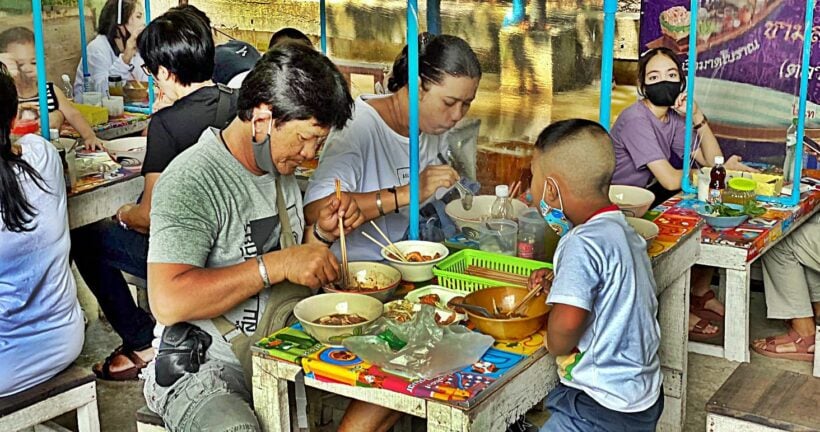 Today the Centre of Covid-19 Administration reported 1 new Covi-19 case and 1 addition death in Thailand. This takes the total number of infections to 3,085 and the accumulated death toll to 58.
The additional fatality was an 80 year old Thai man living in Narathiwat and the latest patient was a 32 year old male student who had recently returned from Saudi Arabia.
Dr Taweesilp, the familiar public face of the CCSA, says that "the student returned from Saudi Arabia via Malaysia, he entered the country through the Padang Besar land border checkpoint in Songkhla province on May 25 and was quarantined there."
"He tested negative for the disease when he arrived but on May 30 he developed a mild fever and runny nose. Then on May 31 he tested positive for Covid-19 and was admitted to a local hospital."
"39 people have returned from Saudi Arabia through Malaysia and 8 of them have been confirmed infected. That forms 20.51% or a fifth of the total."
"As for the fatality, it was a Thai man aged 80 who had asthma, On April 28 he went to a hospital in Sungai Kolok district in Narathiwat for a hip surgery. He was then taken to recuperate in a ward where another patient was later found infected with Covid-19."
"The elderly man tested positive on May 9, as did his daughter and son-in-law, who visited him at the hospital."
"The man was placed on a ventilator and received plasma on several occasions. He died of Covid-19-related pneumonia yesterday."
"Infections in Sungai Kolok (border town on Malaysian border), including an earlier occurrence, resulted in a quarantine of 191 medical staff and relatives. The previous patient recovered and all of the quarantine medical personnel and relatives proved to be uninfected."
Of the 3,083 accumulated cases, 2,960 have fully recovered. 1 additional patient has been released from hospital overnight, leaving 59 hospitalised. The average age of Covid-19 patients in Thailand has been 37, with the oldest 97 and the youngest a 1 month old baby.
SOURCE: Bangkok Post
Keep in contact with The Thaiger by following our
Facebook page
.
Southern mayor backs bounty for shark hunt after boy's foot was bitten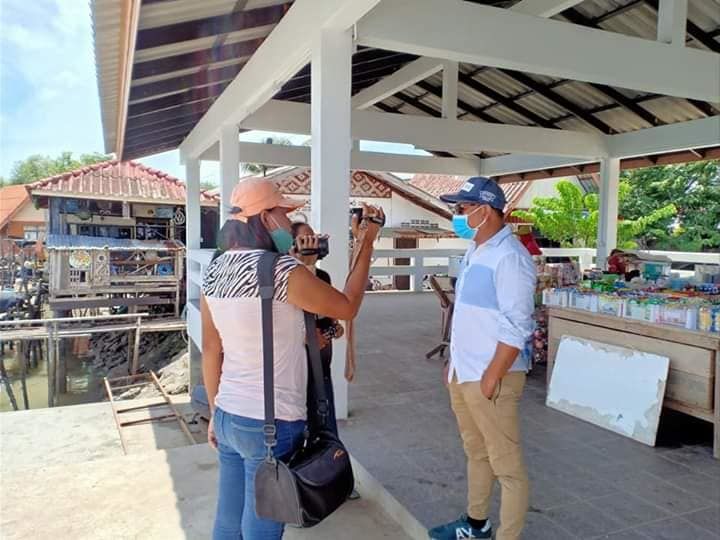 People are searching for a shark after it bit a boy's foot at the Chebilang pier in the southern province of Satun. The Chebilang mayor Mahmadneesum Bilungload even said he'll give a cash reward of 1,000 baht to whoever catches the shark. He took a long tail boat out on Saturday afternoon to scope out the scene and try and track down the shark.
Last Thursday, 12 year old Harafat Limapicharsakul was playing on the Chebilang pier with two of his friends. The shark bit his foot when he was swinging his legs in the canal. The boy is okay, but he needed 50 stitches (yikes!!). The local government Facebook page posted a warning alerting people not to swim in the canal.
Researchers from the Marine and Coastal Resources Department say the bite is most likely from a bull shark. The canal opens into the Andaman Sea and bull sharks are known to swim from the sea into the brackish water of the klong, a marine scientist told the Bangkok Post. The department's director general says that bull sharks are not typically aggressive, "but maybe they shark saw the boy's swing legs as a threat".
The minister of Natural Resources and Environment is criticising the mayor for supporting the shark hunt, adding that warning signs and announcements should be put in place instead of demonising a breed of shark.
"Don't offer a bounty for a shark or support the hunt for a reward."
SOURCE: Bangkok Post
Keep in contact with The Thaiger by following our
Facebook page
.
Suspect in Phattalung murder commits suicide as police close in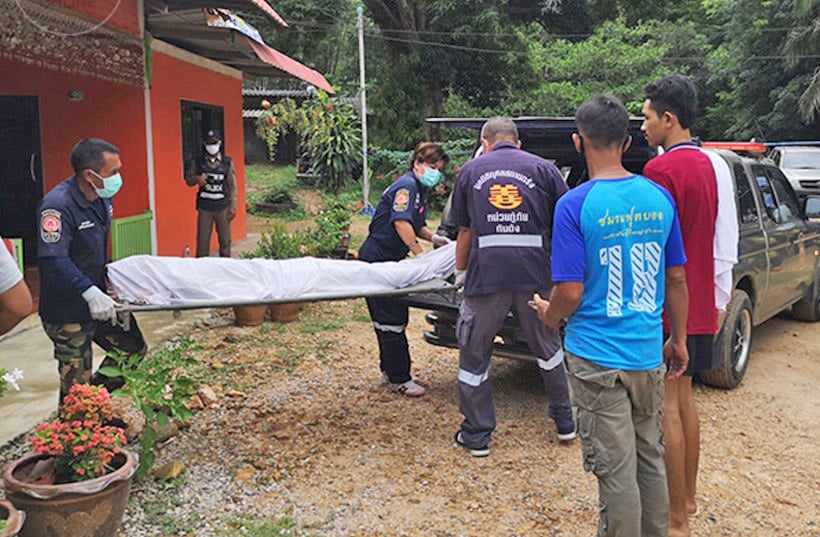 A murder suspect in Thailand's southern Trang province committed suicide as police moved to arrest him yesterday. Authorities say he was one of three gunmen in the murder of a driver in neighbouring Phatttalung province last year.
40 year old Haron Usen was hiding out with his girlfriend in a house in tambon Bang Sak. Provincial and local police surrounded the house about 11am, armed with an arrest warrant issued by a Phatthalung court for collusion in murder.
Officers had Haron's mother with them, hoping she could persuade him to surrender, but after a 3 hour standoff, the suspect still refused to give up, sending his girlfriend out of the house to safety instead.
Shortly afterward a gunshot rang out. Police say the suspect shot himself in the head with a hand .357 pistol. He died as a result of his wounds. Police also found a 9 millimetre pistol hidden under the bed. The body was taken to Kantang Hospital mortuary.
On September 5 last year, a group of armed men in a pickup truck opened fire at a car in Phatthalung's Muang district at about 4:30am. The driver was killed and the 3 passengers fled unharmed.
Police identified Haron as one of the gunmen.
SOURCE: Bangkok Post
Keep in contact with The Thaiger by following our
Facebook page
.