17 year old UK teenager dies in motorbike accident during holiday in Thailand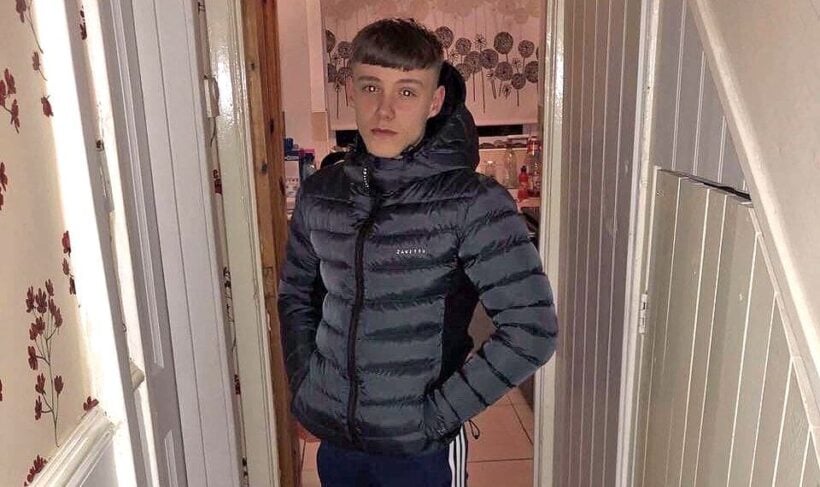 A 17 year old teenager from the UK has died after being involved in a motorbike accident while holidaying in Thailand. The article in The Telegraph and Argus, a Yorkshire daily in the UK, doesn't mention where the young man died.
17 year old Anthony Ryan was visiting Thailand on his first trip abroad and was killed in the accident last Thursday reported.
The article explains that Anthony, originally from Bradford but recently relocated to Cornwall, was on holiday in Thailand with his boss.
His mother, 40 year old Clare Wright, told the paper, "He was on his first holiday with his boss from work. He was an amazing boy, had just turned his life around and was doing really well.
"He had a good job and was going back to college. He had his whole life ahead of him and was the eldest of five brothers. "
"They are going to be lost without their big brother and we just want to get him home now," she said.
Anthony's family are now asking for help in repatriating the 17 year old's body after he went on holiday to Thailand without taking out any insurance. The family are trying to raise £5,000 and have set up a GoFundMe page online.
"The young boy was 17 and is now stuck in Thailand. His family and friends are desperate to get him home to give him a proper burial.
If you are travelling to Thailand, or anywhere actually, always ensure that you have adequate travel insurance and have read and understood the contract.
Keep in contact with The Thaiger by following our Facebook page.
Never miss out on future posts by following The Thaiger.
Eating out until 11pm in Bangkok is waiting for approval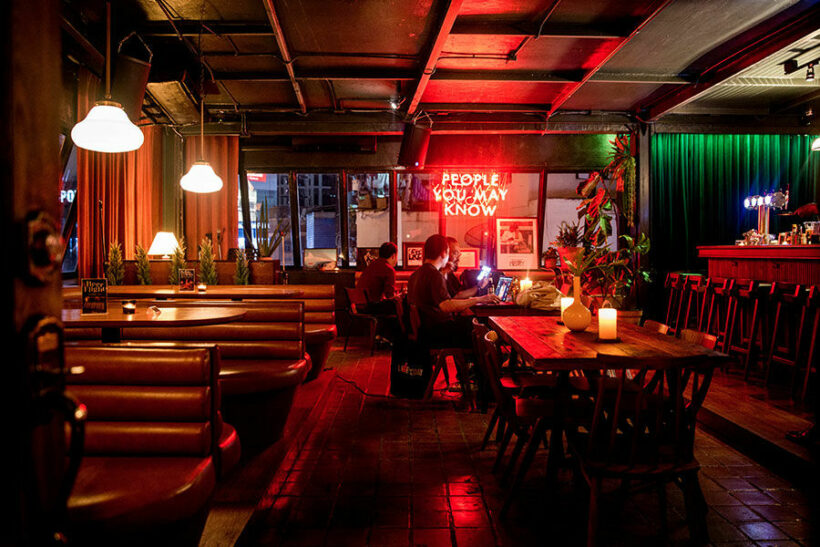 Bangkok restaurants may soon be allowed to stay open a little later. Health officials are considering easing up Covid-19 prevention measures by extending restaurant dine-in closing times to 11pm. If the proposal by the Thai Restaurant Association is given a green light, it may lead to the lifting ban of alcohol drinking.
After the order of shutting entertainment venues and banning alcohol sales in Bangkok, Samut Prakan, and Chonburi, the revenues in the alcohol beverage business plummeted. Under disease control measures, restaurants in Bangkok are ordered to stop dine-in services at 9pm and all alcohol sales are banned at restaurants to limit gatherings.
According to the president of the Thai Alcohol Business Association, the current ban on alcohol is estimated to cost about 90 billion baht in revenue. The lifting of the ban is then believed to stimulate the economy.
The Thai Chamber of Commerce says the Cabinet might review the proposal on closing hours tomorrow and act immediately to provide relief to restaurant operators as well as those in the alcohol beverage business.
SOURCE: Coconuts Bangkok
Keep in contact with The Thaiger by following our Facebook page.
Never miss out on future posts by following The Thaiger.
Police in Bangkok arrest 3 people for allegedly selling cannabis cookies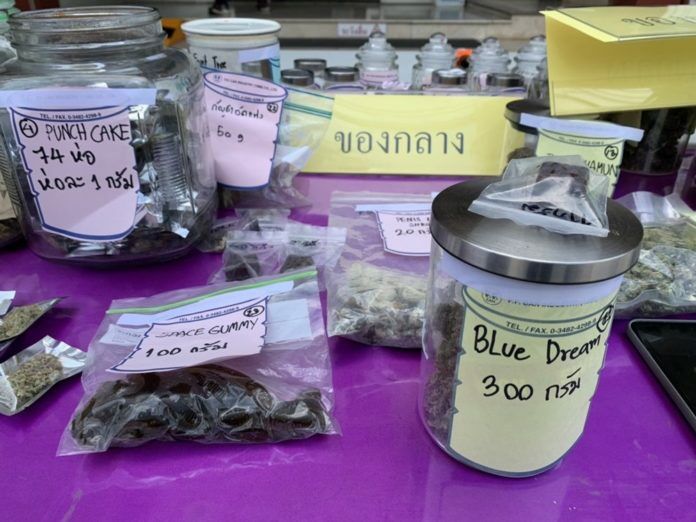 Police in Bangkok arrested 3 people for allegedly making cannabis cookies and selling them through the messaging application LINE under a chat group called "The Hippy Cookie." Police raided a condominium room in the Bang Na district and seized 13 "foreign types" of cannabis, 46 food products made with cannabis and 3 types of hallucinogenic mushrooms.
Using the LINE messaging app, the suspects allegedly sold cannabis and cannabis food products. The suspects allegedly sent the cannabis to buyers using a food delivery service.
An investigator joined the chat group and posed as a buyer, ordering 5 grams of cannabis for 3,500 baht. When the cannabis was sent through the food delivery service, police asked the driver to return the package to the suspects. Police say a suspect came down to receive the returned package. Investigators then searched the suspect's condominium room.
One of the female suspects allegedly told the police that she used to sell cookies (regular cookies), adding that she has an interest in cannabis. She then studied how to make cannabis cookies and contact cannabis suppliers in Thailand before starting the illegal business with her boyfriend and a friend. She allegedly told police she started the business a year ago and has more than 100 regular customers.
The suspects were charged with illegally processing and distributing narcotic drugs. Parts of the cannabis plant with high amounts of the psychoactive component tetrahydrocannabinol, such as the buds, are still classified in Thailand as a Category 5 narcotic.
SOURCE: Pattaya News
Keep in contact with The Thaiger by following our Facebook page.
Never miss out on future posts by following The Thaiger.
Make an appointment online for tourist visa extensions – Thai Immigration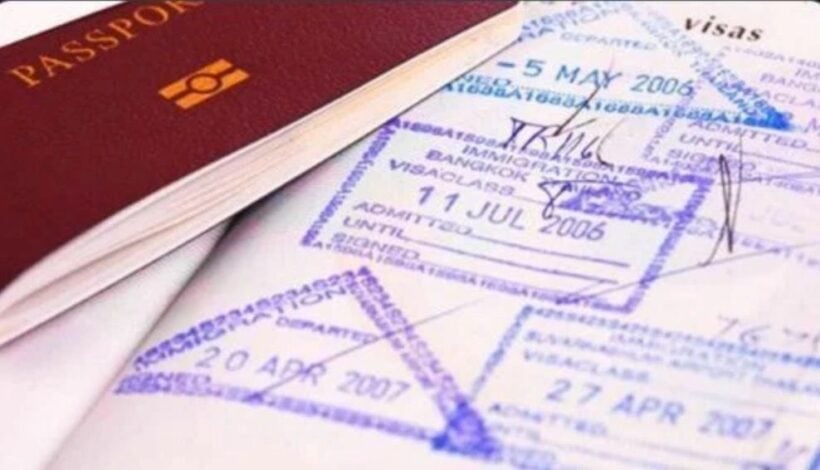 For those who need to extend their tourist visa, the Thai Immigration Bureau asks that applicants make an appointment online to reserve their spot in line. The bureau says the online appointments are aimed at preventing the spread of Covid-19 by reducing overcrowding and making sure people abide by social distancing practices.
Applicants who need to extend a tourist visa, or the new Special Tourist Visa, should make an online reservation queue at bangkokimmigration.com (astonishingly all in Thai with no other languages, although there is a menu item 'Queue Online' on the top right hand corner of the site).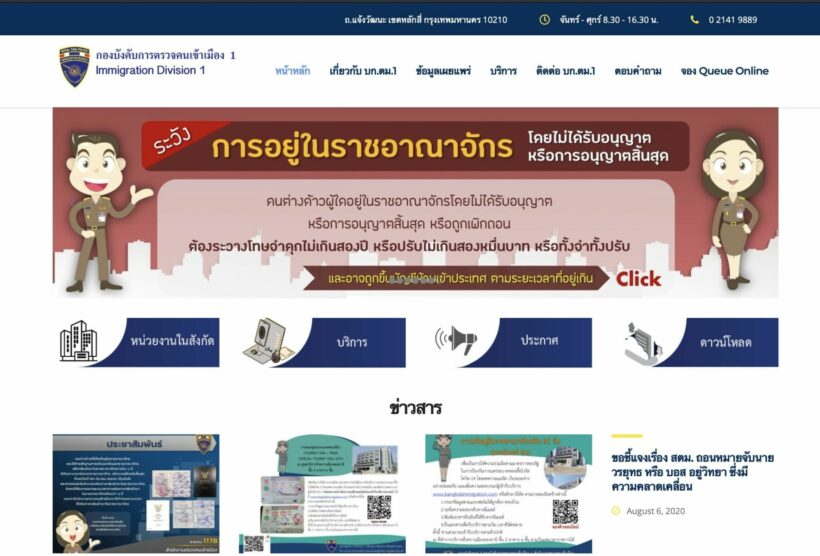 Walk-in services are still available at Muang Thong Thani Temporary Services Centre.
When making a queue reservation, fill in the required information, print out the confirmation email and bring it to the appointment.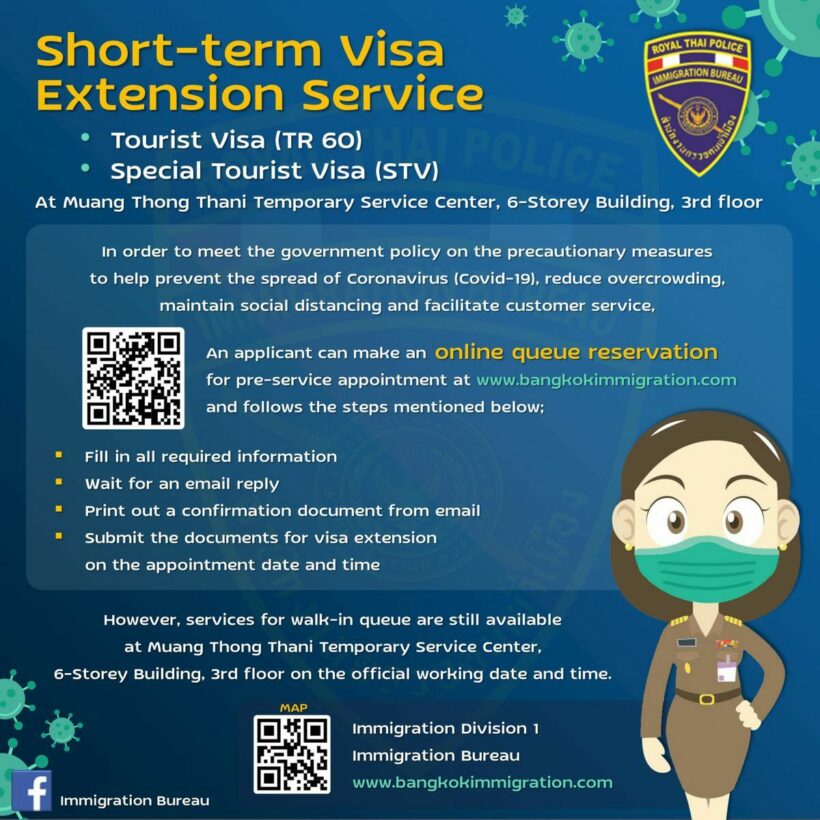 Keep in contact with The Thaiger by following our Facebook page.
Never miss out on future posts by following The Thaiger.