Insurgency
South
Bizarre final calls of 2 Southern insurgents killed in standoff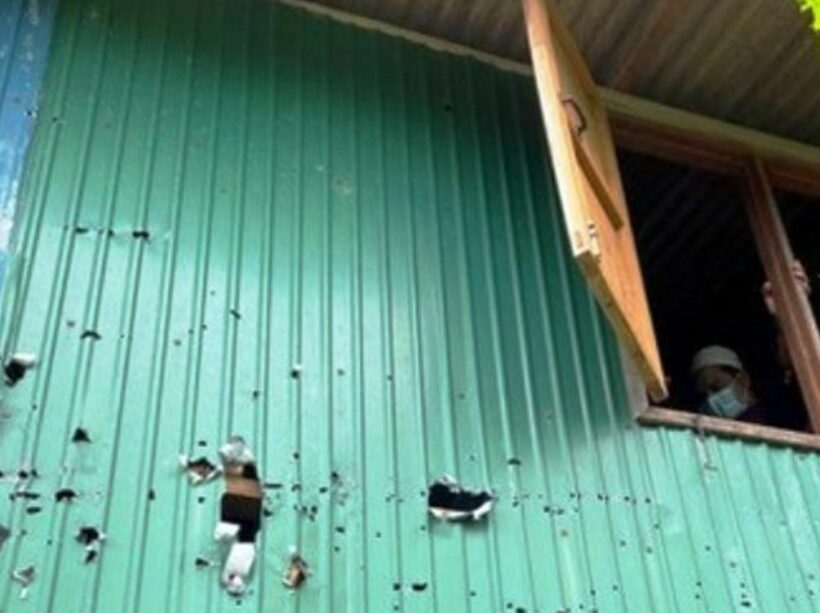 The bizarre final moments are coming to light of 2 insurgents in the south of Thailand that were killed in a standoff after shooting a member of the Thai paramilitary forces. The pair shot the soldier and then retreated to a shack made of corrugated metal while security forces tried to convince them to surrender. But during that time the insurgents made phone calls and video calls and posted on social media in a surprisingly casual manner.
The standoff took place on May 4 in the village of Krong Pinang in the southern province of Yala. After footage from their video calls of their standoff and final moments went viral online, the house became somewhat of a morbid tourist attraction with an average of 1000 supporters a day walking through the bullet-riddled house as well as the nearby homes of the two men that were killed.
The two were considered heroes for the insurgency's causes and the local neighbourhood buried them as martyrs. Well-wishers in the 3 days following their funeral donated hundreds of thousands of baht to the families of the insurgents according to family members and village elders.
The two men had shot a 27 year old paramilitary member on a tree-lined hill just a few metres away from where they took refuge in the metal shack. Dozens of security force members from the Thai government surrounded the house immediately and made calls for the insurgents to surrender, even calling in a local imam to help talk the men down. A third man that was with them at the time did surrender and was taken into custody.
The other 2 hunkered down for a fight in what would become a three-hour standoff. In the end, the pair attempted to make a run for it up the hill behind the house and into the woods. the plan failed and they were gunned down as they ran.
But before that, the two insurgents in their early 30s made a series of nonchalant phone calls to friends and family. One person made a screen recording of their call and while there is no sound available, video footage of them laughing and smiling well, holding AK-47 was soon spreading throughout Thai social media.
Those who received calls confirmed that, while the two insurgents ask their friends and families for forgiveness and told them that their phones and SIM cards would be destroyed and untraceable, the conversations were not farewell calls. Instead they were generally quite casual with the men chatting and laughing, asking their friends and family how their days were going. The calls the insurgents made provided a bizarre juxtaposition to the violence that immediately proceeded and immediately followed them.
SOURCE: Chiang Rai Times