Leather back turtle egg nest on Phang Nga beach safe after Pabuk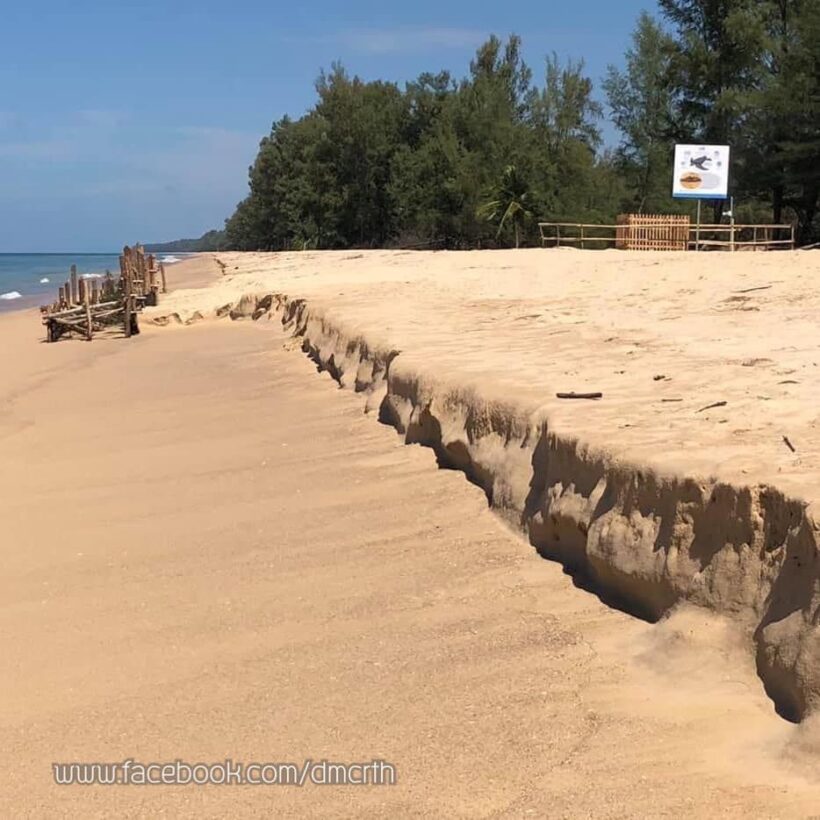 PHOTOS: DMCR
The leather back sea turtle eggs found on a Phang Nga Beach in Tai Mueang a few weeks ago have been checked and they are safe after last Friday and Saturday's bad weather.
About 80-100 eggs were found after a leather back sea turtle laid eggs on the beach in Tai Mueang, Phang Nga last month.
Read more about the discovery of the eggs HERE.
The Department of Marine and Coastal Resources reports that CCTV footage was checked and shows that the leather back sea turtle nest is safe on Tasai Beach in Tai Mueang after a temporary 20 metres of sand was added as a barrier against any potential impact from waves caused by the storm.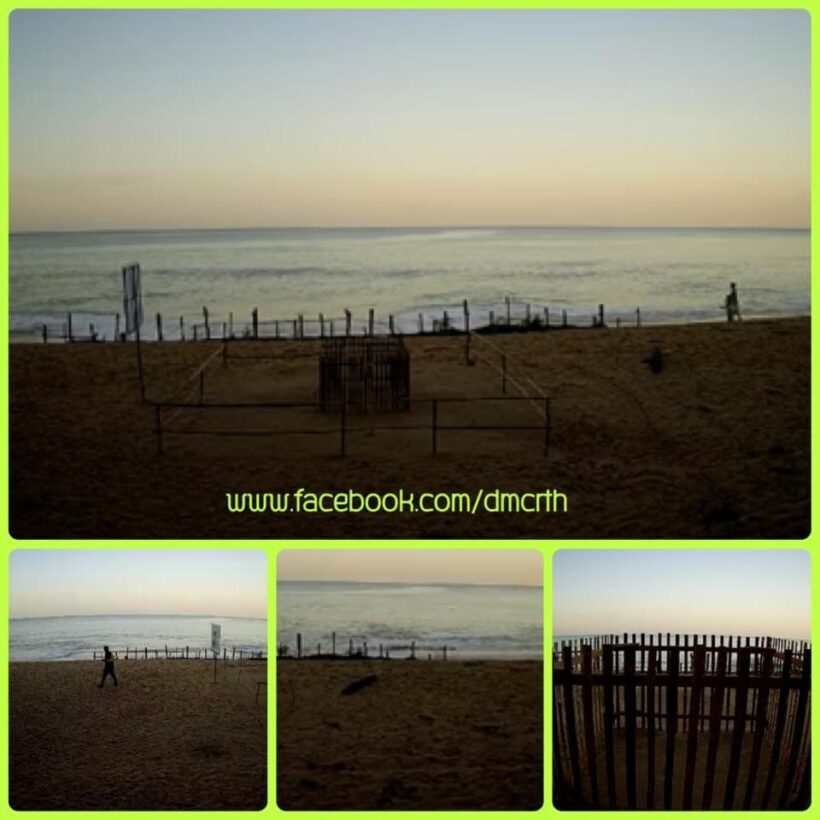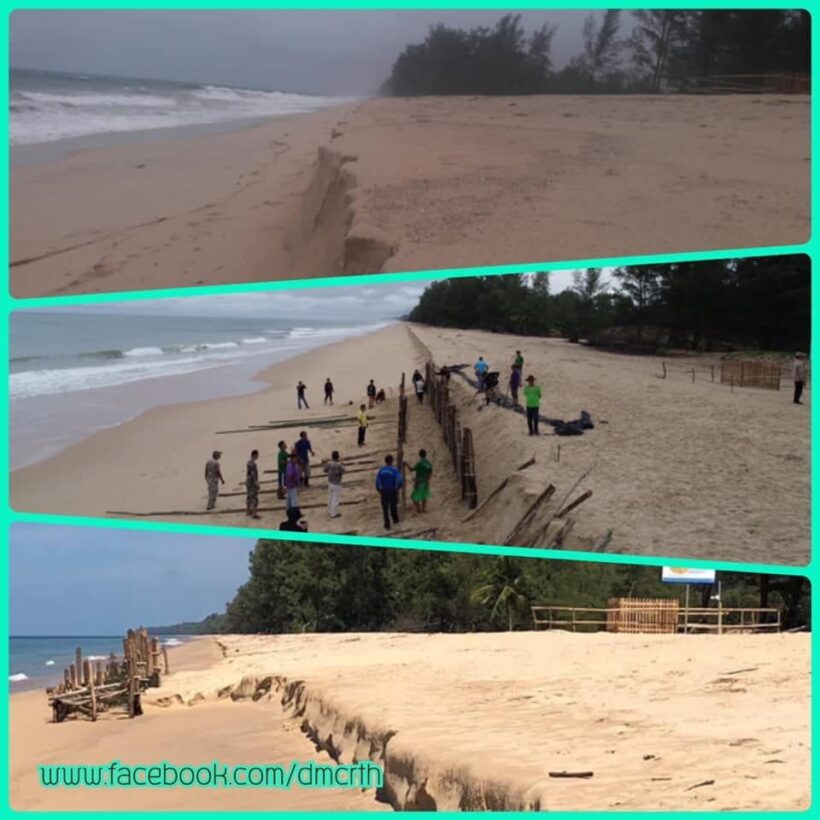 Read more headlines, reports & breaking news in Phang Nga. Or catch up on your Thailand news.
Big leatherback sea turtle rescued after getting stuck in fishing net – VIDEO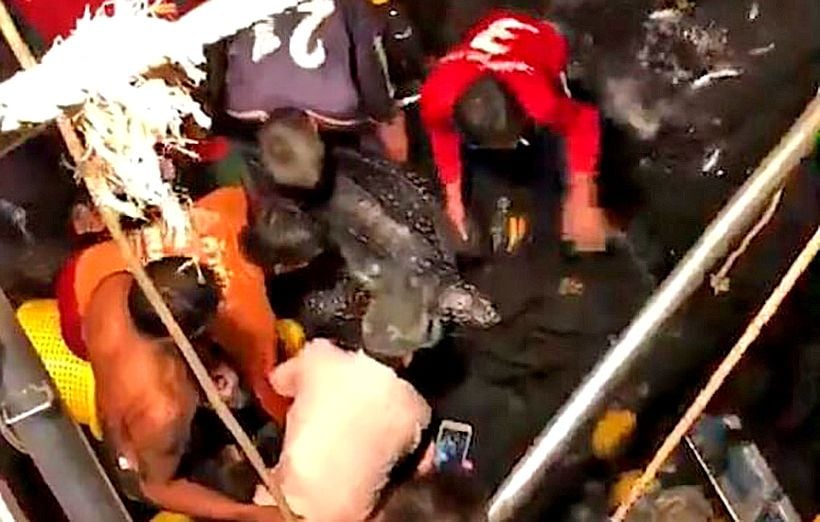 PHOTOS/VIDEO: ReReef / กรมอุทยานแห่งชาติ สัตว์ป่าและพันธุ์พืช / เฟสบุ๊คไต๋มิ ธนากร
A big leatherback sea turtle has been rescued by fishermen after getting stuck in fishing nets in Phang Nga last night.
A Phang Nga fishermen rescued the big leatherback sea turtle that was stuck in fishing netting off Phang Nga coast near Khao Na Yak in the Khao Lampi-Hat Thai Mueang Nation Park. The turtle was freed and then released back to the sea.
In another really positive sign for the future of the leatherback sea turtle population in the region, 112 sea turtle eggs were found at Kuek Kak Beach in Khao Lak, Phang Nga last week and also more in last month.
Thanks to the fishermen!
Read more about the latest batch of sea turtle eggs found along the coast HERE.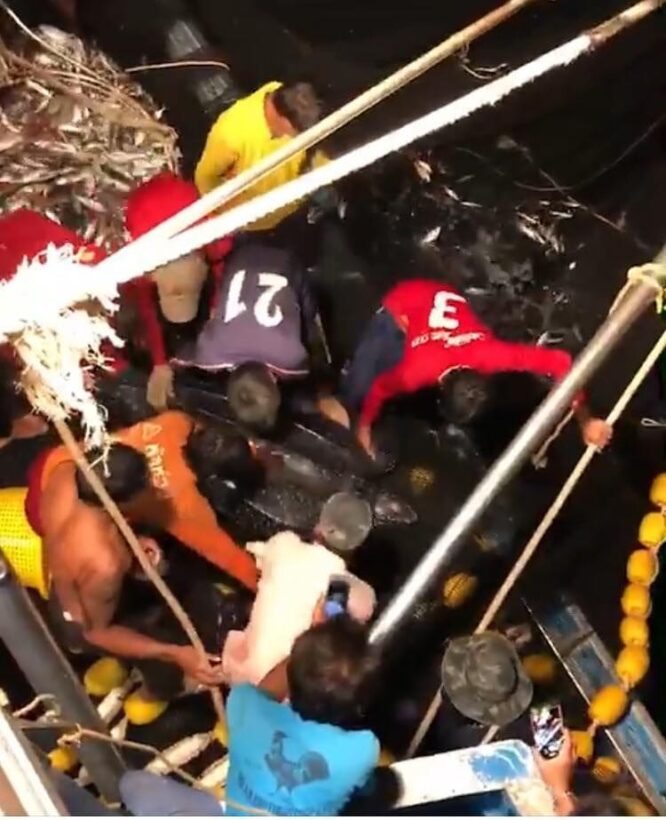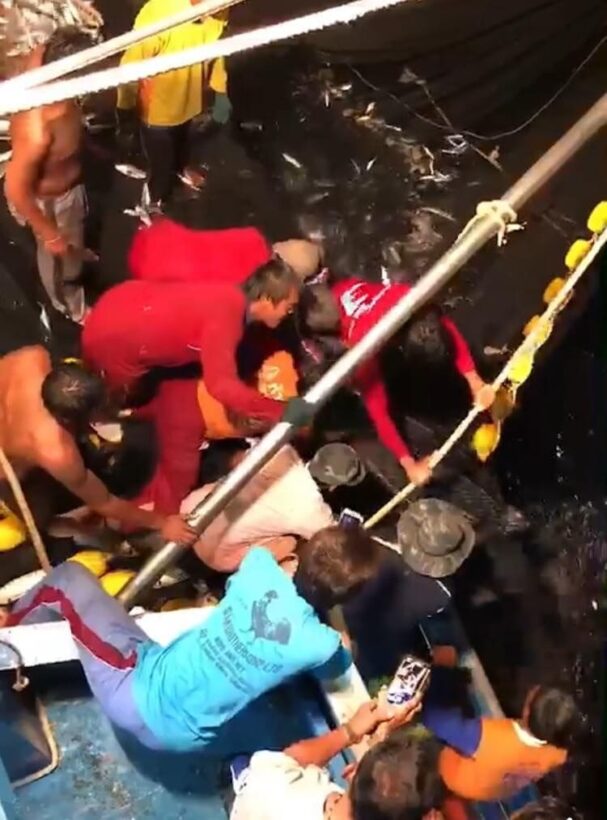 –
Pod of more than 10 dolphins spotted off Phuket – VIDEO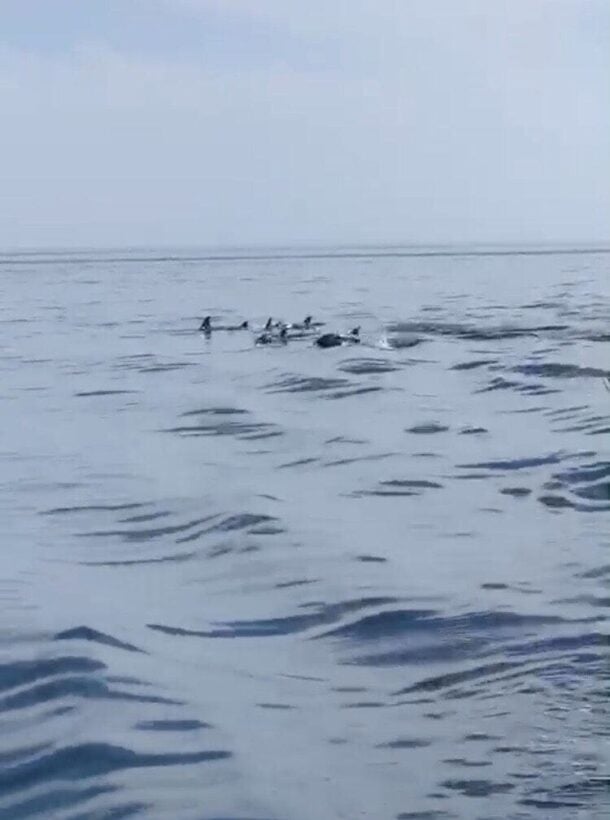 VIDEO:  ยศ กระจก – อลูมิเนียม
A pod of more than ten dolphins was spotted off Phuket yesterday.
Khun Nigorn Garari, who recorded the videos says, "My friends and I were heading from Tab Lamu Pier in Phang Nga at about 1pm yesterday. When we were near Laem Pakarang, which is at the north of Phuket, we saw lots of dolphins. I counted more than 10 of them in the pod."
"We were very happy to see them. Some of them have swum along with our long tail boat. They followed us for about an hour. The Andaman Sea is very beautiful."
PHUKETA pod of dolphins somewhere off the northern Phuket coast.VIDEO ยศ กระจก – อลูมิเนียม

Posted by The Thaiger on Wednesday, January 9, 2019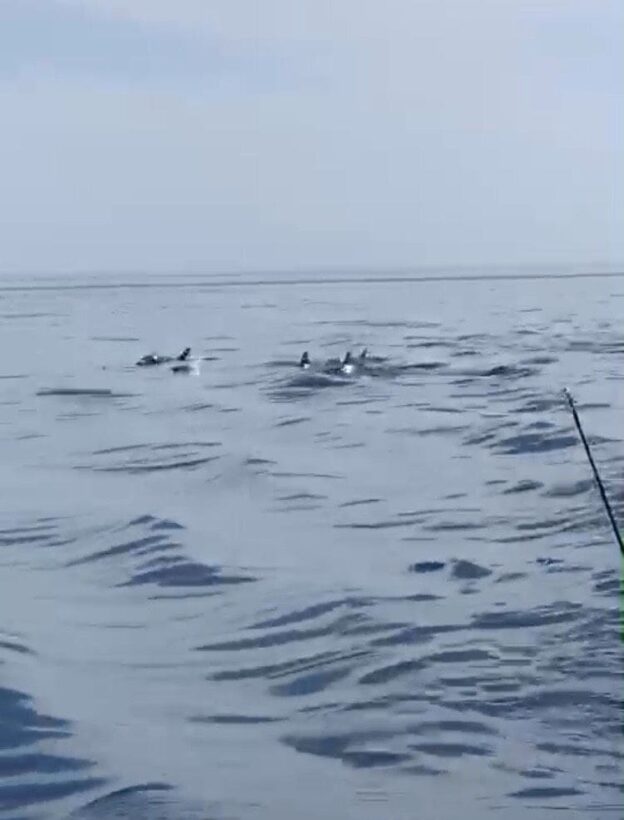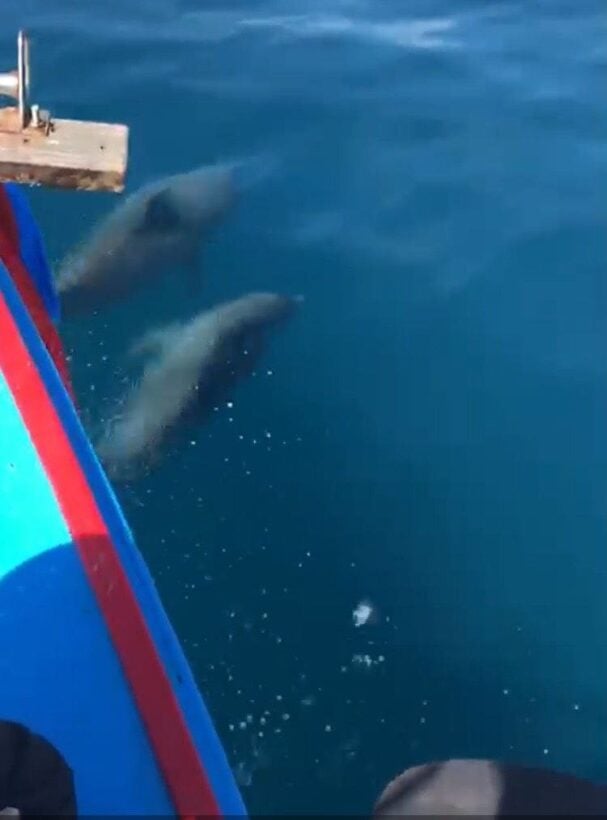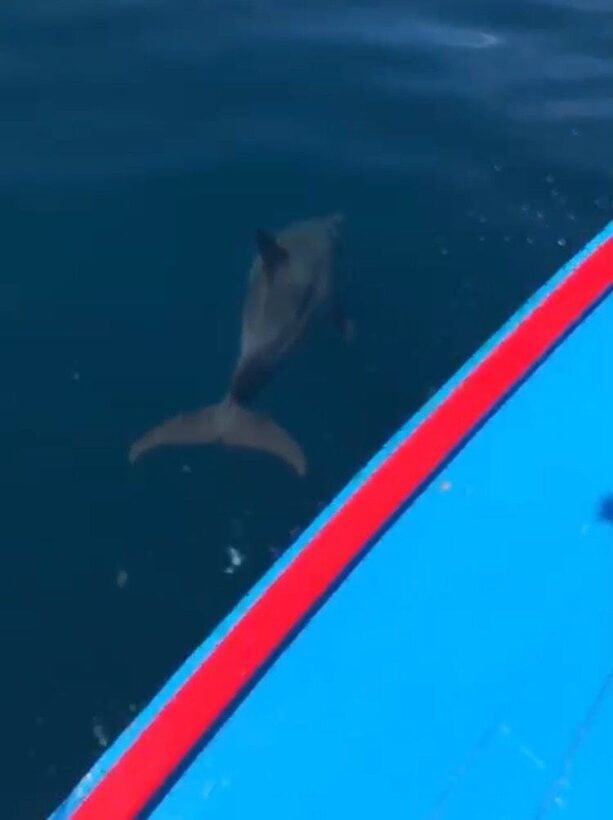 Himalayan griffon vulture found in a Krabi rubber plantation after storm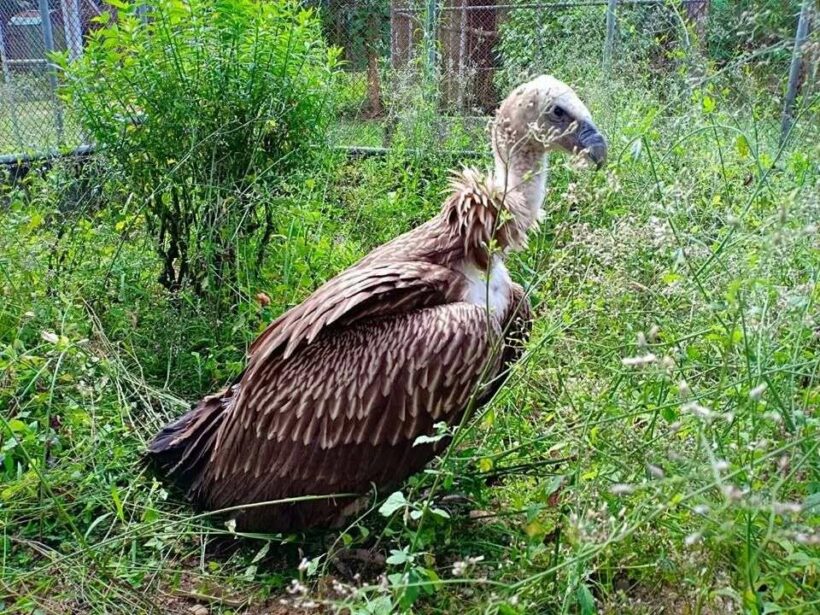 PHOTOS: DNP
A large but weak Himalayan griffon vulture has been found in a Krabi rubber plantation after poor weather on Monday. It's believed to have come from Tibet.
The head of Phang Nga Breeding Centre, Teetat Damudom says, "The Himalayan griffon vulture was brought to us on Monday. The vulture was been found by locals at a rubber plantation in Khao Phanom, Krabi."
"The vulture – measured wingtip to wingtip – is about two metres wide. It is weak from a lack of food and water."
"We believed that the vulture might have been trying to avoid tropical storm 'Pabuk' and was lost. It might have originally flown from Tibet."