One dead, three in coma, ten seriously ill after drinking moonshine mixed with poisonous toad blood in Chonburi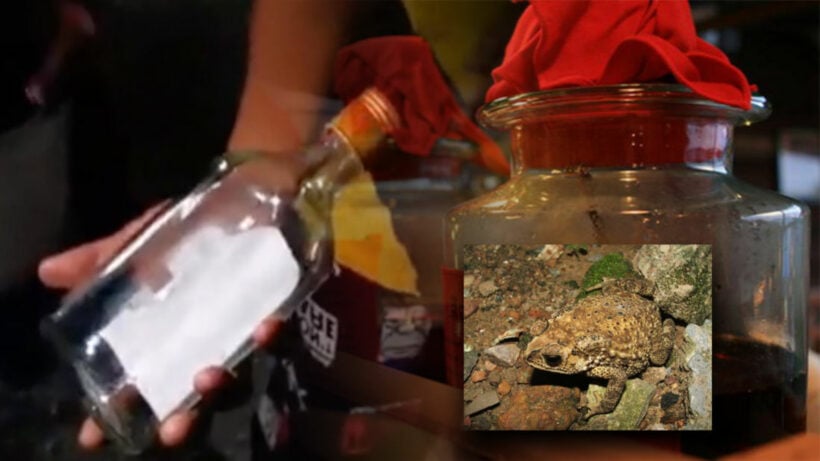 A dangerous concoction of herbal alcohol known as ya dong, mixed with poisonous toad blood, has left one man dead, three others in a coma, and ten seriously ill in Chonburi province.
The Pattaya News reports that the incident happened in the sub-district of Samet, with local police notified after a man was found dead at Samet temple on Monday evening.
He was named as 47 year old Winai Promsri and his death is being blamed on drinking herbal alcohol mixed with blood from a poisonous toad. A local Samet doctor has urged people not to consume any part of an animal that would not normally be eaten.
The man who sold the bootleg alcohol from his shop is now on the run. The Pattaya News reports that in the last three days, three people have been left in coma after drinking the alcohol, with ten others seriously ill after buying ya dong from a stall.
SOURCE: thepattayanews.com
Keep in contact with The Thaiger by following our
Facebook page
.
Smoke from plantation fires continues to choke central and northern Thailand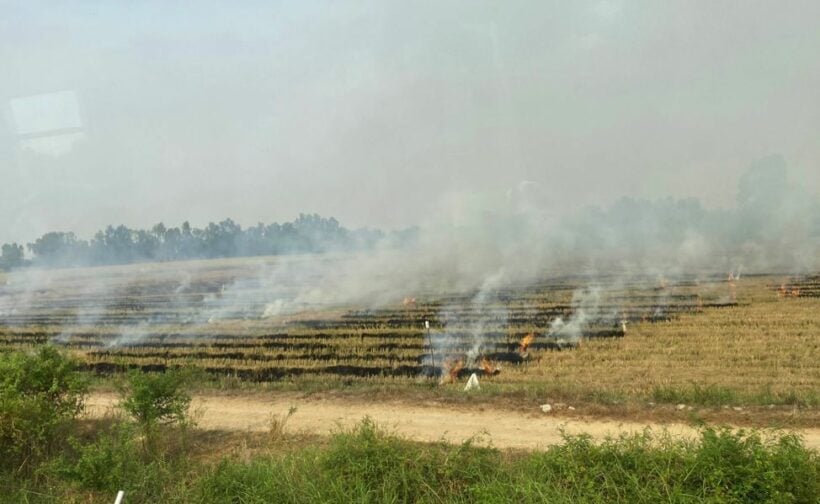 Smoke from fires, mostly deliberately lit, continue to choke sections of central and northern Thailand today. Light winds are not blowing away the smog and haze produced by the smoke, particularly in the north where Chiang Mai and Chiang Rai have readings today from 'unhealthy' too 'very unhealthy' – in a range from 170 up to 240 (particles of PM2.5 microns per cubic metre of air).
Chiang Mai's air quality is the 2nd worst in the world today, as measured by airquality.com, beaten only by the perennially bad air quality choking Dhaka in Bangladesh.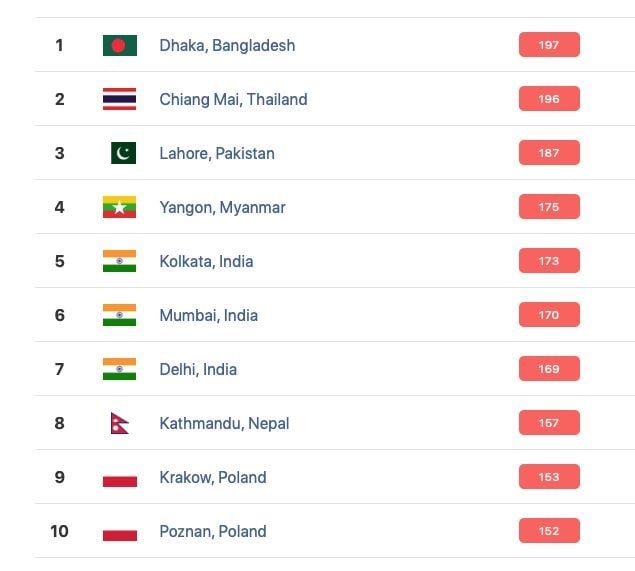 The satellite heat maps clearly indicates hundreds of deliberately lit fires in neighbouring Myanmar, and areas of central Thailand and Cambodia which are the source of the smoke haze impacting the northern cities and towns.
Whilst Bangkok's air quality has improved in and directly around the capital – from 'unhealthy' on Wednesday to 'unhealthy for some individuals' today – there is still plenty of smoke descending on the provinces directly north of the capital today.
Most of Bangkok's public schools, under the administration of the Bangkok Metropolitan Authority, were closed on Wednesday until today. Students will be returning on Monday after their two day enforced 'holiday'.
The government maintains that it is cracking down on the deliberately lit plantation and farm fires where farmers burn-off the remnants of the crops (as in the case of sugar, corn and some fruits), or prepare the areas (in the case of rice). But, in reality, there appears to be little or no reductions in the number of fires being lit in farming areas around Thailand.
The agricultural machinery to make these soil preparations and clearances is expensive and not readily available for the farmers. Driven by concerns over price, the farmers opt for the cheapest means possible – incinerating areas and producing enormous fires and smoke that can last for days.
Meanwhile, even if the Thai authorities are able to reduce the number of fires lit within its own borders, the satellite fire maps clearly indicates the hundreds of similar fires lit in neighbouring Myanmar and Cambodia, where Thai authorities have no control.
PHOTO: Richard Barrow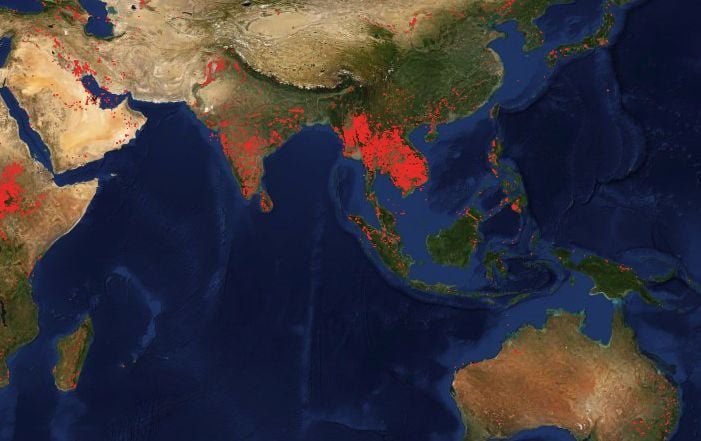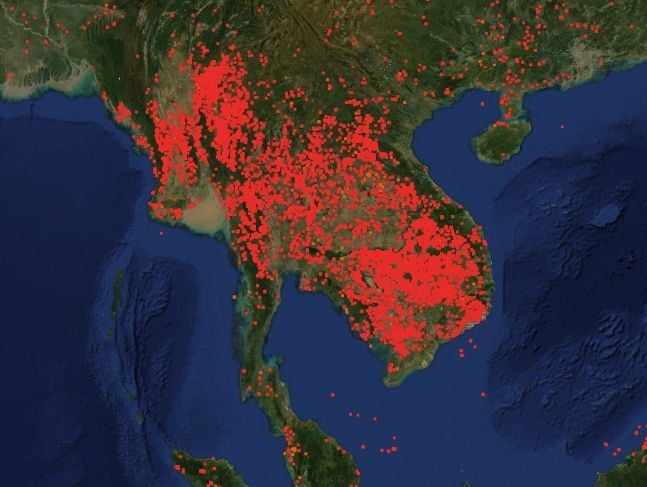 GRAPHIC: The satellite maps clearly show where the fires are popping up.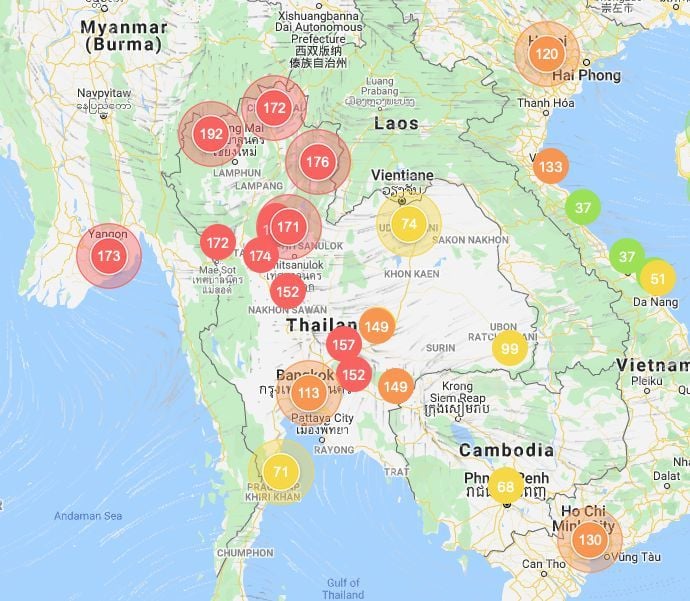 Areas in central and northern Thailand are suffering from bad air quality today. Check the readings, updated hourly from hundreds of monitoring stations around the country HERE.
Keep in contact with The Thaiger by following our
Facebook page
.
At least 30 injured in head-on train collision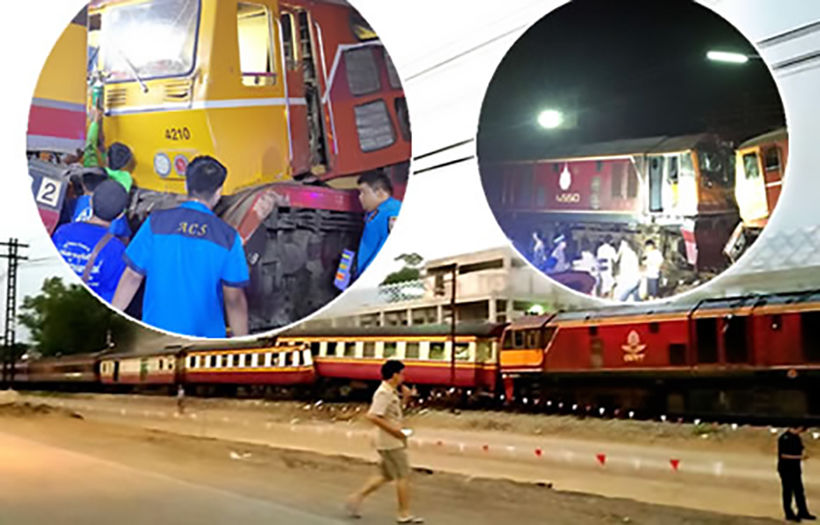 A train collision yesterday at Pak Tho station in Ratcha Buri province, just west of Bangkok, has injured at least 30 people, including three railway staff. Traffic Police radio and local Jor Sor 100 radio reported the crash between a passenger express train and a freight train express train, which took place around 6:30pm.
Thai media report that station staff could not switch the tracks in time for one of the trains to pass on the main track while another was waiting on another track. According to INN, at least 30 people were injured, but no fatalities have been reported.
The driver of the northbound freight train tried frantically to slow down but ultimately could only help to lessen the impact as the two trains collided. He has been named as 37 year old Pakorn Mananan. An operation using cutters had to take place to retrieve the badly injured man from the wreckage.
There are reports that the man was badly crushed. The southern line in the province is temporarily closed.
SOURCE: Bangkok Post | Thai Examiner
Keep in contact with The Thaiger by following our
Facebook page
.
Lop Buri gold shop gunman pleads guilty to all nine charges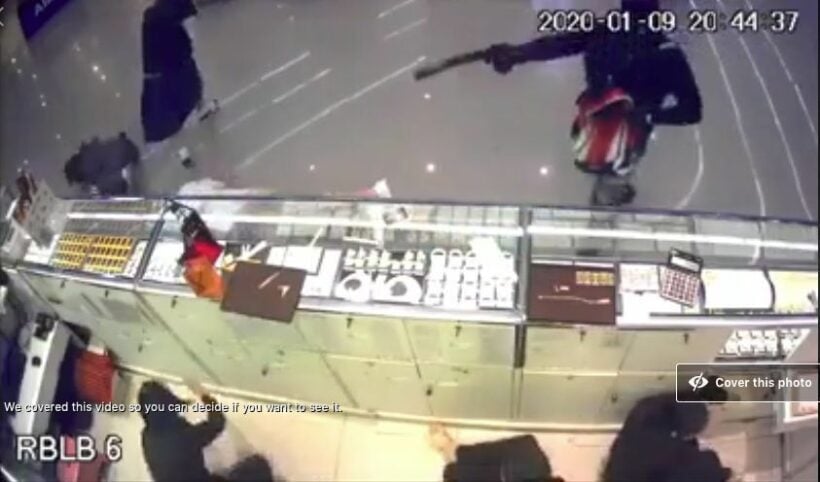 The school principal, who gunned down three people, including a 2 year old boy, and injured four others during a robbery in Lop Buri province on January 9, has pleaded guilty to all charges.
38 year old Prasitthichai Khaokaew, stormed into the Robinsons shopping centre and strode up to the Aurora Gold Shop brandishing a pistol and silencer and calmly shot at staff and customers. He was wearing a military-style combat uniform and bike helmet and escaped on a 110cc motorbike after shooting a security guard as he fled the crime scene.
The three people killed were the security guard, Mr. Thirachat Nimma, an employee of the gold shop, Ms. Thidarat Thongthip and the young boy, Panuwit Wongyu. The gunman escaped with 33 gold necklaces valued around 665,000 baht. These items were recovered the day after the man's arrest at his parent's home.
The gunman was identified as the principal of a Sing Buri public school and arrested on January 21. Prasitthichai was yesterday indicted on nine charges, including pre-mediated murder, attempted murder and robbery to illegal possession of firearms and carrying firearms in public without permission.
The shootings and murders shocked Thai society.
Prasitthichai was escorted from prison to the Criminal Court in Bangkok yesterday morning to hear the nine charges filed against him. He pleaded guilty to all nine charges. The first hearing is scheduled for March 23.
SOURCE: Thai PBS World
Keep in contact with The Thaiger by following our
Facebook page
.