Chiang Mai smog reaches dangerous levels – 12 x 'safe' levels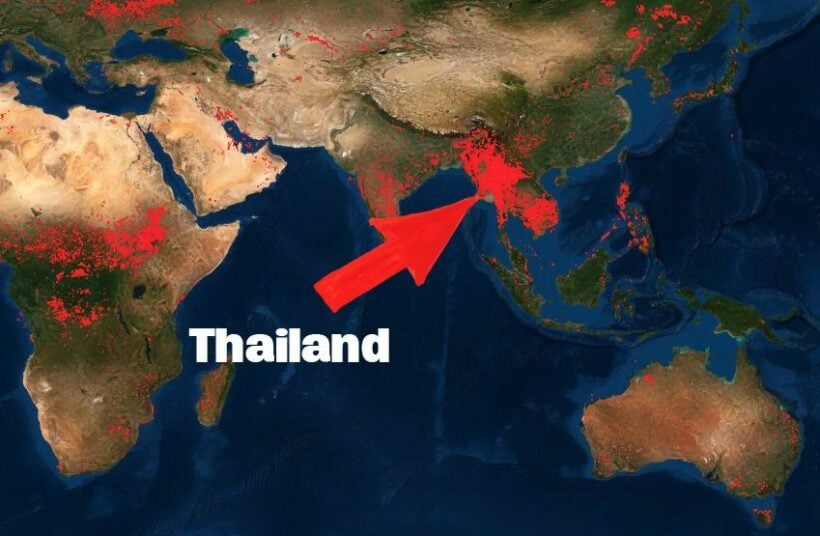 As if the northern city doesn't have enough to worry about with the coronavirus and scorching daily temperatures, residents are still having to face choking smoke and smog from, mostly, deliberately lit forest fires in the region.
PM2.5 levels in some areas soared up to 592 micrograms per cubic metre yesterday, more than ten times the 'safe' level.
This morning the situation is a bit better but the levels are still more than four time the Thai government's safe level of '50', which is twice the World Health Organisation's upper safe level of '25'.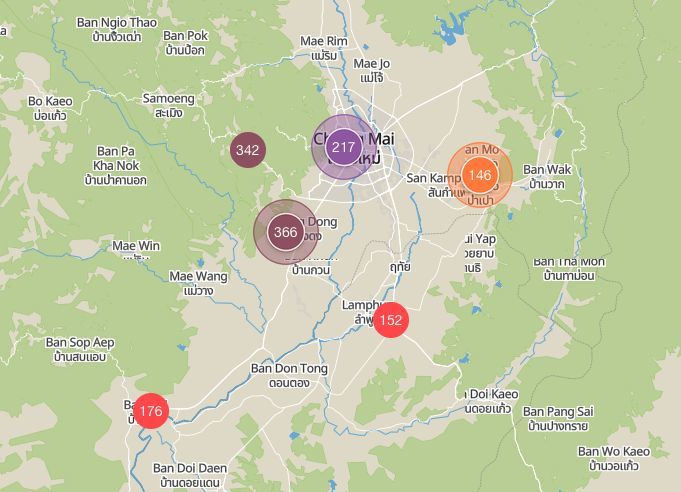 Readings from airvisual.com at 8am (Thai time)
The deputy governor of Chiang Mai province, Komsan Suwan-ampa, says though forest fires have been a chronic problem for more than a decade, this year's situation was dire because fires had erupted in areas that are not accessible by firefighters and volunteers.
Bangkok Post reports that a fire erupted yesterday in Doi Suthep-Pui National Park, to the north west of the main city, which had to be doused by helicopters. The fire-control centre reported that 218 hotspots in 18 districts in Chiang Mai have been detected by the Geo-Informatics and Space Technology Development Agency.
The fires are certainly concentrated around north-west Thailand and, with the wind blowing in the wrong direction, can determine if Chiang Mai is going to have a bad day, or a very bad day. There is also a lot of the active fires nestled to the north of Chiang Mai, across the border in a poorly enforced region of Myanmar where thousands of meth labs operate, hidden under a thick forest canopy, for the illicit drug trade.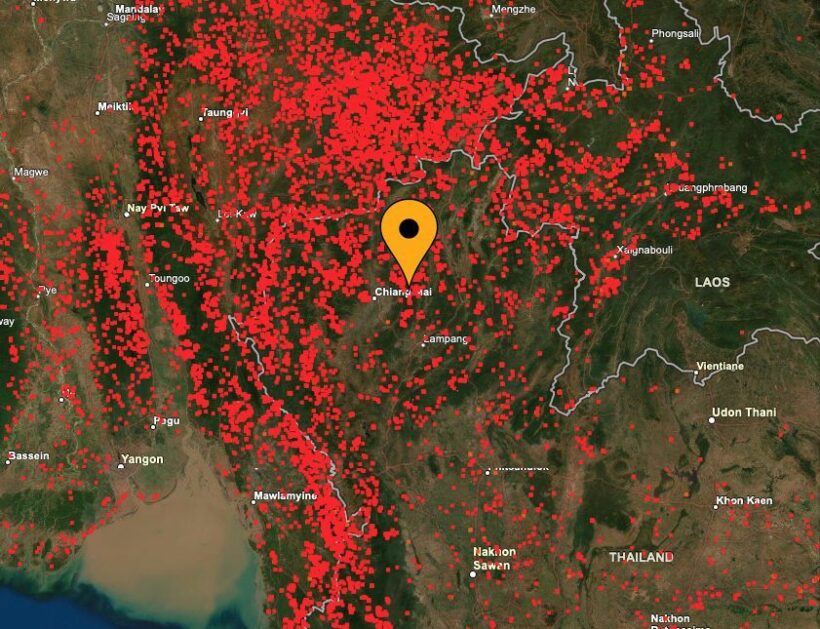 You can check out the live world fire maps HERE. We invite the northern Thailand government officials to do the same.
The director-general of the Pollution Control Department, Pralong Dumrongthai, says the forest fire hotspots in the North continue rising due to arson, open burning and pollution from bush fires set in neighbour countries.
"PM2.5 and PM10 particles will continue polluting the air. Six pollution control stations detected severely hazardous levels in their areas."
The authorities are offering a 5,000 baht bounty and imposing such as 1 to 30 years in prison and fines of 10,000 to 3 million baht for the crimes.
SOURCES: Bangkok Post | firms.modaps.eosdis.nasa.gov
Keep in contact with The Thaiger by following our
Facebook page
.
Chiang Mai firefighters chased up a tree by wild elephants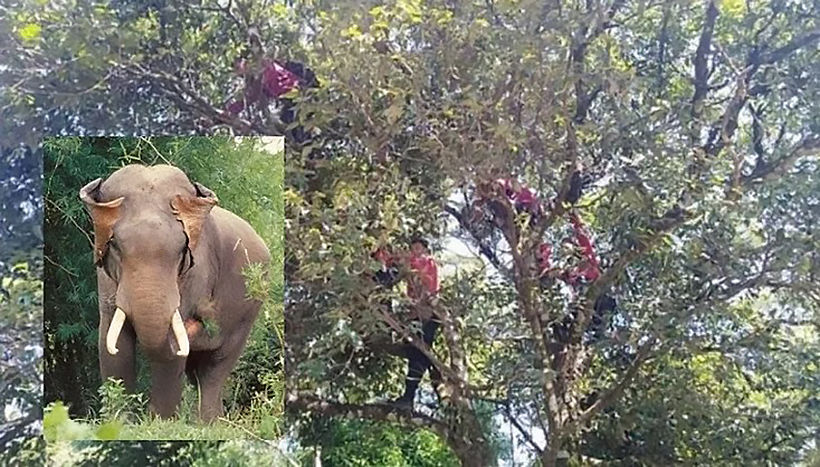 Firefighters in Thailand's North were chased up a tree by a herd of elephants yesterday. The group were on patrol searching for fires in Chiang Mai province's Omkoi district.
The men told reporters they were patrolling for fires when they ran across a small herd of wild elephants. Fearing for their safety, the fled up a nearby tree and stayed there until the elephants went their way.
Located in the south of Chiang Mai Province, Omkoi is the home of the Omkoi Wildlife Sanctuary, which has a number of rare and endangered species including wild Asian elephants. But stumbling across wild elephants in the park is uncommon as it has a small population.
The firefighters were in the area as part of efforts to fight and spot forest fires burning across the province. Many villagers start fires to improve annual mushroom harvests and prepare land for planting new crops.
In another story, two men have been arrested in relation to fires that have caused widespread damage in Chiang Mai's Doi Suthep-Pui National Park. The two are alleged to have started a fire in a forest area in Ban Thung Pong Tai, in Hang Dong District.
The men admitted to starting the fire but claimed "that they were only trying to create a fire protection line", fighting fire with fire and providing protection from other fires in the park, but their fire got out of control. They face criminal charges.
In Chiang Mai's Mae Chaem district, a major source of corn crops, the district chief ordered an investigation after reports of a fire in the Pa Baan Tuan area. Officials arrived to find a man standing in the area with a lighter in his hand (doh!).
The man was taken into custody, and told authorities he was taking a shortcut home when he saw a pile of leaves and branches. He says he decided to get rid of them by lighting a fire which got out of hand.
The was taken into custody where he will have time to reflect on much better excuses in the future.
SOURCE: Chiang Rai Times
Keep in contact with The Thaiger by following our
Facebook page
.
Lockdowns, closures mean cleaner air in European cities

Lockdowns, travel restrictions and factory closures due to the Covid-19 coronavirus pandemic are having some unexpected positive consequences. Satellite images show that cities around Europe, including Brussels, Paris, Madrid, Milan and Frankfurt, are showing a huge reduction in air pollution average levels of noxious nitrogen dioxide over compared with the same period last year.
New images, including heat maps, released by the European Space Agency and analysed by the nonprofit European Public Health Alliance, show the changing density of nitrogen dioxide, which can cause respiratory problems and cancer. (Weather events can influence air pollution, so the satellite pictures took a 20 day average and excluded readings where cloud cover reduced the quality of the data.)
In Madrid, average nitrogen dioxide levels decreased by 56% week-on-week after the Spanish government banned nonessential travel on March 14.
In abandoned Venice, dolphins were supposedly spotted in spotted in the city's legendary canals, though this turned out to be "fake news." The canal water, nonetheless, is clearer because of the huge decrease in boat traffic.
The EPHA says people living in polluted cities may be more at risk from the virus because prolonged exposure to bad air can weaken the immune system, making it harder to fight infection.
"That connection is very likely, but because the disease is new, it still has to be demonstrated."
China also recorded a drop in air pollution in its major cities during February, when the government imposed draconian lockdown measures to contain the epidemic.
But in some regions of Poland, pollution levels remained high during the period despite its lockdown, possibly due to the prevalence of coal based heating. EEA data show that air pollution causes around 400,000 premature deaths each year in Europe.
SOURCES: Thai PBS World |Reuters
Keep in contact with The Thaiger by following our
Facebook page
.
Chiang Mai chokes as fires rage in the north of Thailand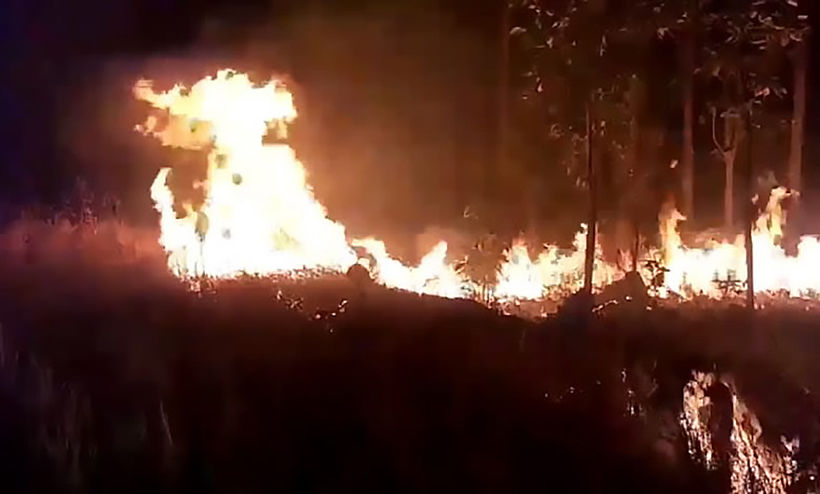 Northern Thailand is choking under a toxic shroud and it's not getting any better. Air pollution across the upper North remains "at critical levels," in many areas, including some of the main population centres. Authorities are monitoring almost 400 active hotspots in Chiang Mai alone yesterday.
The air quality didn't improve this morning, with IQAir recording "very unhealthy" air quality and hazardous PM2.5 dust levels at around 200 in parts of Chiang Mai and up to 270 around Chiang Rai today (below).
Thailand's official safe level is 50: the World Health Organisation sets it at 25. Though it's improved somewhat during the day, Chiang Mai once again rated world's worst for air quality.
According a 2019 report, PM2.5 caused 23,800 premature deaths in Thailand in 2017.
Government spokeswoman Narumon Pinyosinwat says fires have definitely affected air quality, with 17 provinces in the North reporting an increase in levels of PM2.5 pollutants yesterday. Only two, Nakhon Sawan and Uthai Thani in the north-east reported PM2.5 readings below the Pollution Control Department's "safe" threshold.
Chiang Dao district in Chiang Mai reported the highest PM2.5 reading in the North yesterday at 360.
Narumon says the worsening pollution is due to a combination of factors which include arson, drought and wind patterns which trap pollutants right over Thailand. Others say agribusiness, with its annual plantation field burnings, continues to exacerbate the problem.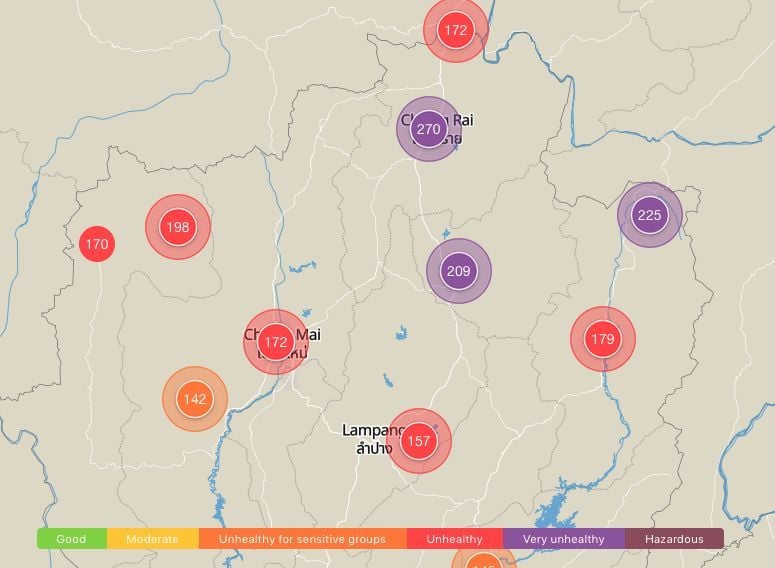 According to satellite data, on Saturday there were 3,809 hotspots in Thailand, 5,061 in Laos and 10,061 in Myanmar. As of yesterday, 398 hotspots, nearly 10% of the country's total, were found in Chiang Mai.
Most of the blazes were related to a continuing bushfire in Doi Suthep-Pui National Park, which suddenly raged out of control late on Saturday after burning for about a week.
SOURCE: Bangkok Post
Keep in contact with The Thaiger by following our
Facebook page
.