Thailand's Prime Minister takes control as the State of Emergency is activated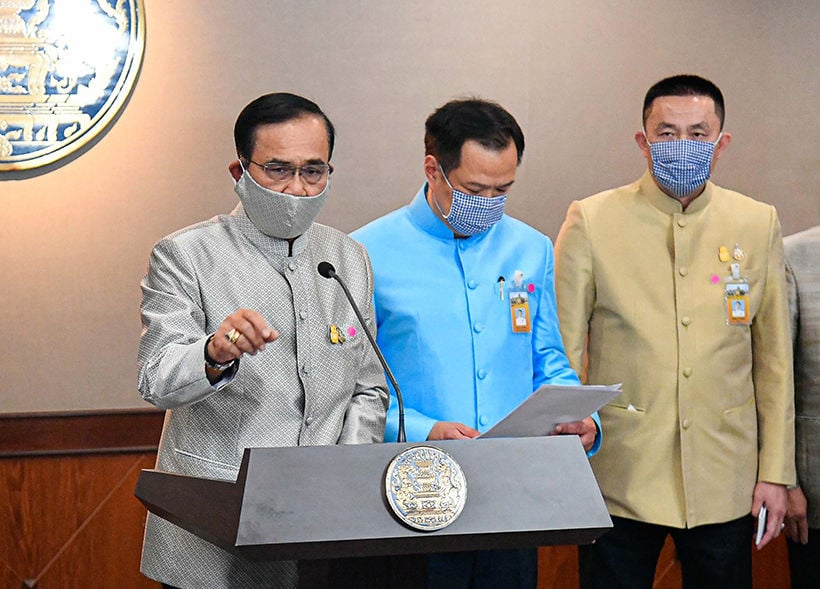 The Thai PM says he promises to do his best to lead Thailand through this Covid-19 crisis, to ensure the safety of the Thai people, and urges everyone to have faith in his leadership.
Thailand's PM Prayut Chan-o-cha spoke earnestly to the Thai people telling them to expect the worst in the next "several weeks or months" as the virus continues to ravage the country. He says that more stringent measures will be imposed that will affect their daily lives.
The State of Emergency is now in effect. The PM said that more stringent measures are necessary to slow the spread of Covid-19 and to reduce the socio-economic impacts from the contagion.
He urged all Thai people to cooperate fully with the government, to act responsibly and to comply strictly with preventive directives, even though they may feel their freedom is being eroded.
The Thaiger has all the latest Covid-19 news on one page HERE.
The PM also warned opportunists, hoarding goods and profiteering, that they will be dealt with decisively. He also noted that "more will follow in the near future, which may further inconvenience people".
In recent days there has been rumours of a national curfew but, at this stage, none has been enacted. Locally, there was a curfew in Phuket last night, from 5pm-midnight, asking all tourists to remain in their accomodation. The announcement, from the Phuket Governor, was an effort to avoid a repeat of spontaneous gatherings on Patong Beach the night. Few people knew about the local curfew even though it was randomly posted on local social media (Phuket's Governor certainly didn't bother sending The Thaiger a copy of the edict).
From today Thailand's prime minister takes a firm leadership role under powers outlined in the 2017 Constitution in an emergency situation.
Prayut is in directly in charge of Thailand's fight against the coronavirus. He will be overseeing all efforts at prevention, treatment and rehabilitation, and will report directly to the people on the progress of the government's efforts.
"Several weeks or months from now may be the worst time for us, the most difficult time for Thailand. It will be an unprecedented and challenging time for us. We must accept that Thailand is now at a turning point in the fight against Covid-19 and the situation may worsen considerably. It will affect our health, our income and our ways of life."
The PM said the government will issue updates on the virus situation every day. He urged the media to rely on government information only, and to refrain from interviewing medical professionals, so that they can focus on looking after the sick. He also asked netizens to refrain from sharing fake news.
"The government sector cannot fight the contagion alone, but needs public participation. Many capable members of the private sector have been mobilised to join the fight."
"This may be painful for all of us, but it is an opportunity to demonstrate that courage, love and care for one another will bring us through the crisis."
"We will weather this crisis together, to be strong again. We will fight together and win together."
Keep in contact with The Thaiger by following our
Facebook page
.
BIG arrest on price gouging of Covid-19 safety gear and fake test kits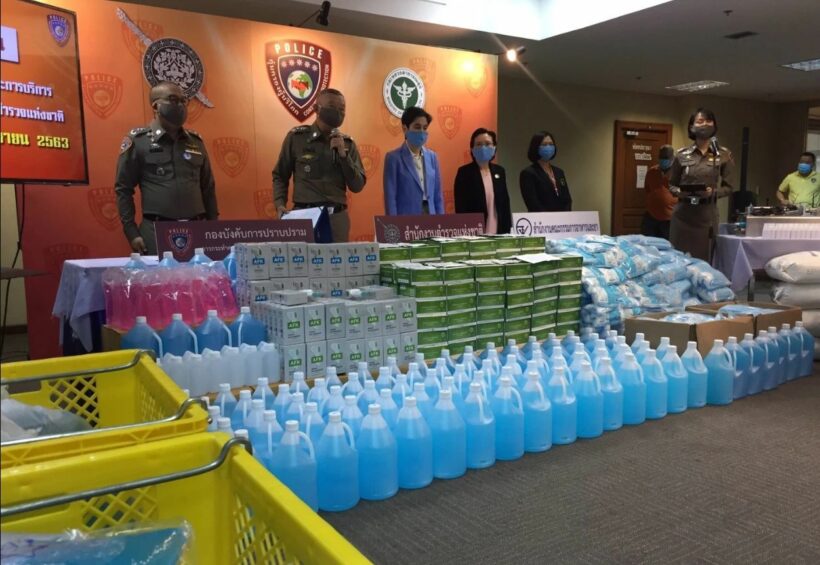 2 Chinese men identified as Chen Lei and Wein Pinpin have been arrested inside a home in Pra Khanong district, Bangkok, after officials received a tip-off that fake Covid-19 test kits were being smuggled into the country. 45,000 fake Covid-19 test kits, 350,000 medical masks, and 1,200 infrared thermometers were seized. The evidence was valued at 33,750,000 baht.
These items were being sold without permission at a extortionate prices in Bangkok area and nearby districts.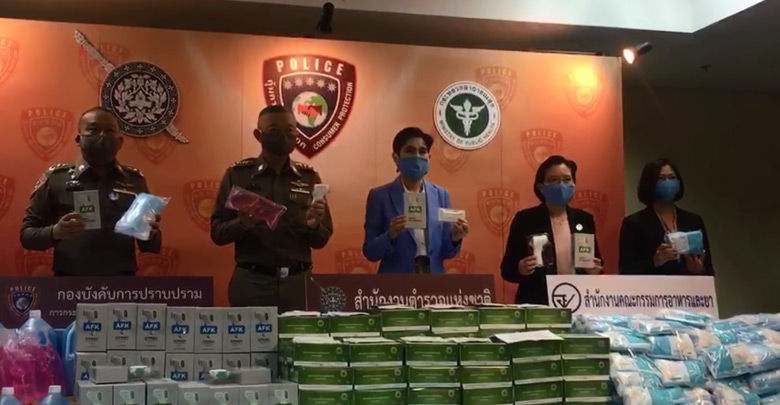 The Food and Drug Administration will be investigating to find out where the fake Covid-19 test kits were made, and who else is involved in importing them into the country.
Police and officials from the Consumer Protection Police Division and officials from the Food and Drug Administration have reported that a large pile of evidence is piling up as the crisis unfolds, including…
45,000 fake Covid-19 test kits, 350,000 medical masks, 1,200 infrared thermometers, 53,000 litres of alcohol, 7,896 bottles of fake hand sanitisers and 82,771 cosmetic items, valued around 50 million baht
The punishment for smuggling medical equipment is imprisonment of up to 1 year, and a fine not exceeding 100,000, or both.
All products claiming to be Covid-19 test kits online at the moment are all fake, according to the Thai FDA.
SOURCE: Thai Residents
Keep in contact with The Thaiger by following our
Facebook page
.
Koh Lanta restricts entry after 4 confirmed cases of Covid-19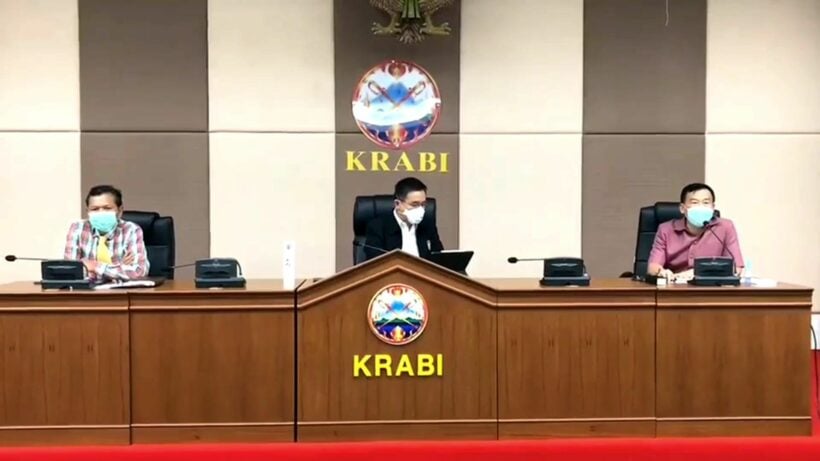 The beautiful Koh Lanta in Krabi province is to be shut down after 4 confirmed cases of Covid-19 infection were found on the island.
Today in an emergency meeting with the top executives of Krabi province, alongside 8 district sheriffs, Krabi's governor Kitibadee Prawit, says "further measures to prevent the spread of Covid-19 are being added as the 4 infected persons had been in contact with multiple people on the island. These contacts are being traced and tracked down by public health officials. "
Provincial authorities had to halt transportation between neighbouring districts. And announced in any case where local residents who need to move between districts must first get permission from their district chiefs.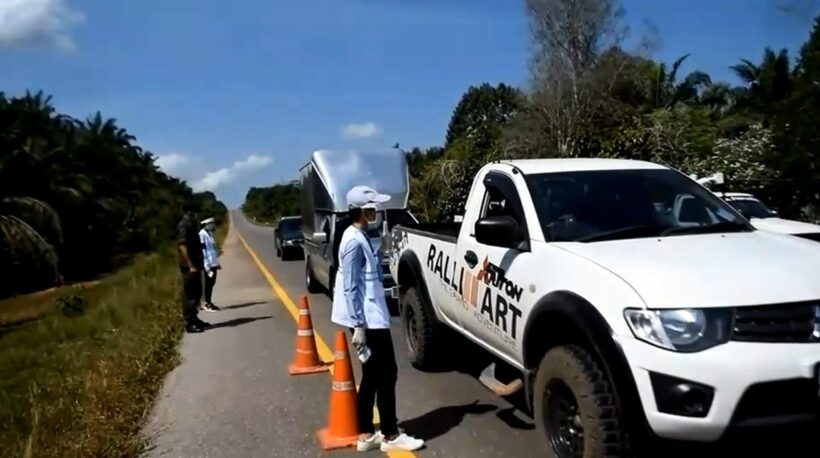 The lockdown of districts will last until April 24.
Meanwhile, from today to Friday officials will be investigating residents to identify the high risk personals affected by the 4 confirmed Covid-19 cases. Authorities in Krabi are also monitoring the Covid-19 situation closely in 227 locations, coordinating their efforts via the internet and the 'Zoom' video conferencing tool with neighbouring provinces.
SOURCE: The Nation
Keep in contact with The Thaiger by following our
Facebook page
.
Pattaya issues three month prison sentence to curfew violators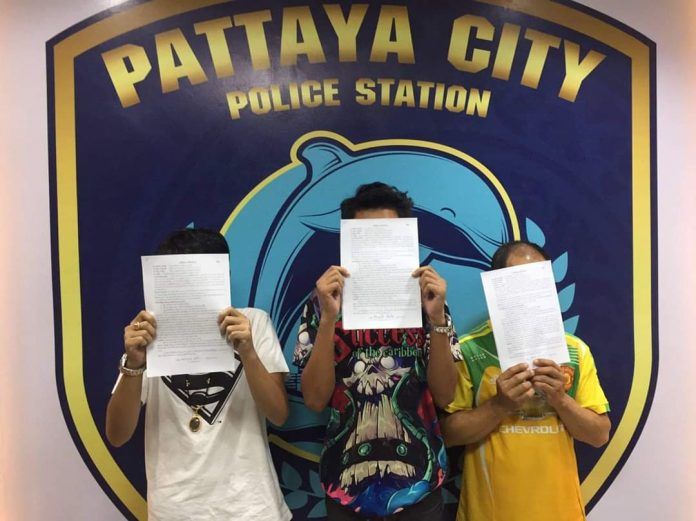 Three Thai men were caught in Pattaya yesterday evening violating the Emergency Decree curfew and sentenced to three months in prison. Pattaya City Police posted on their Thai social media channels and reminded its Thai and English audience not to go out between 10 pm and 4 am without a valid reason or face the consequences. After a rise in curfew violators, this harsh punishment might shake some fear into those who ignore the Emergency Decree.
Pattaya Police sentenced the three men today, whose names were not given to the media, to three months in prison without parole, effective immediately.
The Pattaya Police stated there will be no leniency for curfew violators in Pattaya.
SOURCE: The Pattaya News
Keep in contact with The Thaiger by following our
Facebook page
.