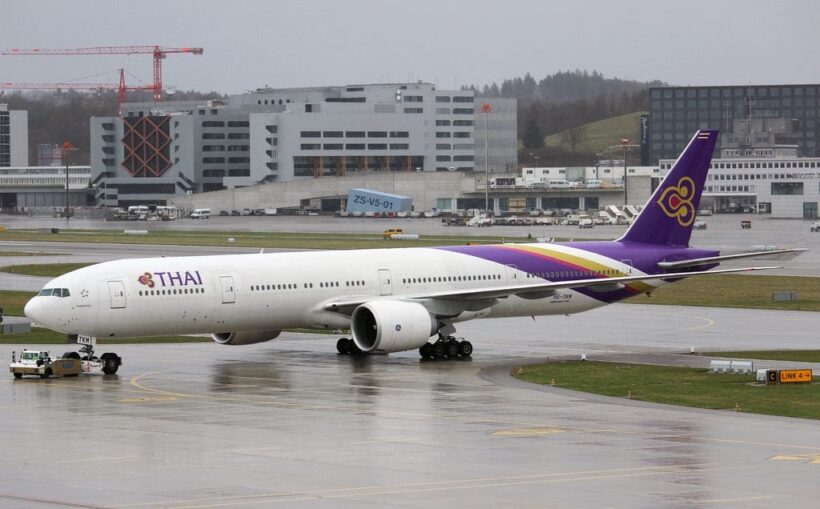 Thai Airways is promising disciplinary action after an investigation found both the flight captain and the station manager based in Zurich had acted 'unethically' in the delayed Zurich-Bangkok flight earlier this month.
The Thai Airways president Sumeth Damrongchaitham has apologised for the incident stating the investigation showed that the problems happened due to lack of coordination between the flight captain and the Zurich station manager.
"They failed to prioritise the interests of passengers and the airline in resolving the seating dispute of two off-duty pilots heading to Bangkok," he said.
The seating dispute, involving the two pilots on the Boeing 777 service, TG971 from Zurich to Bangkok on October 11, delayed the flight by more than two hours. The insistence of the pilots for first-class seating resulted in two passengers who had been previously upgraded, having to relinquish their seats.
"The next step is to set up a committee, which will decide on the disciplinary penalties," said Sumeth, declining to elaborate, saying it was an internal matter.
"The lessons learned from this matter will be used for improvement of our organisational reform, which not only targets income and profit but also is striving to improve its corporate culture.
"This was not the first time such an incident had happened. In the past too, off-duty pilots have agreed to change seats. There must be coordination first.
"This problem was caused by the communication breakdown between both of them (the flight captain and the Zurich station chief)," he said.
Sumeth said that the national airline would issue regulations on off-duty pilots who are on board as passive crew to prevent the recurrence of such an incident.
Since last mid-week, Thai Airways has contacted all passengers who are members of Royal Orchid Plus (ROP), providing them additional mileage points as an apology, and will try to contact non-ROP passengers with a proper measure to apologise.
"I, as the management chief of Thai Airways, and all related parties admit this mistake and apologise for this incident. I assure that the company prioritises both the highest safety standards and services for customers. After this, our work process will be improved for good coordination, and customer-interest will be at the centre in order to prevent the recurrence of such an incident in the future," Sumeth said.

Yesterday's media conference by Thai Airways International – The Nation
STORY: The Nation