Upper Southern provinces being warned about dengue spread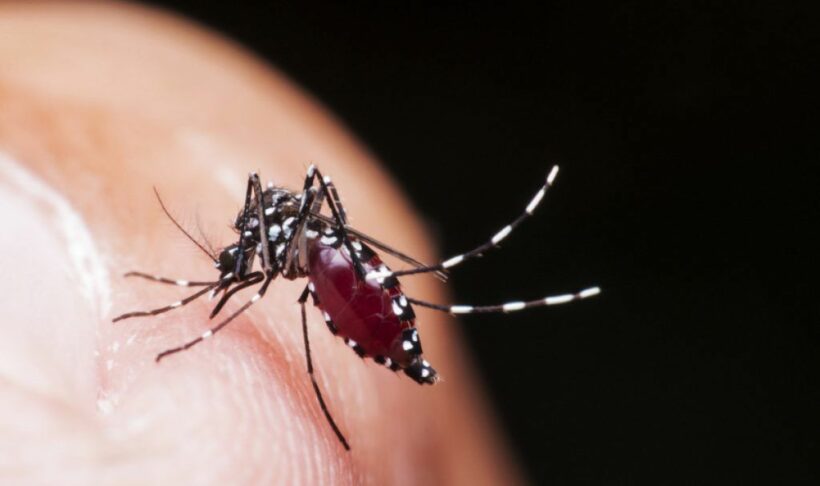 "The number of patients is expected to rise as rain has begun falling in some southern provinces."
Residents of provinces in Thailand's upper South are being warned that dengue could spread now that the annual monsoon rains have arrived.
Doctor Sirilak Thaicharoen, director of Nakhon Si Thammarat's 11th Disease Control Office, said 1,165 people in seven upper Southern provinces had contracted dengue virus in 2019 resulting in one death so far. She said most of the dengue patients were children between the ages of 10 and 14, though those aged 5 to 9 years old are the second-biggest age group affected.
Nakhon Si Thammarat has the largest number of dengue patients, followed by Phuket, Phang Nga, Krabi, Ranong, Surat Thani and Chumphon.
Nationwide, 12,545 people have caught the virus this year resulting in 14 deaths, she said.
Dengue is spread by mosquito bites. Between 4 to 7 days after a bite from an infected mosquito, victims develop flu-like symptoms which include a sudden high fever coming in separate waves, pain behind the eyes, muscle, joint and bone pain, severe headache and a skin rash with red spots. There is no antiviral treatment available.
The main way to prevent its spread is to avoid being bitten by mosquitos.
Here is The Thaiger's much-read Top 10 ways to avoid contracting dengue.
SOURCE: The Nation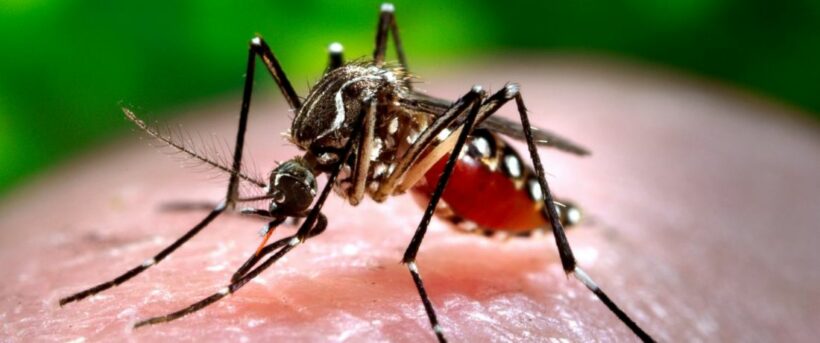 Keep in contact with The Thaiger by following our Facebook page.
Never miss out on future posts by following The Thaiger.
Bryde's whale in Gulf of Thailand gives birth to third baby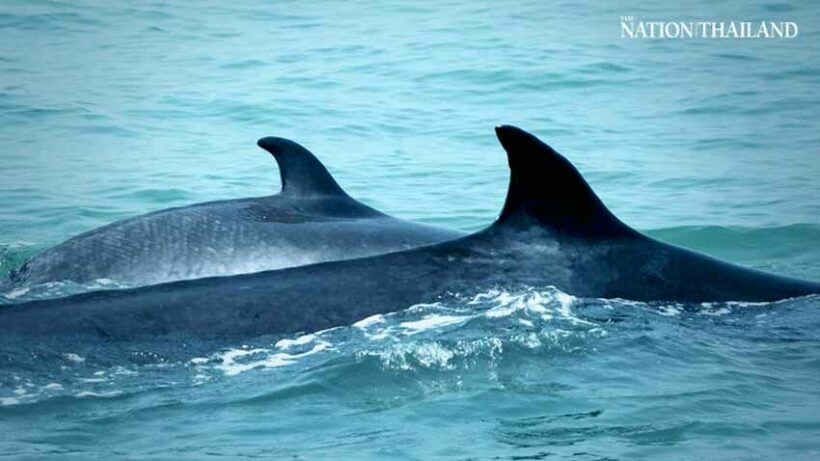 A Bryde's whale living in the Gulf of Thailand has given birth to her third baby whale. Nation Thailand reports that Mae Thong Dee was photographed by wildlife photographer Jirayu Ekkul, whose team has been monitoring the whale. It's understood she has a number of injuries, including a ripped dorsal fin and serious eye injuries.
"We found Mae Thong Dee and her baby whales about 2 hours after taking a ship to the Gulf of Thailand. It may have been our destiny to meet these whales."
Jirayu says that 2 years ago, there were concerns Mae Thong Dee wouldn't survive after sustaining injuries to her eyes, but the latest sighting has given them hope.
"I finally realise why she ate so much and lived in the gulf for over 9 months. It wanted to take care of its health to give birth to a baby whale."
The Bryde's whale belongs to the same group as blue whales and humpback whales. Usually spotted individually or in pairs, they will sometimes gather in groups of around 20 in feeding areas. The Bryde's whale is on Appendix II of the Convention on the Conservation of Migratory Species of Wild Animals, with its conservation status listed as unfavourable. It is also covered by the Memorandum of Understanding for the Conservation of Cetaceans and Their Habitats in the Pacific Islands Region. It was named after Johan Bryde, the Norwegian consul to South Africa, who helped create the first modern whaling station in the country.
SOURCE: Nation Thailand
Keep in contact with The Thaiger by following our Facebook page.
Never miss out on future posts by following The Thaiger.
Chon Buri zoo invites people to vote on baby hippo's name – VIDEO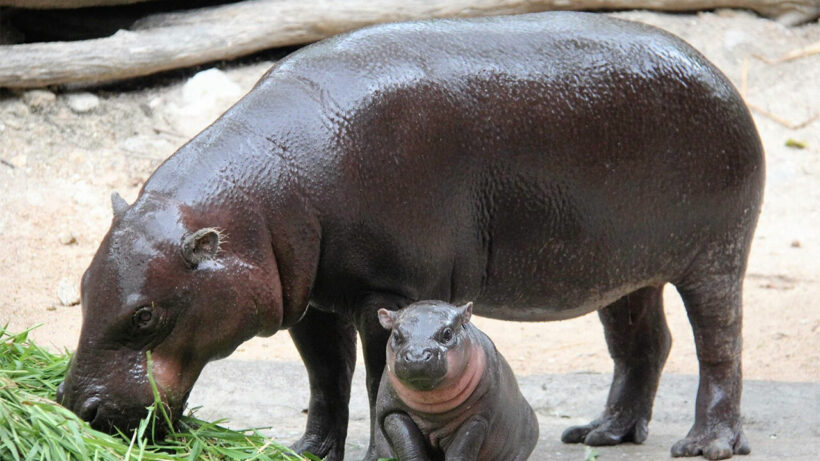 A zoo in the eastern province of Chon Buri is inviting people to vote on the name of a baby pygmy hippopotamus born last month. Anuphong Anont from Khao Kheow Open Zoo says the baby made its first public appearance yesterday.
"The female baby hippo was born on January 14 to 6-year-old mother Kanya and 21-year-old father Tony. The baby hippo is healthy but is very attached to her mum, so we let them have some privacy before introducing the new family member to the public."
VIDEO: Thai Rath
The zoo is home to 10 hippos and now 8 pygmy hippos, which are a tenth of the size of regular hippos. Among the zoo's residents is Mali, Thailand's oldest hippopotamus, who is 55 years old. Visitors to the zoo are being asked to choose from 2 potential names for the latest arrival, with voting taking place on the facility's Facebook page.
"We have narrowed it down to 2 choices: Moo Wan or Bacon. People can vote for their favourite choice at the zoo's Facebook page until April 5."
Nation Thailand reports that everyone who votes will be entered into a draw, with a chance to win the top prize of 3,000 baht. 10 others will receive free entry to the zoo for a year. The results will be announced on April 12.
SOURCE: Nation Thailand
Keep in contact with The Thaiger by following our Facebook page.
Never miss out on future posts by following The Thaiger.
Did the Covid-19 virus actually originate in Thailand? | VIDEO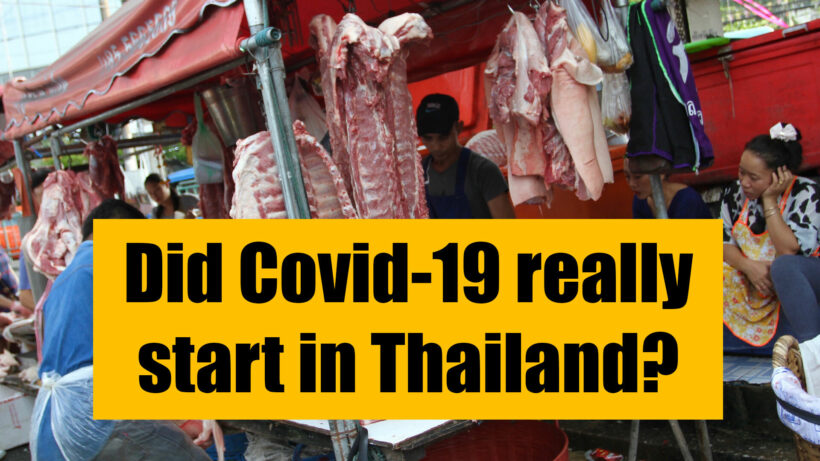 South East Asia was the source of Covid-19, not China. Even more specifically, it came from Thailand… from the famous Chatuchak market, or, as quoted correctly "a market LIKE Chatuchak".
That's the claims of a Danish epidemiologist Thea Kolsen Fischer, who was on a recent World Health Organisation fact-finding mission to Wuhan to examine the origins of the latest coronavirus pandemic. The claims were printed in Denmark's daily newspaper Politiken this week and have half left Thai officials flabbergasted.
The paper poses the question… was Chatuchak Market, or a similar were market in Bangkok like Chatuchak, indeed "the place that brought the coronavirus to Wuhan".
Chatuchak market, for those unfamiliar with the tourist trap north of the main Bangkok city centre, is a market for just about everything. It's also locally known as JJs. You can find cheap knock offs, souvenirs, hardware supplies, decor and lots and lots of animals, dead and alive.
Thailand's Department of Disease Control held a media conference yesterday to refute the claims, claiming that it regularly tests animals at the market. The spokesperson also responded to an earlier news article by Russia's Sputnik news agency suggesting that a similar strain of the novel coronavirus found in bats in Thailand appeared to resemble Sars-CoV-2… Covid-19.
Citing a new study published in Nature Communications, the Sputnik news agency claimed there are bats in Thailand with a virus, a coronavirus, that matches the one that causes Covid-19. Given the much-less-easy to remember code name RacCS203, the new virus was identified in the blood of five horseshoe bats that had been tested in an artificial cave at a wildlife sanctuary somewhere in eastern Thailand.
Researchers at Bangkok's Chulalongkorn University have also conducted genomic sequencing on the virus and reportedly found that the virus shares 91.5% of the genetic code of Sars-CoV-2.
Keep in contact with The Thaiger by following our Facebook page.
Never miss out on future posts by following The Thaiger.