Four beaches in Trang closed to swimming due to unsafe conditions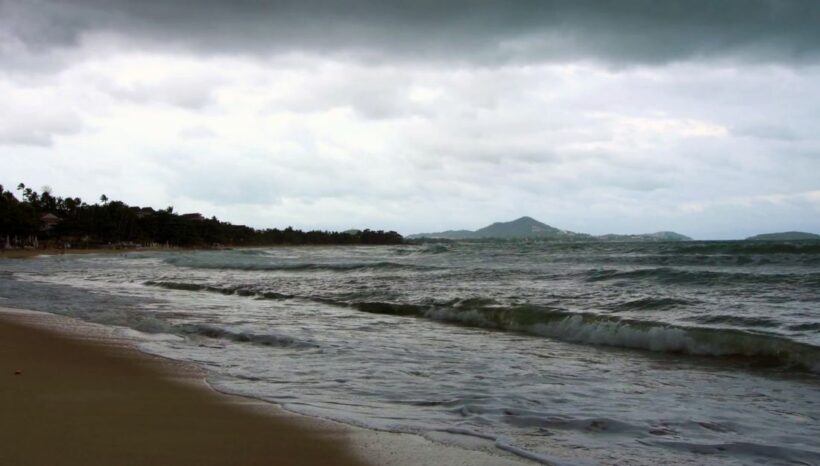 Officials from the Haad Chao Mai National Park have posted red flags along four popular Trang beaches to warn tourists against swimming because strong onshore winds were whipping up the waves to more than two metres in height.
Haad Chao Mai National Park is a protected area located in the Sikao and Kantang Districts of Trang Province, Thailand. It is a marine national park. Established in 1981, it is an IUCN Category II protected area with coral reefs, and an area measuring 230.86 square kilometres.
Narong Khong-iad, the chief of the park, says red flags were raised along the Haad Yao, Haad Yong Ling, Haad Chao Mai and Haad Pak Meng beaches to warn tourists against swimming.
He also stressed that tourists are prohibited from heading offshore to visit the marine park and warned tourism operators to strictly comply with the order against taking tourists to visit the islands in the park area.
SOURCE: The Nation
Keep in contact with The Thaiger by following our
Facebook page
.
Southern Thailand smog well above safe levels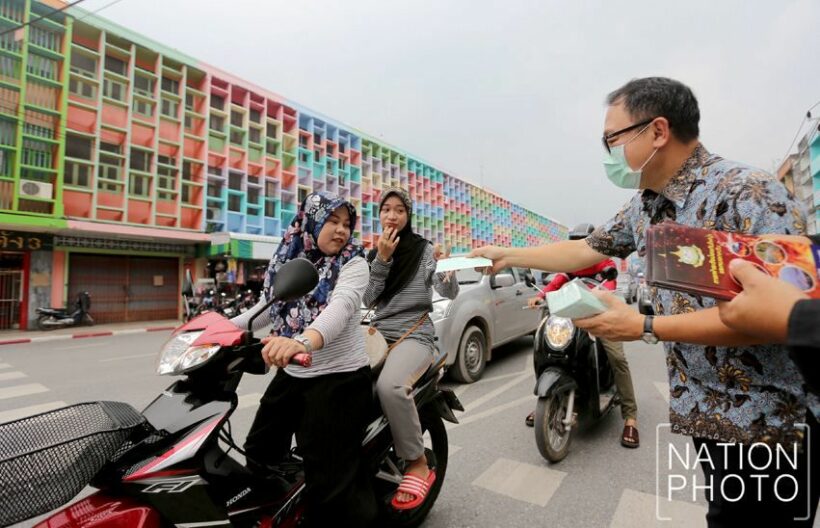 PHOTOS: Charoon Thongnual – The Nation
Hat Yai, the main city in Songkhla, has been among the worst hit by the smog engulfing parts of southern Thailand, Malaysia, Singapore and the Indonesian islands of Sumatra and Borneo.
The business district of Hat Yai has been hard hit with PM2.5 particles exceeding the safety standards of 50 (set by the World Health Organisation). But some rain yesterday afternoon provided a short respite. This morning it is up to 158 again.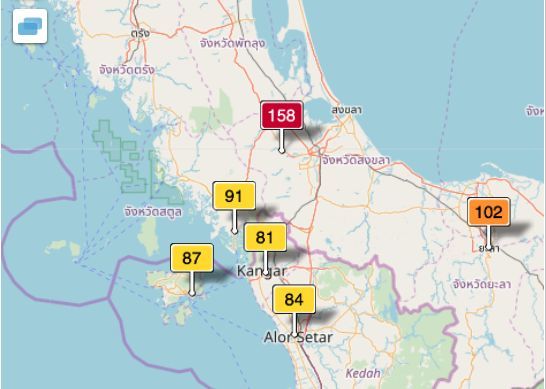 Two other areas facing similarly poor air quality are Yala and Satun provinces, according to Tananchai Wansuk, the chief of the area's environment office.
"The smog from the Indonesian island of Sumatra is expected to cloud southern Thailand for at least the next three days."
Meanwhile, measures have been put in place to protect public health in southern Krabi province amid a seasonal recurrence of haze drifting from Indonesia, the chief of the provincial health office said yesterday.
Dr Aphichai Limanont said hospitals of all sizes had been instructed to communicate information about coping with the smog, with those at most risk, such as children, the elderly, and people with chronic respiratory problems are being warned to be especially vigilant.
Aphichai acknowledged that Krabi had witnessed dense smog every year recently, but said the authorities had been able to cope.
The southern Thai provinces struggle perennially with the smoke from forest fires burning on Indonesia's Sumatra Island and Kalimantan and it reappeared this week in Yala and Songkhla. Malaysia and Singapore have been suffering for several weeks with government environmental officials pointing fingers and trading insults.
Meanwhile, Indonesia's President Jokowi has acknowledged the problem while 30,000 Indonesian army, firefighters and emergency responders are in the fire zones battling the intentionally-lit plantation fires.
SOURCE: The Nation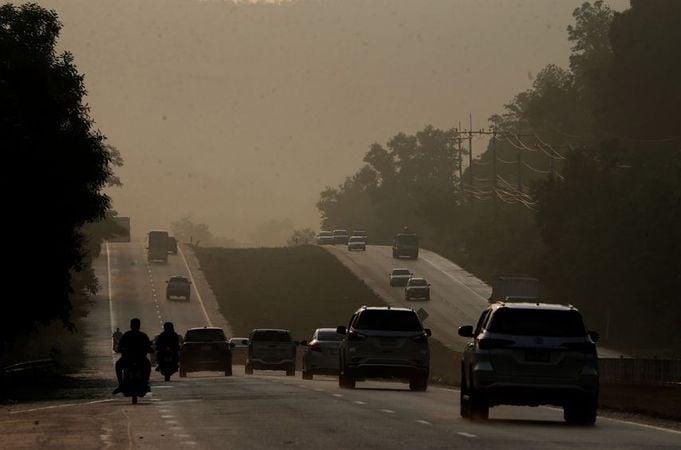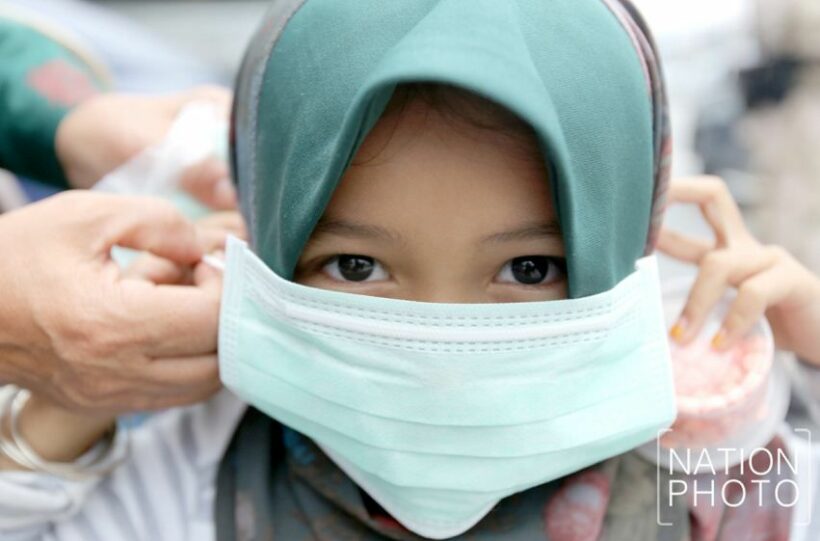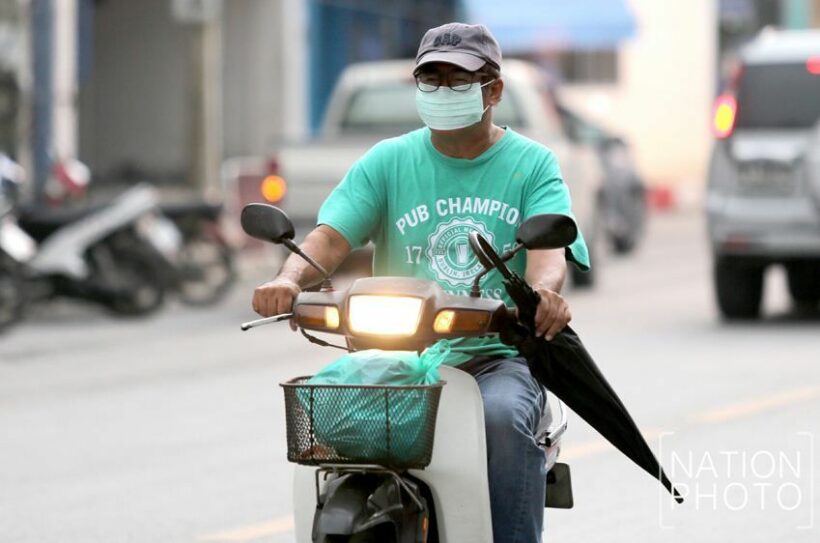 Keep in contact with The Thaiger by following our
Facebook page
.
Indonesia's President Jokowi says he is "embarrassed" by fires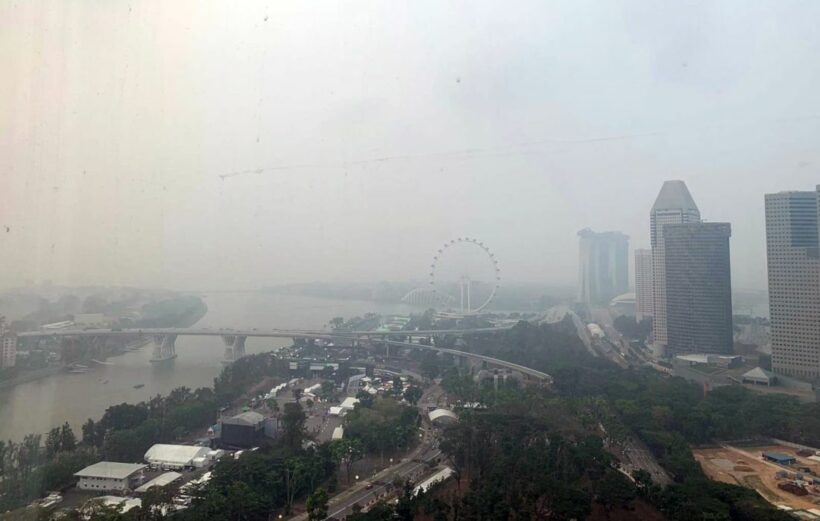 PHOTO: Singapore, days before the 2019 Grand Prix – DL
Dozens of people have now been arrested over their alleged involvement in Indonesia's massive forest fires. Thousands of hectares of rain forest and plantations have been burned, with the smoke and haze drifting in neighbouring Malaysia, Singapore and southern Thailand.
Dedi Prasetyo, Indonesia's National Police spokesman has confirmed 185 people now been arrested across six provinces hit by the intentionally-lit fires and four corporations were under investigation.
"99% of the forest and land fires occurred due to human factors."
Keep in contact with The Thaiger by following our
Facebook page
.
Smoke from Indonesian illegal plantation burn-offs causing acute problems for south east Asian neighbours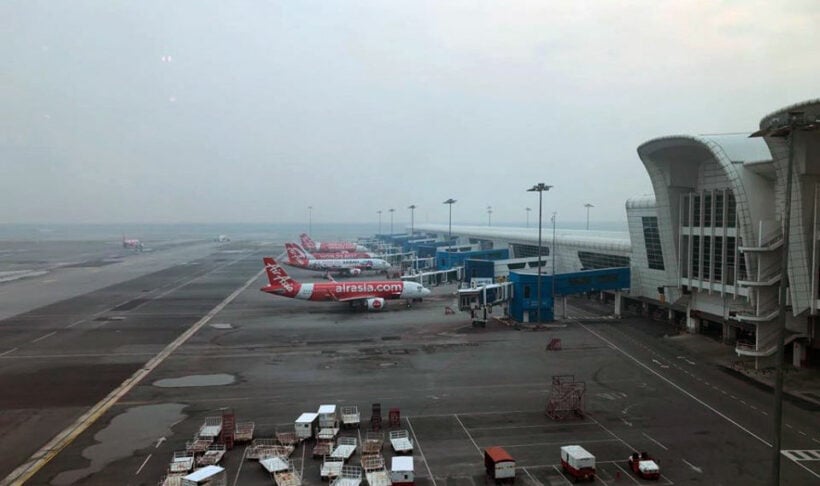 PHOTO: Visibility down to less than a kilometre at KL airport yesterday
Flights cancelled, schools closed and regional environmental ministers trading insults. The minister's fiddle whilst Indonesian islands burn.
Parts of Indonesia are now opening temporary clinics to treat thousands of people suffering from acute respiratory illnesses in the smoke haze stricken regions around Sumatra island as authorities stepped up efforts to douse forest and peatland fires.
Dangerous smoke from illegal burning to clear land for palm oil and paper plantations is prompting school closures and disrupting travel in the region. But the air quality in Singapore, which slipped to unhealthy levels over the weekend, is now forecast to improve in the next few days.
The fires, an annual burn-off of plantations to prepare for the new year crops, is causing major disruptions and a health hazard for other south east asian countries in the wake of the smoke, including Malaysia, Singapore and southern Thailand.
More than 300 schools in Malaysia's southern state of Johor were closed on the weekend after the Air Pollutant Index hit very unhealthy levels. (Johor's weekend is Friday and Saturday with Sunday being a normal work day.)
Authorities have distributed perfunctory face masks to people in Riau, Jambi, South Sumatra and Kalimantan as the ash and smoke from more than 2,500 hotspots blanket the region. Authorities now say they have deployed more than 9,000 personnel, with the help of 42 helicopters, to fight the fires.
The total number of hotspots in Indonesia fell to 2,583 on Monday from 2,862 on Sunday, with the Indonesian part of the Borneo island alone accounting for almost 1,200 forest fires. The hotspots have affected 328,724 hectares of forest and farm land this year, data from the National Disaster Mitigation Agency show. The agency stands ready to undertake cloud-seeding to douse the fire, it said.
Kuching and Kuala Lumpur in Malaysia, Hanoi and Jakarta were among the world's top 10 cities with the poorest air quality, according to IQAir AirVisual pollution data yesterday. The air quality index in Kuching in haze-hit Sarawak state was 241 yesterday, a level well in excess of the WHO upper level of 50.
In KL yesterday the levels reached 130.
Meanwhile PT Garuda Indonesia airlines, the national carrier, was forced to cancell 12 flights on Sunday and several of its jets were either diverted or delayed as the haze lowered the visibility.
Keep in contact with The Thaiger by following our
Facebook page
.