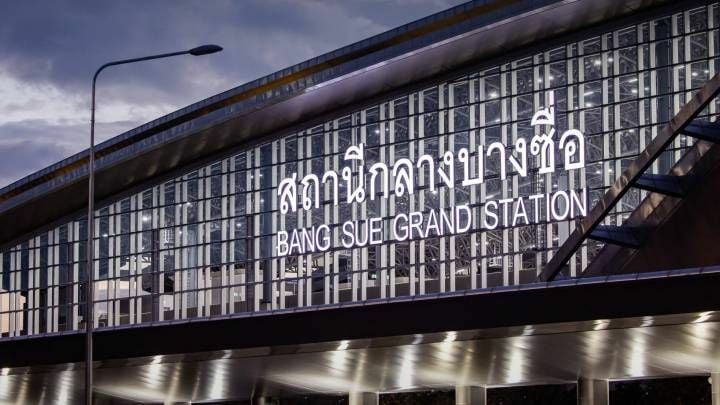 When His Majesty the King renamed Bang Sue Grand Station, "Krung Thep Abhiwat Central Terminal," in September, some quiet questions were asked if the Bangkok station's US$1-million name change was really necessary.
Yesterday, Transport Minister Saksayam Chidchob has been obliged to assure a puzzled public that an investigation into the 33 million baht (US$1 million) cost of the new nameplate will be fair and honest.
An investigating committee comprised of representatives, from the Engineering Institute of Thailand, the Architects' Council of Thailand, the Council of Engineers of Thailand, and the Comptroller's Department, will run their finger down the column of figures, identify any wrong that may have been done, and right it. The mammoth 10-member committee will wrap up its business within 15 days.
Activist Srisuwan Janya on Thursday said the SRT's spending and procurement method prevented competition and could have contributed to the project's high costs.
Citing urgency, the SRT said it used a "specific" method of bidding for the project, with a committee to draft the scope of the work and set a price.
Srisuwan asked the state auditor to determine if the method was legal. Uniq Engineering and Construction (Uniq) had been awarded at least eight SRT projects, and, he added "urgency" was not reasonable because the project did not involve national security. The State Audit Office has initiated an inquiry.
Saksayam explained the breakdown of costs — 6 million baht for dismantling work; 24 million baht for glass; 900,000 baht for installation.
Uniq was awarded a 33-million-baht contract by the State Railway of Thailand (SRT) to change the nameplate from Bang Sue Grand Station to Krung Thep Aphiwat Train Terminal and to install two SRT logos. Changes involved 48 three-metre-tall Thai letters and 62 English letters, glass panels across 85 square metres, and a metal structure covering 188 square metres, and includes the installation of two SRT logos.
The project has drawn widespread criticism over its costs amid claims that questionable methods were used in hiring the contractor.
Saksayam said that since Uniq had built the station, it made sense that they should undertake the Bangkok station's US$1-million name change. The new name means "Bangkok's prosperity."
The opposition Move Forward Party questioned Saksayam in the House yesterday about the cost of the change, which it described as too expensive and a waste of money for a state enterprise like SRT, which is saddled with a mountain of debt. The party also asked why the SRT didn't install the new name at the station to start with.