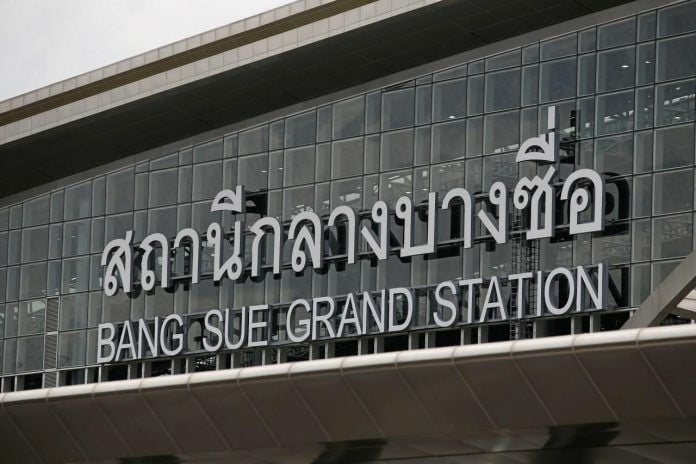 Transport Minister Saksayam Chidchob smells corruption coming from a 33 million baht budget for a new sign at Bangkok's central train station, whose name is changing from "Bang Sue Junction" to "Bangkok Apiwat Central Station."
The State Railway of Thailand (SRT) allegedly signed a contract approving a budget of 33,169,726.39 baht for a new sign to reflect the train station's new identity.
The hefty sum left officials wondering if it really costs 33 million baht to replace a sign, even a big one.
For comparison, 30 million baht could buy you a six-bedroom luxury pool villa in Phuket's sought-after Rawai district on www.fazwaz.com.
Public Health Minister Anutin Charnvirakul and Transport Minister Saksayam Chidchob ordered the relevant agencies to investigate potential corruption in the budget within seven days. If corruption is found, the contract will be terminated and those involved will be punished, said Anutin.
Yesterday, Senior Executive of Unique Engineering and Construction Company Ltd., Termphong Mohsuwan, presented a letter to the manager of the Stock Exchange of Thailand dated December 29.
The letter allegedly evidenced that on December 29, the construction company signed a contract with the SRT to take down the old Bang Sue Junction sign and replace it with a "Bangkok Apiwat Central Station" sign for 33 million baht.
The investigation was launched yesterday and will take no longer than seven days under Anutin and Saksayam's orders. Anything "unusual" in the contract may be corrected, but even still, whoever is responsible will be punished, said Saksayam.
Just last week, Thailand was ranked the 4th least corrupt country in Asia and 35th least corrupt country in the world in the U.S. News' "Least Corrupt Countries" list.