Public transport vehicles failing safety checks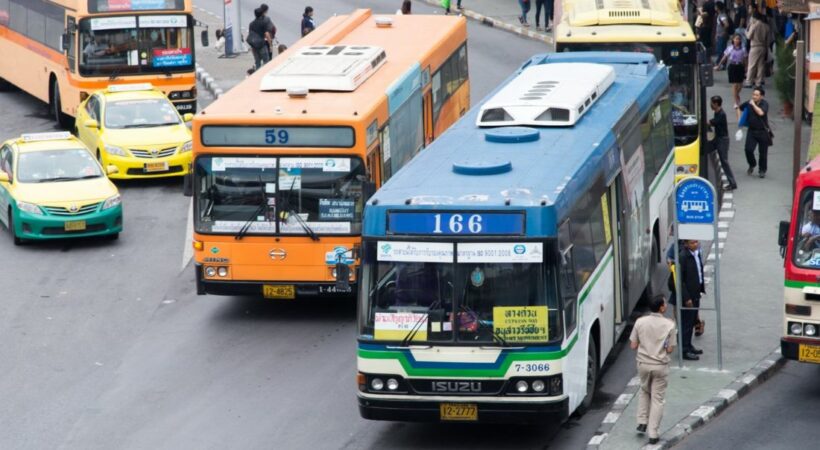 PHOTO: National News Bureau of Thailand
In the first week of new safety checks introduced by the Department of Land Transport (DLT), 1 in 7 public transport vehicles have failed.
Drivers fared slightly better, with only 3 out of 10,236 failing their exam.
DLT Director General Peerapol Thavornsubhajaroen says that as part of the test brought in to improve public safety, over 7,000 vehicles were checked in the period September 2 – 11, with over 1,000 failing to pass inspection.
"The check-up campaign is expected to take three months to complete. During the first week we already performed checks on 7,088 vehicles and found that 1,020 of them failed the evaluation. We ordered the owners to fix their failed vehicles and bring them back for another check-up within 15 days."
It's understood the vehicles tested were a mixture of min-vans and buses and the reasons for failure included low-quality brake systems, excessive black smoke emissions or unauthorised modification to engines and gear systems.
Peerapol says drivers who fail their test are given advice on how to better prepare before re-taking it the exam.
Physical checks on drivers include physical fitness, color blindness, reactions, eyes (depth and width perception), as well as a test on their general suitability as a public transport service provider.
Vehicle tests include checks on the engine, vehicle body integrity, brake system, wheel alignment, lights, smoke emissions, acoustics, as well as ensuring there are no gas leaks.
SOURCE: The Nation
Keep in contact with The Thaiger by following our
Facebook page
.
Tour bus crash in northern Thailand injures 8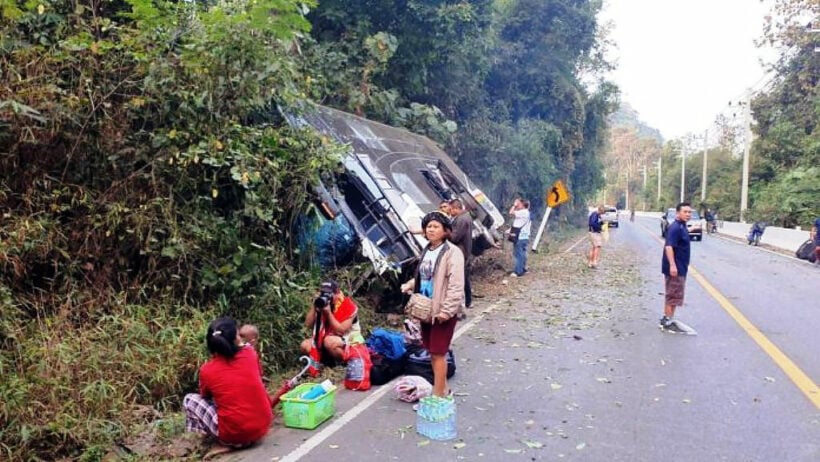 Eight people are injured, one seriously, after a tour bus crashed in northern Thailand's northern Nan Province yesterday morning. The bus skidded into a mountain slope at a curve in the main city district. Thai media report that the bus was found lying on its side when police and rescue workers arrived at the scene.
The 32 year old driver, Yutthapong Yangklang, was badly injured, while seven passengers sustained only minor injuries. All were given first aid before being taken to hospital. Police say the bus was using GPS to navigate but somehow the system incorrectly guided it to Ban Luang district.
The driver turned around to correct his course and head for the city, but on the way to Pua district, while driving alongside a mountainous slope, the bus experienced 'brake failure' on a sharp curve. The driver swerved right to stop the bus, but hit the slope.
Police have advised visitors travelling to Nan to ask directions from local residents, or to consult relevant agencies about routes if they are unfamiliar with the area, as the route can be confusing.
SOURCE: The Chiang Rai Times
Keep in contact with The Thaiger by following our
Facebook page
.
Motorcycle 'win' drivers charge 380 baht for 4.7 kilometre trip through Bangkok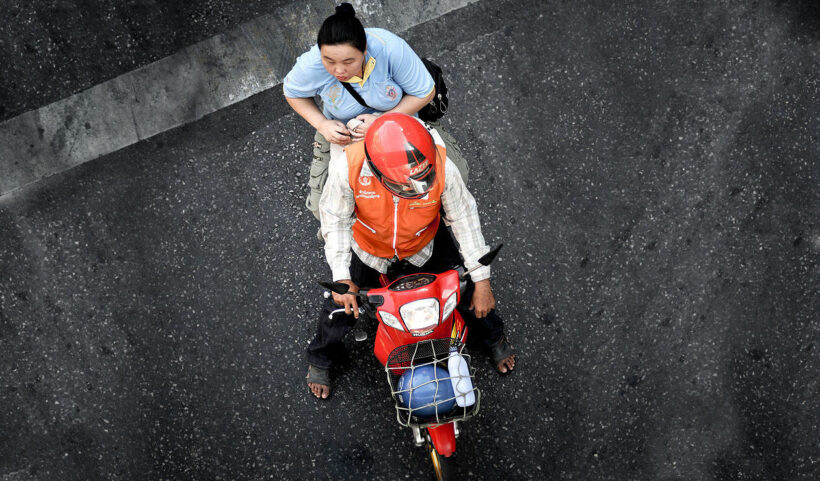 It's not just tourists that get ripped off by the notorious Win drivers in Bangkok (The Thaiger is a regular Grab Bike user but has never had any specific problems with Win drivers).
A win-motorcycle user (motorcycle taxi) has related a recent rip off on Thailand's most popular website, Pantip. The user said they were traveling with another friend from Victory Monument to the Mahanak Intersection in Bangkok on January 15. They arrived at the monument via van and decided to take a 'win' taxi or use Grab Bike as the bus service was still a long time away.
So that's 4.7 kilometres point to point. Traveling by taxi would cost them around 60 baht. The two then met up with some Win motorbike drivers as the walked along the road.
They relate that they were a bit wary of the drivers as they weren't wearing the usual regulation numbers on their jackets, designating the area they are legally allowed to operate.
But the persistent drivers kept trying to find out where the couple were going.
Win Driver: Where are you going?
Pantip User: (silence)
Win Driver: Where are you going? Where are you going?
Pantip User: Mahanak Intersection
Win Driver: Do you want to go, there's heavy traffic we can get there fast.
Pantip User: How Much?
Win Driver: I'll have to see how far it is.
Pantip User: OK (thinking it would cost a maximum of around 100 baht)
There was little traffic and they arrived at the destination in less than 10 minutes.
Pantip User: How much?
Pantip User friend's driver: 380
Pantip User: ???!!!?!?!?
Win Driver: 380!
Each.
The Pantip commenter and his friend stood on the road shocked for a moment as they felt like they had just been robbed, according to ThaiResidents.com. In total, the pair forked out 760 baht, 380 baht each, for a 4.7 kilometre ride.
The writer later revealed that he called 1584 (emergency hotline) and went to the police station for security footage from the road. The police received the driver's name from the online money transfer. Turns out both of the drivers are illegal Win Motorbikes and the police have 'invited' them in to pay a fine and 'have a chat'.
1 – Social media
0 – Win drivers
SOURCE: Thai Residents
Keep in contact with The Thaiger by following our
Facebook page
.
Thai Airways' pilot under investigation for botched landing at Frankfurt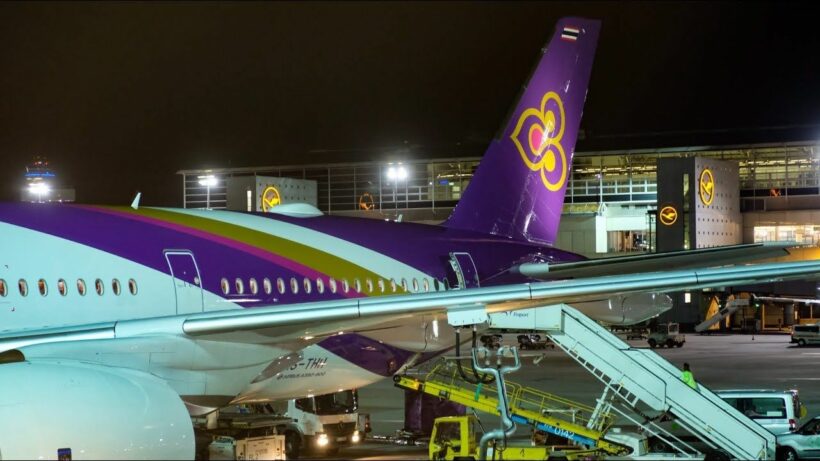 A Thai Airways International pilot, flying for Thailand's national flag carrier, is currently being investigated by Germany's BFU (Bundesstelle für Flugunfalluntersuchung), the country's civil aviation investigators, for flying a Thai Airways plane below the standard altitude as the flight he was piloting, was approaching Frankfurt International Airport. The flight had originated in Phuket.
The incident has been related through the Outsider's Aviation Facebook page.
The Thai Airways branded Airbus A350-900 direct flight from Phuket to Frankfurt, was approaching Frankfurt airport at a reported altitude of 800 feet above ground, which was below the standard safe minimum altitude for approaches to Frankfurt International Airport.
The pilot took the decision to initiate a go-around and took the plane up to about 5,000-feet before lining up for a second attempt, and landed successfully. The plane landed safely on 07R runway about 15 minutes after the first attempt.
Despite the safe landing, the BFU says the incident is "a serious violation of aviation safety standards" and ordered an investigation. The identity of the pilot has not been disclosed.
SOURCE: Thai PBS World
Keep in contact with The Thaiger by following our
Facebook page
.