Public transport vehicles failing safety checks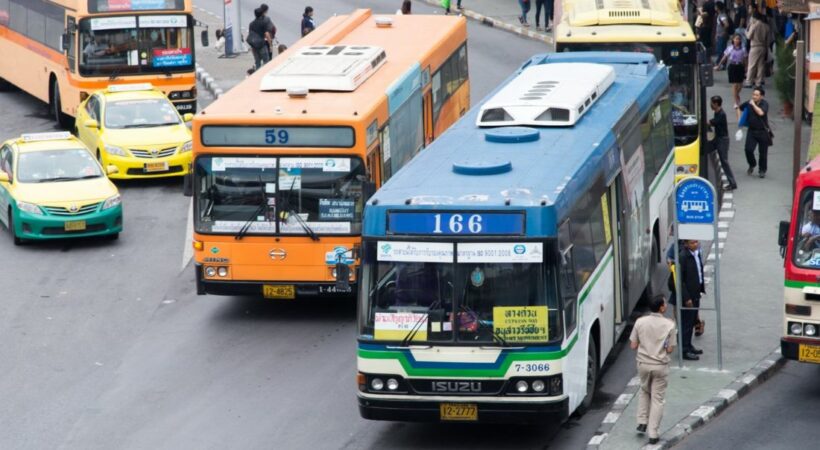 PHOTO: National News Bureau of Thailand
In the first week of new safety checks introduced by the Department of Land Transport (DLT), 1 in 7 public transport vehicles have failed.
Drivers fared slightly better, with only 3 out of 10,236 failing their exam.
DLT Director General Peerapol Thavornsubhajaroen says that as part of the test brought in to improve public safety, over 7,000 vehicles were checked in the period September 2 – 11, with over 1,000 failing to pass inspection.
"The check-up campaign is expected to take three months to complete. During the first week we already performed checks on 7,088 vehicles and found that 1,020 of them failed the evaluation. We ordered the owners to fix their failed vehicles and bring them back for another check-up within 15 days."
It's understood the vehicles tested were a mixture of min-vans and buses and the reasons for failure included low-quality brake systems, excessive black smoke emissions or unauthorised modification to engines and gear systems.
Peerapol says drivers who fail their test are given advice on how to better prepare before re-taking it the exam.
Physical checks on drivers include physical fitness, color blindness, reactions, eyes (depth and width perception), as well as a test on their general suitability as a public transport service provider.
Vehicle tests include checks on the engine, vehicle body integrity, brake system, wheel alignment, lights, smoke emissions, acoustics, as well as ensuring there are no gas leaks.
SOURCE: The Nation
Want more from the Thaiger family?
📱 Download our app on Android or iOS for instant updates on your mobile
📧 Subscribe to our daily email newsletter
👍 Like/Follow us on Facebook
🔔 Subscribe to or Join our YouTube channel for daily video updates
CAAT sets restrictions and guidelines for air travel to prevent the spread of Covid-19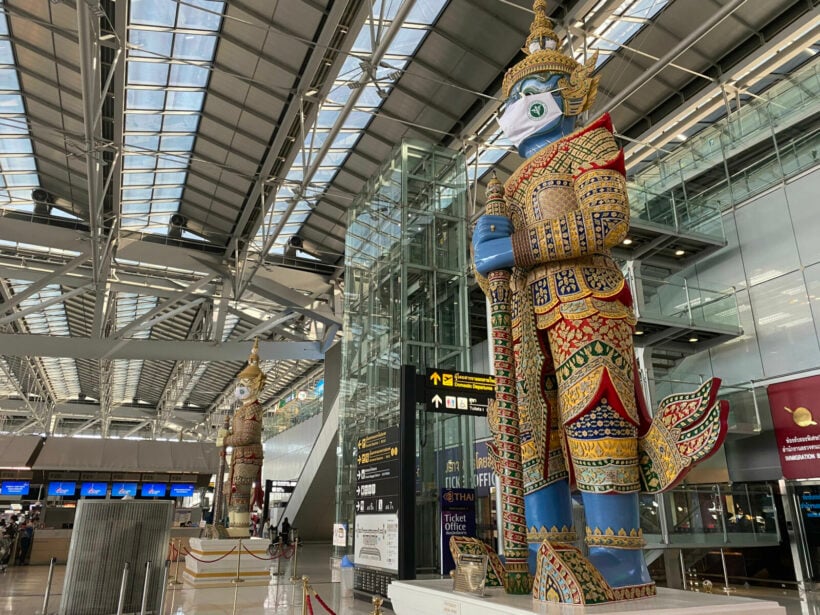 With the new wave of Covid-19 infections hitting record highs, the Civil Aviation Authority of Thailand is tightening disease control measures for air travel and has requested that airlines abide by guidelines to help contain the outbreak. Those who test positive for Covid-19 are refrained from travelling and can face penalties for doing so under the Communicable Disease Act.
CAAT has asked that airlines restrict services from 11pm to 4am to align flights with public transportation and reduce the risk of Covid-19 transmission involving passengers travelling to and from airports. Airlines are also told to inform passengers when there are flight changes, cancellations, or consolidations.
All passengers must wear a face mask. Airport staff must properly screen passengers at the entrance and exit of the airport and before they board the aircraft, checking for signs of infection by checking body temperatures with an infrared thermometer that does not come in contact with someone's body. Those with a body temperature higher than 37.3 degrees Celsius will be prohibited from entering the airport. If a passenger has respiratory symptoms, such as cough, sore throat, runny nose, or shortness of breath, airport staff are advised to inform health officials immediately.
Airlines are also advised to take social distancing into consideration when arranging the seating to prevent the spread of Covid-19.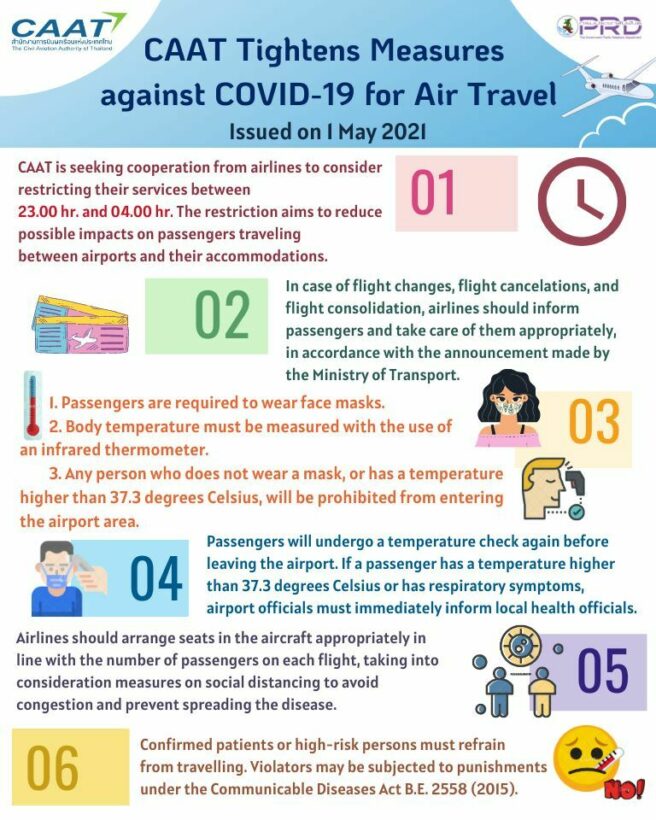 Want more from the Thaiger family?
📱 Download our app on Android or iOS for instant updates on your mobile
📧 Subscribe to our daily email newsletter
👍 Like/Follow us on Facebook
🔔 Subscribe to or Join our YouTube channel for daily video updates
Thailand's airlines getting airport fee waivers to help with rehabilitation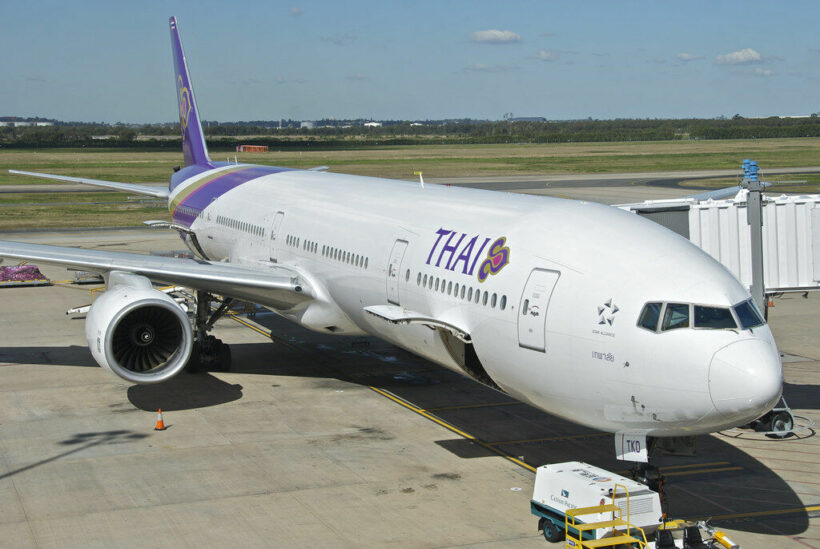 Thailand's airlines are getting airport fee waivers to help with rehabilitation efforts until March 31 of next year. The latest aid is part of a slew of measures to boost the aviation industry after Covid-19 left it in shambles. The Civil Aviation Board is also letting the airlines claim refunds for airport fees previously paid before the new measures were enacted. They are also extending the time given to pay bills from 90 days to 180.
Transport Minister Saksayam Chidchob instructed the Civil Aviation Authority of Thailand to implement the measures quickly but quickly and to work with the Centre for Covid-19 Situation Administration. He instructed the CAAT to reevaluate safety while promoting air transportation to ready for the nation's reopening and economic recovery.
The CAAT is also tasked with monitoring the progress of Yala province's Betong Airport as it prepares to open. The CAAT boosted 8 domestic airlines last month, who were rated as being in critical financial health. The authority said it believed the airlines could survive the tough times and they were not on the brink of bankruptcy. The 8 airlines include Nok Air, AirAsia X, VietJet, and Thai Smile.
Currently, Thailand is mulling its reopening plans as the third wave of Covid has been the worst yet, causing hospitals to become overwhelmed. Daily infections have been in the thousands, with deaths also mounting daily. Today, Thailand's Public Health Ministry's Department of Disease Control reports 1,583 new Covid-19 infections and 15 deaths. Since the start of the pandemic last year, a total of 65,153 Covid-19 infections and 203 coronavirus-related deaths have been reported in Thailand.
Recently, Thailand's PM Prayut Chan-o-cha was given full control over the handling of the Covid pandemic, causing critics to question whether he could use those powers to increase his authoritarian rule over the Kingdom. Already, he was under scrutiny for the handling of the pandemic, with many blaming the government for the virus' third wave.
SOURCE: Bangkok Post
Want more from the Thaiger family?
📱 Download our app on Android or iOS for instant updates on your mobile
📧 Subscribe to our daily email newsletter
👍 Like/Follow us on Facebook
🔔 Subscribe to or Join our YouTube channel for daily video updates
Phuket closes Sarasin bridge at night to give fatigued health workers a break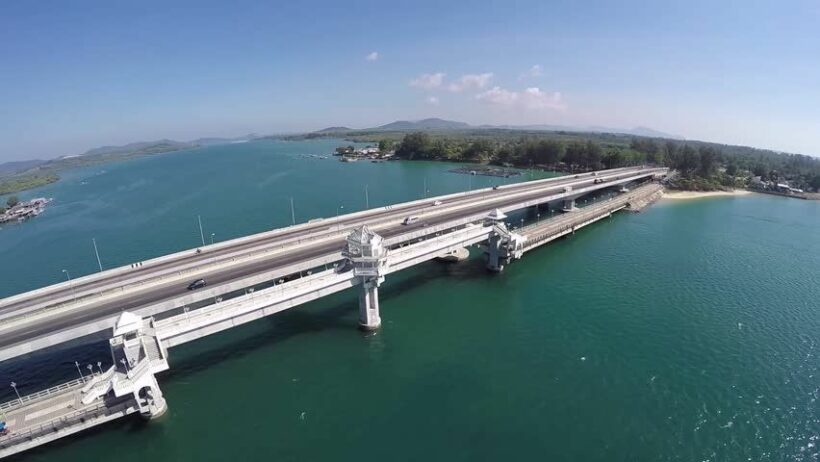 Phuket is closing the Sarasin bridge nightly to give fatigued health workers a break after working nonstop to screen travellers for Covid-19. Only those operating emergency service vehicles will be allowed to use the bridge from 11pm to 5am. The checkpoint was previously open 24 hours a day, but since there were only a few travellers during the night, Vice Governor, Piyapong Choowong, is giving health workers a break.
"To make the management at the checkpoint better, we have decided to close the checkpoint during the night. However, we have exempted vehicles transporting necessary goods and other essential services. These people must apply for approval in advance, as we have already informed operators to follow the rule."
"For those who are worried about the exact hours and when the checkpoint will be closed, please follow up official announcements. The official order may come in one to two days. I just want to inform the public so they can prepare. The closure [during the night] will last about two weeks, it will not be for the long term."
Piyapong also says the number of people allowed to attend activities has been cut from 50 to 30.
"Previously, we allowed not more than 50 people, but right now we have reduced that to 30 people, except for meetings held by officials or traditional ceremonies, such as funerals, which can still be held with strict disease control measures [and with prior approval from local authorities]."
"During the meeting we were asked about people holding celebrations. I would say a celebration is a type of gathering that is banned, no matter how many people gather."
The committee also reviewed cockfighting regulations.
"An operator of a cockfight venue asked that although the venues have been ordered closed, can cock owners conduct training at the venue. The venues for cock fighting, fish fighting, bull fighting and any kind of gambling must be closed for both fighting and training."
"Additionally, I want to point out that drinking alcohol in public places was banned in the first order [issued for the current outbreak]. In the order, we gave only 1 example like beaches, but you must understand the concept of public places. We mean every public place which may not be [specifically] mentioned in the order."
Piyapong says the issue of reopening tutorial schools will be discussed later.
SOURCE: The Phuket News
Want more from the Thaiger family?
📱 Download our app on Android or iOS for instant updates on your mobile
📧 Subscribe to our daily email newsletter
👍 Like/Follow us on Facebook
🔔 Subscribe to or Join our YouTube channel for daily video updates