New Airbus A220 drops into Bangkok during Asia Pacific tour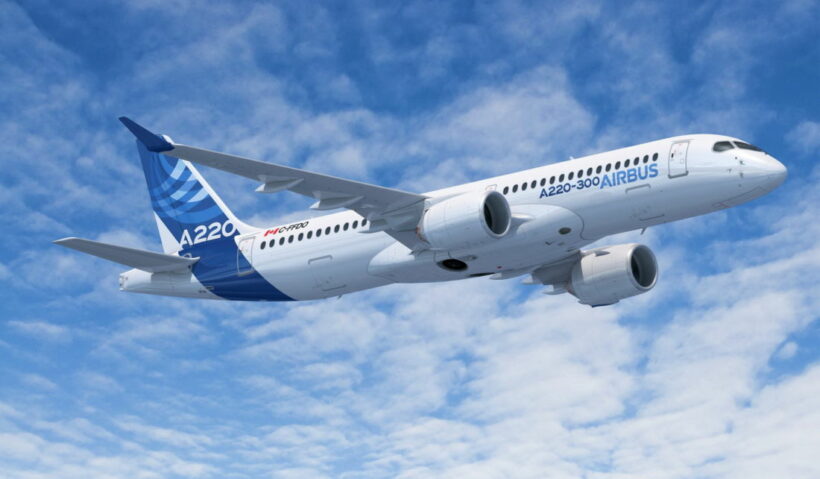 Perfectly timed with Boeing's woes and uncertainty over its 737 Max aircraft, Airbus is touring the Asia Pacific displaying its new A220-300 jet on a two-week demonstration tour. The new 143 seat aircraft flew executives from leading Thai airlines over Bangkok yesterday to secure some sales, especially Thai Airways who are in the market to freshen up their garage of planes.
The main noticeable difference with the new Airbus A220 its 3+2 seating arrangement, providing seats that are just a tad wider than the standard 3+3 seating you get in Boeing 737 and Airbus A320 aircraft. The composite aircraft is also slightly slimmer than the A320 and Boeing 373.
So where did this new Airbus A220 come from? It was previously known as the Bombardier CSeries, originally designed and built by the Canadian manufacturer Bombardier Aerospace, now marketed by Airbus and built through a joint venture called Airbus Canada Limited Partnership. How it ended up as part of the Airbus family is a long tale about US/Canadian trade relations and tariffs. But here it is now, a new variant for airlines wanting something slightly smaller than the short-haul workhorse, the A 320 series.
It also comes along at a perfect time for the European aircraft manufacturer with the Boeing 737 Max series grounded indefinitely after two crashes which killed 346 passengers – one off Jakarta and the other in Ethiopia.
While the A320neo is Airbus's best-selling model, the A220-300 is a perfect fit for destinations with softer demand.
In Asia, Airbus has more than a 60% market share in the single-aisle market, with more than 3,000 jets flying for 80 different carriers and over 1,500 on order for future delivery.
Christine De Gagne, marketing director at Airbus, says the 100-150 seat market is one of the promising segments in the next 20 years. She told the Bangkok Post that the demand for this size of single-aisle jet will grow to 7,000 in the next 20 years. The Asia Pacific represents 20% of the world demand.
"The lighter weight also means the capability of using a smaller airport in Thailand such as Samui airport, for which we ran a test flight once."
Korean Air and Air Vanuatu are the first two customers for the A220 in Asia-Pacific.
In Thailand, Airbus has 153 aircraft in service under leading brands such as Thai Airways International, Bangkok Airways, Thai AirAsia and Thai AirAsia X.
"Thailand is standing out as one of the leading markets in Asia-Pacific. Airbus hopes new aircraft in the fleet will help the airline kick-start with appropriate demand before expanding to the bigger jet in the family when the time is right."
SOURCE: Bangkok Post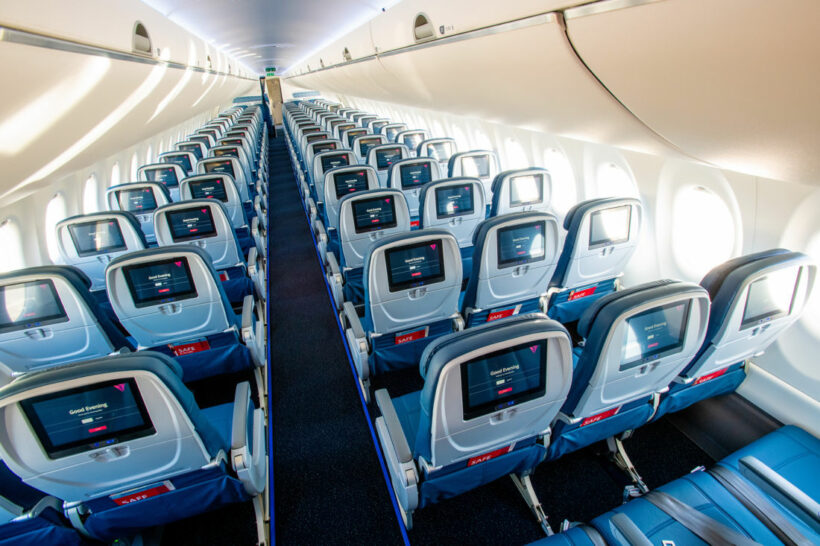 The new Airbus A220 is a single-aisle place but with a 3+2 seating arrangement
Keep in contact with The Thaiger by following our
Facebook page
.


Looking to jettison some items before jetsetting away or chartering a yacht? Look no further than Thaiger Classifieds where you can find and post items, work, property and more for free. Be sure to check out YonderTours for things to do in Thailand and tours across the country.

Read more headlines, reports & breaking news in Bangkok. Or catch up on your Thailand news.

Thailand and South Korea partner on development of electric buses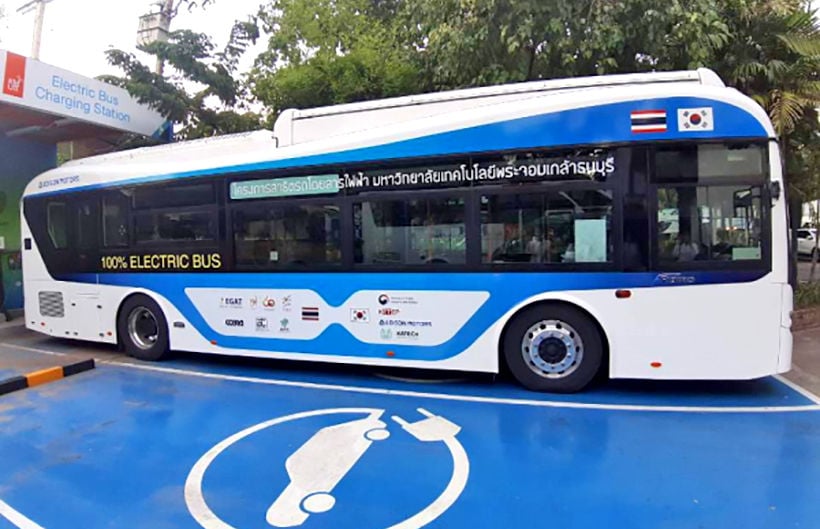 Original story by Shin Ji-hye
An all-electric bus sits on the campus at King Mongkut's University of Technology in Thonburi, Bangkok. The electric bus is a joint project between Korea and Thailand, led mainly by Korean automaker Edison Motors, which currently provides public transport services with eco-friendly buses at Namsan in Seoul and on Jeju Island.
The project involves 11 organisations from both sides, including Korea's Industry Ministry and Korean Energy Technology Evaluation and Planning. The Thai side includes the Bangkok Mass Transit Authority, the Electricity Generating Authority of Thailand and King Mongkut's University of Technology Thonburi, where the bus is being tested.
Kitchanon Ruangjirakit, a lecturer at King Mongkut's University of Technology Thonburi, says they are testing if the all-electric bus is suitable for the hot climate and traffic congestion of places like Bangkok.
"We are jointly working on traffic data collection, standards, energy consumption and battery capacity with Edison's electric bus,."
They plan to share the results of their research with the Bangkok Mass Transit Authority and the Ministry of Transport there, so the government can use the information in its future electric bus purchases.
When the systems have all been fully tested, the bus will be able to run 200 kilometres on a single charge. It uses an LG Chem battery.
The project, however, is only for research and not for commercial use at this stage. If Edison wants to produce electric buses in Bangkok, it has to take part in a bidding process. The Thai government plans to bid on 35 electric buses in the near future. Edison is willing to join the bidding, according to the government official.
Narit Therdsteerasukdi, deputy secretary-general of the Thailand Board of Investment, says Thailand is in the beginning stage of the EV industry and there is a long way to go.
"Thailand is the biggest exporter of cars (as an assembler) in ASEAN. We have 1,000 local parts suppliers. We are ready for the next step of the automotive industry. The Thai government intends to encourage its agencies to use electric vehicles in the future to create demand."
"Some companies like Samsung, LG, Posco and Hanwha have invested in Thailand for more than 30 years. We hope more Korean investors are coming in the near future."
"We are also trying hard to attract Korean battery makers, LG Chem and Samsung SDI, because we would like to build a whole supply chain of electric vehicles in Thailand. Not only car assembly, but we also want to build key parts of EVs like battery and motors."
SOURCE: The Nation | The Korea Herald
Keep in contact with The Thaiger by following our
Facebook page
.
Central opens first luxury outlet at Suvarnabhumi on August 31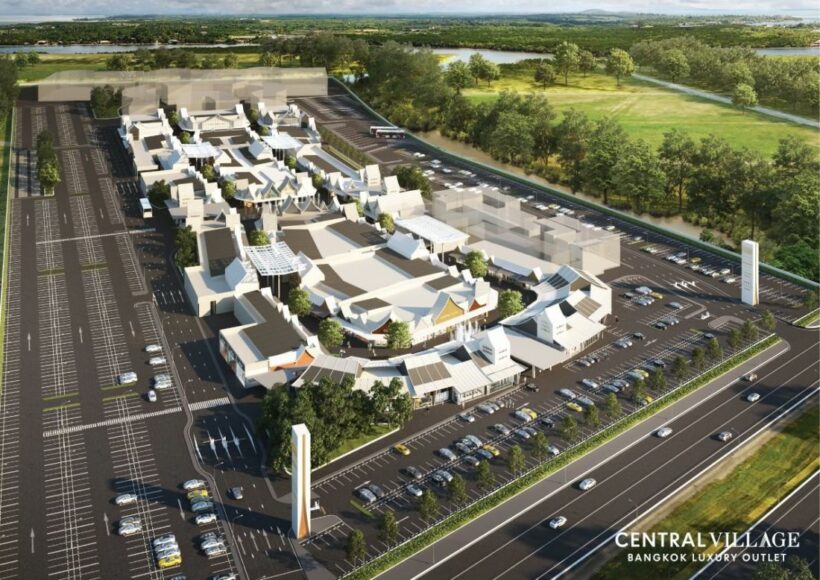 Central Village, "Thailand's first international luxury outlet", located near Suvarnabhumi Airport in Bangkok, will officially open on August 31.
The Nation reports that the design of the 5 billion baht facility, owned by the Central Pattana group, will "highlight Thai architecture and cultural identities" and shoppers will find at least 130 well known international luxury and lifestyle brands.
"More than half of the brands are opening their first outlet shop in Thailand, and over 60 have chosen to open their exclusive outlet store only at Central Village, with discounts of 35-70% every day."
Dr Nattakit Tangpoonsinthana, the executive vice president for marketing at CPN, says that Central Village is pioneering the new segment of 'Luxury Outlet' for the first time in Thailand.
"We intend to establish this new retail platform, filling the gap in the market, by making it one of the world's leading shopping destinations, similar to other popular tourist cities such as Japan, South Korea and Hong Kong, which also have leading outlets in Asia."
"We are expecting to attract 6-10 million customers per year, which can be divided into 65% domestic, focusing on the young and mass affluent nationwide, and 35% international tourists, focusing on those who fly into Bangkok."
The facility will also boast restaurants, a Tops Market, a children's playground and tourist service points.
CPN also plans to promote creative Thai brands at the Thai Pavilion Zone, where Thai products and contemporary art fairs will be held throughout the year, promoted as "Thai Signature Cultural Events". CPN will join hands with governmental organisations led by the Ministry of Culture and the Department of Internal Trade to hold events in a modern Thai theme presenting gifts and souvenirs, and local handicraft or OTOP items will be on sale.
Central Village will also provide convenient transportion to and from the facility, which located near Suvarnabhumi Airport, using a shuttle-bus service available at three pick-up points: CentralWorld, Udomsuk BTS Station and Novotel Suvarnabhumi Airport Hotel. Tourists will be at ease in dropping by at Central Village on their way to and from the airport, according to a release on Wednesday.
SOURCE: The Nation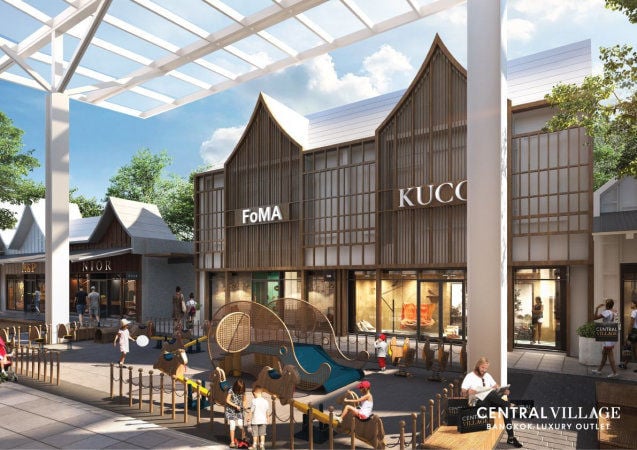 Keep in contact with The Thaiger by following our
Facebook page
.
Train derails heading south from Bangkok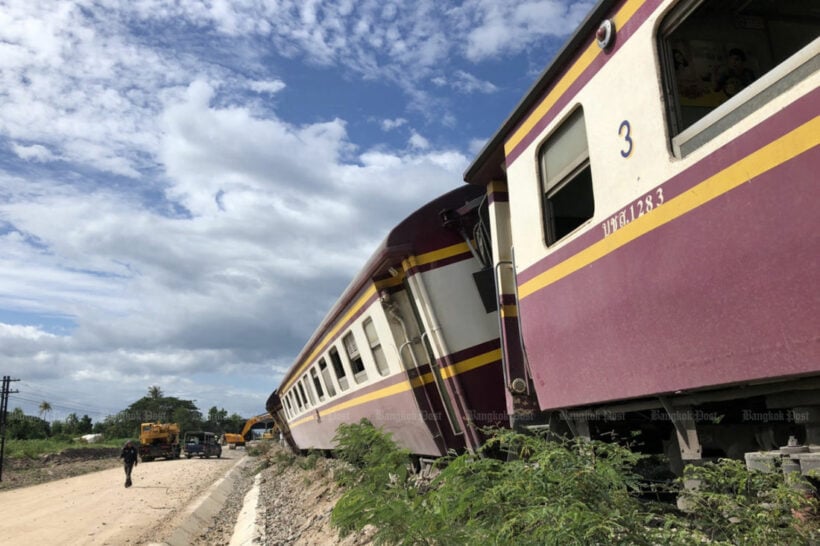 PHOTO: Chaiwat Satyaem
Rail services between Bangkok and southern provinces were delayed yesterday after a passenger train jumped tracks in the Cha-am district of Phetchaburi province, about four hours south of the capital. There were no injuries reported.
The incident happened around midday yesterday.
The State Railway of Thailand reports that train 55 from Thonburi to Lang Suan station in Chumphon province became derailed at 12.04pm after departing the Huay Sai Tai station in Cha-am.
They confirmed that six carriages had jumped off the rails. They believed that the theft of steel nails used to fix the tracks to the sleepers had been stolen. Railway teams and cranes went to the scene to lift the carriages back on the tracks and assess the damage.
The Hua Hin station mater noted that there were some of the large steel nails missing from the accident scene.
Trains in both directions were affected for the rest of the afternoon but were able to resume early last night.
SOURCE: Bangkok Post
Keep in contact with The Thaiger by following our
Facebook page
.