Nine minor parties convinced to stick with government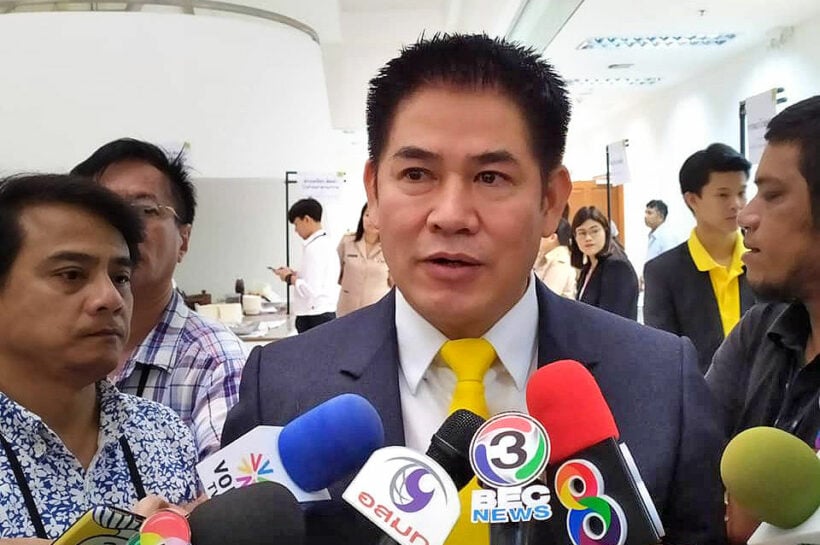 PHOTO: Deputy Agriculture Minister Thammanat Prompao, somehow negotiated the dissident MPs back into the coalition
Nine disaffected smaller parties in the governing coalition, who earlier threatened to break away to form an independent opposition bloc, have been convinced to stay in the Palang Pracharat coalition and have vowed to support the government.
Ten single-MP parties showed signs of a rift after eight of them yesterday didn't show up at a restaurant meeting arranged by a member to discuss their current role in the new government. The change of heart leaves the leader of the dissident Thai Civilised Party, Mongkolkitti Suksintharanont, as the only dissident in the independent opposition bloc.
They were supposed to meet with Mongkolkitti for a news conference yesterday to announce the formation of the independent opposition bloc. But earlier they met with controversial Deputy Agriculture Minister Thammanat Prompao, the Palang Pracharat party's strategic chief for the northern region, who had been assigned by PM Prayut Chan-o-cha to convince the nine small parties to stay in the coalition.
They were seen holding hands with Thammarat and proclaiming their loyalty to PM Prayut after the meeting.
Thai PBS reports that, over the weekend, the smaller parties (basically single member MPs) felt they had been ignored by Palang Pracharat, the core party in the coalition, when they were denied any ministerial portfolios or any political appointments.
Pichet Sathirachawan, the leader of Palangdham Mai, announced after the meeting, that the smaller parties could have bargained for a ministerial post, but they had not "for the sake of the country."
Pichet claimed that the recent move by his party and four other smaller parties to form an independent opposition block was intended to send a message to the government about their demands and the response was positive.
For instance, he said he had asked for the post of the chairman of Thai Trade Representatives, but this was not possible because he would have to resign as an MP as required by the Constitution. Since he could not assume the post himself, he will send a nominee to hold the post, said Pichet.
Thammanat, meanwhile, says that the smaller parties will be given political appointments for their support of the government. Since the MPs are reluctant to relinquish their MP status, they will send their nominees to assume those posts on their behalf. He says he expects the cabinet to endorse another batch of political appointees from the smaller parties at its meeting on August 20.
Meanwhile, the cabinet yesterday approved a host of political appointees attached to different ministries, apparently to satisfy the ex-MPs and close associates of the four main coalition parties, namely Palang Pracharat, Democrat, Bhumjaithai Thai and Chart Thai Pattana. The smaller parties were again ignored.
SOURCE: Thai PBS
Keep in contact with The Thaiger by following our
Facebook page
.
Army chief not planning a leap into political life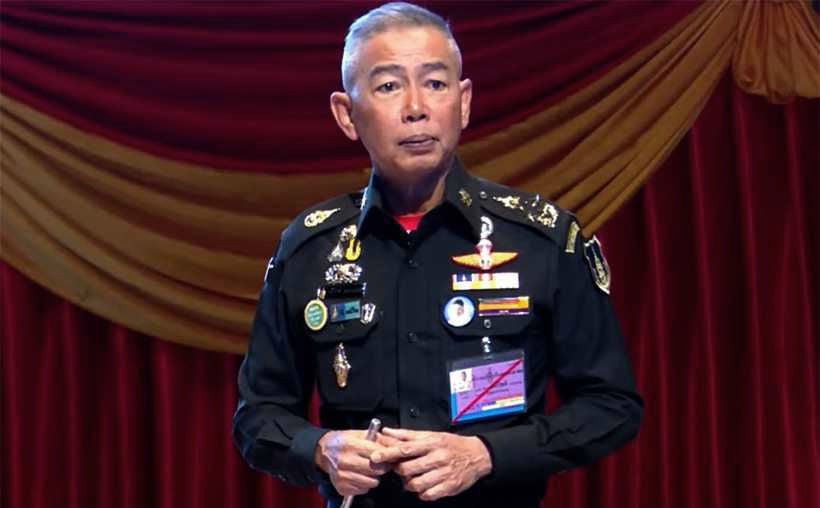 Army chief General Apirat Kongsompong will have to wait for two years after he retires before he can run for PM, the Deputy PM Wissanu Krea-ngam has declared – while Apirat himself claims it's not even something he's considering.
The Nation reports that Prawit Wongsuwan, another Deputy PM, had suggested that Apirat should be Thailand's next PM, but Wissanu insists this could not happen immediately.
"Apirat is not qualified to be the prime minister because he is a government official and when he retires as Army chief, he will no longer be a senator. According to the Constitution, he has to wait for two years after he retires if he wants to take a position in the Cabinet."
Apirat claims that a move into politics is not something he's interested in at this time. Earlier this month, while speaking on the topic of national security, he controversially stated that he was opposed to the efforts to change the junta-sponsored Constitution.
This prompted academics and opposition politicians to accuse him of meddling in politics, with the PM having to defend him, saying Apirat just wanted what was best for Thailand.
Some are viewing Prayut's defence of the Army chief as paving the way for Apirat to become his successor when his term in office ends.
SOURCE: nationthailand.com
Keep in contact with The Thaiger by following our
Facebook page
.
10 billionaires among Thailand's 500 MPs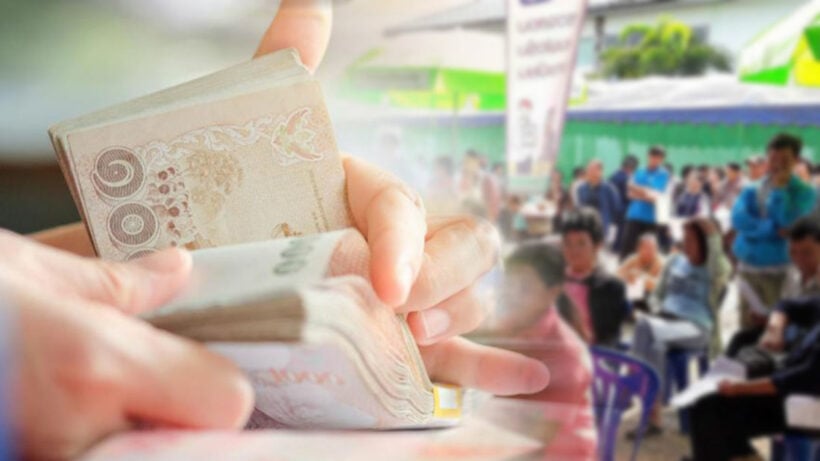 Thailand has 10 billionaire MPs, while the poorest MP has just 5,064 baht in his bank account, according to reports from the Office of the National Anti-Corruption Commission.
Of the 10 billionaire MPs, Mrs. Nathee Ratchakitprakarn, of the Bhumjaithai Party, wife of Tourism and Sports Minister Pipat, is the richest, with declared assets of about 4.675 billion baht.
The other nine billionaire MPs are:
Mr. Anutin Charnvirakul, Bhumjaithai party leader, deputy prime minister and public health minister, with 4.249 billion baht (including two planes, two boats, Buddha images worth 121 million baht and 395 million baht in bank deposits)
Bhumjaithai MP for Satun province, Mr. Piboon Ratchakitprakarn, with 2.342 billion baht
Mr. Suriya Juangroongruangkit, industry minister and Palang Pracharat MP, at 2.198 billion baht
Mr. Apichaiubon, Democrat party-list MP, with assets of 2.048 billion baht
Mr. Nataphol Teepsuwan, Palang Pracharat party-list MP and education minister, with 1.985 billion baht
Khunying Kalaya Sophonpanich, deputy education minister and Democrat party-list MP, with 1.785 billion baht
Ms. Supamat Issarapakdi, Bhumjaithai party-list MP, who has 1.609 billion baht
Mr. Kittisak Khanasawat, Pheu, Thai MP for Maha Sarakham, with 1.529 billion baht
Democrat party-list MP Korn Chatikavanich, with 1.097 billion baht
PM's Office Minister and Chart Pattana party-list MP Tewan Liptapallop, who has 1.03 billion baht
House Speaker Chuan Leekpai has assets of about 8 million baht
Of the 500 MPs, it appears that Mr. Phisanu Polatee, Bhumjaithai, MP for Pathum Thani province, has the least assets. There was, at the time reporting, only 5,064 baht in his bank account.
Earlier, he reported that he earned 14,000 baht a month from the Provincial Administration Organization. His earnings as an MP since May totaled 829,700 baht. He said he is living in the house of his mother and the car that he has been driving belongs to a friend.
Several MPs have not yet declared their assets to the NACC's Office, including Future Forward party leader Thanathorn Juangroongruangkit and Future Forward MPs Pannika Wanich and Pitha Limcharonrat.
SOURCE: thaipbsworld.com
Keep in contact with The Thaiger by following our
Facebook page
.
Survey – Thais not taking sides and 66% prioritise health care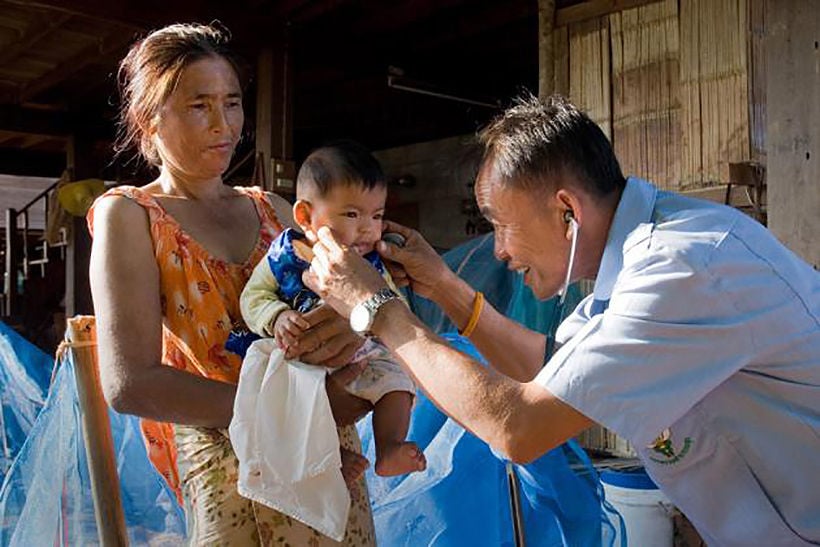 The majority of respondents to a Super Poll survey, say that they are still waiting to see where they will put their future support. For now they're saying they neither support the Government or Opposition, preferring to wait to assess their performance.
Super Poll conducted the survey on 1,069 people from a wide range of occupations nationwide between October 15–19.
The director of Super Poll, Noppadol Kannikar, says that one interesting finding was that 67.2% of respondents admitted that they prefer not to take sides, with the Government or Opposition, because both are currently under-performing and they want to wait to assess their performance.
But 16.9% of the respondents are supportive of the coalition Government, compared to 15.9% who oppose it.
On the question of Government spending, the survey showed 65.9% want quality health care as their top priority, 59.8% want good and secure jobs, 54.3% want security for their lives and property, 50.8% want increased road safety, 48.2% want government help for small and medium-size enterprises and 37.0% want government to provide them with housing.
SOURCE: Thai PBS World
Keep in contact with The Thaiger by following our
Facebook page
.