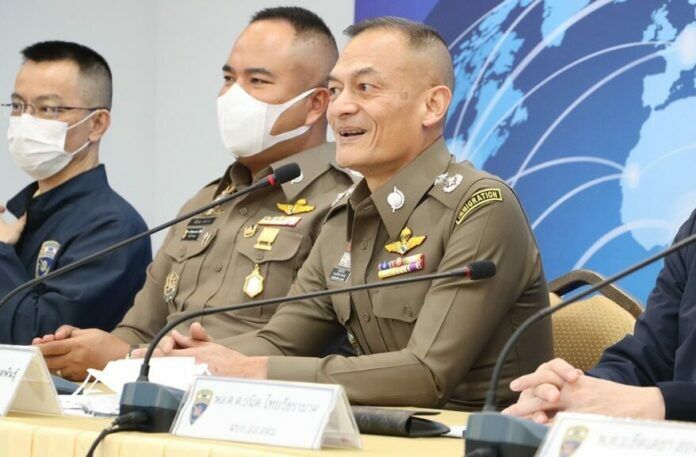 In two separate but similar cases, Immigration Police arrested two Chinese fraudsters posing as businessmen and illegally living in Thailand. Collectively, the pair scammed victims of over 2 billion baht.
Case 1
Police arrested a 44 year old Chinese national named Changguan (pseudonym) who allegedly scammed hundreds of victims of over 1.4 billion baht by persuading them to invest in his "company" registered in China.
Officers searched the accused's property and found a fake Taiwanese driving license that Changguan ordered online and a mobile phone from China.
Changguan admitted that he does not have a passport and snuck into Thailand illegally through natural border channels.
Police also found a document detailing Changguan's history of permission to stay in Thailand on various visas. The document features Changguan's picture, but the name and nationality written were not his.
Immigration police arrested Changguan under suspicion of two charges, "being an alien who escaped their country and is residing in Thailand without permission," and, "impersonating a foreign businessman to persuade victims to invest more than 1.4 billion baht."
When police cross-checked their documents, they found that Changguan's picture matched that of an arrest warrant issued by police in Kunming, China. It's not clear what charges Changguang faces in China.
Changguan admitted to being the wanted Chinese criminal detailed in the warrant. Police arrested him and took him to immigration to undertake further legal proceedings.
Case 2
Immigration police arrested Yuchen (pseudonym), another Chinese national, under suspicion of, "fleeing a public fraud case with total damages of over 600 million baht."
Yuchen fled China after opening a "credit card company" and persuading more than 500 victims to invest in it, prompting Chinese authorities to issue a warrant for his arrest.
The accused hired employees to do the dirty work for him and make phone calls persuading people to invest in the fake company.
Fleeing the arrest warrant, Yuchen entered Thailand via Suvarnabhumi Airport on September 16, 2019, on a 60-day tourist visa.
Yuchen managed to then secure a visa which allowed him to stay in Thailand until September 20, 2023.
However, Immigration Police can revoke the visa of any foreigner found to be wanted on a foreign arrest warrant under Section 12(7) of the Immigration Act (1979).