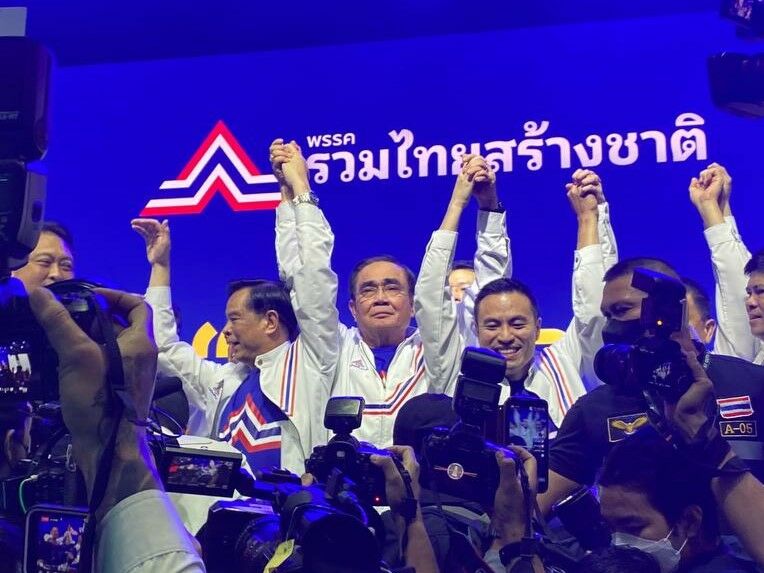 Former soapy king turned amateur super-sleuth Chuwit Kamolvisit tried to gatecrash Prime Minister Prayut Chan-o-cha's inauguration into United Thai Nation (UTN) Party yesterday.
PM Prayut officially joined the UTN Party yesterday where he gave an impassioned speech on how he values the democratisation process, seemingly forgetting that he toppled the democratic process when seizing power in a 2014 army coup.
The 68 year old last night told the audience at the Queen Sirikit National Convention Centre that he did not desire power or benefits for himself, reported Bangkok Post.
"I respect the country's democratic process, and that's why I'm here. I'm here to tell you that Thailand must progress with stability, security and growth. A myriad of problems are facing us, and if I have a chance, I want to solve them."
The prime minister believes he can better solve land issues, rising living costs, injustice and corruption in the UTN Party.
"I thought about it hard and long … should I pack my bags or carry on? I'll put up with fatigue and stress to make things better. The international community has recognised Thailand. But it is for the people to decide."
Don Pramudwinai Deputy Prime Minister and Minister of Foreign Affairs, and Asawin Kwanmuang, former Bangkok governor, both attended the event. Both of them were appointed to the post under Prayut's military regime, reported Prachatai English.
According to Peerapan Saleerattawipak, who is the UTN chairperson and previously a Democrat Party lawmaker, the party is striving to become a dependable organization that can restore harmony and reconciliation in Thailand.
He also mentioned that the party has seen a significant increase in membership, growing from 7,000 in August 2022 to 27,000 in January 2023.
Prayut appointed Seksakol Atthawong, Chatchawal Kong-udom, and Chumpol Kanchana, the party's core members as advisors to the prime minister.
Seksakol had been a PM's aide until April 2022 but then resigned after an alleged scandal of his involvement in lottery quota corruption. Chumpol is a former Surat Thani MP whose family is influential in the area.
Chatchawal is a former Palang Thongtin Thai Party leader.
In 2014, Prayut staged a coup and removed Yingluck Shinawatra's administration from power. He then remained as prime minister. In 2019, the Palang Pracharat Party won a majority in the General Election and nominated Prayut as their candidate for Prime Minister, even though he was not a member of their political party or a member of parliament.
The 2017 Constitution, which was drafted and approved by the junta, allowed for this scenario to occur. The Constitution was passed in a nationwide referendum, but it faced criticism for suppressing the voices of those who opposed it.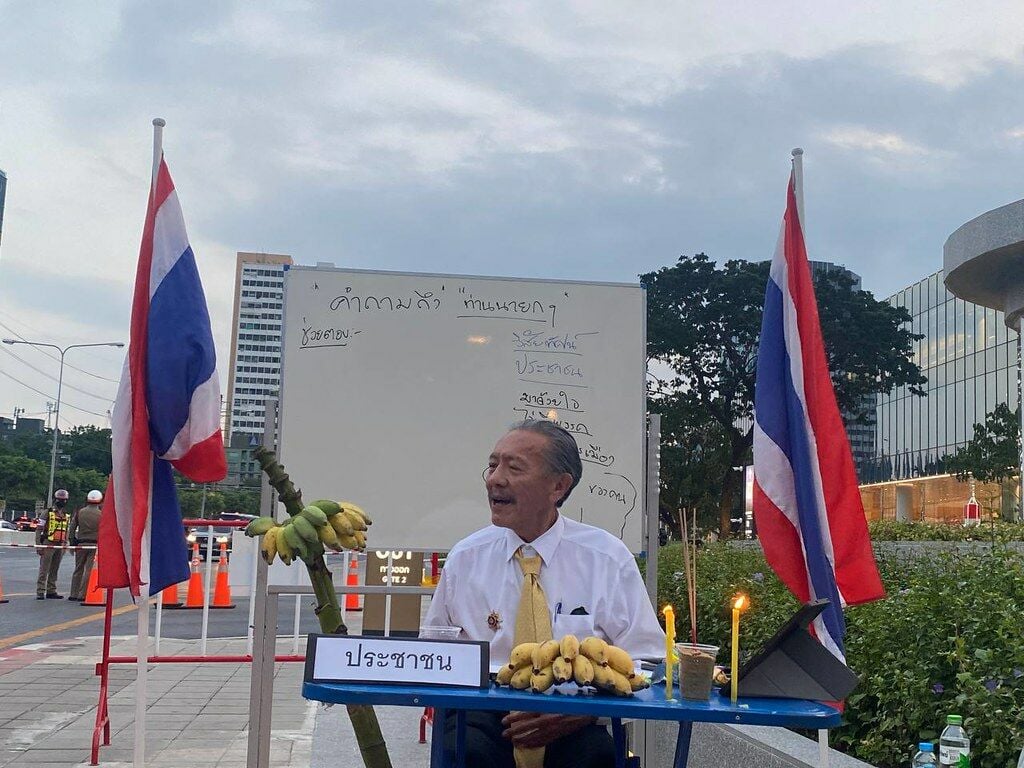 Meanwhile, as the party was celebrating Prayut's inauguration, former soapy king, whistleblower, and ex-politician Chuwit tried to play party pooper at the entrance.
The 61 year old told the press that he wanted to see whether the PM had made any progress in closing the criminal activities of the Chinese triad network that came to national attention late last year.
Chuwit accused Prayut's grandson on Facebook on Sunday of having links to Chaiyanat "Tuhao" Kornchayanant, a Chinese-turned-Thai tycoon recently charged with running illegal businesses in Thailand.
Chuwit claims that Prayut's grandson acted as a "nominee" for Tuhao, owning 50 buses that were rented for use in Tuhao's tourism business. He also suggested that Tuhao has not been charged with money laundering because the prime minister's grandson would have to be summoned for questioning in such a case.
Chuwit set up a small shrine with candles, incense, and bananas near the front of the convention centre to symbolise the alleged cronyism under Prayut's administration. He also called upon Prayut to have his grandson address the allegations.
After the convention ended, Chuwit met Prayut.
Gen Prayut said…
"We've talked and have no issues."
Chuwit added that the PM pledged that he would solve the problem but stated that the process may take time.
Meanwhile, Prayut asked Chuwit to stop releasing information to the public and hand over evidence to the authorities to help close the criminal activities of the Chinese triads.