BTS match long-standing Beatles' record and reach the Top 6 in 26 countries with new album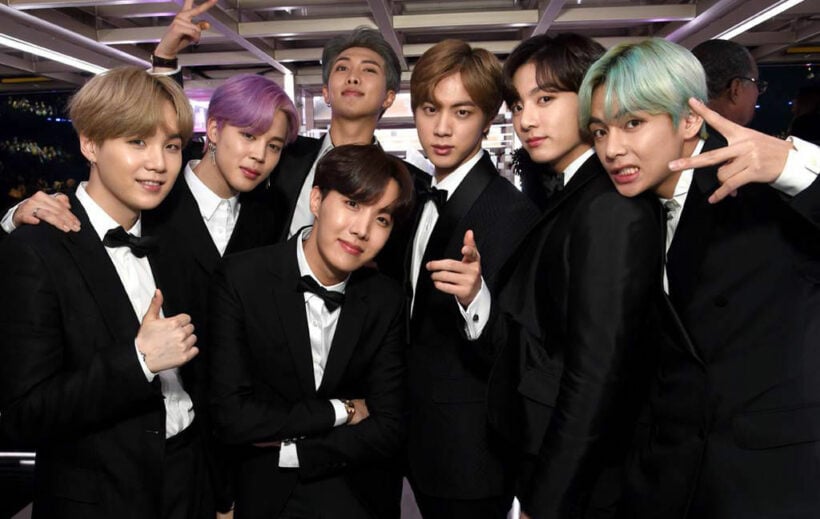 South Korean band BTS is making waves across music charts around the world. Their new album 'Map of the Soul – Persona' has matched a long-standing Beatles record of having three number one albums on the US Billboard chart in one year.
The all-male band comprises RM, Jin, Suga, J-Hope, Jimin, V and Jungkook, all aged between 22 and 27 years old. They debuted in 2013 amid the highly competitive K-Pop industry but have been able to break free and become international superstars selling out stadiums around the world, singing mostly in Korean.
BTS visited Bangkok in at the start of April filling the Rajamangala Stadium for two nights, the only band that has ever achieved two sell-out concerts in the massive sports stadium.
At the same time the seven-member band has reached the number one position in the Billboard Top 100 Artists and their candy-coated new single 'Boy With Luv', with US singer Halsey, has debuted at #8 (this week) in the Billboard Top 100 with most music pundits predicting it will hit the number one spot in the next few weeks. The single is in the Top 30 of 35 world music charts this week.
In the 24 hours following the single's release, 'Boy With Luv' broke the YouTube record for the most views in 24 hours, beating out fellow South Korean K-Pop band BlackPink. 'Boy With Luv' was viewed 74 million times in 24 hours!
The band has been flipping between the US and Asia actively promoting their new album and single which was released on April 12, including their much-discussed live performance on Saturday Night Live. Accused of being just another music 'fad' BTS continue to break music records and break down stereotypes in the 'white-washed' world music industry.


Find local events and browse venues in Thailand with Thaiger Events, or post your own today.
Game of Thrones: Thirsty actors leave water bottle in shot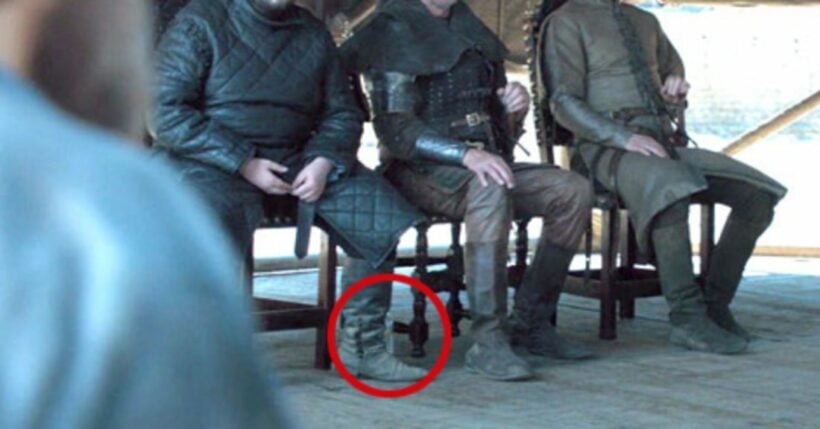 Oh my GOT. They've done it again.
For the second time this season Game of Thrones fans, with eagle-eyes and a trigger finger on the pause button, have spotted another out-of-place-and-time item on screen.
This time, a plastic water bottle tucked in behind the leg of 'Samwell Tarly' has been spotted on the series, now concluded. Actually you've got to be looking pretty hard and it takes a bit of Photoshop and zooming in to see what it really is glinting in the lights. But, there it is!
Two weeks ago it was the Starbucks coffee cup. Now the thirsty actors have left a water bottle, not quite hidden away, in the full view of the cameras.
Continuity? Props? Editors? Directors? Hello?!?!
Following the Starbucks coffee cup incident you would have thought there would be some extra care given to the actors, sesames and props before they rolled the cameras.
Last week, fans thought they spotted another blooper in a photo released of Jaime and Cersei Lannister where the Kingslayer's amputated hand had appeared to have grown back, but the image did not appear in the episode that was broadcast. And then there was the battery pack and cable that appeared on screen during Stannis Baratheon's death scene.
Game of Thrones took its final bow on Sunday night, US time, after eight seasons and 73 episodes, wrapping up a series that became one of the most popular shows around the world.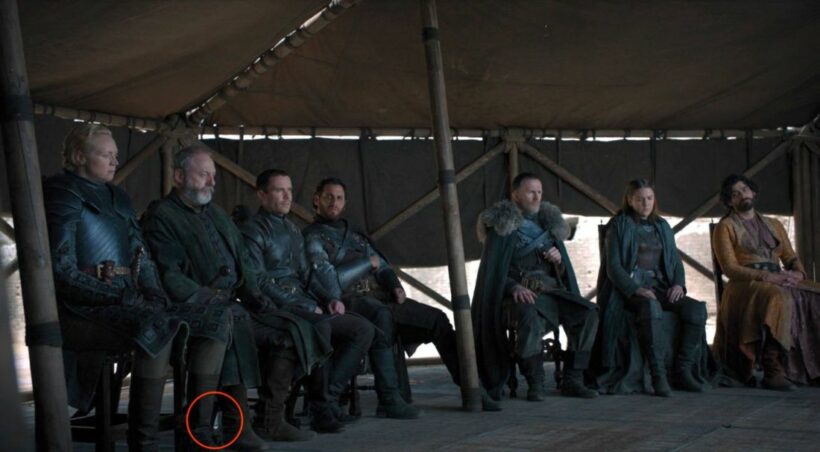 'Game of Thrones' finale rates high, fails the landing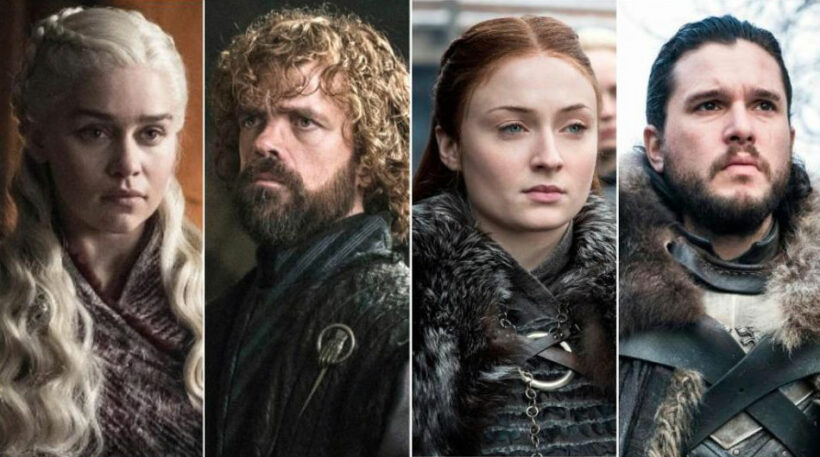 WARNING: GOT Spoiler alerts!!
"This final season has obviously been divisive, and a good deal of the criticism, especially of the penultimate episode, was justified."
by Brian Lowry
After eight seasons, 73 episodes and a much-debated flurry of plot developments, that signature first-season line proved the key to unraveling the "Game of Thrones" finale, which, after a season that was at various times exhilarating, exhausting and aggravating, came as something of a relief.
Given the passions ignited (somewhat literally, given all that dragon fire) by the penultimate chapter, the finale couldn't possibly please everyone. While there was validity in many of the criticisms, a degree of silliness crept into the discussion, starting with those who actually signed a petition petulantly demanding some kind of cosmic do-over.
From Mash to Friends to Seinfeld, the most watched series finals HERE.
"Flaws and all, 'Game of Thrones' rewrote the rules for a TV epic, providing a brilliantly cast serialised storyline, produced with a scope and scale that rivaled theatrical blockbusters."
In the final analysis, the first half of the last episode, both written and directed by show-runners David Benioff and D.B. Weiss, was strong, logical and satisfying. Overall, it wasn't a one-for-the-ages finale, held up against the best examples of them and the abundant hype, but it wasn't an unworthy one either.
Read the rest of the CNN review from Brian Lowry HERE…
Buddha with a beat – Wat Suthi Wararam transformed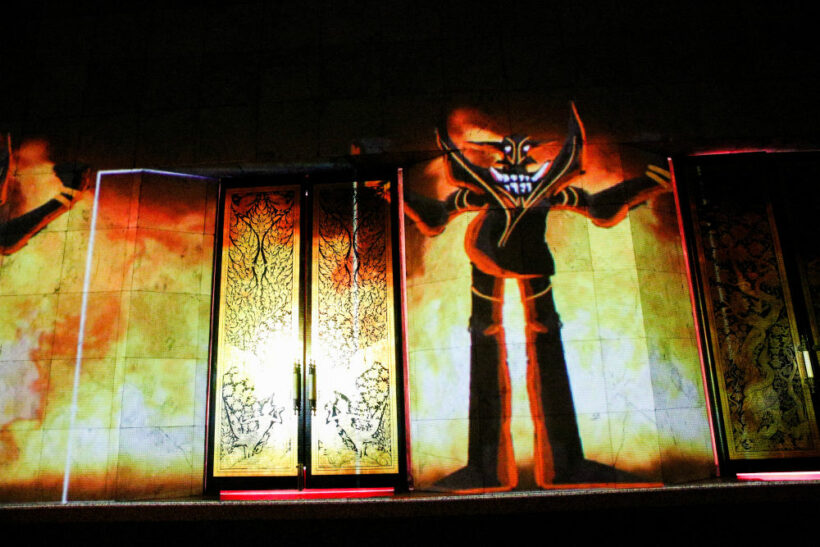 It's Visakha Bucha Day like you've never seen it before.
Bangkok's Wat Suthi Wararam has unveiled a bold and modern makeover to entice young people and a new audience to Buddhism. Wat Suthi Wararam is coming alive with Monks chanting to electronic music, projection mapping and a digital art exhibition.
"Bodhi Theatre: Buddhist Prayer Retold" combines vivid animation and Buddhist chants set to electronic dance rhythms in a contemporary effort to attract more people to the teachings of Buddha.
The temple's main chapel has been transformed with modern theatre tech magic.
Visakha Bucha Day is one of the most important Buddhist holidays in the Thai calendar and this year it takes place on May 19, 2019. It is important as it was the day of three important incidents that occurred during the life of Lord Buddha. They all happened on full moon of the sixth lunar month.
The show will be presented every weekend until June 9 at Wat Suthi on Charoen Krung Road, Bangkok.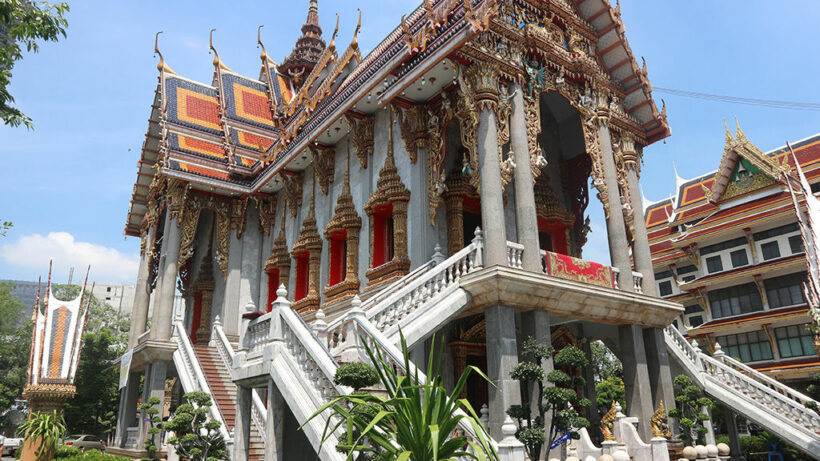 Traditional and ornate on the outside. Funky and modern on the inside.
Abbot, Phra Suthee Rattanapandit says, "The aim is to encourage more young people to study Buddhism at the temple."
"We teamed up with young artists and designers who used modern technology to create this contemporary digital art in the temple. The artwork is intended to help people more easily understand Buddhist teachings."
Supported by the National Innovation Agency, "Bodhi Theatre" was conceived and executed by a network including the Why_Not Social Enterprise, Awakening Creative, Another day Another render, Art of Hongtae, Korky and What_If.
Thawatchai Saengthamchai, managing director at Why_Not and manager of this project, acknowledges that it's not easy changing the "young generation's habits".
"But we decided to find a way to modernise the temple experience to attract a changing society. We selected hi-tech tools to get people back to the temple."
The team has not only re-visualised and simplified a complex message, but it also created fun activities for visitors to the temple. They can paint cloth bags and send themselves best wishes on a postcard stamped with the chant's emblem.
All proceeds from the sale of coffee go to the temple. Admission to the event itself is free, but seats can be booked in advance at BodhiTheater.com.
The show runs every 35 minutes from 2 to 6pm.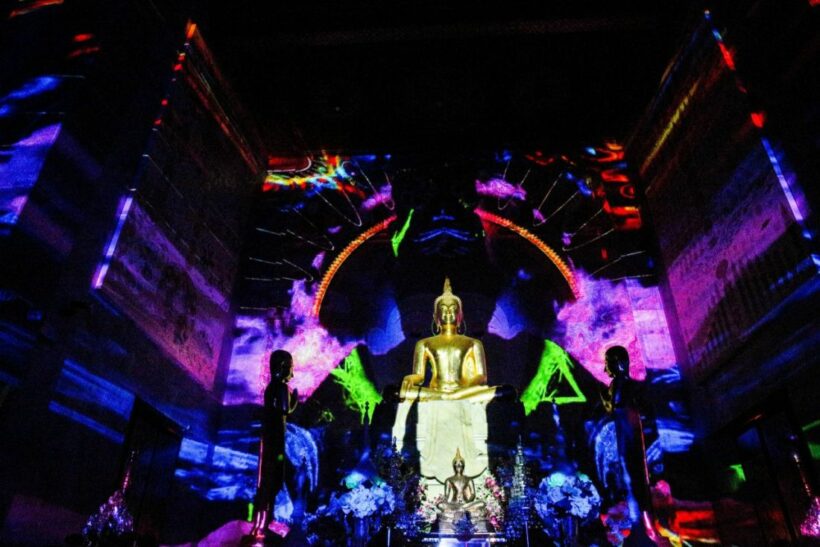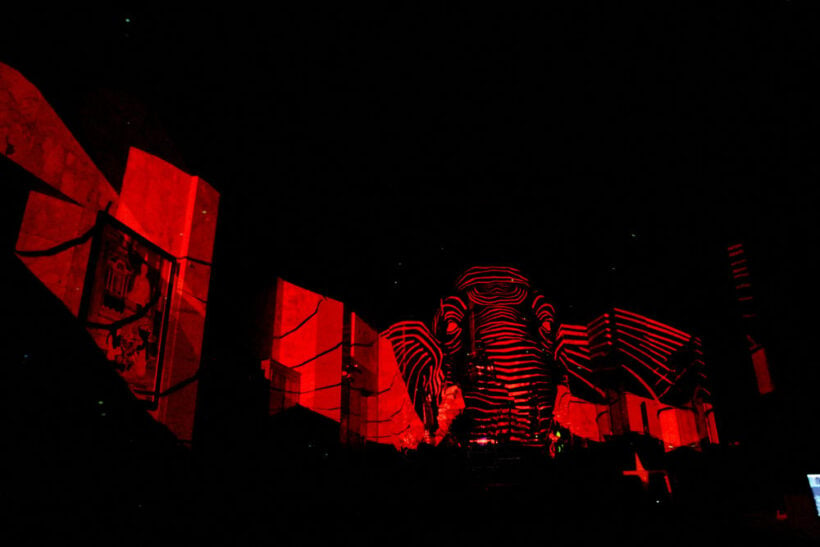 SOURCE: The Nation