Covid-19 update (Wednesday) 9 new cases, 0 new deaths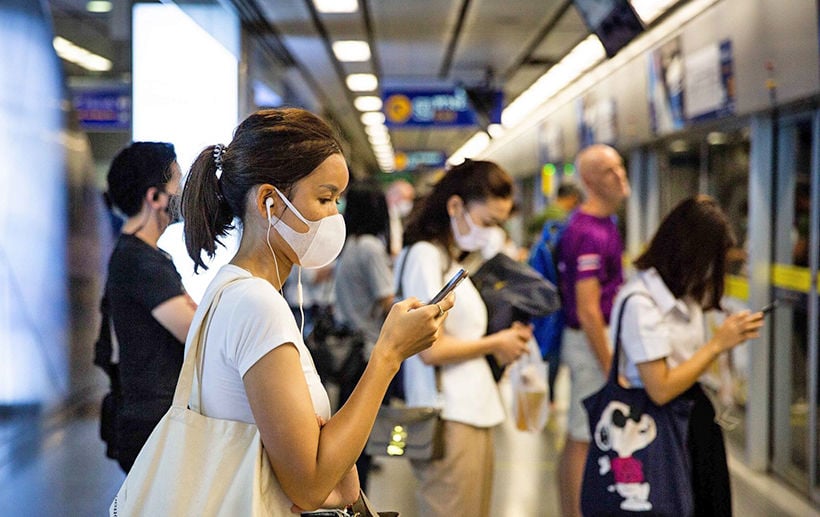 Health officials at this morning's national daily briefing announced 9 new Covid-19 cases today, bringing the total to 2,957. No new deaths were reported and the tally remains at 54 since the beginning of the outbreak in January.
Of the national total, 2,665 people have recovered and been discharged from hospital, making the recovery rate just above 90%.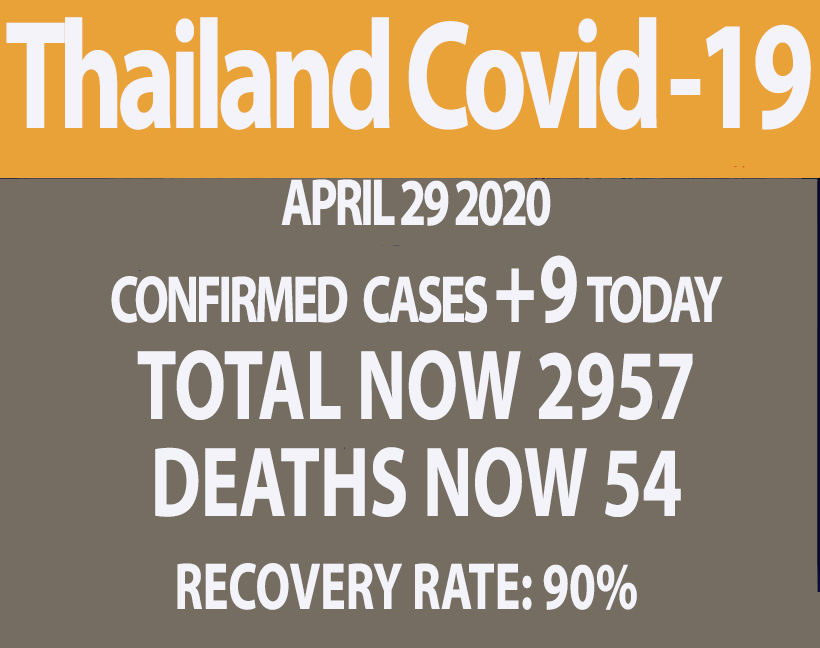 Bangkok currently has 1,654 cases, the highest number, followed by the southern province of Phuket, with 214. Northern Thailand currently has 94 cases, the central region 375, eastern Thailand has 111 and the South, 674.
The national state of emergency to combat the spread of the virus was extended for another month yesterday, though some restrictions on domestic travel and business closures are being lifted, albeit gradually. The ban on passenger arrivals and the national curfew will remain in place until at least May 30.
Authorities warn that, because the level of testing per capita nationwide remains low, the actual number of infections could be much higher than reported, and while the number of cases appears to be dropping steadily, "the public must not to become complacent, and must strictly follow social distancing guidelines".
The following chart is an indication of the way provinces may open up business if there are no new infections in their province.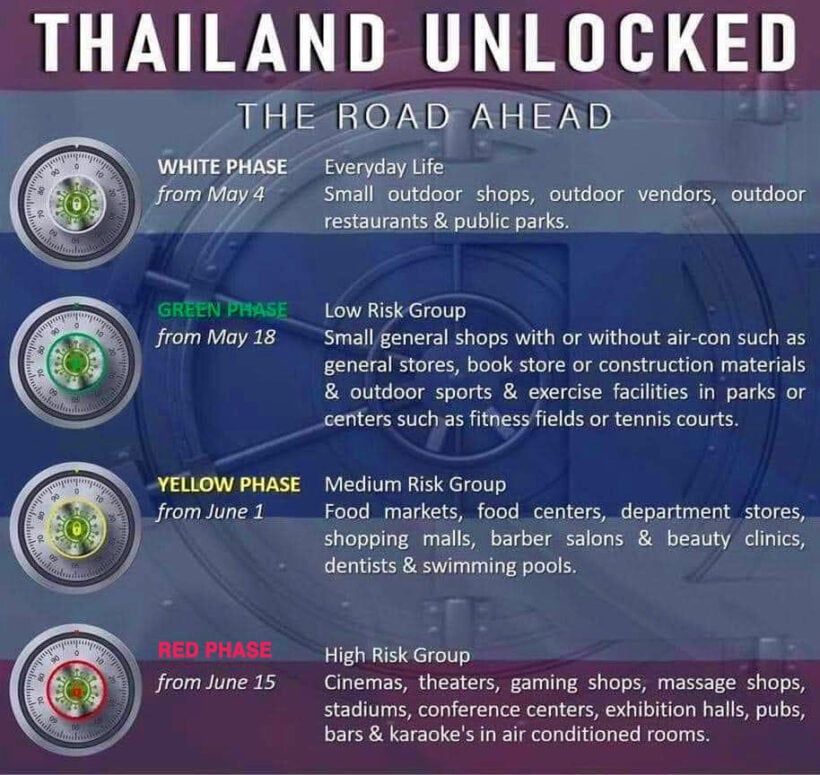 Keep in contact with The Thaiger by following our
Facebook page
.
Thailand Covid-19 figures (May 29)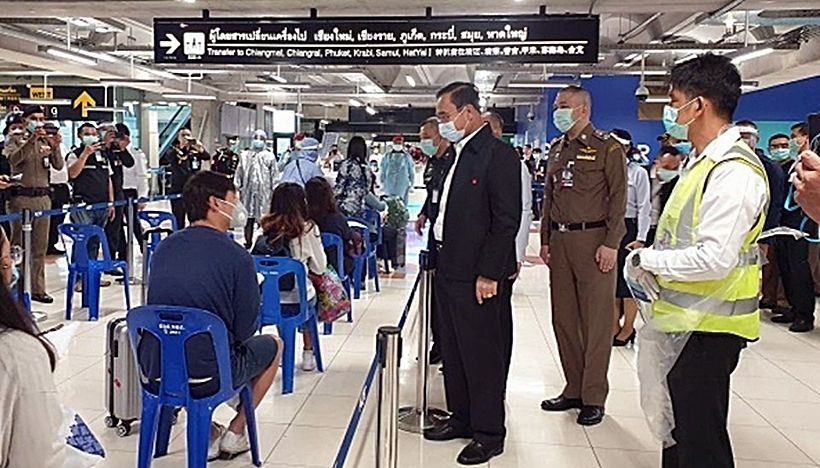 The spokesman for the Centre for Covid-19 Situation Administration, Dr Taweesilp has reported 11 new cases of Covid-19 virus in Thailand, same as yesterday. Of the number, all were reported as imported cases coming from Kuwait.
All Thai nationals returning from overseas are placed into a mandatory 14 day state quarantine with no exposure to the general public. For the 4th day in a row, Thailand has announced zero locally transmitted cases.
Dr Taweesilp, says…
"The returnees were of working age and were either asymptomatic or only had mild symptoms."
"Many people may feel comfortable because there are no new locally infected cases. This goes along with the general feeling as we are further easing the lockdown."
The total number of local Covid-19 cases is now 3,076. Of these, 2,945 (96%) had made a full recovery while 74 remains in hospitals.
The accumulated death toll in Thailand from Covid-19 is 57.
"Thailand ranked 77th in the number of Covid-19 cases worldwide; the US, Brazil and Russia were in the top rank."
Chonburi province has gone 35 days without a single new confirmed case of the virus. Pattaya City is at 45 days without a single new confirmed case.
SOURCE: Bangkok Post | Pattaya News
Keep in contact with The Thaiger by following our
Facebook page
.
No new Covid-19 cases in 65 provinces for a month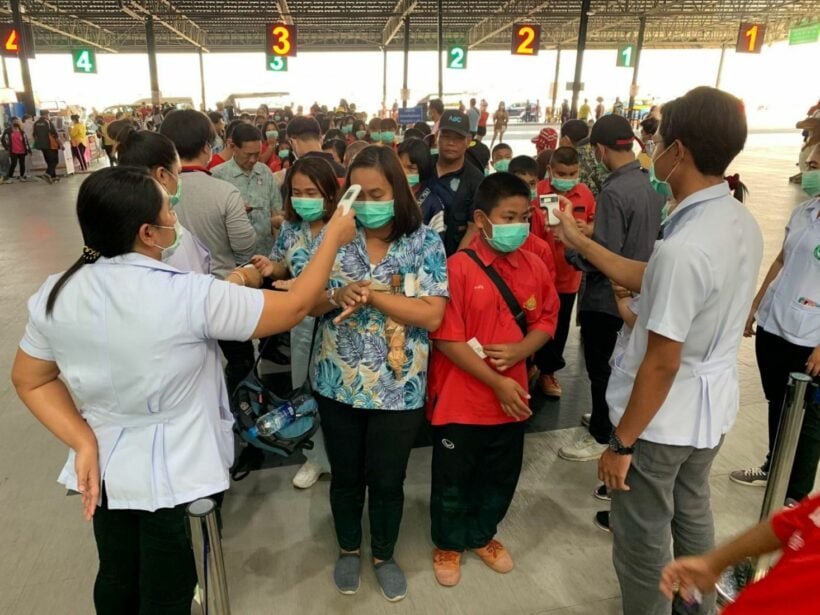 The Covid-19 situation in Thailand is improving: the Ministry of Public Health announced yesterday that 65 of Thailand's 76 provinces have reported no new cases for a full month. But it says the situation is "still not stable enough", and the government continues to screen people returning from abroad and is proactively testing suspected cases.
The deputy director-general of the Department of Disease Control says that the number of cases in Thailand is relatively low and is divided into 2 main groups: Thai nationals returning from abroad and people who had close contact with previous cases. Returnees are placed in mandatory 14 day quarantine to see if they develop symptoms.
But academics have pointed out that there may still be some people infected with the virus without showing symptoms in areas around the country. They have not been tested and could potentially infect others. Therefore, they say, the Ministry of Public Health needs to stay proactive in maintaining a wide ranging testing program. (Thailand has not had a "wide ranging testing program". Thailand has tested 5,380 people per 1 million population. In comparison, Singapore has tested 57,250 people per 1 million population.)
The Thai ministry's caution shows an extreme risk-aversion when compared to many other countries that are now opening up despite much higher rates of transmission, but with certain precautions and restrictions in place.
An analysis of the numbers of infections in different parts of Thailand shows 10 provinces have had no cases at all. However, 42 provinces have a fatality rate of 0.1 to 1%, 18 provinces have a rate of 1.1 to 5%, 2 provinces have 5.1 to 10% and 5 provinces have a death rate higher than 10%.
In the past month, 65 provinces reported no new cases. Although the figures are low, it's is possible that some people are asymptomatic, particularly in greater Bangkok, Chiang Mai, Phuket, Chonburi and the 4 southern border provinces.
SOURCE: The Pattaya News
Keep in contact with The Thaiger by following our
Facebook page
.
PM assures MPs that government knows how to handle trillion baht loan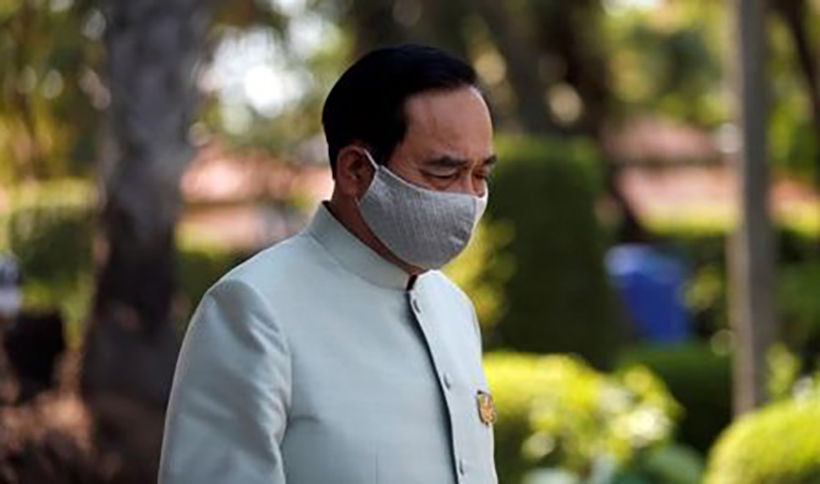 "Don't worry, we got this…"
Following the Finance Ministry's securing of a trillion baht loan, PM Prayut Chan-o-cha spoke up to address concerns over how the funds will be administered. Answering questions raised by opposition parties, the PM said the government has clear rules in place on how the funds will be distributed, with the priority being small and medium sized businesses that have been severely impacted by the Covid-19 crisis.
He was speaking as Parliament debated the 3 decrees enacted in the wake of the pandemic, the first of which was to allow for the borrowing of a trillion baht. The PM promises full transparency in how the funds are used, saying the loan has been taken out to prevent small businesses from going bust, which would lead to a further significant rise in unemployment.
A second decree is in place to enable small businesses and start-ups to take advantage of soft loans to survive the huge toll the virus has taken on the economy. Thai PBS World reports the Finance Minister as saying such businesses will receive help with their applications if they are unaccustomed to securing credit from banks.
While the first decree enabled the government to secure a trillion baht loan, the Bank of Thailand says neither the soft loan decree nor an additional bond stabilisation decree will mean more debt for the country. Rather the central bank's existing funds will be used to help the bond market and to give businesses the lifeline they need in the current exceptional circumstances.
SOURCE: Thai PBS World
Keep in contact with The Thaiger by following our
Facebook page
.