Meth-dealing Koh Samui bar owner attacked in Thai prison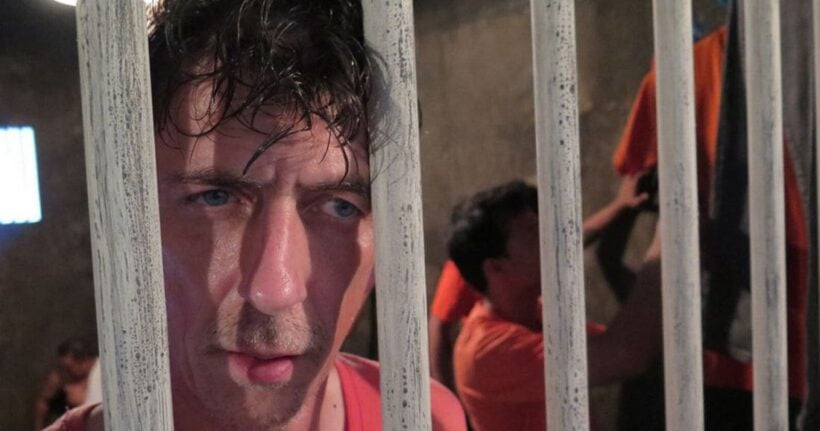 PHOTO: The Mirror
A British man says he had three teeth knocked out and that going to a Thai prison for dealing drugs was 'torture'.
Jimmy Kelly was sentenced to 30 years but ended up spending just three behind bars for selling crystal methamphetamine at the bar on Samui he owned.
His sentence was dramatically cut because his brother Gary allegedly paid 3,280,000 baht in life savings (the article doesn't mentioned who the money was paid to).
Kelly moved to Thailand from the UK and spent a £33,000 (1,353,000 baht) redundancy payment to set up a bar on Koh Samui but says he soon became caught up in the local drug scene.
Speaking to metro.co.uk, he said… "Months ago I was a postman living an ordinary mundane life. Now, I'd taken a bar over and become a pimp.'
When armed officers swooped on his bar, they found the drugs and huge amount of money. 'I read horror stories about Thai prison,' he told the program. (He also claimed that he was seeing woman at the time who was working with the local police.)
Speaking on the National Geographic program "Banged Up Abroad", he said, "I never… thought I'd end up in a Thai prison."
He complains about the cramped cell "caged in like an animal" with other prisoners, some accused of murder.
"I knew I wouldn't be seeing friends or family for a very long time. I wish I could go back to boring old England."
He claims he was attacked by a guard with a baton when a fight broke out in the prison, according to the story in metro.co.uk. Three of his teeth were knocked out and he said he thought he was going to die.
Read more about Jimmy's story HERE.
Keep in contact with The Thaiger by following our
Facebook page
.
Transport Company interprovincial bus services to the South remain suspended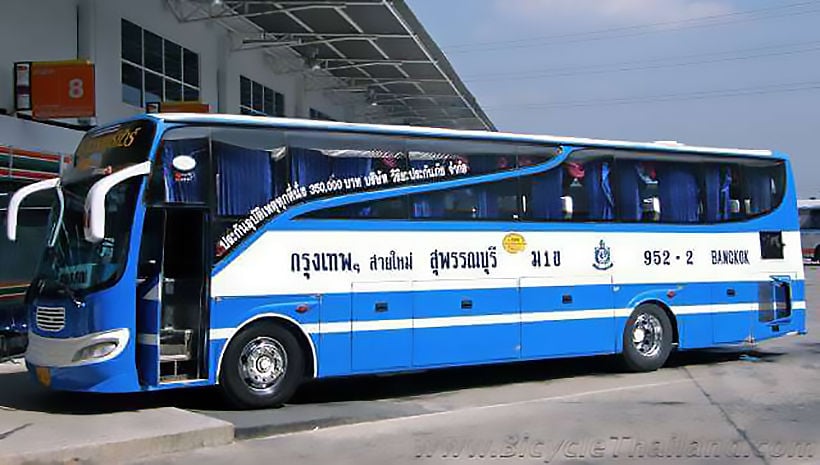 Transport Company, Thailand's interprovincial bus company, announced this week that it is continuing its suspension of all services to the southern provinces as the country will be under the state of emergency until June 30.
It did not say when services will resume. The company was expected to resume services from Bangkok to Koh Samui, Phuket and Trang from June 1.
The Cabinet decided on Tuesday to extend state of emergency in line with measures to control the spread of Covid-19.
Transport Company announced in April, when the national curfew came into force, that services on routes longer than 300 kilometres would remain halted nationwide until further notice.
Services on routes under 300km operated by minibuses are still allowed, from 5am-4pm, and parcel services can operate from 5am-8:30pm.
The decision is in line with the decision of the Centre for Covid-19 Situation Administration to maintain the night curfew, from 11pm-3am, and discourage travel between provinces to restrict the spread of the virus.
SOURCE: Nation Thailand
Keep in contact with The Thaiger by following our
Facebook page
.
Airports open, quarantine rules and Samui – the latest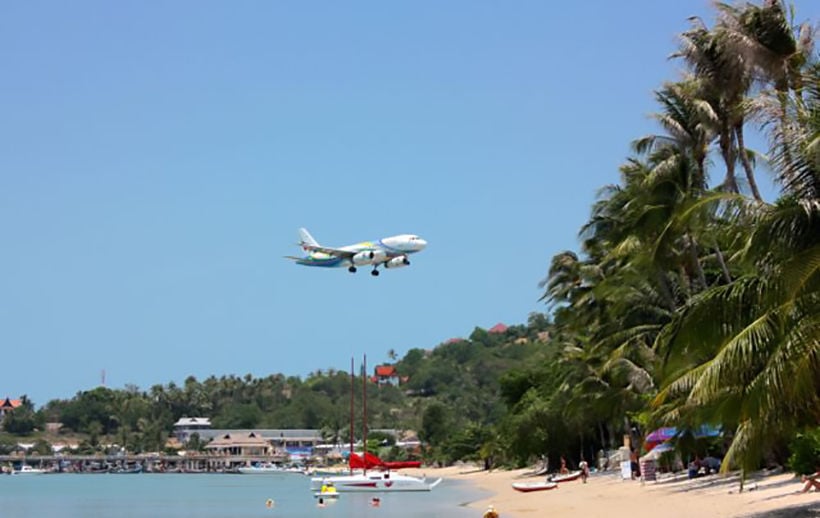 Airports of Thailand warns domestic airline passengers to check provincial travel restrictions before they book flights. Currently, there are 5 airports fully operational – Bangkok (Suvarnabhumi and Don Mueang), Chiang Mai, Chiang Rai, and Hat Yai, but only 4 airlines, namely Nok Air, Thai AirAsia, Thai Lion Air and Thai Vietjet are serving them.
Phuket airport was set to reopen on May 14, however the Civil Aviation Authority reversed its decision a day after its initial reopening announcement on Thursday.
Domestic travellers arriving at Bangkok's 2 airports are not required to quarantine for 14 days, but the quarantine rule applies for Chiang Mai and Chiang Rai. Passengers arriving at Chiang Mai International Airport must complete the tracking form "Chor Mor 1." They will also be handed a guide on 14 day quarantine.
All foreign passengers arriving on domestic flights to Chiang Mai will be required to stay at hotels designated by the provincial authorities for 14 days at their own expense.
Domestic passengers arriving at Chiang Rai International Airport are required to fill out documents that can be downloaded to a mobile phone via a QR code. The documents are from the province's administration and public health departments. The information is used to establish screening measures for anybody entering Chiang Rai province.
Travellers from Phuket to Chiang Rai must immediately report to the disease control officer. They will be transferred to the Wiang In Riverside Resort Hotel for 14 day quarantine at the passenger's expense.
If passengers stayed in Bangkok or its adjoining provinces, Phuket, or the 4 southernmost provinces (Pattani, Yala, Narathiwat and Satun) for more than 24 hours they must report to disease control officers at the airport. They will also need to comply with the 14 day home quarantine rule.
Should passengers be travelling from Bangkok after a day visit of fewer than 24 hours, they are not required to report to the disease control officer and enter quarantine. However, they must check for Covid-19 symptoms for 14 days. Furthermore if they have a fever or other symptoms, they must immediately report to the nearest hospital.
Meanwhile, Bangkok Airways has resumed its daily flights to Koh Samui in the southern Surat Thani province, but imposing strict social distancing measures for passengers. Bangkok Airways has adopted the sanitary guidelines of the Health Department and the Civil Aviation Authority. The airline is also giving away specially designed face masks to passengers (who are required to wear a mask at all times anyway).
The carrier will perform body temperature checks on all passengers at the point of origin and destination. Bangkok Airways has also arranged seats onboard to keep passengers apart at a 'proper distance'.
"Standing and waiting points are designated at service counters and on shuttle buses. Passengers are strictly required to keep a safe distances from others. Passengers are required to wear face masks as well as cabin crew. Eating and drinking are not allowed onboard and no food is served during flights."
SOURCES: Chiang Rai Times | TTR Weekly | MCOT
Keep in contact with The Thaiger by following our
Facebook page
.
Koh Tao residents caught without face masks made to do push-ups and jumping jacks – VIDEO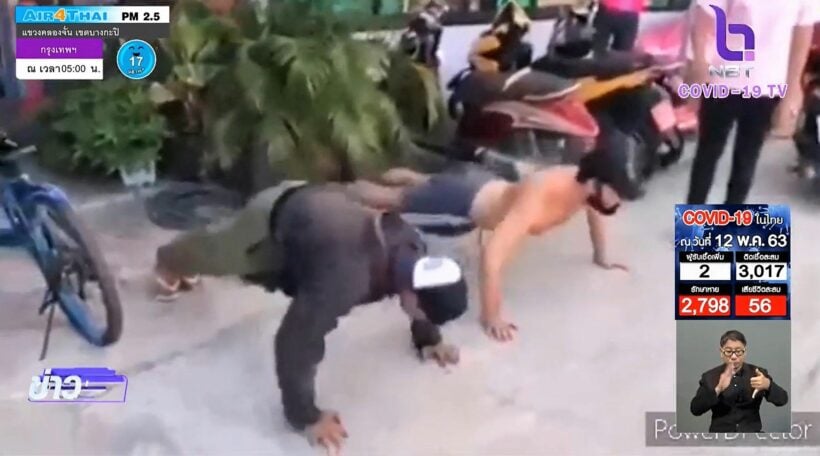 Officials on the island of Koh Tao in the Gulf of Thailand have come up with a novel way to punish people for not wearing face masks, still a legal requirement under the Covid-19 emergency decree when people are out in public.
The Pattaya News reports that both tourists and Thais caught without protective face coverings are being made to do a series of push-ups and jumping jacks, much to the amusement of onlookers armed with smartphones. It comes after police on Koh Tao set up a checkpoint near the pier, with anyone violating the face mask stipulation being made to perform no fewer than 20 push-ups and 20 jumping jacks.
Video: News NBT Thailand
Officials also provide them with free face masks, although they are not required to wear them until after they've finished exercising, which aligns nicely with the Department of Health's recent warning that exercising while wearing a face mask could be "harmful".
SOURCE: The Pattaya News
Keep in contact with The Thaiger by following our
Facebook page
.