Phuket vegetarian festival processions kick off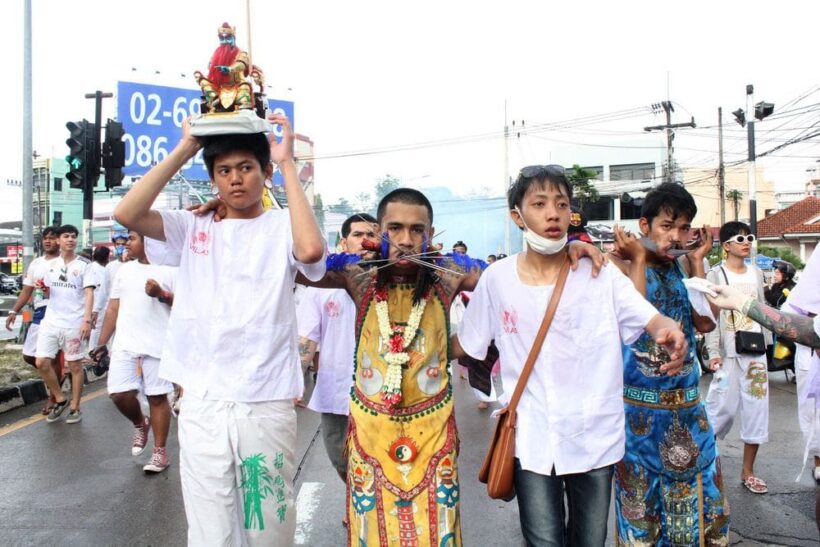 The famous, or infamous, Phuket vegetarian street processions have started. Thais, expats and foreign tourists enjoyed watching some of the processions during this morning's rain.
The festival is held until October 17 this year. This year's Phuket Vegetarian Festival was announced in the Royal Thai Government Gazette as a 'Phuket event of cultural heritage'.
Read more about the launch of this year's vegetarian festival HERE.
Today is the first day of street processions around Phuket Town. The first shrine that held street processions is the Naka Shrine.
There are many male and females who are spirit mediums or Ma Song joined in all the processions. Many weapons and tools, such as irons, knifes, saw and fishhooks have been used to pierce the faces and bodies of the 'possessed' Ma Song.
Read more about Phuket Vegetarian Festival program 2018 HERE.
Enjoy the photos! Or look away… NOW.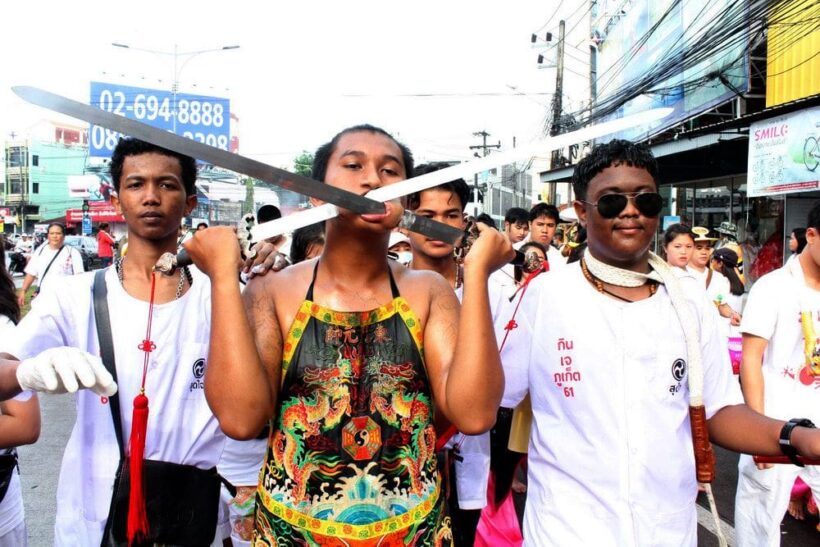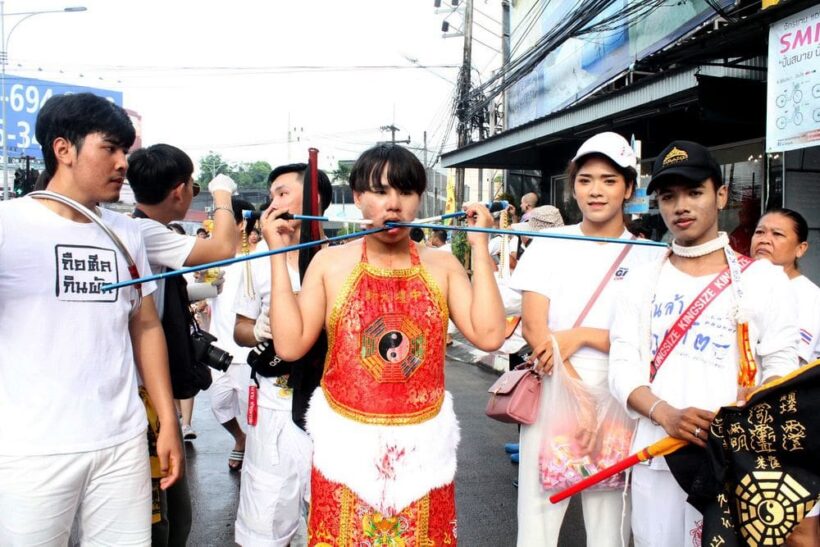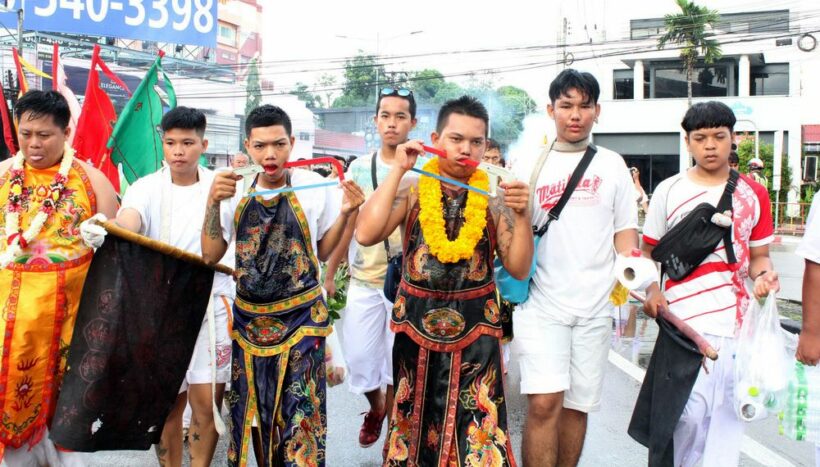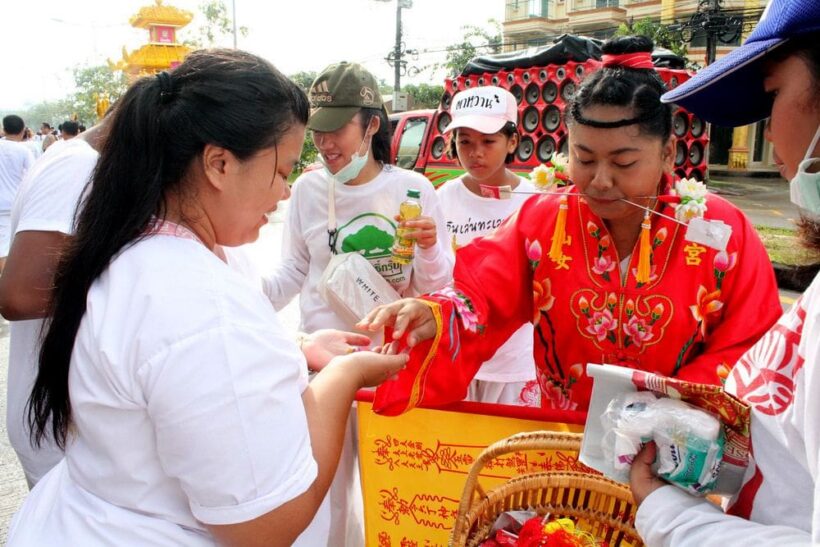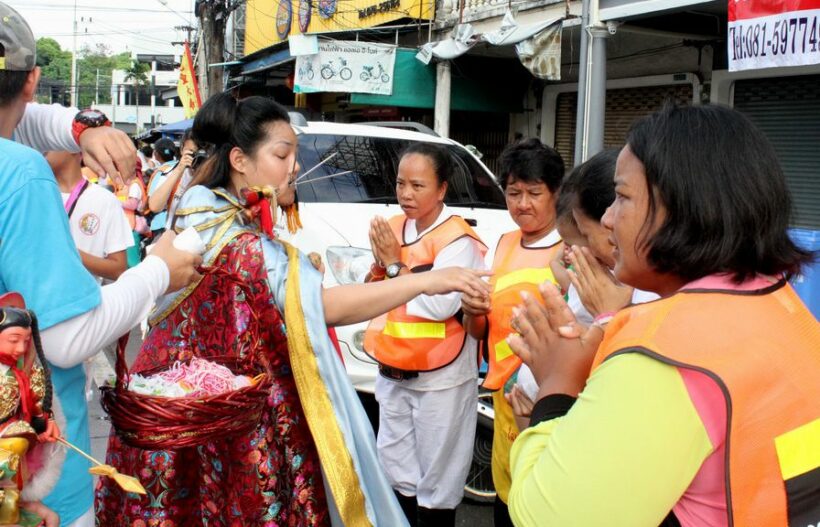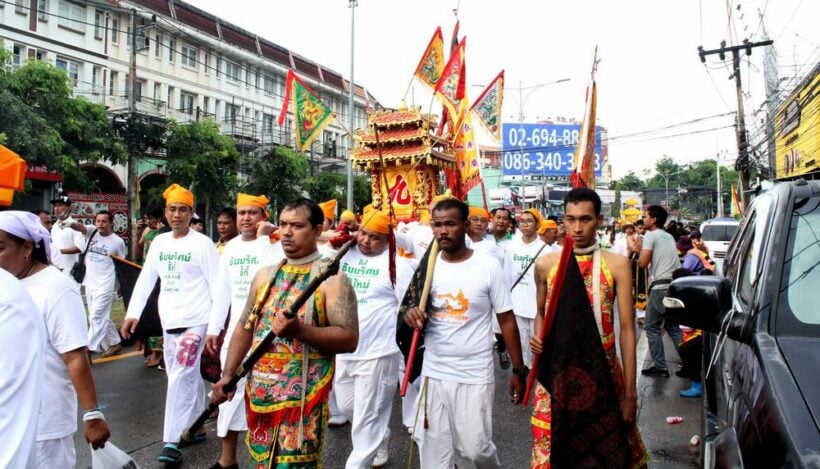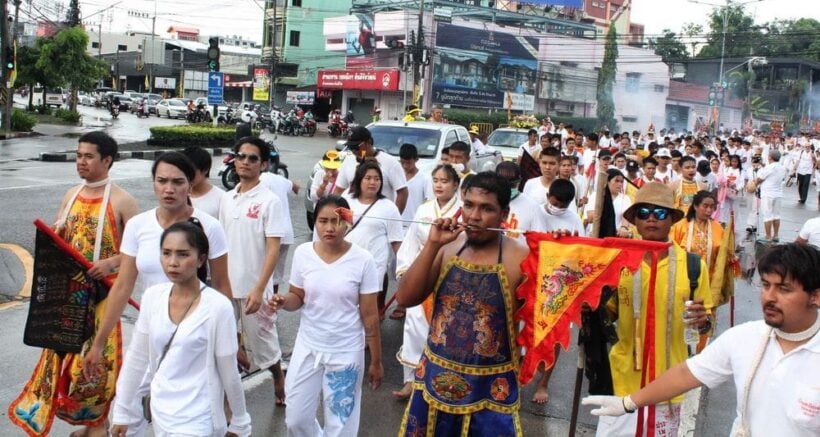 Phuket Immigration wind up 'Operation X-ray Outlaw Foreigner' crackdown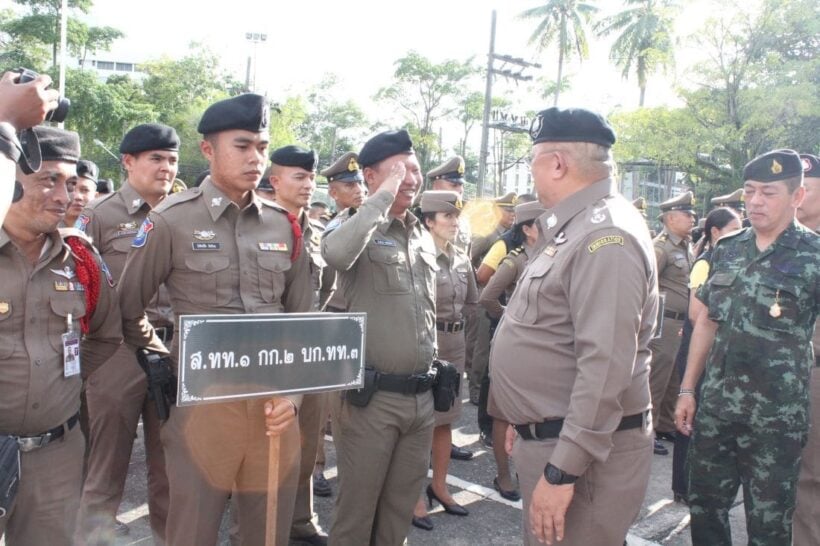 Phuket Immigration officers say they're committed to the national crackdown called Operation X-ray Out Law Foreigner, especially on overstayers.
As a show of force yesterday, more than 252 officers from the Phuket Immigration Office, the Royal Thai Army, the Royal Thai Navy, the Phuket Provincial Police, Highway Police, Tourist Police and Marine Police assembled at the Phuket City Police Station.
The Chief of the Phuket Immigration Office, Col Kathathorn Kumthieng says, "During this month we have checked about 397 accommodations, including hotels, for 'alien' (foreigner) reporting. We also discovered some overstayers."
"The offending hotels and hostels have been fined and informed to report when foreigners are staying in their premises within 24 hours."
"From October 1-14, the crackdown on serial overstayers, in the Immigration Office Division 6 which covers the southern part of Thailand, netted 583 overstayers and 880 for illegally entering the country."










Mai Khao's 'West Sands' CEO being quizzed by police following last week's death on Thepkasattri Road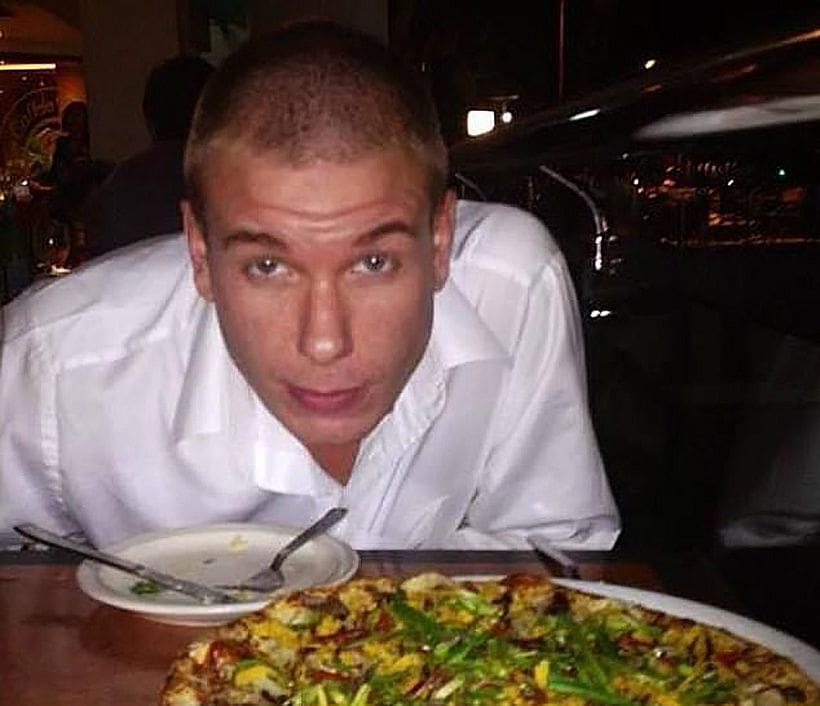 PHOTO: Facebook.com – Paul John Mercer
The British CEO of a luxury hotel along Mai Khao Beach in Phuket, is going to be quizzed by police in Phuket after running over and killing a roadside scavenger in his luxury Mercedes last week.
Original report about the Wednesday morning incident HERE.
The British expat is being investigated by Thai police after his Mercedes-Benz ploughed into the rubbish collector, killing the man instantly and scattering his body over the road.
Paul John Mercer, CEO of CCD Thailand, an international developer of luxury hotels, allegedly struck the unidentified man as he was pushing his rubbish cart along Thepkasattri Road in Phuket early Wednesday morning. His body was dragged 40 metres along the road, according to the police report. At this stage Police have not been able to identify the deceased man.
Police and rescue workers found the man's body scattered over the road. The black Mercedes sustained significant damage from the crash on its right side front and windscreen.
Mail Online reports the the 33 year old driver, from Salford near Manchester, was immediately sent to a nearby hospital for injuries to his eyes caused by the impact to the windscreen.
Police had been barred from seeing or questioning Mr Mercer until his condition improved. Police requested tests for the man's blood alcohol level.
If found guilty of driving over the alcohol limit, Mr Mercer could be charged with reckless driving causing death, and would be sent to a local court for trial. A guilty verdict could send him to a Thai prison along with a hefty fine. Plus, as normal in Thai culture, he would be required to pay compensation to the deceased man's family.
But Police Captain Worawut Sensop, deputy investigation chief at Thalang police station, told MailOnline "We have not been contacted by a family member or a relative to claim the body."
"If no relative comes forward to claim relationship with the victim, Mr Mercer could get away with not having to pay any compensation."
Mr Mercer went into business with former Tesco CEO, Sir Terry Leahy, to buy the 48 acre stretch of land along Mai Khao Beach, Phuket, with 426 rooms, now known as Grand West Sands.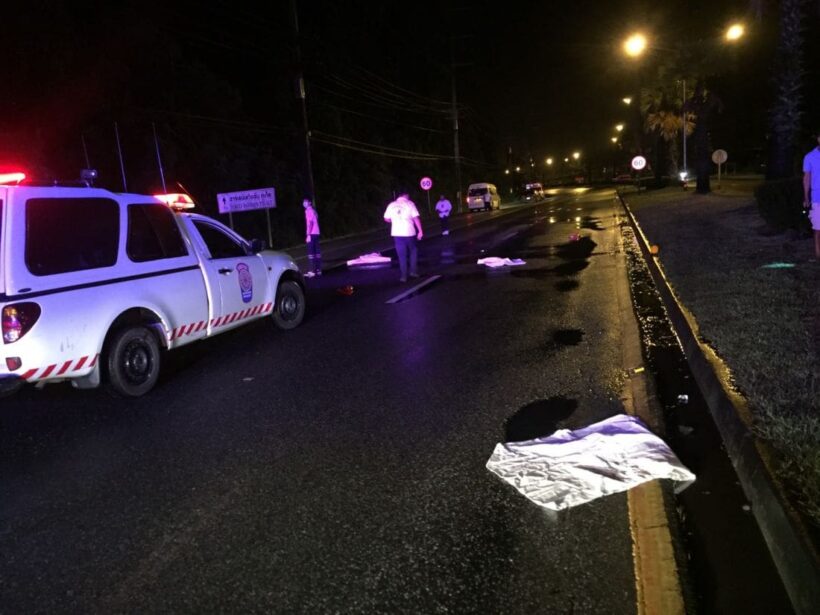 SOURCE: Mail Online
Man kills himself outside his home in Thalang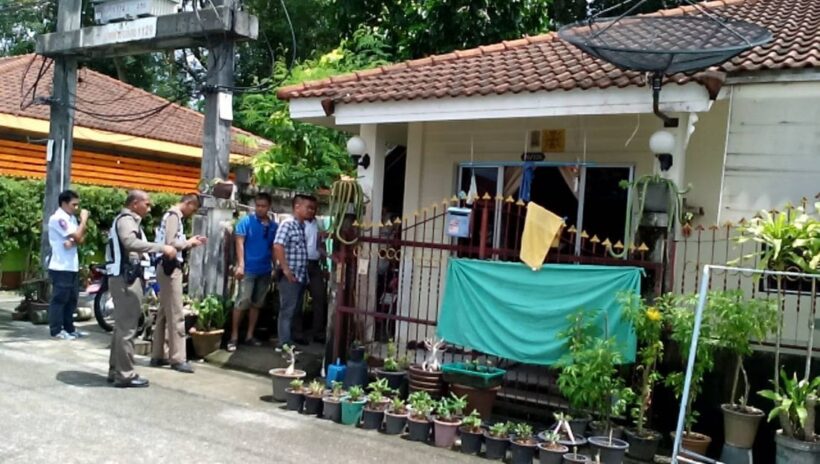 A Thai man has shot himself at a house in Thalang today.
When Police and rescue workers arrived at the Suppamas housing estate in Paklok about noon, they discovered the body of 66 year old Somnueak Chanapan, a former staff member of the Khao Phra Thaew Non Hunting Area, on a chair in front of the house. Bullet wounds were found on both his right and left temple.
A .38 handgun was found next to his body. A cartridge was found under the chair. His body was taken to Thalang Hospital.
Mr Somnueak's wife told police that Mr Somnueak was  a former staff member of Khao Phra Thaew Non Hunting Area in Thalang. She said that he had some personal health issues but he had been given good care from his family.
His wife and his son were inside the house at the time of the incident. They thought that Mr Somnueak was cleaning the gun. After she heard the shot she ran into the room and found that he was dead.
At this state police believe that Mr Somnueak was stressed over his personal health problems but are continuing their investigations.

If you or anyone you know is in emotional distress, please contact the Samaritans of Thailand 24-hour hotline: 02 713 6791 (English), 02 713 6793 (Thai) or the Thai Mental Health Hotline at 1323 (Thai).