Australian goes off the rails after being arrested by Pattaya Police – VIDEO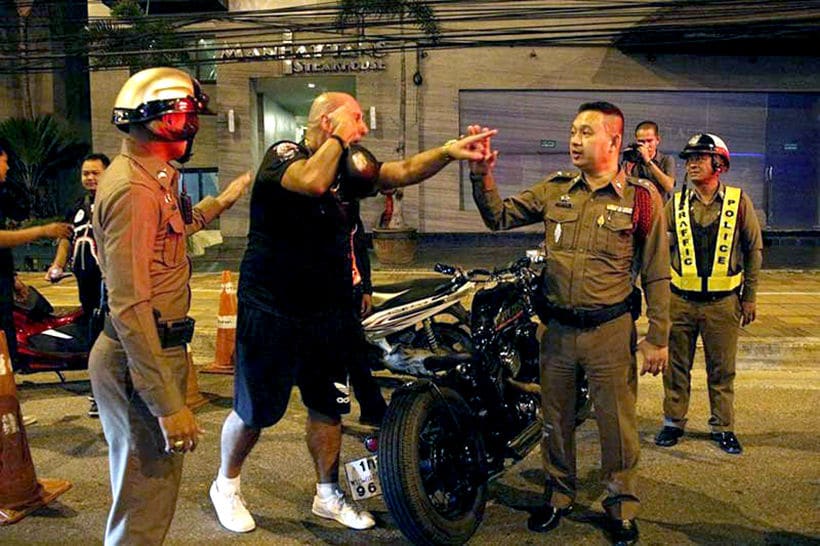 PHOTO: 77JOWO
An abusive Australian has been filmed resisting arrest after being stopped by police in Pattaya. Police intervened and arrested Constantine Anagnostou for his 'chaotic behaviour' at an intersection on Pratumnak Hill.
A 5 minute video shared by Pattaya News showed Mr. Anagnostou swearing at police officers after claiming that one of the officers had assaulted him. It starts off with the Australian arriving on a motorbike, falling over and collapsing into bikes parked along the street.
As the clip progresses, a shirtless Mr. Anagnostou can be seen demanding police return his license, while also saying "mai mee tang" – that he had no money. He was then handcuffed by police officers as he hurled abuse and accusations at them.
77jowo reports that the man was involved in an earlier incident at the Ratio Bar where a motorcycle was damaged. It was claimed the man became abusive and threatened some of the bar staff, which is when police were called. Mr. Anagnostou is now in custody at the Pattaya Police Station.
Facebook page
.
Never miss out on future posts by
following The Thaiger
.
Pattaya bar ladies use YouTube to make money during pandemic – VIDEO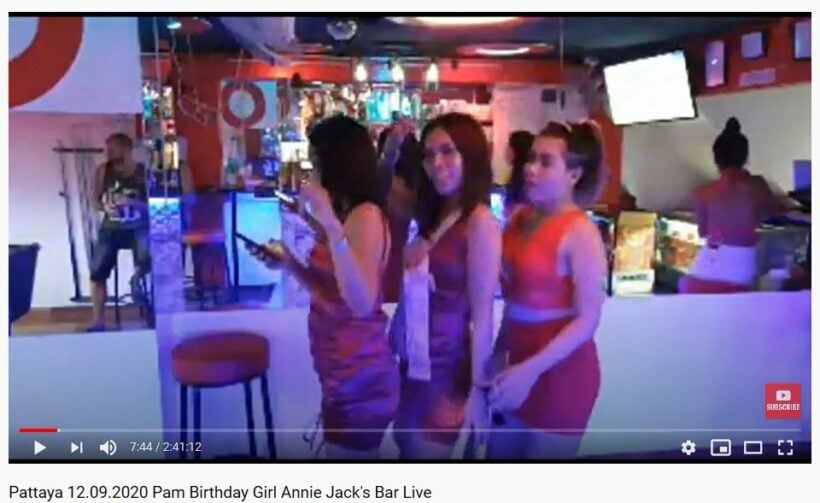 Can't visit the ladies in Pattaya? Just go to YouTube and type "Pattaya bar live" in the search bar. A number of videos and live streams will come up from various bars in Pattaya. The area was hit hard by the Covid-19 pandemic with a ban on international tourists, battering the local economy that heavily relied on foreign visitors. But it looks like many of the bars, that cater to foreign, male customers, are making money by reaching out to customers who aren't even in Thailand.
Many bars than now stream on YouTube list a link to a PayPal to allow customers to make a donation or buy a drink for one of the female bar staff. Some live stream at the bar, allowing the customers sitting at home in another country to connect with the bar staff, as if they were there.
Sweet Media, an account which started in March, posted a video of a pool party in Pattaya saying "nice to see the girls enjoying getting wet and letting their hair down at the pool party," with a link to donate to the "Next Thai Girls Pool Party fund" and another link to buy a lady a drink for 150 baht.
A Pattaya bar under the YouTube account "S3xy bar soi buakhao" has been live streaming for months. They started with just a few hundred views and now break a thousand. They have chatroom rules: "Be nice to the girls, the bar and all customers past, present and future."
Pattaya's Oh Bar joined YouTube in August. They have live stream videos at the bar as well as pre-recorded videos like "Beer Bar Lady Beach Volleyball." The women didn't play much volleyball and lined up on the beach, each in a different coloured bikini to stretch. They took some shots of holding the ball before passing it around in a circle. Another video is of "Beer Bar Lady Amy" studying English, showing the woman at a desk in her pajamas, flipping through a textbook for 8 minutes.
Oh Bar also did a video asking the bar staff "What type of customer do you like?" Here's what so of the Oh Bar ladies said …
"I like a man who takes care of me. I come to Pattaya to find man who support and marry me."
"I like old man. I think old man makes me good and takes care of me and my family."
"I like warm man. Good style. Takes care of me. Love me and friendly, comfortable… Marry me."
Catch up with the latest daily "Thailand News Today" here on The Thaiger
Keep in contact with The Thaiger by following our
Facebook page
.
Never miss out on future posts by
following The Thaiger
.
Pattaya bars making money from live streaming for customers overseas – VIDEO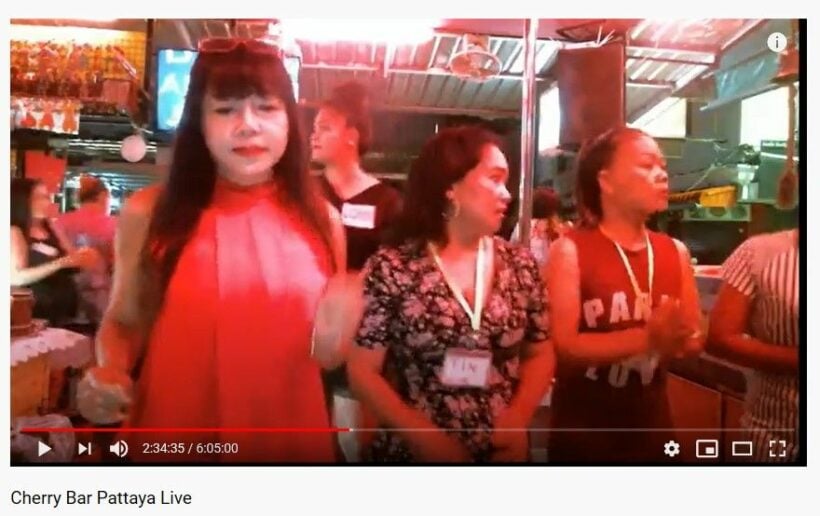 Since foreign tourists can't visit the bars in Pattaya, some of the bars are live streaming and posting videos online to allow people to chat and connect with the female bar staff, partially making up for revenue lost during the pandemic. The Pattaya News says the chats aren't explicit, just a friendly chat between the bar staff with men who are stuck in other countries and unable to travel to Thailand. Facilities have also been set up so they can send money to the ladies.
Pattaya's Cherry Bar started live streaming on YouTube, asking the viewers to buy drinks for the staff. It's understood the staff get commission when a customer buys a drink for them, much the same as the situation when gentlemen attend the bars in person. There's music, noise, banter, innuendo, short pants, over-priced drinks and too much eye make-up, just like the real thing.
"To buy a drink for the staff, please click this link! 125 baht each, or ring the bell for 900 baht."
Apparently, the live streaming is working. Pattaya News says some bars have made "tens of thousands of US dollars." Some have dedicated audiences. The Cherry Bar's YouTube page started posting videos 3 months ago and has livestreams as well as videos of parties and women pole dancing at other Pattaya bars.
On a video of 2 women pole dancing at Destiny GoGo, a commenter wrote "Can't wait get back Pattaya going to barfine both ladys" (we didn't correct his mistakes) and Cherry Bar responded by saying "The sooner they reopen the airport, the better."
On Pattaya's Walking Street, bars now only have a few customers, mostly retired expats who were living in Thailand long-term, according to Pattaya News. Some foreign expats who frequent the Pattaya bars say they disagree with live streaming and are concerned about being filmed without their permission. Others say the staff are ignoring the customers at the bar and paying more attention to the customers online.
Other businesses in Pattaya have changed since the pandemic. Some are now marketing to a Thai customer base since there has been a ban on international tourists. Hotels that once catered to foreign travellers have been turned into alternative state quarantine facilities for Thais returning home from overseas. The Pattaya News even says some bars used to ban transgender people are now welcoming them.
To watch live streamed videos from Cherry Bar, click on the link here…
https://www.youtube.com/channel/UC-v3sT9I9V8NWkT3bYTntgw/videos
SOURCE: Pattaya News
Catch up with the latest daily "Thailand News Today" here on The Thaiger.
Keep in contact with The Thaiger by following our
Facebook page
.
Never miss out on future posts by
following The Thaiger
.
The Pattaya to Hua Hin bridge. Government discusses 900 billion baht investment.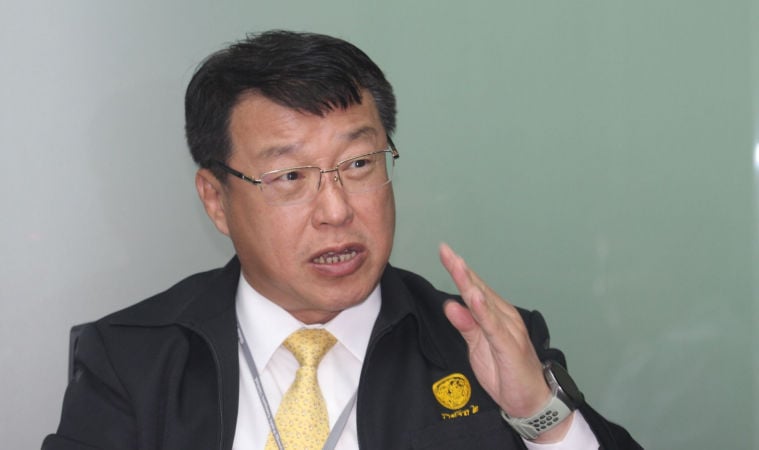 The government is looking into a so-called "Thai Bridge" that would connect Pattaya to Hua Hin, an estimated 900 billion baht investment. The project would be part of the Eastern Economic Corridor development plan aimed at improving the transportation and infrastructure in Thailand.
The 900 billion baht investment is expected to take 10 years to financially implement, according to chairperson of the government's committee for the Mobilisation of Economic Management Measures, Pailin Chuchottaworn. The Centre for Economic Situation Administration has approved the investment project to move forward with a pre-feasibility study by the EEC's policy committee.
"We have to admit that 900 billion baht is a huge amount of money, but it is reasonable when considering its final results. It is also cheaper than some other mega projects that are currently being accelerated. We also planned to hire local Thai people and buy local materials for the construction to reduce the cost as well."
The bridge would join other mega-projects by the EEC like a high speed rail that will link the major airports in Bangkok… Don Mueang Airport, Suvarnabhumi Airport and U-Tapao Airport (south of Pattaya). The train is expected to travel at 250 kilometres per hour. Another project is the renovation and extension of the U-Tapao International Airport. The EEC says the project will bring in 60 million passengers a year and is expected to be in operation by 2024.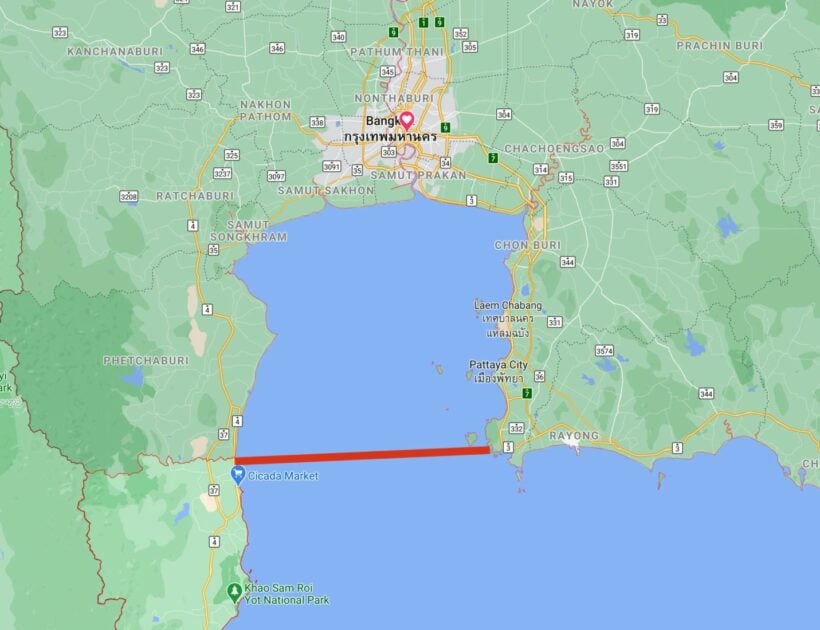 The 80 to 100 kilometre bridge will most likely connect Pattaya to Hua Hin (likely to be just south of Pattaya in Sattahip), but also connect many provinces in the South. The bridge would likely increase tourism in Hua Hin. Pattaya draws in a larger crowd than Hua Hin with 10 times more tourists than the southern district, Pailin says.
The bridge will also need to allow shipping to traverse the Gulf of Thailand to Laem Chabang in Chon Buri.
"In truth, the tourists want to travel to both cities but they choose Pattaya first partly because Chon Buri has more attractions and more convenient transportation options. Many projects are also being built in Chonburi and the EEC in the coming future, such as a three-airport monorail and a city monorail which will potentially attract more travelers to the area, while none of the projects in the other tourist cities in the Gulf of Thailand were discussed."
SOURCES: Pattaya News | EEC
Keep in contact with The Thaiger by following our
Facebook page
.
Never miss out on future posts by
following The Thaiger
.