Australian goes off the rails after being arrested by Pattaya Police – VIDEO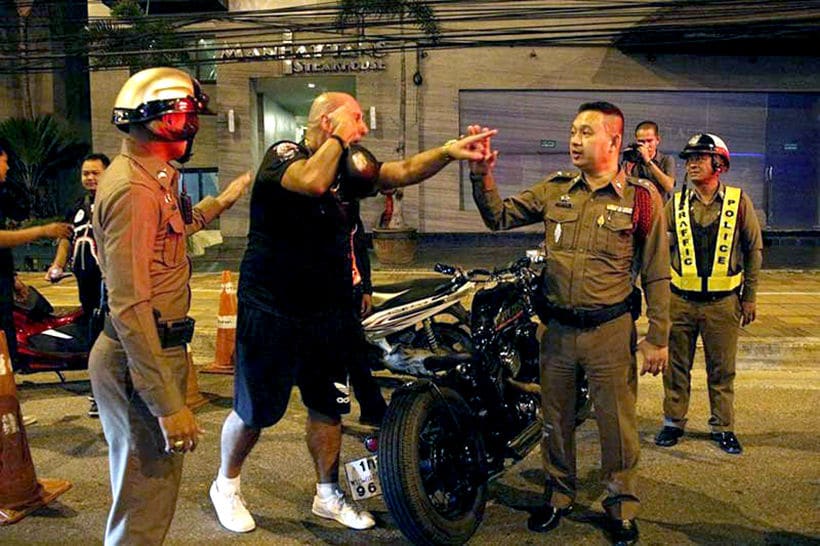 PHOTO: 77JOWO
An abusive Australian has been filmed resisting arrest after being stopped by police in Pattaya. Police intervened and arrested Constantine Anagnostou for his 'chaotic behaviour' at an intersection on Pratumnak Hill.
A 5 minute video shared by Pattaya News showed Mr. Anagnostou swearing at police officers after claiming that one of the officers had assaulted him. It starts off with the Australian arriving on a motorbike, falling over and collapsing into bikes parked along the street.
As the clip progresses, a shirtless Mr. Anagnostou can be seen demanding police return his license, while also saying "mai mee tang" – that he had no money. He was then handcuffed by police officers as he hurled abuse and accusations at them.
77jowo reports that the man was involved in an earlier incident at the Ratio Bar where a motorcycle was damaged. It was claimed the man became abusive and threatened some of the bar staff, which is when police were called. Mr. Anagnostou is now in custody at the Pattaya Police Station.
Dongtan Beach speed bumps deter after hours racing in Jomtien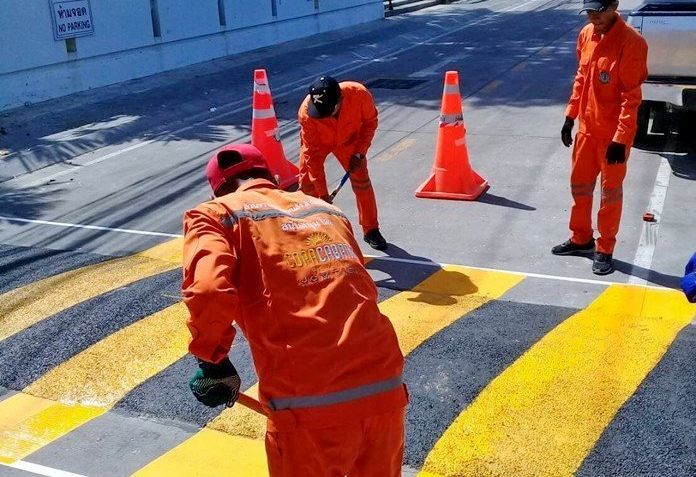 Jomtien Beach now has new speed bumps and lines painted on the roads to help deter motorbikes and cars speeding down the road along the beach late at night. The local Pattaya council has now installed speed bumps in Dongtan Beach in Jomtien to discouraging the speeding.
While vehicles are currently prohibited from 10am – 5pm daily, cars and motorbikes have been speeding through the area in the evenings creating hazards for beachgoers and joggers.
SOURCE: The Pattaya News
Repair budget for decaying bridge on Koh Larn postponed to next year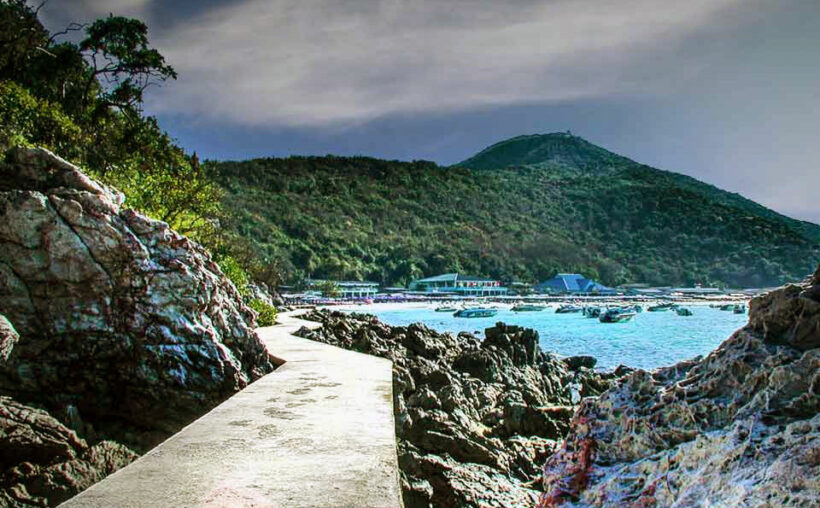 Plans to fix up the Koh Larn Tien Beach bridge have been put back to next year. In recent months news stories have reported that the bridge is in urgent need of repair. Locals are claiming the structure is "close to collapse". The bridge and walkway link Tawaen Beach and Tonglang Beach.
Pattaya's Deputy Mayor says that a 4.5 million baht budget has been allocated to fix the bridge for 2020
Locals say there have been no lights on the bridge ten years and the foundations and rusting steel posts for the four metre high bridge have been weathered and compromised by waves. The structure is over a rocky area joining two beaches. Half the 500 metre bridge is now without railings and parts of the structure and bolts holding it together are missing, according to locals.
The Pattaya City Council says they will decide whether to approve the 4.5 million baht allocation at a meeting on August. 5.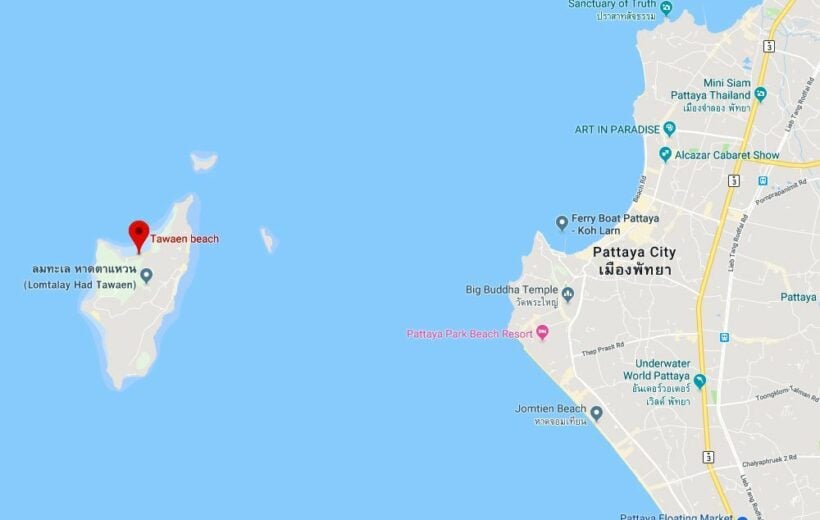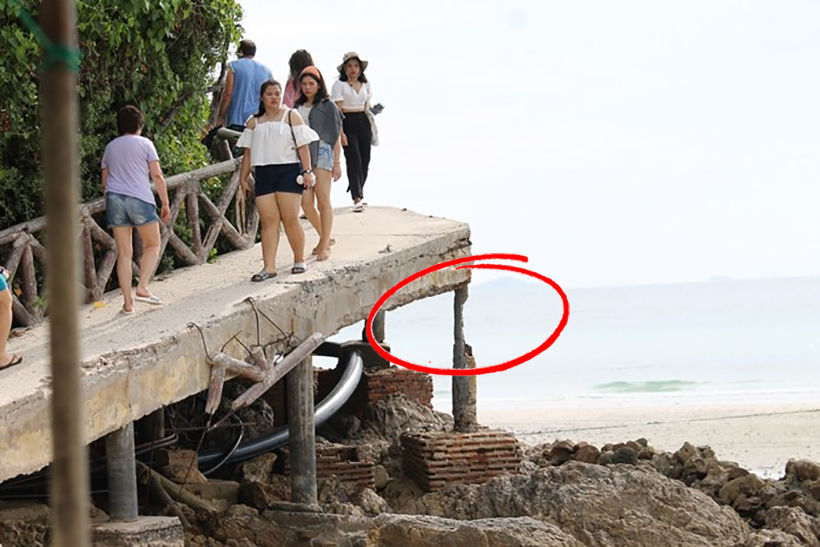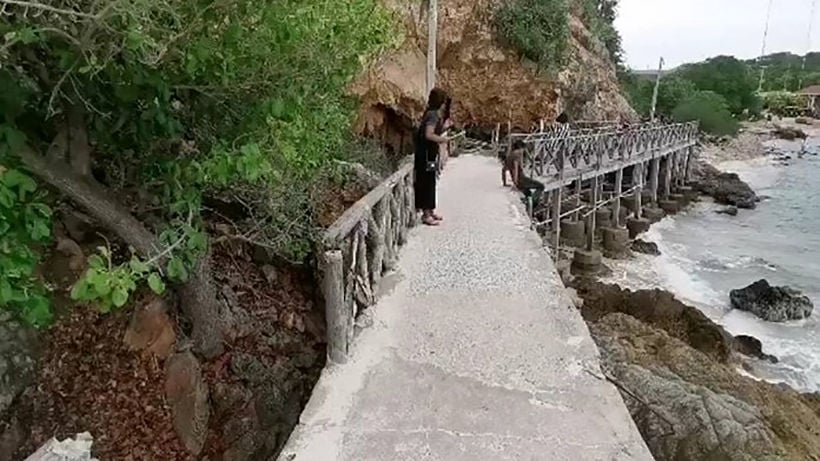 PHOTO: thepattayanews.com
Pattaya man in custody for killing horses and selling horse meat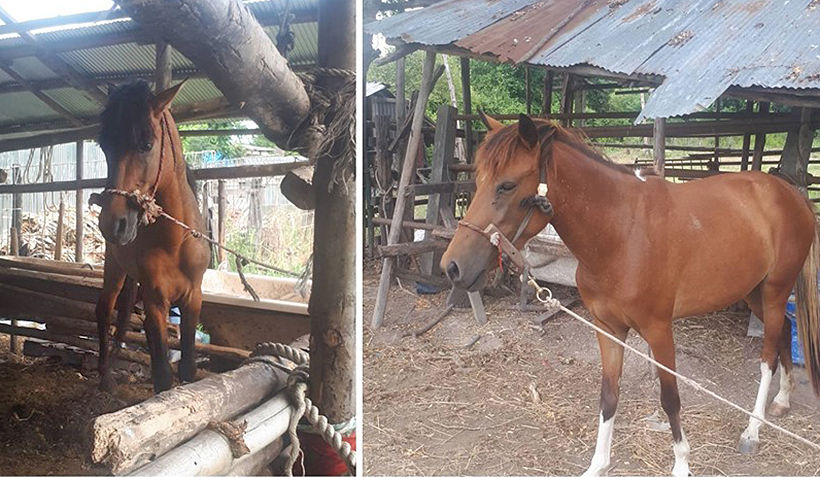 A man being held by police for questioning after being accused of killing horses and selling their meat in Chon Buri province, east of Bangkok.
Chon Buri police arrested 33 year old Nirun Kamlon at his house in Banglamung district near Pattaya yesterday on the orders of the provincial governor. Watchdog Thailand Foundation lodged a complaint with the governor that a Thai man was killing horses and selling their meat on Facebook and in fresh markets in the district for a long time. The suspect faces charges of torturing animals.
Police found the skull of a horse and dried blood stains in Nirun's house. A horse and one piece of, what is believed to be, the shin bone of a horse were found in the backyard of his house.
The suspect reportedly told the police that he was involved in the horse meat trade with his grandfather until his death, after which he carried on with the business.
He claimed that he bought horses, which were no longer usable or had broken legs, from stables in Banglamung district and then hired a butcher to kill the horses, adding that only sold horse meat.
He told police the only 5-6 disabled horses were killed for their meat and he had already stopped the business a few months ago after a road accident, which, ironically, left him with a broken leg.
He says the horse found in his backyard was meant to be sold to anyone who wants to set it free.
SOURCE: Thai PBS