Thailand's Seniors are world's most active Airbnb hosts and guests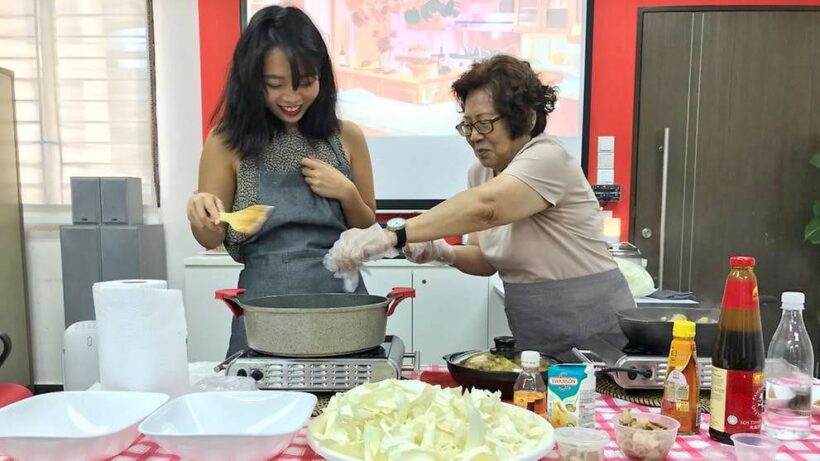 Seniors (hosts and guests aged 60 and older) have been a growing and integral part of the Airbnb community for many years – they are growing fast, earning important extra income, and continue to be the most-loved of any age group. They are fast growing, are booking on Airbnb in increasing numbers, and leading a new trend of multi-generation family travel beyond traditional tourist districts to experience local, authentic neighbourhoods.
Thailand's Hospitable Senior Hosts are the Best Rated  
Globally, senior hosts are the fastest-growing of any age group of hosts on Airbnb, and there are now over 400,000 senior hosts on Airbnb worldwide. In 2017, senior hosts around the world earned over 65 billion baht, hosted over 13.5 million guest arrivals at their listings, and welcomed travellers from over 150 countries.
In Thailand, there are currently almost 1,500 senior hosts on Airbnb, representing a year-on-year increase of more than 26%. Senior hosts earned a combined total of close to 300 million baht, welcoming over 52,000 guests into their homes. They also ranked among the most loved hosts in the world — senior hosts are the best-rated host age group in Thailand with more than 83% of reviews of senior hosts receiving five stars.
Thai Experience Host, Sirichan, shared: "I first become an Airbnb Host two years ago. My home is quite unique, over 100 years old, and I wanted to share its fascinating Thai architectural legacy with visitors who wished to experience something traditionally Thai while learning to cook Thai food. Since then I have made many friendships from being a Host. It's almost like becoming a member of my Guest's family and I have enjoyed sharing moments of happiness together."
Siew Kum Hong, Airbnb Regional Director, APAC says: "Known for their renowned welcoming hospitality and as avid world travellers, it's not surprising that seniors in Thailand are aging meaningfully by embracing the home sharing community. As the travel industry continues to grow, Airbnb promotes tourism that is local, authentic, diverse, inclusive, and sustainable, creating new economic opportunities for hosts in the homes and communities where they live."
Thailand's Senior Guests are World's Most Active on Airbnb 
Globally, senior guests are now the fastest-growing of any age group on Airbnb, with the number of seniors who have booked on the platform growing 66% in the past year. 
Thailand's seniors are the world's most active on Airbnb, topping the list of countries with the highest proportion of senior guests on Airbnb. Across the country, seniors who booked on Airbnb grew 62% in the past year alone, a figure that is expected to continuing trending up as a quarter of Thailand's population are expected to be 65+ by 2040. 
Countries with the highest proportion of over 60s travelling on Airbnb* are:
Thailand
Japan
United States of America
United Kingdom
France
Australia
Italy
Germany
*Minimum 1000 guests
In turn, seniors around the world are flocking to Thailand for their getaways. Airbnb's top trending destinations** in Thailand among seniors include: 
Rawai, Phuket – 73.68%
Kathu, Phuket – 56.78%
Chiang Mai – 53.59%
**Defined as the cities with greatest YoY increase in # of bookings by senior guests for 2018 travel compared to 2017
Thai senior Winai Kharuwannapat, who uses Airbnb extensively on his travels, commented: "I have used Airbnb for more than four years already and my Airbnb Hosts have all been excellent, very considerate and take care of me like I am a member of their family. They also make some useful local recommendations. I screen Airbnb Hosts in advance by looking at reviews from previous guests and this gives me peace-of-mind and confidence when I travel. Pricing is always reasonable and the quality of accommodation good, and often Hosts assist with airport transfers which makes my travel convenient and enjoyable."
"It's perhaps no surprise that we're seeing such strong growth in this demographic. Seniors are healthier and wealthier than they've ever been, while also tending to take more and longer trips than other age groups," noted Greg Greeley, President of Homes, Airbnb.
Thailand Seniors Leading Multi-Generational Family Travel 
Seniors are also at the forefront of a growing trend in Airbnb bookings: multi-generational family travel, where the booking guest is a senior travelling with children or an infant. 
In the past year, multi-generational travel in Thailand noted a significant Thailand has seen 55% increase growth in multi-generational travel, with more than 40% being of which are first-time bookings. Popular travel destinations include Bangkok, Auckland, Kuala Lumpur, Bali, Sydney, Kyoto and Taipei, with an average booking value of 4,700 baht per night.
Airbnb homes often provide amenities that make them ideal for family getaways: kitchens, shared dining spaces, and individual bedrooms and bathrooms. This is an accelerating trend on Airbnb: multi-generational family travel bookings have grown 75% in the past year. And in 2018, over half of these multi-generational bookings have been by first-time bookers new to the Airbnb community.



Find more property for sale and rent across Thailand at Thaiger Property, powered by FazWaz. You can even list your property for free.

Looking to jettison some items before jetsetting away or chartering a yacht? Look no further than Thaiger Classifieds where you can find and post items, work, property and more for free.

Read more headlines, reports & breaking news in Thailand. Or catch up on your Thailand news.
Family of British Phuket property developer say "he was murdered"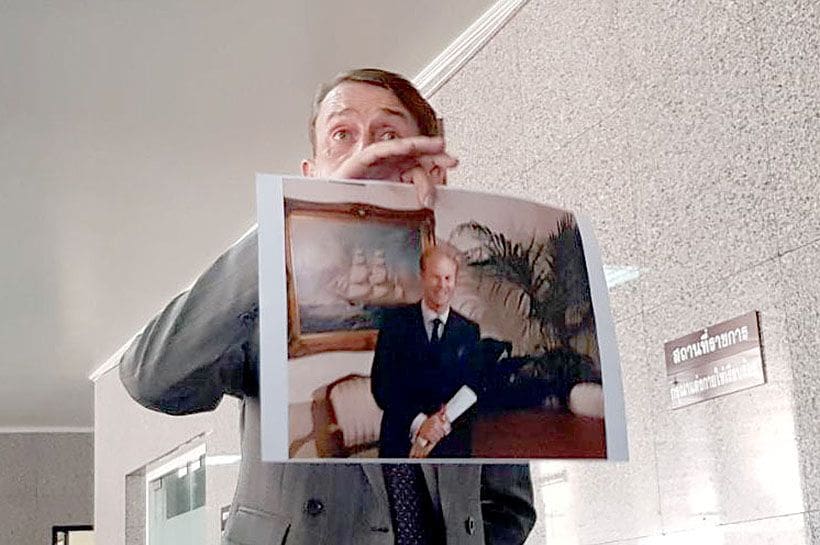 PHOTO: Lawyer Vincent McOwen holding up a photo of Steven James Granville – Khaosod English
A lawyer representing the family of Steven James Granville has filed a complaint with the Technology Crime Suppression Division (TCSD) in Bangkok over police reports about injuries sustained in a 2013 'cycling incident'.
The TCSD is now overseen by Immigration Chief Pol Lt Gen Surachate Hakparn.
Karon Police wrote it off as a cycling accident at the time. But lawyer Vincent McOwen says the family were now coming forward as Mr. Granville died last year at the age of 52 after being brain dead and confined to bed in a UK hospital for four years.
Mr. Granville opened Puravarna Resort, a 800 million baht project set on 113 rai of land back in 2000. He was sentenced to jail for over a year for fraud in 2010.
He was charged for deceiving buyers into paying for homes at the project that were never built. Nineteen buyers claimed they had paid a total of 217 million baht but Phase 1 of the project had stalled and Phase 2 never materialised.
A report from 2010 involving the arrest of Mr Granville in a Phuket resort scam HERE.
He was released from prison after nearly 18 months , as outstanding criminal charges have been dropped over his involvement in the Purnavarna project in Phuket. Full report HERE.
A video walk-thru of the proposed Puravarna Resort published back in 2009
Lawyer Vincent McOwen, acting for Mr. Granville's family, is asking for a full and fair investigation.
"It is an ongoing case but we are hearing nothing back. We are getting no feedback," he said to Khaosod English.
The lawyer is asking police to investigate two former partners of Mr. Granville who were involved in another project in 2012. He alleges the pair asked Mr. Granville to transfer 99 percent of Puravarna Resort's shares, valued around 1 billion baht, reasoning that his criminal record could affect the project.
According to the lawyer the siblings promised to return the shares within six months if a deal wasn't forthcoming.
On June 24, 2013, three months later, after the shares were allegedly transferred, Mr. Granville was seriously injured in a 'cycling accident'.
Mr. Granville's family suspected foul play, despite the conclusion of Karon police and has lost 15 million baht in a losing legal battle to get back their property shares back.
The lawyer claims the only injury found at the time was 'blunt force trauma' to the man's head. A police report says that there were no other wounds on his body.
Karon Police ruled the incident a cycling accident.
"This was not an accident. He suffered for four and a half years," said Lawyer Vincent McOwen.
SOURCES: Khaosod English
Phuket tram project seeks private sector investment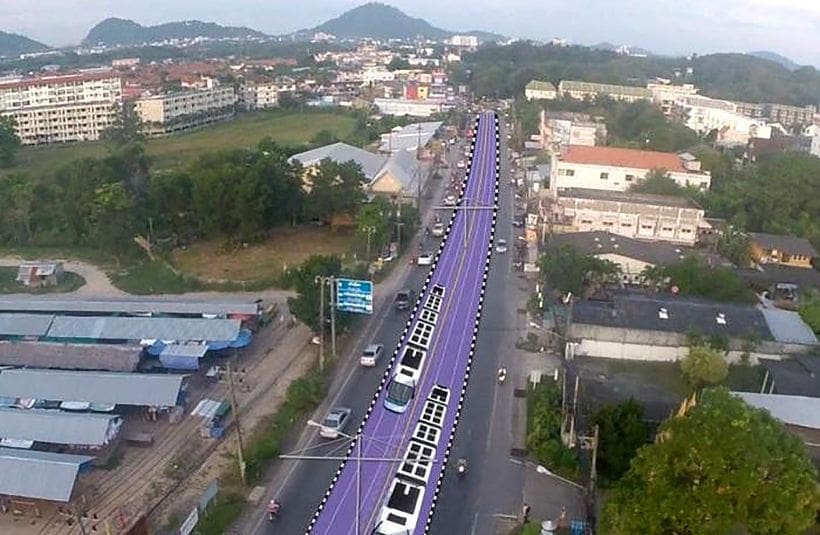 (The term 'tram' and 'light rail' are variously used to describe the new public transport project for Phuket.)
The Mass Rapid Transit Authority of Thailand (MRTA) is now inviting the private sector and local administrative bodies to get behind and invest in a mass-transit project in Phuket. The project is valued around 35 billion baht. The next rounds of talks and presentations are being held in Bangkok this Friday.
The main feature is a new 58.5 kilometre long light rail service valued at 34.8 billion baht. The tram route plans to run from Tha Noon in Phang Nga province, across Sarasin Bridge onto Phuket, past the airport, through Phuket Town on the east coast and then finishing at Chalong's main intersection near the Chalong Circle.
The Phuket tram project has been divided into two phases: a 41.7 kilometre section from Phuket airport to Chalong intersection and a second phase, a 16.8 kilometre stretch from Tha Noon in Phang Nga to Muang Mai at the north end of Phuket, linking to the first phase.
The MRTA will contract the first phase which will have 21 stations. They expect to seek cabinet approval for the project in the middle of this year with construction likely to begin in 2020. They estimate it will be operational by 2023.
At this stage, the MRTA says tram fares will  be calculated based on the distance travelled but a maximum fare would not be more than be 100 – 137 baht. This would put the cost of daily use for many local Thais out of reach of their budgets (it costs about 80 baht to fill an average 110cc scooter which would last most of the week).

An earlier rendering of the proposed route and stops for the Phuket Light Rail/Tram
Critics say the tram stops avoid most of the tourist hot spots along the west coast of the island and features on locals living along the main Thepkasattri truck route from Thalang to Phuket Town and then Chao Fah east to Chalong.
They also don't believe that Thai users are likely to give up their point-to-point motorcycle transport for a more inconvenient, and expensive, tram that will necessitate them using expensive taxis, buses and motorcycle taxis at either end to get them to their destinations.
Critics also cite the three year construction period, which if following recent major road construction projects, is likely to blow out to four or five years and and the massive disruption of traffic during the construction time. They also believe the loss of road space along the route will restrict local road traffic even more, neutralising the nett gains of the new tram system.
The island's Governor says Phuket is experiencing rapid growth and that traffic is getting worse, adding that an efficient mass transit system, was urgently needed to accommodate tourists (without explaining how the new light rail/tram would actually assist tourists).
The MRTA is also working on a three-route tram project in Chiang Mai. The red line would be worth 30.4 billion baht and the 11.9 kilometre Green Line would have 10 stations worth 36.2 billion baht. The Blue Line will travel from the Chiang Mai Zoo to Tha Phae-Don Chan.

Co-working space – not just for start-ups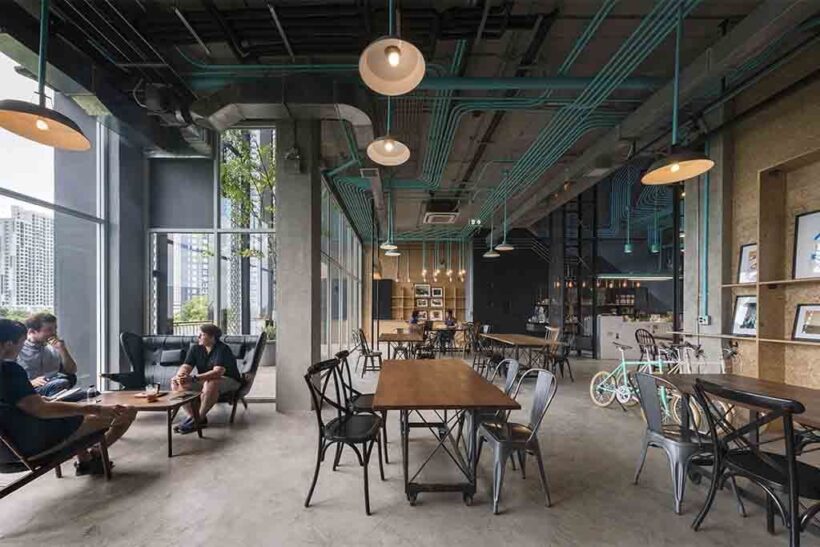 PHOTO: HUBBA-TO co-working space in Bangkok
by Thanchanok Phobut | Senior Coordinator, CBRE Thailand
CBRE, an international property consultancy company, reveals that co-working space seems to be on the tip of everyone's tongue these days. There was a time when no-one knew what the term "serviced office" meant or why someone would want such an option. But today, you can't open a business publication without seeing an article about co-working. Most people think of co-working spaces as being a thriving hub of young latte-sipping, technology entrepreneurs, coming up with the next big idea that will make them multi-millionaires.
While there is an element of truth to this image, the end-goal for many co-working space operators is to change the way that companies, not just start-ups, source their office space. They want companies to pay for office space as a service rather than follow the traditional route of signing a lease, fitting out their own space, having an office manager maintain the premises and hiring their own employees for reception and administrative duties.
Co-working office operators usually offer companies their own private space. It is most common to be offered an office based on the size you will need to fit in a set number of desks. For example, if your company has four employees, your package offer will include a furnished closed office with four desks, 4 chairs and optional telecommunications equipment for four people (internet service, phone number and a telephone handset).
There is usually a common kitchen area and spaces to meet and mingle. Think of it like a five-star hotel, you're not sharing a room, but you are getting a high level of service and amenities on the premises.
You usually have a short-term commitment, not signing a lease for years. The best deal is usually for a year or more, but you can lease your office for as short as one month. Starting and ending your relationship with an operator is most often quick and easy. Since the office is already outfitted and reception services provided, getting to work is much quicker than when you need to design your new space yourself or hire your own support staff.
"Competition in the space is red hot. As more and more offices pop up, the fight to achieve 100% occupancy is fierce. When shopping for your space, be sure to consider more than just price, as the services and reputation of your provider are just as important.
"If you do your homework, you'll avoid the pitfalls of co-working space, such as unreturned deposits, unexpectedly thin walls between units or fees for things like coffee and copying that you didn't expect. The great news is, changing providers is much easier than with traditional space," states Mr. Nithipat Tongpun, Head of Advisory & Transaction Services – Office, CBRE Thailand.
According to a recent CBRE report on the New York City office market:
While traditional long-term leases are the preferred model for business and the foundation of the commercial office market, the rapid growth of third-party flexible space operators provides occupiers with a wide variety of options for leasing office space. Since 2013, when the expansion of third-party flexible space began to gain significant traction, the sector has averaged an annual growth rate of 22 percent.
There are strong indicators of user demand for the services of the third-party space providers. In fact, 75 percent of corporate occupiers anticipate including co-working or flexible space in their occupancy portfolio over the next three years.
Smaller users also continue to be an important part of the target market; as the flexible space footprint has grown in Manhattan, the amount of traditional leasing among tenants under 5,000 sq. ft. has dropped off by 42 percent between 2013 and year-end 2017, suggesting that these users are migrating to flexible space solutions.
In Bangkok, four large co-working space operators are opening in multiple locations. JustCo, Spaces, The Great Room and WeWork leased a combined total of 25,000 square metres of space in some of Bangkok's best office buildings last year and they are still growing.
"I recently met Yvan Maillard, general manager of The Great Room's Singapore operation and he said that, in Singapore, 30% of his clients are late stage start-ups, 30 % are private investment family offices and 30% are mainstream corporates. In the case of corporates, they often lease co-working space as a stopgap before finding a larger permanent office for their expanding team," said Mr. James Pitchon, Head of Research and Consulting, CBRE Thailand.
It is not only the way companies source their office space that is changing. Even those companies who continue to lease office space directly are changing the way that they use the space – having your own office or even your own desk is out of fashion – agile working is all the rage.
Mr. Nihipat added, "Companies are providing employees with a daily choice of environments from quiet space to a layout that enables teams to collaborate. Employees are expected to move around the office, depending on their tasks. The objective is to create a workspace that fulfills the employees' needs in a high-quality environment, while minimizing the number of individual desks needed, effectively putting more people to work in less space."
Globally and in Bangkok, the office market will continue to evolve and while traditional leases are yet to be seen as a thing of the past, CBRE expects more companies to provide agile working environments. CBRE also expects to see significant growth in the amount of co-working spaces provided by third party suppliers.
"This will mean an increase in the demand for high quality buildings with flexible, column free floor plates, technically advanced air conditioning and temperature control, as well as sufficient lift capacity to deal with higher rates of occupation density.
Many of the new generation of buildings currently under construction or being planned in Bangkok will have these features and we won't be surprised to see more and more co-working spaces open their doors as companies weigh the real advantages of this option versus traditional space.