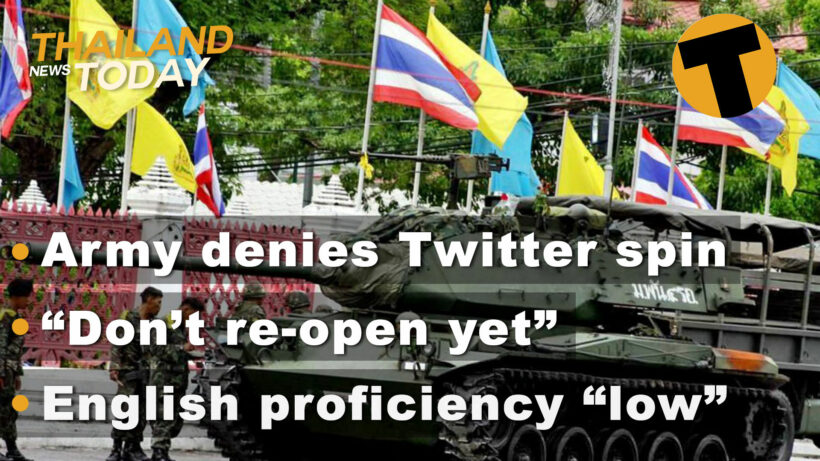 Last day of the week. Thought we'd go outside. Bad idea! Welcome to Friday's Thailand News Today.
Royal Thai Army denies claims about Twitter campaign to spread pro-government propaganda
Following a shutdown of 926 Twitter accounts linked to the Royal Thai Army, documents were leaked of what appears to be a contract between the Army and a private company supposedly hired to spread pro-government propaganda.
But Thailand's Army chief is denying the claims and says the Army never hired a company to spread pro-government propaganda through the over 900 Twitter accounts.
Last month, Twitter announced that it had suspended 926 accounts linked to the Royal Thai Army for violating the social media company's "platform manipulation" policies.
A report by an independent Cyber Policy Centre says the Army used Twitter to "cheerlead" with pro-government propaganda. The report says the Army used Twitter to criticise the now disbanded Future Forward Party and neutralise criticism after February's mass shooting where an Army soldier killed 30 people and injured 57 others.
Former WTO director cautions against re-opening Thailand too quickly
The former director general of the World Trade Organisation has issued a caution against Thailand throwing open its borders too early.
Supachai Panitchpakdi says Covid-19 is still very much a threat, pointing to other countries that appear trapped in a cycle of restrictions and lockdowns. He said that the cycle in many Western countries is not just damaging their economies, it's also leading to more infections and deaths and prolonging the time until the affected countries can restart their economies. He warns that re-opening Thailand's borders too quickly could have long-term negative impacts for the Kingdom.
Within Thailand there is a polarised view as to whether Thailand should be broadly re-opening its borders or not. Successive polls show that the Thai population is, generally, suspicious about re-opening too soon, especially whilst parts of the rest of the world are still trying to contain their infection rates. On the other hand Thailand's tourism and hospitality industry has been decimated with millions unemployed.
Bangkok's canal boat services go electric
A new electric passenger boat service started operating on Bangkok's Khlong Phadung Krung Kasem today. The klong traverses the eastern side of Rattanakosin Island.
The Thai PM launched the service at the Hua Lamphong Railway Station Pier, and was a passenger on the first boat ride this morning.
There's seven electric fibreglass boats in the initial service, each carrying 30 passengers.
The boats can run for four hours per charge at a speed of 10-15 kilometres per hour. There's solar roof panels to help power the electric outboard motors.
The new e-boats operate from 6am-7pm, with a boat departing every 15 minutes. Good news, passengers can travel for free for the first six months of the service.
Thailand's English level drops for the third year – English Proficiency Index
English skills in Thailand have dropped for the third year in a row with an English language proficiency score considered to be "very low."
In the past year, Thailand's ranking dropped from 74 out of 100 countries to 89, according to the 2020 English Proficiency Index by EF Education First. The index is based on test results from 2.2 million adults from 100 countries and regions.
Thailand scored 419 out of 800, which is considered "very low." Thailand ranks 20 out of 24 countries surveyed in Asia and 7 out of 8 countries in Southeast Asia, just ahead of Myanmar in last place.
According to the report, the lack of English proficiency in Thailand, Cambodia and Sri Lanka hampers access to jobs in the tourism industry which makes up more than10% of their economies.