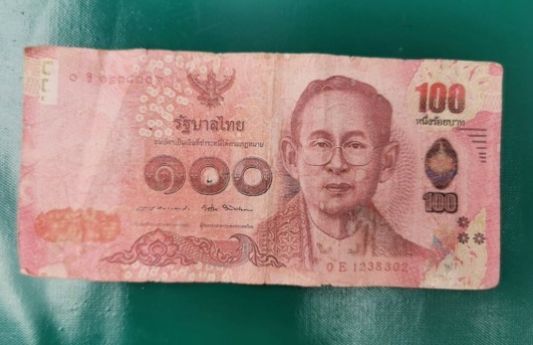 Fake 100 baht bank notes are reportedly being exchanged in the Isaan province Surin. 2 local merchants say they were each handed what appears to be a counterfeit bill from a customer.
A noodle vendor at the Surin Municipal Market says she noticed a 100 baht bill she got from a customer felt strange, more like photocopy paper, she said. She wrote down the bill's serial number and said would contact the bank.
"The surface of the bill feels like photocopy paper and is more coarse."
Another merchant noticed a 100 baht bill lost some of its colour after getting wet and took the bill to Bangkok Bank's Surin branch to be verified, according to a source quoted by Nation Thailand.
"The bank said the bill was fake… Furthermore, the serial number on the bill is also 0 E 1238302, which is the same number as the suspected bill reported at Surin Municipal Market, indicating that the fake bills are probably from the same source."
A local merchant who says he knows how to spot the fake bills is warning other merchants in the area.
"When you touch fake bills, you will notice that the surface is different from other bills. Also, when you look through it at sunlight, you will not see a clear image of HM the King in the black space as in genuine bills."
SOURCE: Nation Thailand
Catch up with the latest daily "Thailand News Today" here on The Thaiger.