Proposed amendment to Thailand's Narcotics Act seeks to legalise cannabis growth at home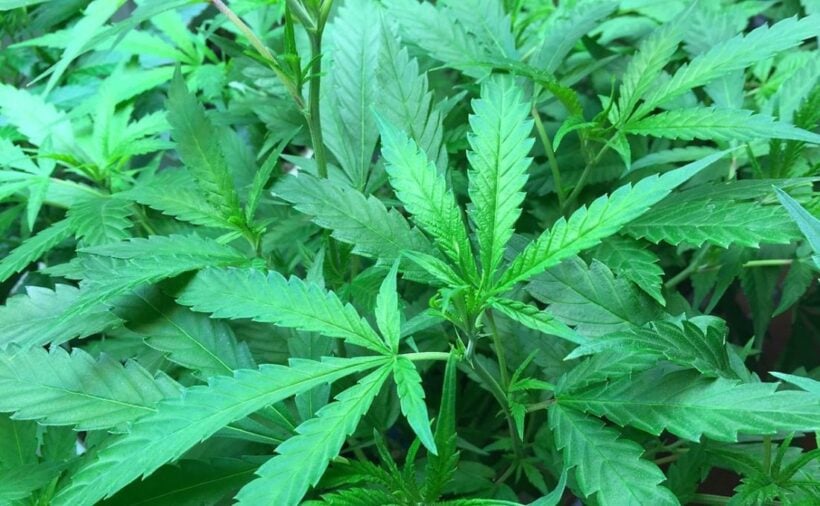 PHOTO: commons.wikimedia.org
Thailand's Bhumjaithai party says it will confer with key stakeholders to seek input on a proposed bill to allow people to grow their own cannabis at home. Those being consulted include government officials, medical patients, and traditional medicine practitioners.
Party member Supachai Jaisamut says the draft bill proposes an amendment to Thailand's Narcotics Act that would allow for the growth of up to 6 cannabis plants per household.
"This bill will be tabled before the House next week."
The Bhumjaithai party did well in the recent election, campaigning on a promise to legalise the use of cannabis. However, the government has so far only agreed to legalise its use for medicinal purposes.
Meanwhile, the Food and Drug Administration's (FDA) secretary-general Dr Tares Krassanairawiwong has been promoted to director-general of the Department of Health Service Support (DHSS).
Dr Tares has long supported the legalisation of cannabis for medicinal purposes and played an instrumental role in the Public Health Ministry's recent decision to remove hemp and hemp extracts from the Narcotics Act.
The Ministry has also agreed to increase the overall ration of tetrahydrocannabinol (THC) to cannabidiol CBD) in hemp products from 0.2% to 1% by weight, a decision taken to help small-scale entrepreneurs hampered by the previous limit.
SOURCE: Chiang Rai Times
Keep in contact with The Thaiger by following our
Facebook page
.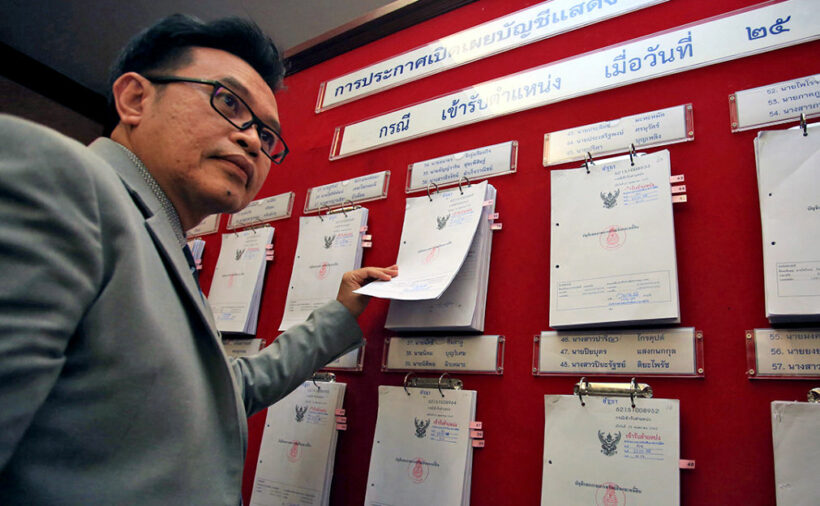 PHOTO: The Nation
The National Anti-Corruption Commission has published a who's who list of Thailand's richest politicians. The NACC has reported the personal finances of 80 MPs.
The personal finances report is an addition to the NACC's previous report of 415 MPs who had earlier submitted their asset lists in July.
Notable MPs whose assets and debts have been revealed include Thanathorn Juangroongruangkit, leader of Future Forward Party; Pannika Wanich, the FFP spokesperson, Piyabutr Saengkanokkul, the FFP secretary-general; Parina Kraikup, an MP of Phalang Pracharat Party from Ratchaburi province, and Mongkolkit Suksintharanon, a party list MP and leader of Thai Civilized Party.
The two reports combined found Thanathorn was the wealthiest MP, with 5.63 billion baht in assets and 683 million baht in debts (shared with his spouse.) The second richest was Bhumjaithai party-list MP Nathee Ratchakitprakarn, with a shared 4.67 billion baht in assets and 177 million baht in debts (and wife of the inexperienced Tourism and Sports Minister Phiphat Ratchakitprakarn). Third on the wealth list is Deputy Prime Minister and Public Health Minister Anuthin Chanwirakun, another Bhumjaithai party-list MP, who with his spouse claimed 4.19 billion baht in assets and 50 million baht in debts.
Satun MP Phibul Ratchakitprakarn, also of Bhumjaithai Party, had 2.38 billion in assets shared with his spouse. Industry Minister Suriya Juangroongruangkit, coming in fifth place, was the richest MP in the government coalition-leading Phalang Pracharat Party, claiming with his spouse 2.19 billion in assets.
SOURCE: The Nation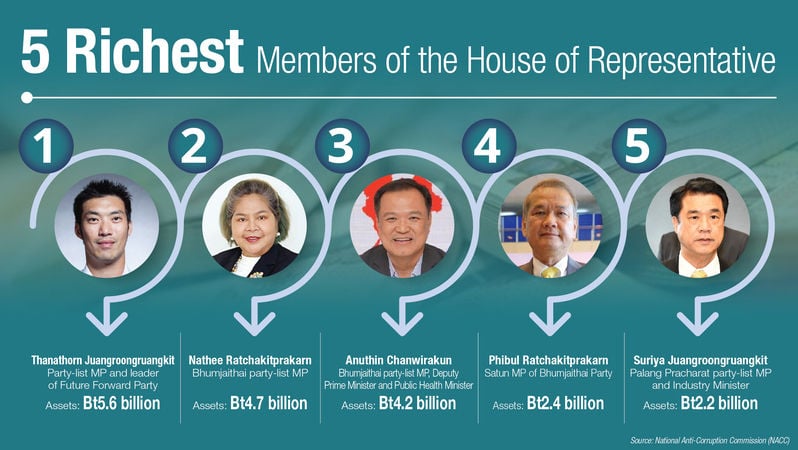 GRAPHIC: The Nation
Keep in contact with The Thaiger by following our
Facebook page
.
Could you be a digital nomad in Thailand?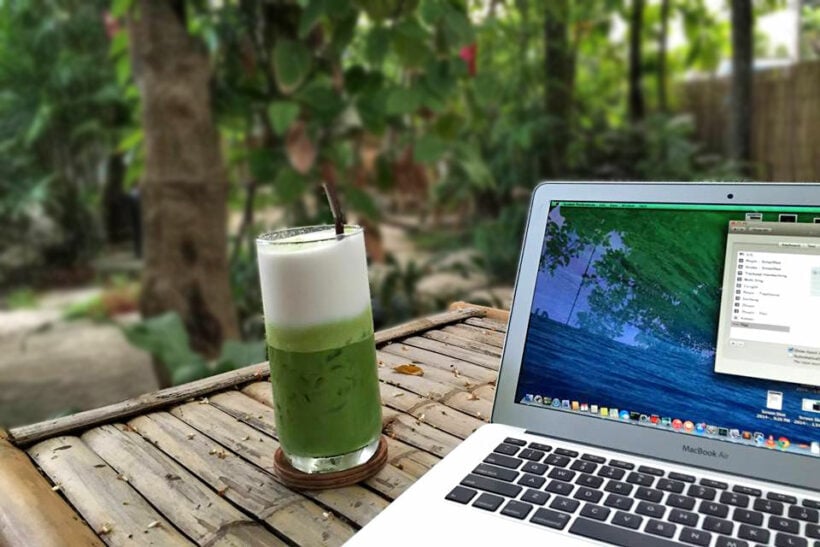 Are you a digital nomad? Working online wherever you can find a seat and wi-fi?
According to digital nomad websites, some of the most popular locations to work online around the world include Chiang Mai & Bangkok (Thailand), Budapest (Hungary), Belgrade (Serbia), Bali (Indonesia), Lisbon (Portugal) and Buenos Aires (Argentina). What do all these cities have in common? The main things is the low cost of living, a favourable climate, great scenery, cultural richness, communities of people who do the same job, and a quality quality of life for the travelling 'nomad'.
Thai PBS spoke to 41 year old Ozzi Jarvien, the pioneer of the digital nomads in Chiang Mai. He has spent more than a decade in the north of Thailand and recalls that in 2006, just before the harsh Finnish winter arrived, he wanted to work somewhere warmer, so he moved back to Bangkok. A few years earlier he had studied in an exchange program in International Business at Bangkok University. Then, returned to his home town in Finland. But in 2007, he relocated to the capital of the northern region of Thailand and established his own company, 'Iglu', a remote working community with three branches nationwide. Basically, he is the real deal in the digital nomads' world.
"The hardest part is to buy that one-way ticket. Just get the ticket and then everything else somehow sorts itself out, because it's much easier than most people think."
"Once they land here, it's easy to find an apartment, you'll never lack a place to stay. It's easy to find food and to find people to work with. I think people imagine that it's harder than it is. One big thing is that the internet is actually good and is everywhere. Even the mobile internet like 4G, it's better here than in lots of EU countries."
Having spent almost five years in Chiang Mai, the city that he loves, 37 year old Jengis Gonzalez is thinking about turning himself from a digital nomad into an expat. He used to work for giant e-commerce firm Amazon.com, which gave him the idea that there is an incredibly large online market in the US. Now he is working for a logistics company based in Chiang Mai, sending products from Thailand to the United States for e-commerce sale, primarily on Amazon.com.
He has some very practical advice for digital nomad wannabes.
"My advice would be, basically, 'have a plan'. I've met so many people who come here, thinking they're going to do something, then realising it's not working out and they don't have a plan B. So, they encounter a lot of issues, like what do I do now? I need to find a job or I need to go back home, or I should figure out a way to keep going'. So, I would say that it's a very risky thing to do".
"Don't hesitate to contact people through Facebook about Digital Nomad groups in Chiang Mai, which are very active. You can find many people doing the same job as you, so your questions will be answered."
29 year old Lilly has been a casting agent for movies for more than 10 years but finds 99% of her work is online these days so prefers to move around and travel, whilst working.
"I live the flexibility and the chance to travel and meet awesome people whilst earning the income to make it all possible. I hit all sort of hurdles along the way but love the adventure. Keep you mind open, make sure you DO work whilst you're travelling and the lifestyle can be great. I tend to move around south east Asia but always end up coming back to the magical island of Phuket."
The biggest problem of being a digital nomad is finding a visa to suit your needs. If you're a real nomad, and spending time in multiple countries and following the weather, the seasons or the festivals, then you can probably get by with tourist visas (although, officially, you're unable to work on a tourist visa). Being a digital nomad in Thailand you should read up about the visa options and see what is practical and will suit your lifestyle.
Read about the Smart Visa and digital nomad life HERE.
And The Thaiger even included them in our list of Top 10 types of expats in Thailand HERE.
ORIGINAL ARTICLE: Thai PBS World
Keep in contact with The Thaiger by following our
Facebook page
.
Prayut heading to New York for six day trip, including attending UN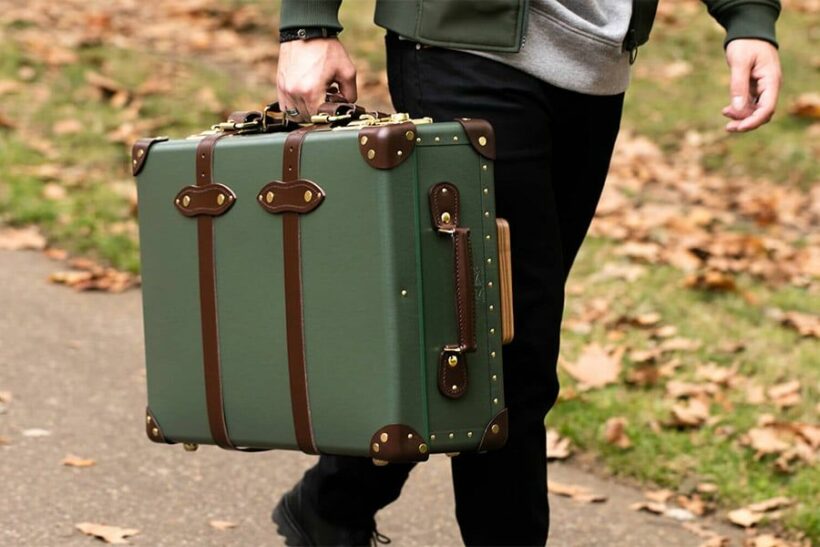 Thai PM General Prayut Chan-o-cha and his entourage is leaving for New York to attend the 74th United Nations General Assembly tomorrow.
But the PM isn't travelling alone. The six day trip to the US will also be made by Foreign Minister Don Pramudwinai and Natural Resources and Environment Minister Varawut Silpa-archa (and half a plane of 'others').
According to a schedule released to the media, Prayut will also attend two meetings in his capacity as this year's chairman of ASEAN to represent ASEAN and Thailand's roles in the international arena.
He will attend a high-level meeting on Universal Health Coverage to show Thailand's strong leadership with its national health scheme. The PM will also emphasise Thailand's push to put universal healthcare on the world agenda.
Prayut will also attend the UN Climate Action summit and the Sustainable Development Goal summit. He is expected to say that ASEAN will accelerate development of the region and emphasise the role of local people as the centre of development projects based on the "sufficiency economy" philosophy, and that ASEAN would cooperate with the US and other nations in implementing development projects.
The Thai PM will assure the Asia Society that Thailand would cooperate with various countries on security, economic, social and environment projects, while the Kingdom also prepared to transform itself into an aged society and to develop smart cities and get its human resources ready for digital disruption.
During the meeting with the USABC, the PM will emphasise the strong points of the Eastern Economic Corridor project.
During the trip, Prayut will also meet and hold bilateral discussions with several foreign leaders, including Australian PM Scott Morrison, UN Secretary General António Guterres, as well as Tijjane Muhammad Bande, the chair of the 74th UN General Assembly.
On Tuesday, Prayut will attend a 9am banquette host by the UN secretary general for national leaders and their spouses. In the afternoon, he will attend the SDG Summit, as well as an evening banquette held by the US president and first lady for foreign leaders and spouses.
On Wednesday, Prayut will deliver a speech to the Asia Society at noon and attend a dinner meeting with executives of the USABC at night. The PM and his entourage are scheduled to fly from New York at noon on Thursday, landing at Suvarnabhumi Airport at 9.55pm on Friday.
SOURCE: The Nation
Keep in contact with The Thaiger by following our
Facebook page
.