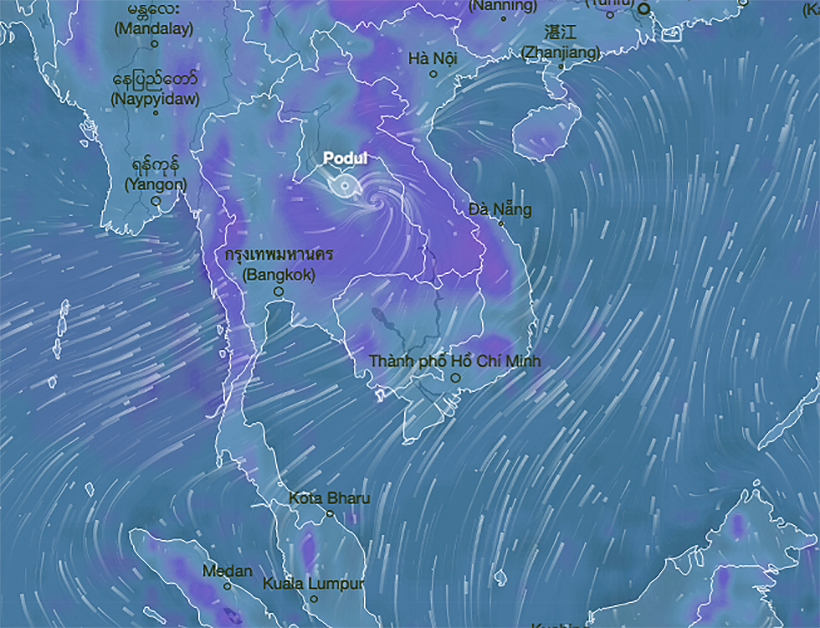 Tropical storm Podul is weaken as it crosses into the north of Isaan and the north of Thailand today. The storm centre is currently north of Khon Kaen, heading westward.
Podul crossed through Vietnam last night where it started to weaken. The low pressure system is now bringing rain and strong winds to parts of Thailand's northeast and will affect the weather in the entire upper half of the country.
Meanwhile in the south of Thailand, the south-west monsoon has intensified as moist air is sucked in from the Indian ocean and affecting the western coastlines of Myanmar and Thailand down to the Malaysian border.
From the Thai Meteorological Department….
"Tropical Storm "PODUL" category 3 moved to Muang, Nakhon Phanom. At 7am the storm was centered over Pakpla, Nakhon Phanom or at latitude 17.2 degrees north, longitude 104.3 degrees east having maximum sustained wind of 65 km/hr. At a speed of about 20 km/hr, it is expected to downgrade to a tropical depression over Sakon Nakhon. Torrential rains and strong winds will affect over the country. People should brace for the severe conditions that may cause flash flood."