Thailand
Landslides close the Ranong-Chumpon road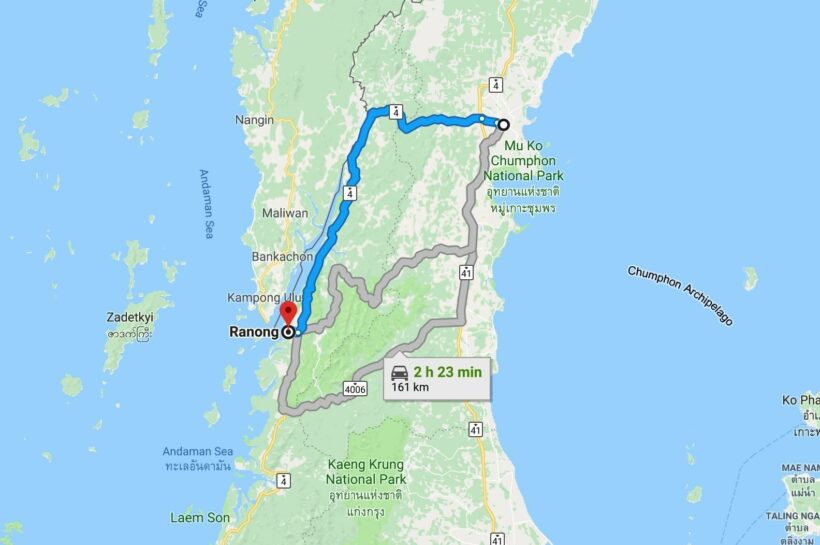 If you've ever travelled north or south from Phuket to locations to the north, via Ranong, you'll know about the 'long and winding road' from Ranong to Chumpon. A lot of effort is being put into improving the road to make the route a viable alternative route for buses, van and cars and a new tourist drive which can take in the stunning Ranong coastline before heading across the Isthmus of Kra to the equally beautiful Chumpon coastline. But persistent rains in recent days have made this route impassable.
Now the Ranong provincial administration has continued its closure of the main road linking its provincial heart and Chumphon following two major landslides.
The road remained unsafe this morning (Saturday), as the mountain soil above the location of a recent repeated landslide is saturated with rainwater and could slide down, said Ranong Governor Jatupoj Piyumputra.
The viewpoint area near the Pulyabal Waterfall about four kilometres from the Ranong downtown saw the first landslide on Tuesday. A second landslide at the same spot occurred yesterday.
Officials sent out a drone this morning to survey the mountain soil at the same spot and could see that it was saturated and vulnerable to yet more sliding.
Motorists were told to use a bypass from Ban Hin Chang to Tha Rua and then on to Ban Khao Nang Hong until further notice.
SOURCES: The Nation