"I'm sorry" – Premchai granted bail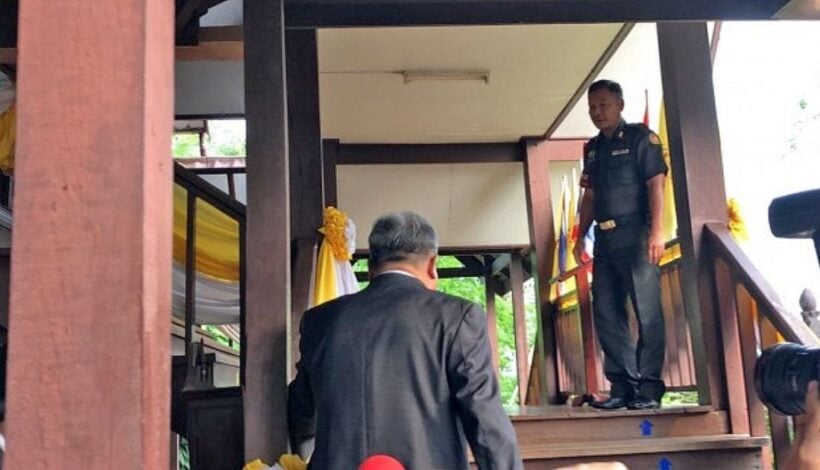 "There is one thing. I am sorry."
PHOTO: Thai PBS
Thailand's billionaire construction magnate says he was "sorry" after being granted bail following yesterday's court verdict that set a prison sentence of 16 months for illegal hunting in the Thungyai Naresuan wildlife sanctuary in far north-west Thailand.
Three others were also found guilty and given jail terms by the court. Yong Dodkrua was sentenced to 13 months, Mrs. Nathee Riamsaeng, four months and Thani Thummat given two years and 17 months in prison.
Premchai Kanasuta, president of Italian-Thai Development Corp, one of Thailand's largest construction firms, along with three other people were arrested by forest rangers at their make-shift camp where carcasses of a black panther, a barking deer, wild fowl and hunting rifles were found 13 months ago.
The high-profile case has generated strong reactions from many Thai people fed up with wrongdoings by those in power and with influence often going unpunished. The case has also been the subject of jokes in the social media and prompted demonstrations in and outside Bangkok.
He was found guilty on three counts and sentenced to six months for carrying firearms in public without a permit, 8 months for abetting others to poach protected wildlife species and two months for possession of carcasses of wild fowl.
The court did not find the tycoon guilty of illegal hunting of an endangered panther as charged by the prosecutor.
The four defendants were also ordered by the court to pay two million baht compensation to the Department of National Parks, Wildlife and Plant Conservation.
Asked whether he had anything to say to the public, Premchai responded briefly: "There is one thing. I am sorry."
All were released on a 400,000 baht bail, except Thani who was released on 500,000 baht bail.
The wildlife sanctuary chief Wichien, hailed a hero for his courage in standing up against the influential tycoon, told the media he was satisfied with the verdict, adding that justice has been served.
Keep in contact with The Thaiger by following our
Facebook page
.
Never miss out on future posts by
following The Thaiger
.
K-Pop fan-funded billboards move from BTS and MRT stations to tuks tuks to support protesters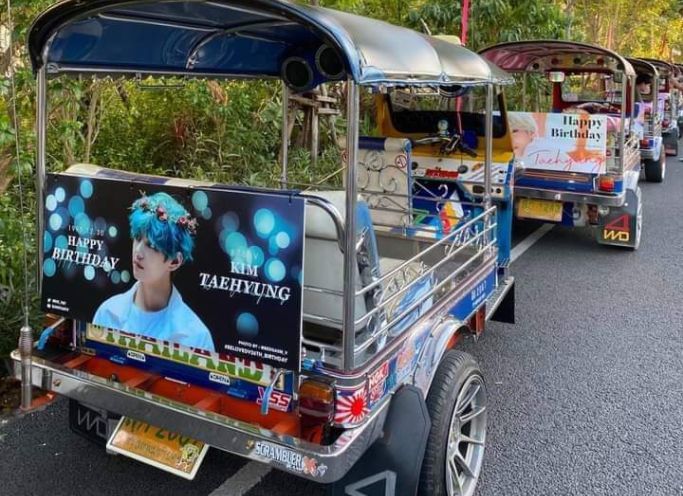 K-Pop fan-funded "happy birthday" billboards are moving from mass transit stations in Bangkok to tuk tuks after the BTS Skytrain and MRT Bangkok Metro temporarily shut down services during pro-democracy protests last month.
The world's K-Pop fans are weaponising their huge numbers and online 'power' by supporting Thailand's pro-democracy movement. In 3 days last month, Thai and overseas K-pop fans raised more than 3 million baht to support the growing student-led movement calling on government and monarchy reform. A lot more has been raised since then.
A Thailand fan page for the South Korean K-Pop band BTS (not to be confused with Bangkok's BTS Skytrain) urged fans to stop paying for the "happy birthday" billboards displayed in BTS and MRT stations. The fan-funded signs celebrate the birthdays of the 7 members of the band.
The band members also issued a statement asking their fans (known as ARMY) to stop paying for signs in the BTS and MRT stations because the mass transit systems "inconvenienced protesters and normal citizens from getting home and putting them in danger."
The "happy birthday" signs have been seen on tuk tuks throughout Bangkok while some have posted photos of empty advertising space in the transit stations.
🐹𝑯𝒂𝒑𝒑𝒚 𝒃𝒊𝒓𝒕𝒉𝒅𝒂𝒚 𝐉𝐈𝐍 & 𝐕🐯
พร้อมแล้วสำหรับวันเกิดพี่น้องตะกูลคิม ลิมิเตดสุดๆ 15 คันเท่านั้น ใครเจอป้าย ถ่ายรูปมาอวดกันที่แท็กนี้นะคะ 🌕#OursmilebeginwithJIN
🧸#BelovedV26th_Birthday#Happyvday#Happyjinday Special thanks for beautiful photos @Bedgasm_v 💜 pic.twitter.com/cVenc2SN9W

— 🌻⁹⁵ᶻ𝒊𝒔 𝑳☻𝒗𝒆 ᴮᴱ⁺𝘭𝘪𝘧𝘦 𝘨𝘰𝘦𝘴 𝘰𝘯 (@nuna_vmin) November 30, 2020
Keep in contact with The Thaiger by following our
Facebook page
.
Never miss out on future posts by
following The Thaiger
.
5 people killed in Nakhon Si Thammarat flash flooding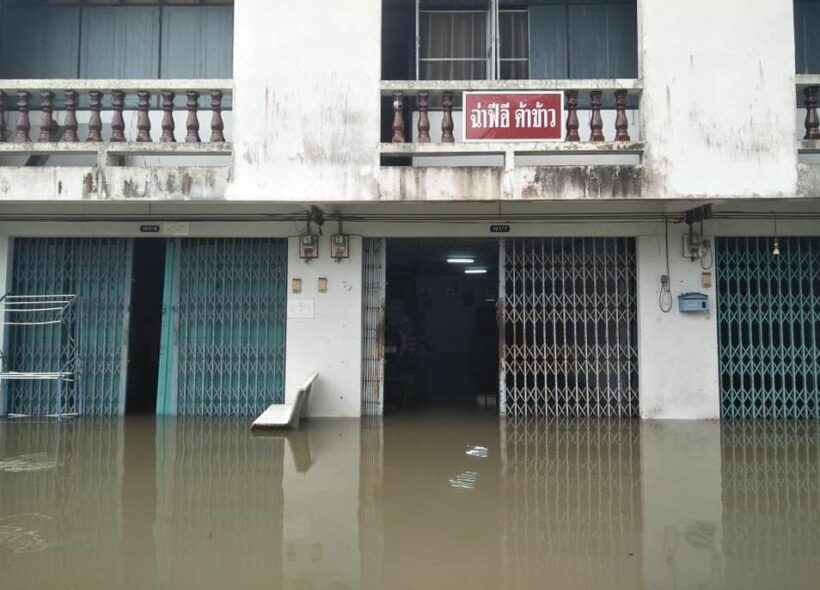 5 people died from the flash floods in Nakhon Si Thammarat after several days of heavy rain, according to Governor Kraisorn Wisitwong. Disaster mitigation officers have rescued locals from several districts who had to evacuate their homes due to the extensive flooding.
The 5 deaths were in the districts Noppitam, Phra Phrom, Chalerm Phra Kiat and Chawang. Thousands of households have been affected by the rising waters. This morning, reports say 942 villages in 19 districts were flooded, affecting more than 180,000 people.
SOURCE: Pattaya News
Keep in contact with The Thaiger by following our
Facebook page
.
Never miss out on future posts by
following The Thaiger
.
4 years until tourism industry gets back to pre-pandemic levels – Finance Ministry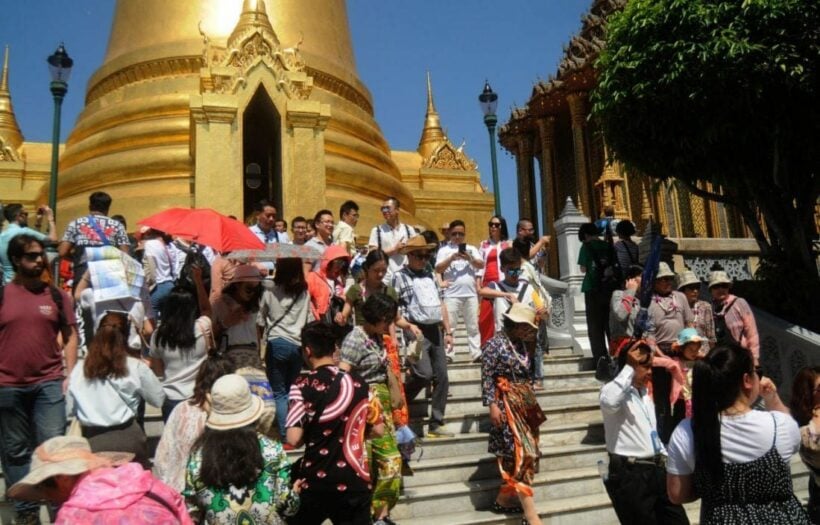 It could take 4 years for Thailand's tourism industry to recover after being battered by the lack of travel due to the coronavirus pandemic, the government's reaction and the economic fallout, according to the Finance Ministry.
While local and international experts project Thailand's economy will continue to recover over the next 2 years, the tourism industry, which directly contributes 12-15% of the country's GDP, is forecasted to take at least 4 years to get back to the pre-pandemic level, if ever. Last year, Thailand had nearly 40 million foreign tourist arrivals, generating 2 trillion baht.
Finance Minister Arkhom Termpittayapaisith says he expects 8 million foreign tourists to arrive in 2021, followed by 16 million in 2022, 32 million in 2023 and 40 million in 2024. But the projections are just broad speculation.
No foreign tourists entered the country between April and September this year. In October, 1,201 foreign tourists were issued Special Tourist Visas for 90 day stays that can be renewed twice, adding up to about 9 months in total. Under the current arrangements there will only be a trickle of tourists coming under the current regime including 14 day quarantine, at the tourist's expense, and lots of paperwork and red tape.
IF Thailand does end up. with 8 million foreign tourist arrivals next year, and the cash subsidy scheme is extended, the country's GDP is expected to expand by 4% to 4.5%, according to the National Economic and Social Development Council.
SOURCE: Bangkok Post
Catch up with the latest daily "Thailand News Today" here on The Thaiger.
Keep in contact with The Thaiger by following our
Facebook page
.
Never miss out on future posts by
following The Thaiger
.