Asia's trash couture – Thailand and China's recycling supermodels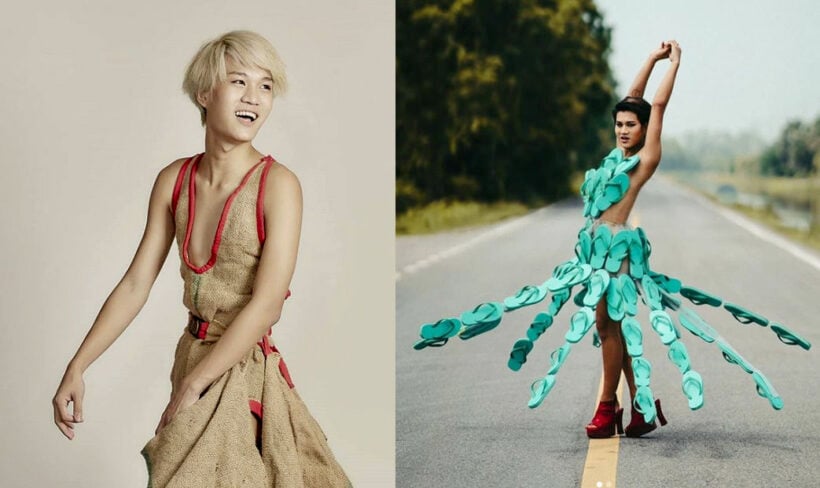 "He inspires others to challenge the norm, to break the mold, and to explore new and exciting possibilities."
Apichet "Madaew'" Atirattana grew up among the rice fields in Thailand's Isaan region. Growing up as a teenager anywhere is a challenge. But deciding to take your village trash and turning it into high-fashion was always going to turn heads. That's what he did back in 2016 and the now-20 year old has millions of followers, crossing the boundaries of sexuality, style and recycling!
Three years ago he came to the attention of an international audience with his tattered fashion made from everyday stuff around the village.
"I want people to see that ugly things that don't seem to go together can become something beautiful. And that looking good doesn't depend on money."
Before long TV talk and talent shows were knocking on Madaew's door, and he even appeared as a guest designer on Asia's Next Top Model.
Now he has a Chinese counterpart also coming to attention.
20 year old Lu Kaigang films his own catwalk shows in a village in Guangxi province, China. His creative self-designed 'couture' and fashion shows have attracting millions of followers online. He worked as a waiter in a restaurant and studied model shows to learn the 'moves'.
Inspired by his favourite Victoria Secret models, he turns tarpaulins into couture coats and his mother's rug into a runway show-stopper. Rubbish bins become accessories and an old air-con unit become a (rather large) handbag.
He has now become a full time blogger and is hoping to do some acting.
As you can see, anywhere in the village could become his runway.
Back in Thailand's north-east, Madaew (who prefers to be known by the male pronoun), pays tribute to his parents for never trying to change who he was, letting him play with girls and dress up Barbie girls without feeling ashamed. And being fabulous!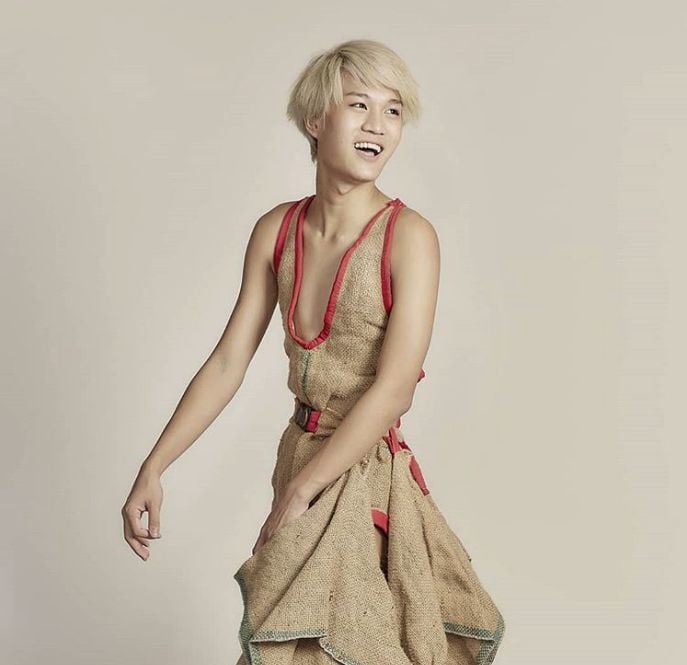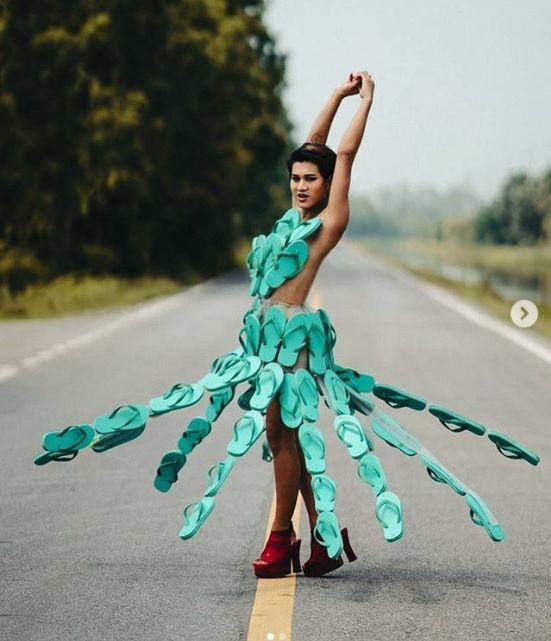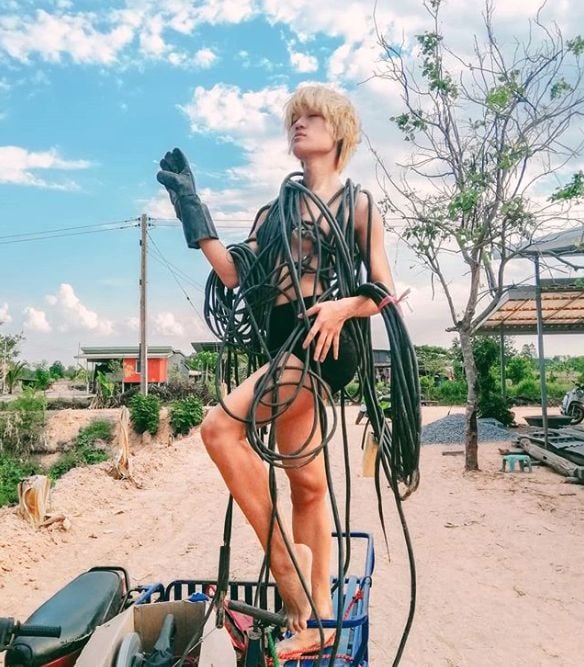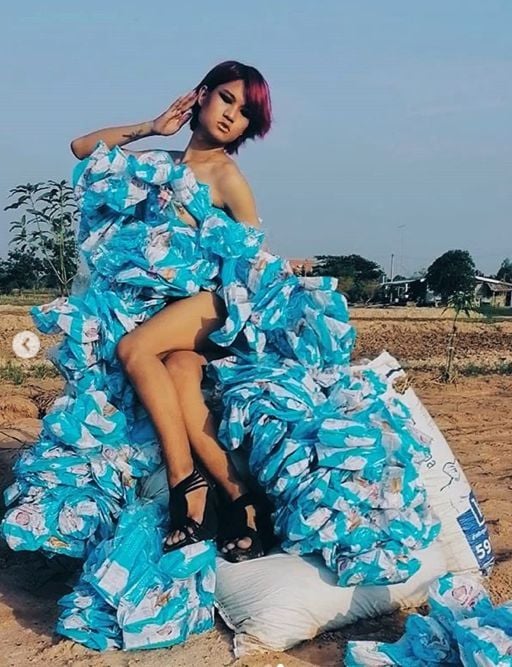 PHOTOS: Instagram/madaew99
📱 Download our app on Android or iOS for instant updates on your mobile
📧 Subscribe to our daily email newsletter
👍 Like/Follow us on Facebook
🔔 Subscribe to or Join our YouTube channel for daily video updates
Sex toys popular in Thailand despite conservative laws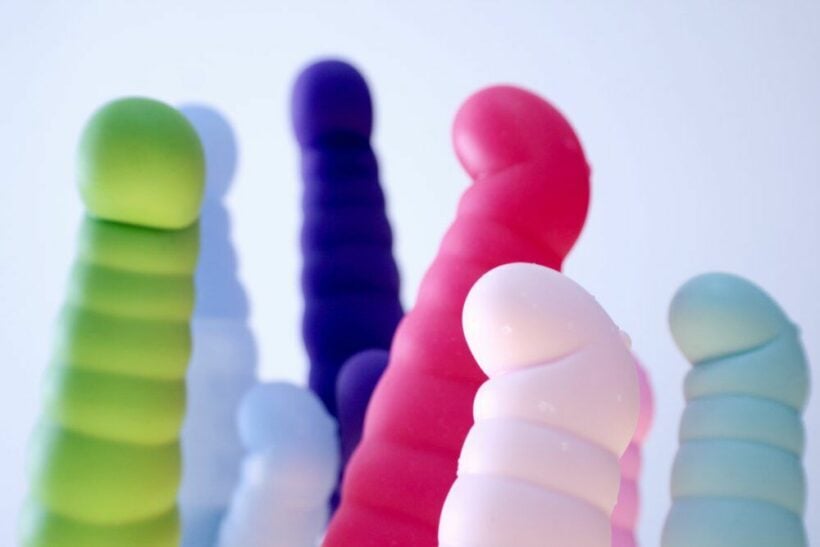 While Thailand is a conservative country with conservative laws, the underground sex trade and sex toy economy is a thriving not-so-well-kept secret. Thailand is famous for its LGBTQ acceptance and red-light districts, but many don't realise that most drugs, gambling, soliciting for prostitution, sex toys, and even vaping are against Thai law.
The customs department confiscated more than 4000 sex toys just last year, and owning or selling these toys carries a 60,000 baht fine or up to 3 years in jail. The strict laws are in place to align with the traditional Buddhist Thai society but seem very contrary to the underground sex industry Thailand is known for.
The need for sexual privacy rights and relaxed laws governing sex has been gaining popularity for years with the juxtaposition of strict laws and hedonism creating a very profitable black market. Bangkok's red-light district is estimated to be worth US $6.4 billion, and in districts like Soi Cowboy, Nana, Patpong and Silom, sex trade and sex toys are sold openly even though it violates the law. The sex industry is thought to comprise up to 10% of Thailand's gross domestic product. Then there's Walking Street in Pattaya, Bangla Road in Phuket, etc, etc.
Still, Thailand is a Buddhist country with traditionally conservative values so laws are unlikely to change anytime soon. Even sex education in Thailand is geared towards the negative consequences of sex and not open to sexual rights or embracing sexuality, according to a UNICEF report in 2016. Those who oppose decriminalising sex toys and the sex industry believe that embracing it legally would lead to a rash of sex-related crimes.
Others argue that decriminalisation would be liberating and empower women by reducing the stigma of being sexually free. It would allow a modernized view on sexual well-being. It would also likely reduce teen pregnancy rates, by removing the negativity towards those who need or use contraceptive.
Nisarat Jongwisan has been fighting for the destigmatisation and legalisation of sex toys since 2018 when she appeared on a TV program speaking out against the Ministry of Culture. She now intends to use the Thai parliamentary mechanism for creating a petition and gathering 50,000 signatures, which would allow her to submit a bill to the parliament for a vote.
With strict laws, the black market will continue to grow. While sex toys and the sex trade can be criminalized, sexual desires are not easily quashed, and people will find ways to satisfy them. Without any regulation, black markets can profit freely, selling sex toys with no concern over fair pricing or quality control. The global sex toy industry sold nearly US $34 billion dollars last year, and with continued lockdown and the closures of entertainment venues, these sales are set to only increase, even in the face of Thailand's conservative laws.
SOURCE: Vice
📱 Download our app on Android or iOS for instant updates on your mobile
📧 Subscribe to our daily email newsletter
👍 Like/Follow us on Facebook
🔔 Subscribe to or Join our YouTube channel for daily video updates
Is this the next big change in pop music? The winners of the IFPI Global Recording Artist of the Year Award, BTS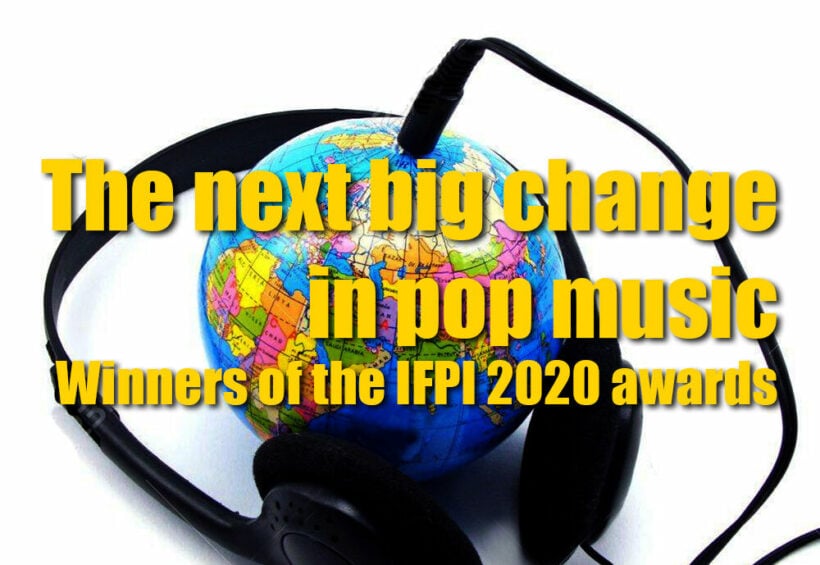 2020 IFPI Global Recording Artist of the Year Award. In the past 8 years the IFPI Global Recording Artist of the Year Award has been given to Ed Sheeran, Adele, One Direction, and Taylor Swift and Drake. BTS are backed up by ARMY, their huge fanbase.
The power of ARMY. The IFPI represents the recorded music industry worldwide. It's not a Grammy or a popularity vote. The award is calculated according to an artist's or group's worldwide performance across digital and physical music formats during the past year. Everything from streams to vinyl, CDs and downloads…. and covers their entire body of work. The award was announced last week at the culmination of the IFPI Global Artist Chart, which counted down the top 10 best-selling artists of the past year.
And it's certainly been a great year for music… not so much for going to live concerts but we've certainly had a lot more time to listen to our favourite artists and stream their clips on YouTube.
The group that won this year, based on their pure sales, actually came second in 2018 and 7th in 2019, so it isn't some statistical blip on the music radar.
The win also represents somewhat of a quantum shift in world music… the sort of thing that only happens once in a generation. Rather than the popular cross-over style shift represented by the George Gershwin's Rhapsody in Blue in 1924, the brith of rock with Bill Haley in 1955 or the rise of British pop in the 1960s, personified by The Beatles, this year's IFPI signals another generational milestone in tastes, method, world reach and engagement with fans.
In all the right-hand turns of the popular music genre, there has usually been a technological breakthrough that has accompanied them, or at least been a key aspect of their success.
In the case of the the Great American Songbook, the foundations of the pop music genre, it was the recorded record and the start of radio-as-entertainment in the 1920s that provided a method to reach a huge audience with the new sounds and tunes for the first time.
Then it was the 7" single that made music cheaper and easier to play, that revolutionised the radio music formats of the 1960s and provided the perfect vehicle of the British pop revolution to spread around the world.
📱 Download our app on Android or iOS for instant updates on your mobile
📧 Subscribe to our daily email newsletter
👍 Like/Follow us on Facebook
🔔 Subscribe to or Join our YouTube channel for daily video updates
Phuket's nightlife. Yes, bars and clubs are still open | VIDEO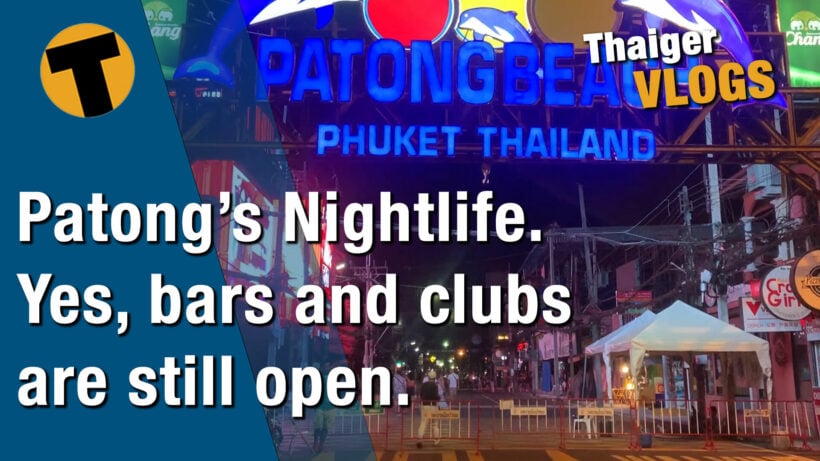 There was the original Covid-19 outbreak and lockdowns back in April and May in 2020, then again just before Christmas and New Year when the new clusters emerged in Samut Sakhon and the eastern coastal provinces, Patong's nightlife was quiet enough, almost non-existent.
Now when the restrictions are lifted, Nimz will take you through Phuket's famous nightlife spot Bangla Road, Patong Beach and Phuket Town. It's quiet, but there are still clubs open and operating and ready to welcome you.
📱 Download our app on Android or iOS for instant updates on your mobile
📧 Subscribe to our daily email newsletter
👍 Like/Follow us on Facebook
🔔 Subscribe to or Join our YouTube channel for daily video updates