Tourists grafitti Chiang Mai caves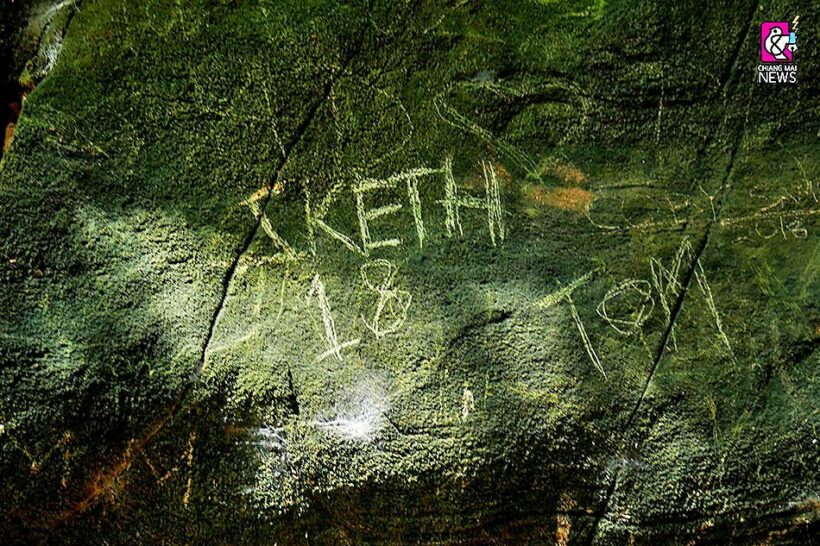 Chiang Mai authorities are trying to find the people responsible for graffiti in a Chiang Mai cave. Police are threatening to prosecute the offenders and seek jail terms for anyone who is caught.
Chiang Mai News is reporting that foreign names have been scratched in the walls of a cave at the Mok Fa waterfall in the Doi Suthep – Pui national park. Park authorities have sent a clear and unequivocal message to tourists – "Don't graffiti or you'll be jailed".
Park officials admit that a lack of staff means they will find it difficult to find the perpetrators.
The names "Tom", "Muns", "Sam", "Sian" and "Louise" are clearly visible on the cave walls along with other scribblings.
The latest damage in Chiang Mai comes after young people from Liverpool and Canada spray-painted a historic wall near the Tha Pae gate surrounding the old city area.
SOURCE: Chiang Mai News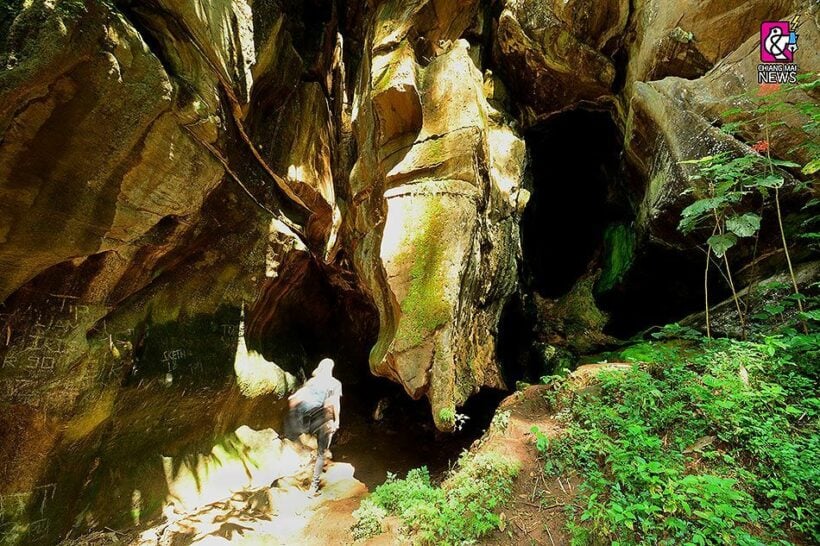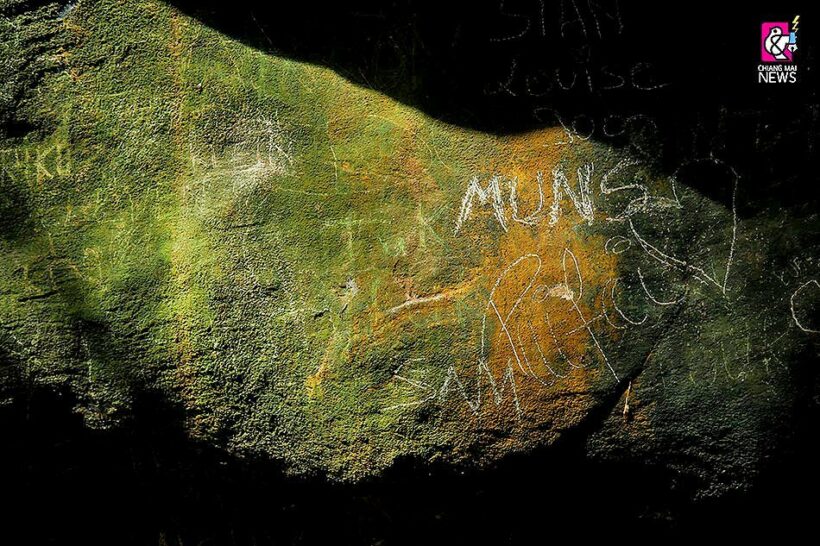 Keep in contact with The Thaiger by following our
Facebook page
.
Never miss out on future posts by
following The Thaiger
.
Chiang Mai man tests positive for Covid-19 after illegal crossing from Myanmar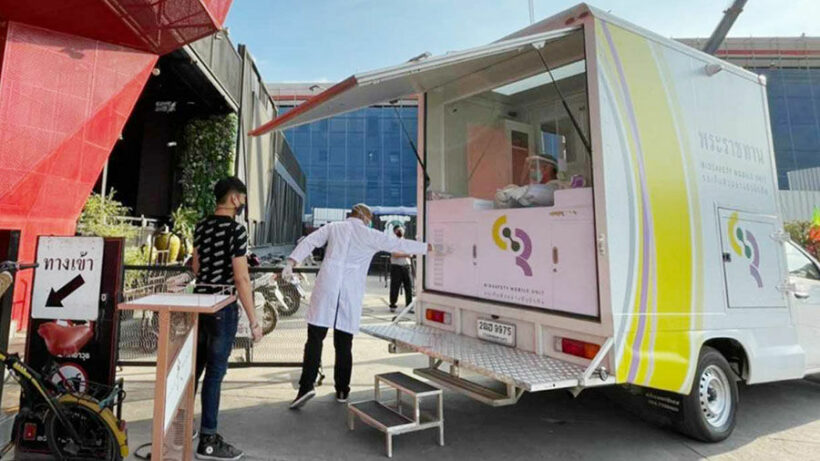 A 32 year old Chiang Mai man who was employed at the now notorious 1G1-7 Hotel in Myanmar has tested positive for Covid-19 after sneaking across the border into Thailand. The man worked as a DJ at the hotel and entertainment complex in Tachileik until he returned to the Kingdom via an illegal crossing at the Chiang Rai border on November 30.
The Pattaya News reports that the man was experiencing symptoms that included loss of smell and a stuffy nose at the time. He checked in to a hotel in the Mae Sai district of Chiang Rai for one night, then stayed the next night in the Muang district of the city, before travelling to Chiang Mai by motorbike on Wednesday.
On Thursday, he visited Nakornping Hospital to report his symptoms and request a Covid-19 test. Following the positive result, he is now being treated in isolation.
Health officials say the man was alone on his journey from Chiang Rai to Chiang Mai. In Chiang Mai, he visited a 7-Eleven and a nearby market to buy takeaway food, which he took back to his hotel room. It's understood he was wearing a mask the entire time he was outside his room. Chiang Mai Public Health Chief, Chatuchai Maneerat, says only 5 people are believed to have come in contact with the man, and they are considered low-to-very-low risk, but will be tested for the virus.
Meanwhile, officials are calling on those who were at Singha Park in Chiang Rai on November 29 between 7.30pm and 11pm to come forward for testing. Passengers on Nok Air flight DD8717 from Chiang Rai to Bangkok on November 28 and Thai Lion Air flight SL533 from Chiang Rai to Bangkok on November 29 are also being asked to contact their local public health office for advice on self-isolating and to be tested for Covid-19.
Health officials say there is no need for the general public to panic, but that they should continue to follow the usual health measures of mask wearing, hand washing, and social distancing.
SOURCE: The Pattaya News
Keep in contact with The Thaiger by following our
Facebook page
.
Never miss out on future posts by
following The Thaiger
.
Thai Airways to resume flights from Bangkok to Chiang Mai and Phuket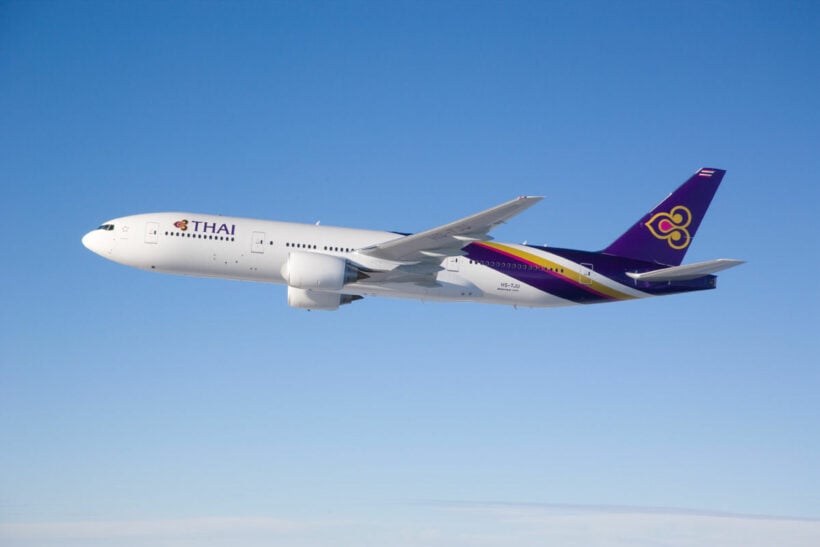 After nearly 9 months on the ground due to the coronavirus pandemic, along with problems balancing their accounts, Thai Airways will resume flights between Bangkok and Chiang Mai as well as Bangkok and Phuket later this month. The flights will start back up on Christmas day.
Flights from Bangkok to the 2 key tourist provinces have been grounded since April 1. Starting December 25, the airline will run 3 flights a week on both routes. A source told the Bangkok Post that the new schedules will run until at least February 28.
Thai Lion Air, Thai Air Asia, Nok Air, Thai Smile, VietJet Air and Bangkok Airways have returned to the domestic skies since July and slowly adding frequency to their routes.
In addition to resuming the domestic flights, the Thai Airways is relaunching some international flights from January 1 to March 27 including weekly flights to Frankfurt, London, Copenhagen, Sydney, Seoul, Manila, Taipei and Osaka. Flights from Bangkok to Tokyo will be available 3 times a week and flights from Bangkok to Hong Kong will be available every day.
Thai Airways has been tackling bankruptcy throughout the lockdown and trying to make up for more than 300 billion baht in losses. Since many flights were suspended due to travel restrictions, Thai Airways has tried to make money by business ventures on the ground, like a pop-up restaurant serving in-flight meals and selling off unwanted equipment from their warehouse. There also disposing of much of their older fleet, including all of their Boring 747-400s.
SOURCE: Bangkok Post
Catch up with the latest daily "Thailand News Today" here on The Thaiger.
Keep in contact with The Thaiger by following our
Facebook page
.
Never miss out on future posts by
following The Thaiger
.
2 more cases identified in the northern Thailand Covid-19 mini outbreak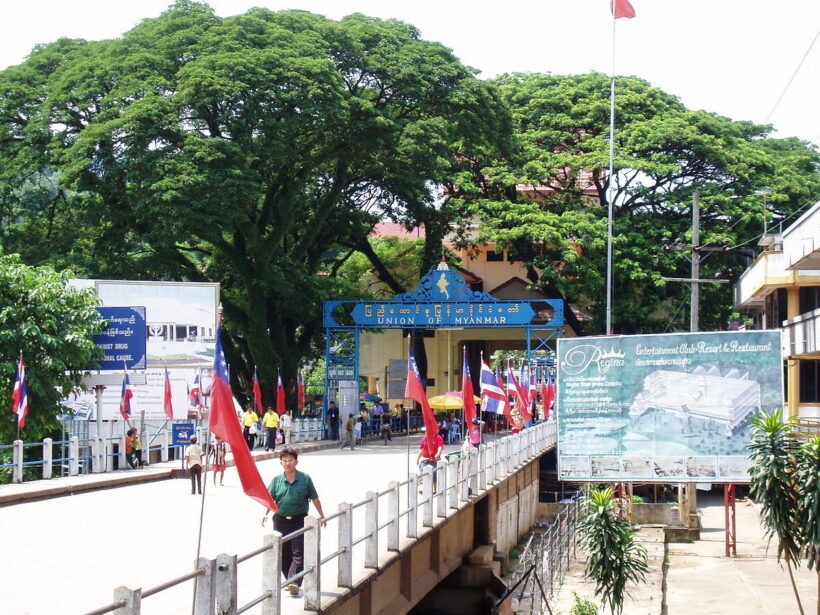 2 more people have been confirmed as infected with Covid-19in the current mini-outbreak in Northern Thailand. In this case both women had crossed the Thai/Myanmar border and worked at the same bar in Myanmar as the original patient, feared to be a potential super-spreader. The 29 year old is now being treated at a hospital in Chiang Mai.
Chiang Rai public health officials report that the women, aged 23 and 26, illegally crossed the Burmese border at Mae Sai district, Chiang Rai, from Tachileik, a border town on the Burmese side of the border, last Thursday night.
All 3 went to work in Tachileik last month, but returned to Thailand after Burmese health authorities imposed a curfew from midnight to 4am. There has been between 1,300 and 1,700 cases announced each day over the past week in Myanmar.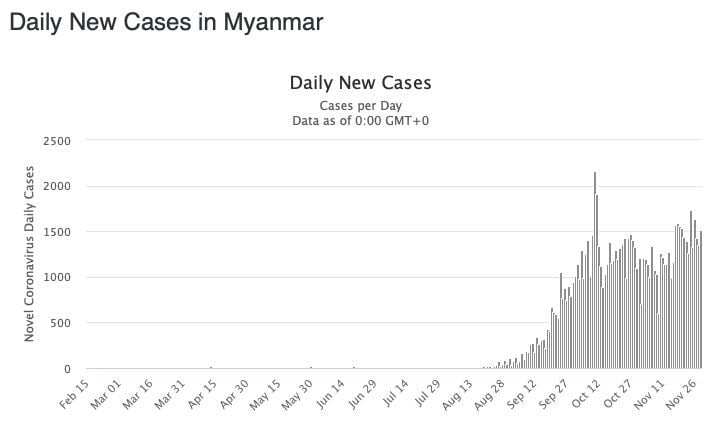 Thai public health officials say the new cases in Chiang Rai didn't visit other public places, but stayed in a local hotel and ordered in food on delivery apps.
"We are less worried about the situation in Chiang Rai because they did not go out," he said.
One of Patient Zero's friends, the 26 year old, decided to get tested on Saturday after the news of her friend's positive test result. Authorities then ordered her 23 year old friend to have a test as well. Both tested positive to Covid-19. Another 4 people have since been identified as "high risk" and are all being tested today. When added to the food delivery and hotel staff, the amount of people considered "at risk" could be up to 30.
Meanwhile, the Pattaya Mail is reporting that 2 of the women were arrested in Mae Sai and another 2 were arrested on a bus headed to Pattaya, via Bangkok.
Authorities say they will ramp up the border patrols but expect to see more infections coming from the original case in the next few days. Thailand's border with Myanmar is more than 2,000 kilometres long, mostly inaccessible mountainous or forest terrain.
SOURCE: Bangkok Post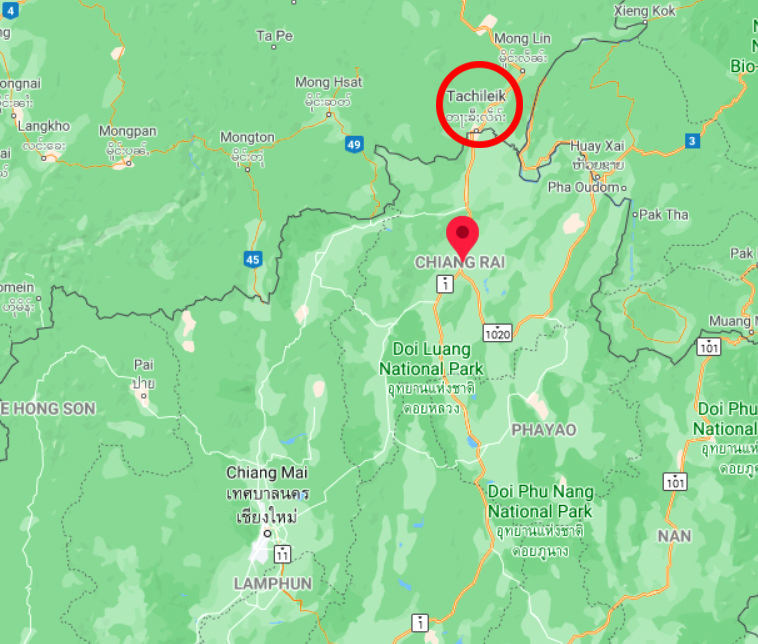 Keep in contact with The Thaiger by following our
Facebook page
.
Never miss out on future posts by
following The Thaiger
.