Grab creates finance and payments revolution in Southeast Asia

PHOTO: Grab.com
While Southeast Asia's economy shows huge potential for growth, around 73% of the population still doesn't have a bank account, severely limiting the upward mobility of both individuals and organisations.
Enter Grab, the ride-hailing app, which is introducing a range of financial services in Singapore, including micro-insurance for small to medium sized companies, and post-paid products.
Instead of charging high annual premiums, the organisation's micro-insurance plan offers people a chance to pay towards their premium every time they take a ride using the Grab app.
The organisation is working in conjunction with financial institutions such as Indonesian digital wallet Ovo, US insurance company Chubb, and Japanese financial services firm Credit Saison.
In addition to micro-insurance, it offers loans to growing organisations to help them manage cash-flow issues and grow their operations.
Singaporean fashion brand, Flesh Imp, has now expanded to China, thanks to a working capital loan from Grab.
And such loans are not restricted to companies, but are also available to individuals. Indonesian GrabBike partner Rudianto is one of them.
He used to work in construction and didn't even own a smartphone prior to joining Grab. A micro-loan from the company meant he could buy a second motorbike, save money to build his mother a house, and eventually became the owner of a chicken farm.
In 2017, Grab acquired the Indonesian payments platform Kudo, meaning it can now reach Indonesia's rural population through local businesses knowns as warungs, providing them with access to online transactions.
With governments across Southeast Asia now investing heavily in technology, there is obvious potential for Grab's model to be replicated across the region.
SOURCE: Techinasia.com
Keep in contact with The Thaiger by following our
Facebook page
.
World's largest trading bloc to be concluded by the end of the year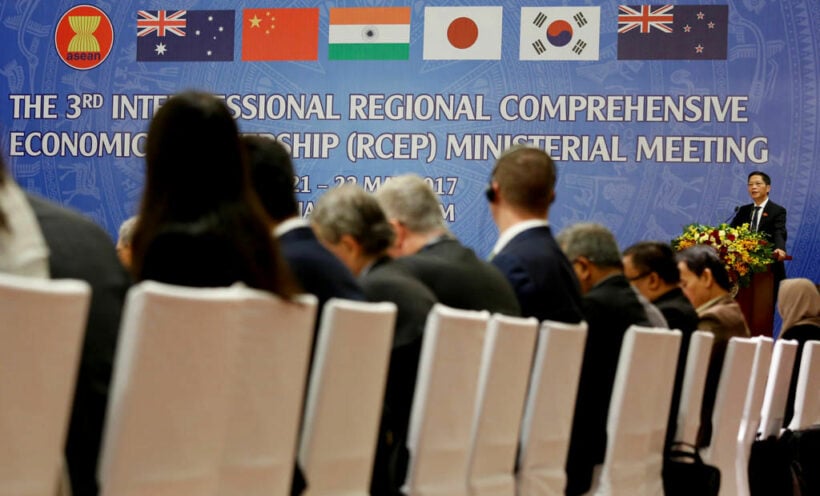 The next negotiating round for the formation of RCEP will be held in Da Nang, Viet Nam on September 19-28 . RCEP is the Regional Comprehensive Economic Partnership, and when negotiated and signed, will become the world's largest and most powerful trading bloc.
RCEP includes all ASEAN economies, plus Australia, China, India, Japan, New Zealand and South Korea.
Economic ministers from countries involved last gathered in Bangkok on September 8 determined to conclude the world's largest trading bloc by the end of the year.
After seven years, negotiations have reached a critical milestone as the ministers are resolved to address the outstanding issues and conclude the pact.
"Negotiators should exercise maximum flexibility to close the negotiations," said Secretary-General of ASEAN Dato Lim Jock Hoi.
Given today's developments, concluding RCEP negotiations this year would provide the much-needed stability and certainty to benefit regional supply chains as well as the global markets for trade and investment.  Dato Lim said that failure to do so will undermine the region's trade and investment potential, putting market integration at risk.
Once concluded, RCEP would create a market including 3.5 billion people accounting for about 30% of all global trade.
SOURCE: asean.org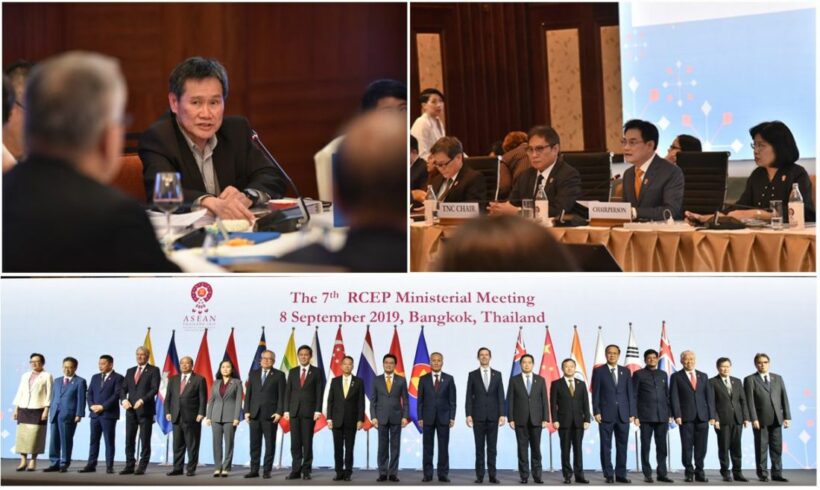 Keep in contact with The Thaiger by following our
Facebook page
.
Thailand industrial property a winner as US-China trade war drags on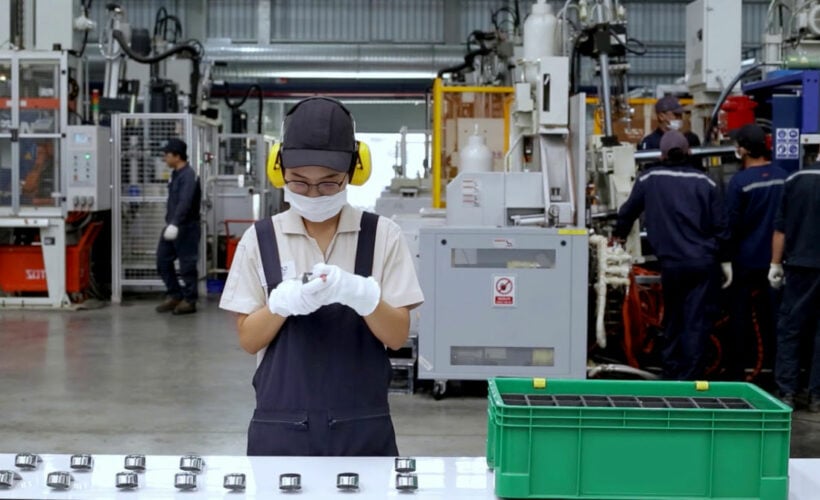 Amongst all the bad economic news, Thailand's industrial property sector is profiting from the protracted US-China trade war, as mainland Chinese manufacturers shift production to ASEAN countries in an attempt to avoid escalating tariffs.
Chinese foreign direct investment into the south east Asia sector rose last year by 31.7% to USD 233 million, after declining by 15.7% in 2016-17, according to Bank of Thailand data. In the same period, total FDI into Thailand skyrocketed by 130.5% year on year. Chinese investment accounted for 4.3% of total FDI last year and 7.6% in 2016-17, according to CBRE.
FDI into Thailand's manufacturing sector was increasing before the trade war too, and is now seeing increased participation from China.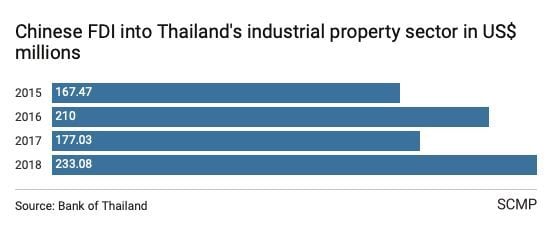 Last year, sales of serviced industrial land plots – privately owned industrial estates – by major developers in Thailand increased by 50% year on year. One park, specifically developed for Chinese manufacturers by Thai industrial estates provider Amata, accounted for 15% of the total sales in 2018.
CBRE also says China could be in line to take over from Japan, which has been the largest source of investment into Thailand since the late 1980s. Total FDI into Thailand last year amounted to USD 235 billion, with Japan contributing USD 86.6 billion and China US D4.9 billion, so there's still a long way to go before Chinese investment outstrips Japan.
Keep in contact with The Thaiger by following our
Facebook page
.
The Thai charm-offensive on the South Korean President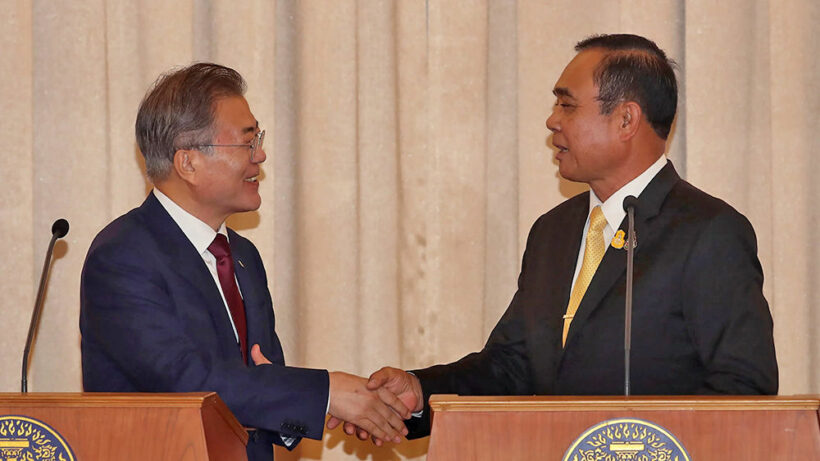 Thai PM Prayut Chan-o-cha is inviting South Korean investors to increase their investment and trade with Thailand. The PM says Cabinet will consider offering incentives for South Korean businesses to invest in the country. South Korean President Moon Jae-in capped off an official two day visit to the Kingdom yesterday.
The Thailand-Korea Business Forum was held yesterday in Bangkok with President Moon in attendance along with economic teams from Thailand and South Korea and representatives of 500 private companies.
Speaking at the forum the Thai PM spoke about Thailand 4.0 – the transformation of the country's economic structure from an agriculture-based economy into a value or digital-based economy. Also about the Eastern Economic Corridor (EEC) project that was attracting investment from around the world.
According to the Bangkok Post, 400 South Korean companies have invested in Thailand with the trade value between Thailand and South Korea of USD 14-15 billion (428-459 billion baht).
Prayut also spoke about how Thailand could continue to learn from South Korea as they had been able to turn their country from agricultural economy into a manufacturing superpower over a number of decades.
Speaking at the forum President Moon said Thailand is one of the most important trading partners for his government's New Southern Policy which has been successful in broadening partnerships with south east Asian nations and India. President Moon mentioned specific industries where he saw greater economic partnerships and trade in the future – automation, smart automotive technologies, energy, digital technology – that would assist Thailand to achieve its 4.0 goals.
PM Prayut met with President Moon Jae-in at Government House yesterday morning with the two leaders pledging to strengthen the strategic partnership between the two Asian economies.
Keep in contact with The Thaiger by following our
Facebook page
.