Google moves manufacture of Pixel phone from China to Vietnam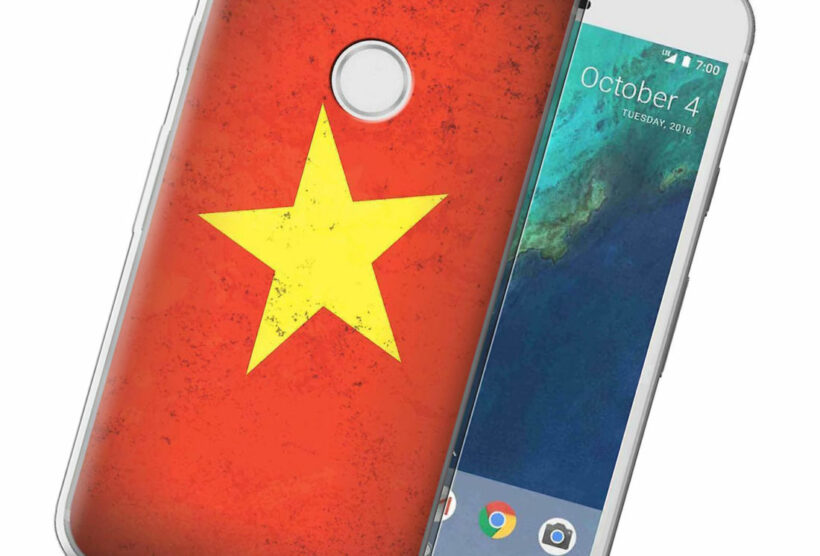 Google is shifting the manufacturer of their Pixel smartphone from China to Vietnam. The move is said to happen before the end of this year, as reported by Nikkei.
Google cited increasing Chinese labour costs and added pressure from tariffs in the ongoing China-US trade spat. The US-based internet giant is reported to be moving both the manufacturer of its Pixel smartphone and the Google Home smart speakers to Vietnam, according to Nikkei news.
Meanwhile, Bloomberg's Tim Culpan points out that the new plant is likely 'FIH Mobile', a Foxconn subsidiary that previously bought Nokia's Vietnam factory from Microsoft. He says that lines up with the Nikkei report, which claims that Google is planning to convert an old Nokia plant for producing its own phones.
Over the past 12 months the shipments of the Pixel smartphone have doubled from the year before. The company is hoping to ship 8 to 10 million smartphone devices in 2019. Nikkei is claiming that Google will shift some production of the Pixel 3A phone to Vietnam before the end of this year.
The article also cites sources saying that Thailand may pick up the slack in the manufacture of the Google  smart speakers. But the article says Google's new product development, design and manufacture set-up will still remain in China.
Keep in contact with The Thaiger by following our
Facebook page
.
Food delivery and online shopping apps are Thailand's most used innovations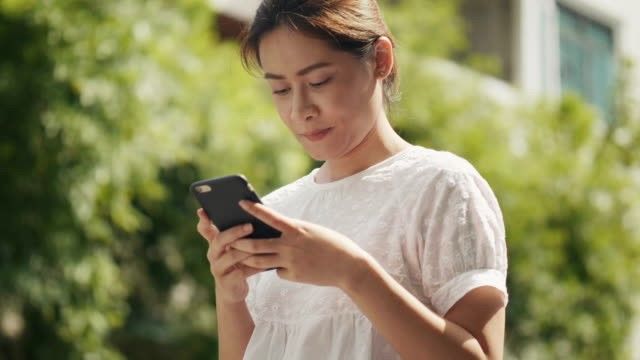 PHOTO: iStock
A poll conducted by The Energy Policy and Planning Office (EPPO) at the Ministry of Energy has revealed Thailand's most used technological innovations.
The poll, carried out last July, studied innovation usage among Thai people from all age groups and professions, and was aimed at promoting the usage of energy-efficient innovations.
It was divided into four categories: Frequently used (over 40% of total innovation usage); moderately used (21-40%); rarely used (10-20%); and hardly-used (lower than 9%).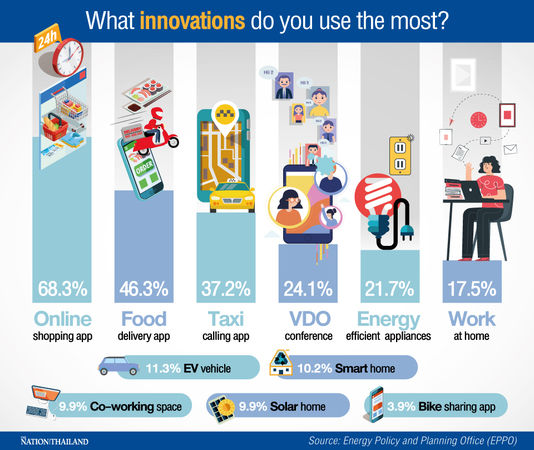 PHOTO: The Nation and The Energy Policy and Planning Office (EPPO)
Out of 382 respondents, 68.3% said online shopping applications were their most frequently used innovation, followed by food delivery apps (46.3%).
In the moderately used category, 37.2% cited taxi-hailing apps, 24.1% said VDO conference services, followed by energy-efficient appliances (21.7%).
Meanwhile, 17.5% of respondents said they rarely used any innovation that supports working at home, while 11.3% and 10.2% cited EV vehicles and smart home devices as rarely used innovations.
SOURCE: The Nation
Keep in contact with The Thaiger by following our
Facebook page
.
'Body farm' scientists find corpses move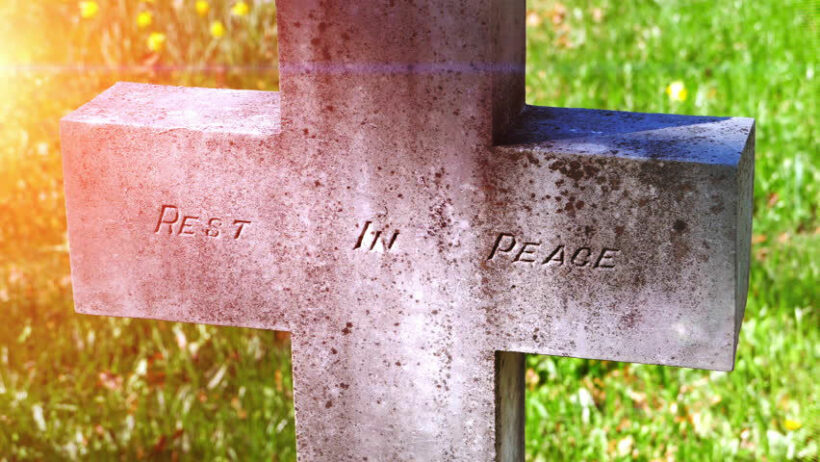 Rest in peace. Apparently the 'rest' isn't quite as 'peaceful' as we first thought. Not quite as much as zombies, but anyway…
An Australian scientist has proven human bodies move around significantly for more than a year after death, in findings that could have implications for detectives and pathologists around the world. After studying and photographing the movements of a corpse over 17 months, Alyson Wilson says she found humans don't exactly "rest in peace".
In one case study, arms that began held close to the body ended up flung out to the side.
"We think the movements relate to the process of decomposition, as the body mummifies and the ligaments dry out," she said.
A better understanding of post mortem movement could also help to reduce the incorrect cause of death or misinterpretation of a crime scene.
To carry out her unusual form of people watching, Wilson took the three-hour flight from Cairns to Sydney every month to check on the progress of a cadaver.
Her subject was one of seventy bodies stored at the Southern Hemisphere's only "body farm", which sits at a secret bushland location on the outskirts of Australia's largest city.
Officially known as the Australian Facility for Taphonomic Experimental Research, the farm is carrying out pioneering research into post-mortem movement.
Wilson and her colleagues were trying to improve a commonly used system for estimating the time of death using time-lapse cameras and in the process found that human bodies actually move around significantly. Her findings were recently published in the journal "Forensic Science International: Synergy".
She hopes the knowledge could, for example, narrow down the number of missing persons that could be linked to an unidentified corpse.
"They'll map a crime scene, they'll map the victim's body position, they'll map any physical evidence which is found, and they can understand the cause of death."
The CQ University criminology graduate says she started her unique project after a trip to Mexico to help classify Mayan-era skeletal remains.
"I was fascinated with death from a child and was always interested in how the body breaks down after death."
"I guess that comes about from being raised on a farm and seeing livestock die and watching that process," she said.
"Once I observed a movement in a previous study, I started researching and couldn't find anywhere in the world that looks at quantifying the movement, so I thought OK, I'm going to do this."
SOURCE: Agence France-Presse
Keep in contact with The Thaiger by following our
Facebook page
.
iPhone 11 launch – Apple cuts prices, new services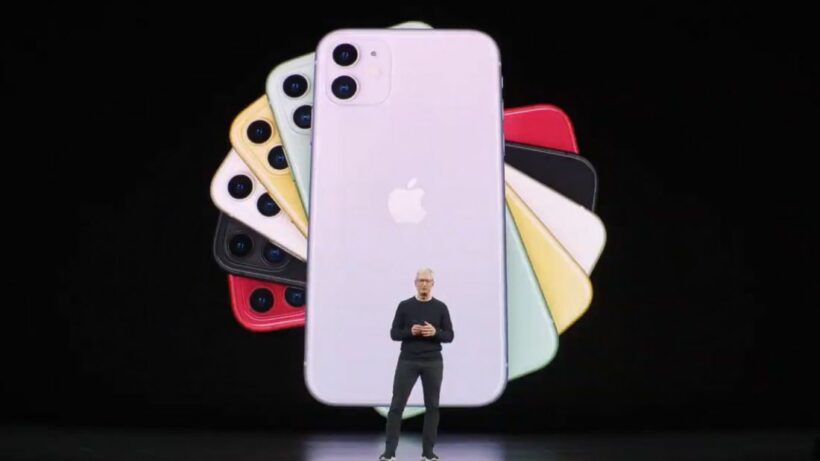 "The new iPhones are jam-packed with new capabilities and an incredible new design." – Tim Cook
Apple unveiled its iPhone 11 models last night (Thai time) with a price cut for the most basic models while also laying out plans for streaming and gaming services as it bids to weather the slump in the global smartphone market.
No major surprises. But in a surprising tone for the tech leader, Apple focussed on 'price' as a key strategy in today's announcements.
Price appeared to be a key consideration as the tech giant reduced the entry level price for the iPhone 11 to $699 and undercut rivals for its gaming and streaming television subscriptions.
Apple unveiled three versions of the iPhone 11 including "Pro" models with triple camera and other advanced features starting at $999 and $1,099, unchanged from last year's prices, touting upgraded features including ultra-wide camera lenses.
The surprise from Apple was the reduction in the starting price at $699, down from $749 for the iPhone XR a year ago even as many premium devices are being priced around $1,000.
The new iPhones are "jam-packed with new capabilities and an incredible new design," Apple chief executive Tim Cook told a launch event in Cupertino, California as the company set plans to sell the new handsets on September 20.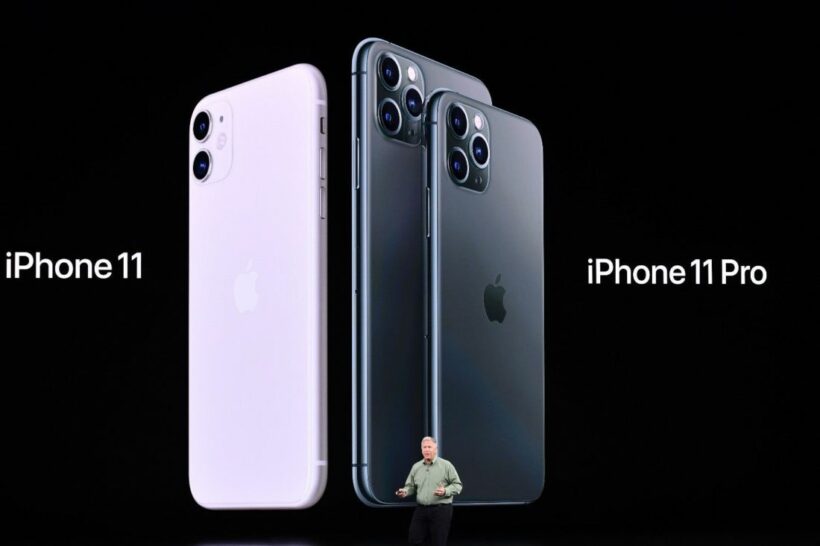 Apple's announcements appeared to be aimed at emphasising value as the company looks to shift its business model to reduce its dependence on smartphones and tie in digital content and other services to its devices.
"We got a stream of nonstop product launches, with content being used as a sweetener," said Avi Greengart, analyst and consultant with Techsponential.
"I think the iPhone 11 is compelling and may convince people to upgrade earlier than they might have otherwise given the lower price and longer battery life, not just an improved camera."
With the new devices and services, "I think there are more reasons to stay with Apple than to defect from Apple," said Patrick Moorhead, analyst at Moor Insights & Strategy.
Apple TV+ service will launch November 1 in more than 100 countries at US$4.99 per month and will include a "powerful and inspiring lineup of original shows, movies and documentaries."
While Apple's streaming service will have limited content at first, its price is below the $6.99 for the forthcoming Disney+ service and the more expensive plans from Netflix.
"Clearly Cupertino is looking for market share coming out of the gates with these surprising price points that we loudly applaud," said Daniel Ives of Wedbush Securities.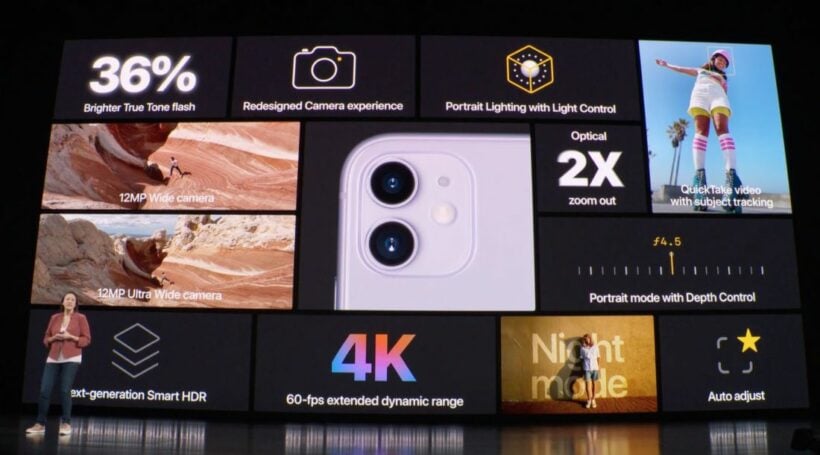 Apple is featuring scripted dramas, comedies and movies as well as children's programs in the service, which will compete against streaming giants like Netflix and Amazon.
"With Apple TV+, we are presenting all-original stories from the best, brightest and most creative minds, and we know viewers will find their new favorite show or movie on our service," said Zack Van Amburg, Apple's head of video.
Apple said customers who purchase an iPhone, iPad, Apple TV, iPod touch or Mac will get the first year of the service for free.
The company's online gaming subscription service, Apple Arcade, will launch next week, offering exclusive titles for mobile and desktop users.
The new service, which will also cost $4.99 per month, will include more than 100 game titles made for Apple devices and will be available in some 150 countries.
"You can't find these games on any other mobile platform or subscription service. No game service ever launched as many games, and we can't wait for you to play all of that," product manager Ann Thai told the Apple media event.
Apple also unveiled updates to its iPad tablet and Apple Watch smartwatch, also emphasising stable or lower prices with cuts to older versions.
"We think the lower iPhone 11 price point and trade-in program will help promote upgrades, specifically in China, while the Apple Arcade and TV+ offerings will help accelerate services growth," CFRA Research analyst Angelo Zino said in a note about Apple.
Apple shares ended the formal trading day up slightly to $216.70, while streaming television rivals Netflix and Disney both finished down about two percent.
SOURCE: Agence France-Presse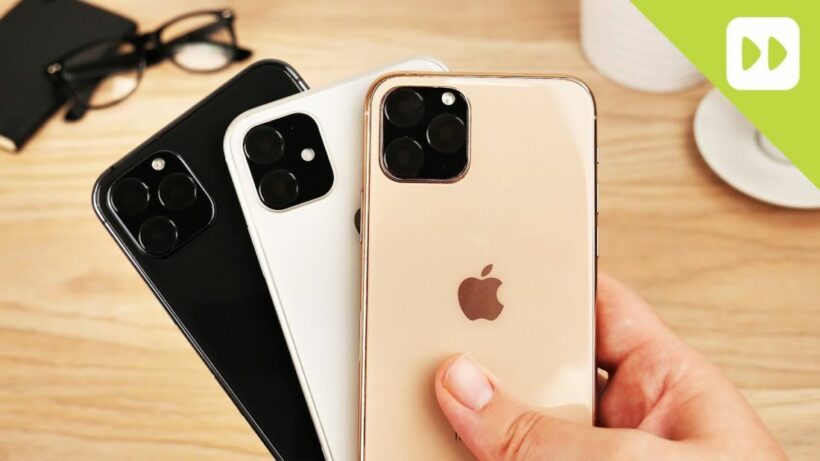 Keep in contact with The Thaiger by following our
Facebook page
.