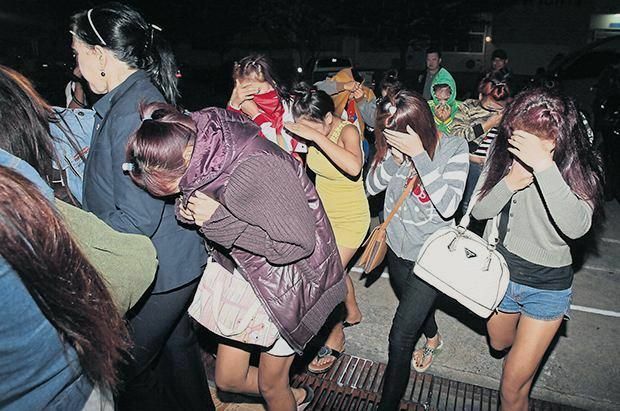 Many thousands of Thais – mostly women – work their whole lives in the sex industry without legal protection. With nothing to shield them, they are exploited both directly and indirectly. The Sex Workers Bill sets out to remedy some of that.
Operators use harsh methods to control their workers and ensure the money keeps rolling in. Owners of venues must pay huge "fees" to officials under the table, and prostitution, almost unbelievably, remains illegal in Thailand.
Girly bar owners fine sex workers if they fail to show up at work and rip them off for the commission they are supposed to make on drinks bought for them by customers. And since prostitution is illegal, venues are not registered and therefore not subject to regulations on health and safety. As a result, sex workers are vulnerable to disease and on-the-job injuries. If the bill is passed, prostitution will become legal.
It is important to remember that this is not a bill about tourism. The side of the sex trade that foreigners experience will still be moderated by the bill. But the situation of sex workers in tourist hot spots – a small, though very visible, a minority of all Thai sex workers – is very different from that of the majority: Thai women and Thai transexuals providing services for Thai men.
What is the Sex Workers Bill?
The bill is being pushed by the Department of Women's Affairs and Family Development in a bid to undo the 1996 Prostitution Suppression Act and provide protection for sex workers, as well as improve their quality of life.
The drafting process included all involved parties and took into account similar laws in countries where sex work is legal. So far, there are at least 15 such countries, including the Netherlands and Germany. Once the bill becomes law, sex workers will be entitled to the same welfare benefits that any white-collar worker currently enjoys.
The bill stipulates that all sex workers and clients must be at least 18 years of age. It gives sex workers the right to refuse to provide services at any time.
The bill defines sex venue operators as intermediaries who coordinate or procure sexual services for customers, with or without benefiting from a share of the earnings. The legislation requires these operators to seek a license, in a bid to ensure proper protection for sex workers.
The bill also establishes of agencies that provide protection and ensure sex workers have access to legal recourse.
Penalties and punishment
The Sex Workers Bill clamps down on child abuse and the trafficking of minors, punishing anyone who pays for sex with a minor aged over 15 with a jail term of up to three years, plus a fine of up to 60,000 baht (US$2,000). This penalty will be applicable even if the minor is consenting. Those who pay for sex with a minor below the age of 15 face six years in prison and a fine of up to 120,000 baht.
If a parent or guardian is aware of or an accomplice to such a transaction with their child, they face up to 20 years in jail and a maximum fine of 400,000 baht (US$12,000).