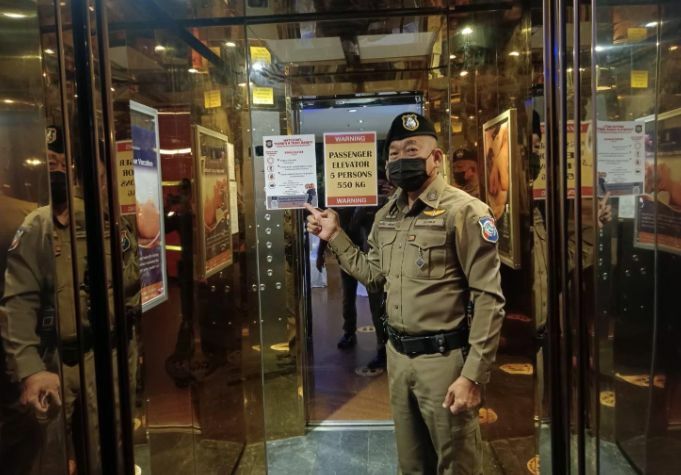 Pattaya's ever-so-dignified image is here to stay since Tourist Police reported finding no illegal sex workers in an inspection on Saturday. The inspection came after residents claimed that sex workers were illegally operating.
At midnight, cops patrolled high-risk areas such as Beach Road and Walking Street, on the prowl for suspects. Tourist Police identified risky spots as crowded tourist attractions, dark and/or deserted places, and Pattaya Beach.
The officers put flyers on venues' front gates warning tourists to "Be aware of their belongings and don't trust strangers."
Police Lieutenant Colonel Pichaya Kheawpluang told The Pattaya News that he would install more lights in these spots and fix broken CCTV cameras, or cut tree branches obstructing visibility.
Pichaya said he did not find any potential prostitution suspects after the inspection, but would continue to patrol regularly to keep tourists safe.
Pattaya Police have been recently been saying that sex work hurts the city's image. Since, of course, tourists come to Pattaya for its wholesome and family-friendly reputation.
In November, police cracked down on Pattaya's transgender sex workers. Cops inspected Beach Road, arrested 36 suspected transgender sex workers, and took them to the station for identity recording.
The inspection's leader, Police Lieutenant Colonel Pitchaya Khiaoplueng, stressed to the suspects that they could not loiter on the beach and offer sexual services to people walking by because it was against Thailand's prostitution law, and damaged Pattaya's tourism reputation.
All suspects were released, and Pattaya police pledged to continue their crackdown on prostitution every day.
In October, there was yet another crackdown by Pattaya police against sex work on Pattaya Beach. Police patrolled the beach on the lookout for sex work suspects, as well as guns, drugs, and booze.
Can police ever reverse Pattaya's image as Southeast Asia's sin city? Who knows.