Pattaya Cricket Club competes in the Koh Chang Beach Cricket Tournament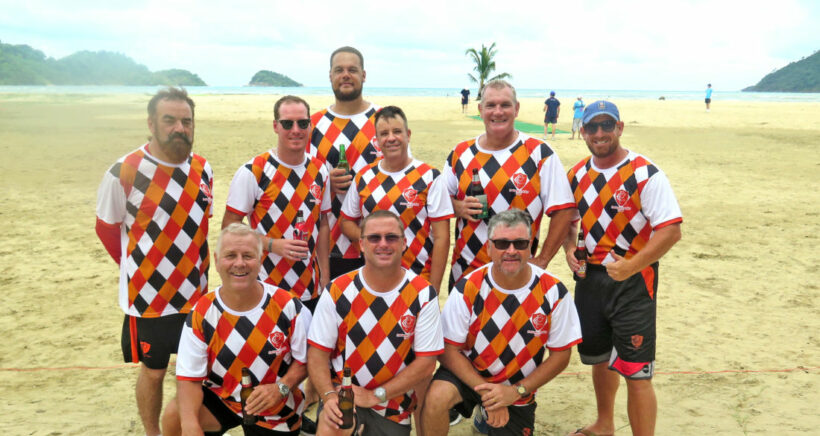 Nine members of the PCC toured to Koh Chang to compete in the 5th International Beach Cricket Tournament from August 23-26, 2019.
Simon Philbrook (Captain) and Dave Samways were already experienced beach cricketers, whilst Clive Rogerson, Bernard Lamprecht, Trevor Moolman, Ian Liddell (Reds), Gavin Perfect, Wesley Masterton and John Harvey were beach cricket virgins.
Twelve teams from Koh Chang, Phuket, Pattaya, Bangkok, Chiang Mai, Lamphun and Malaysia competed in two divisions where each team played 5 games. After the preliminary games each team from Division A played their correspondingly positioned team from Division B for one of the six trophies – a toothpick, a chopstick, a spoon, a tea cup, a plate and the Winner's cup.
PCC gained second place in their division having won 4 of their 5 games, only being beaten by the Black Parrots from Bangkok. PCC's second place play-off was against The Lamphun Kids. 
The threat from the well-schooled and highly skilled youngsters was not lost on PCC, who, bowling first, managed to keep the lid on their usual prolific scoring to 45 off the first 5 overs. Reds managed a wicket maiden, the only one of the Tournament, but a final catastrophic over where 20 extras were conceded, left a challenging 65 against a quick and accurate bowling attack. 
PCC's batting started slowly, but by the 3rd over was on track for a tight finish. Tight bowling from Lamphun Kids continued to hamper our premier batsmen and that combined with a dubious runout, led to a defeat by 17 runs.  So, PCC finished 4th, a creditable effort from a team of superior years. 
The final was conducted between The Black Parrots and The British Club A from Bangkok. A low scoring match where many wickets were taken in a nail-biting finish with the Black Parrots being victorious.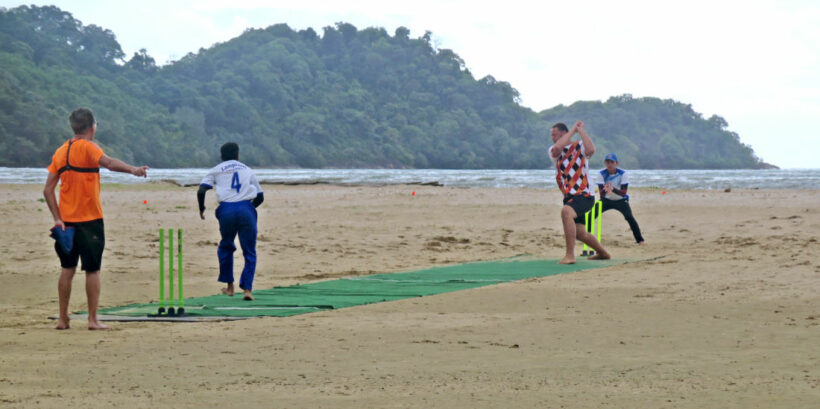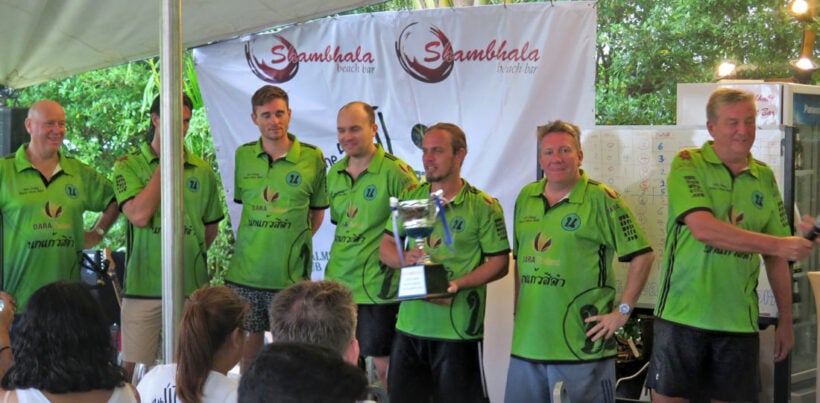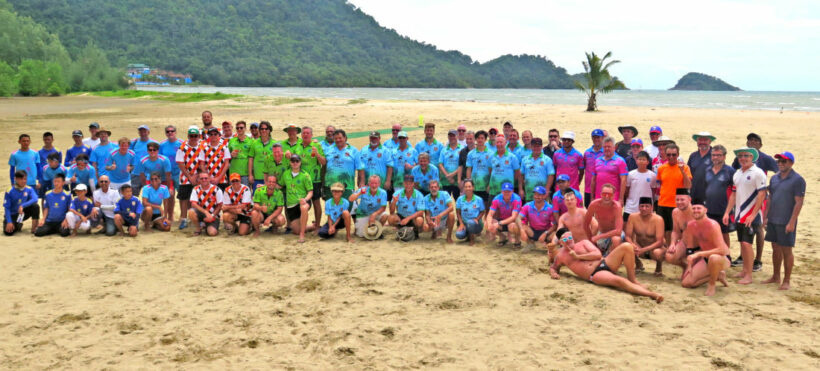 Keep in contact with The Thaiger by following our
Facebook page
.
Leclerc takes Singapore GP pole, Hamilton shares front row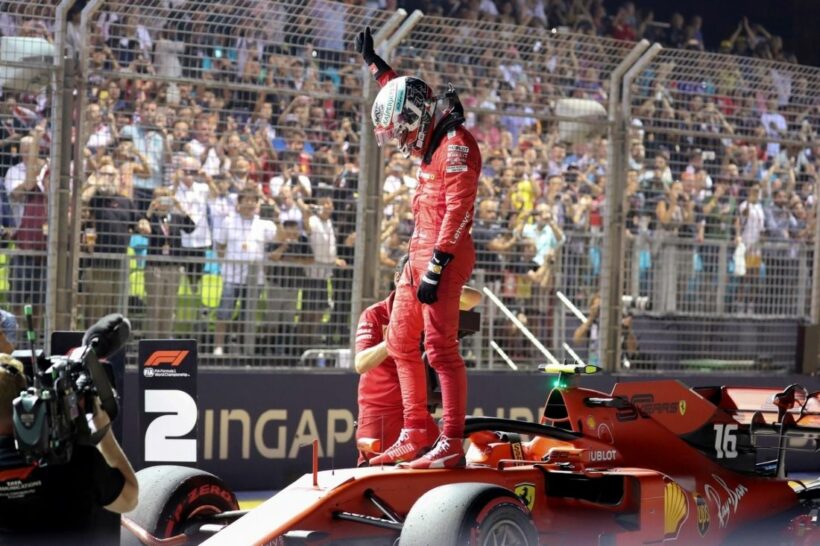 PHOTO: Charles Leclerc on top after grabbing in pole position – Reuters
"Lewis Hamilton admits he is surprised to be next to a Ferrari on the grid after qualifying for the Singapore Grand Prix alongside pole-winner Charles Leclerc."
Championship leader Hamilton was able to do little to prevent Ferrari's Leclerc from claiming consecutive victories in Spa and Monza in the last two GPs but the Italian outfit were given little chance of gaining a third straight win at the technical 23-turn Marina Bay Street Circuit on Sunday.
Hamilton arrived in Singapore expecting to fight Red Bull's Max Verstappen for victory but 21 year old Leclerc put himself in contention for a sensational hat-trick of GP wins with a stunning 1:36.217 second lap to edge out Hamilton by 0.191s, with the Monegasque's teammate Sebastian Vettel in third.
"We came into the weekend knowing we would have a fight with the Red Bulls, especially knowing that the Ferraris had not been that strong at tracks with high downforce," Hamilton told reporters at a circuit where he has tasted victory on four occasions.
"I still like how close it was for us all today and hopefully that puts us in good stead for a fight tomorrow."
Hamilton, who has won eight times already this season and is on course for a sixth world title, was disappointed Mercedes were unable to convert their superior performance from Friday practice into a pole position a day later.
"Yesterday was a much smoother day for me and today I just felt we lost performance and everyone else improved,' he added.
"The first run in the final qualifying session didn't feel so good, (we were) a second behind and looking like quite a leap was needed to catch them up, but I just managed to pull some time back on that last clean run, but that slow first sector is where it was lost.
With seven rounds remaining, Hamilton leads the title race by 63 points from his Mercedes team mate Valtteri Bottas with Verstappen in third, 99 points adrift, and Leclerc and Vettel in fourth and fifth respectively more than 100 points behind.
SOURCE: Agence France-Presse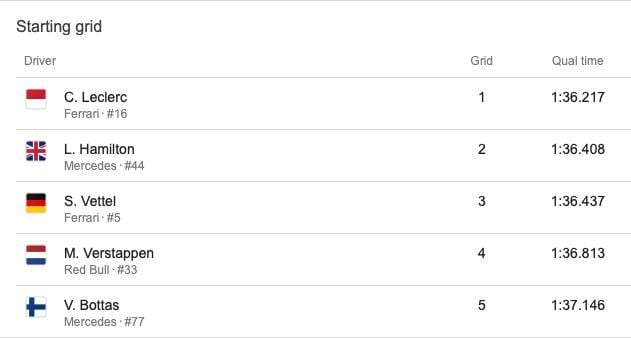 Keep in contact with The Thaiger by following our
Facebook page
.
The youth are revolting. 'Millions' protest in kid-power global climate strike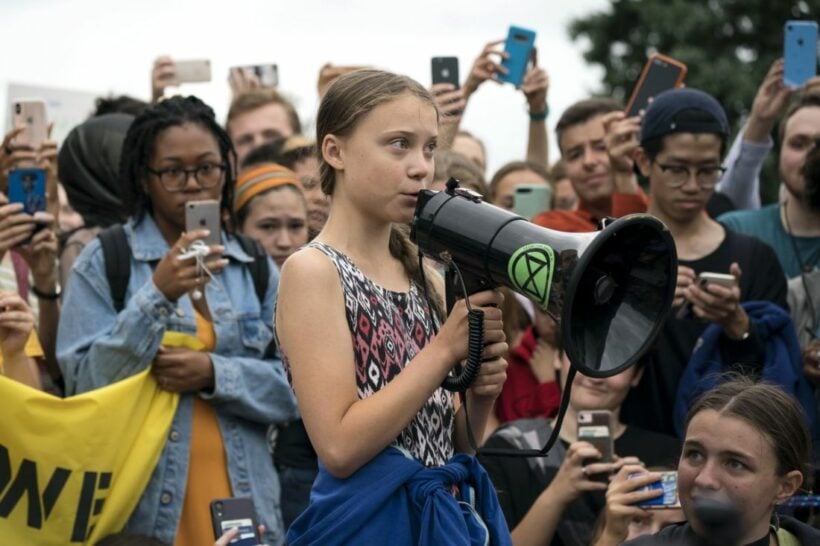 "We are the future and we deserve better," 12 year old Lilly Satidtanasarn, known as "Thailand's Greta" for her campaign against plastic bags in malls.
Masses of children skipped school to join a global strike against climate change that teen activist Greta Thunberg said was "only the beginning," ahead of a UN youth summit she will participate in Saturday.
Some four million people filled city streets around the world, according to organisers, in what was billed as the biggest ever protest against the threat posed to the planet by rising temperatures.
Youngsters and adults alike chanted slogans and waved placards in demonstrations that started in Asia and the Pacific, spread across Africa, Europe and Latin America, before culminating in the US where Thunberg rallied.
"Change is coming whether they like it or not," said Thunberg, hitting out at skeptics as she wrapped up the massive day of action in New York, where she said that 250,000 protested.
Strike organisers 350.org said Friday's rallies were the start of 5,800 protests across 163 countries over the next week. From Berlin to Boston, Kampala to Kiribati, Seoul to Sao Paulo, protesters brandished signs with slogans including "There is no planet B" and "Make The Earth Great Again."
'Safe future'
In New York's Battery Park, tens of thousands of supporters gave Thunberg a rockstar reception, chanting her name as she called on leaders to act now to curb gas emissions.
"Why should we study for a future that is being taken away from us?" She asked. "We demand a safe future. Is that really too much to ask?"
On Monday, UN Secretary General Antonio Guterres has convened a Climate Action Summit where more than 60 world leaders will take to the podium to present greenhouse gas emissions reduction goals.
Events began yesterday in the deluge-threatened Pacific Islands of Vanuatu, the Solomons and Kiribati, where children chanted: "We are not sinking, we are fighting."
The defiance reverberated across the globe as kids closed their textbooks in a collective call to action.
"We are the future and we deserve better," 12 year old Lilly Satidtanasarn, known as "Thailand's Greta" for her campaign against plastic bags in malls, told AFP in Bangkok.
School children rallied in India while thousands protested in the Philippines, which experts say faces threats from rising sea levels and increasingly violent storms.
About 200 marched in Ghana's capital Accra, where some 44% of the country's population has not heard of climate change, according to a study by Afrobarometer.
"Developing countries like Ghana are the most affected. We don't have the resources to adapt to climate change," said 26 year old protest organiser Ellen Lindsey Awuku.
In Slovakia, five-year-old Teo asked a crowd of 500 "not to cut down forests, and reduce garbage production, and not to use so many petrol-fuelled cars."
'Day of the Dead'
German Chancellor Angela Merkel used Friday to pledge at least 100 billion euros by 2030 to tackle emissions in the energy and industrial sectors, boost zero tailpipe emission electric vehicles, and get passengers out of planes and onto trains.
Several thousand protested in Brazil, where banners slammed President Jair Bolsonaro over recent devastating fires in the Amazon rainforest.
And in Mexico City, protesters wore wrestling masks and skeleton costumes associated with the country's Day of the Dead celebrations.
Organizers said more than 300,000 children, parents and supporters rallied in Australia alone.
Australia has been struck in recent years by droughts, more intense bushfires, devastating floods and the blanching of the Great Barrier Reef – phenomena experts have blamed on a changing climate.
The protests also highlighted resistance from climate change skeptics.
"The facts are, there is no link between climate change and drought, polar bears are increasing in number," said Australian ruling coalition parliamentarian Craig Kelly Thursday.
Businesses taking action
Businesses also backed the protests.
Amazon chief Jeff Bezos has pledged to make the US tech giant carbon neutral by 2040 and encouraged other firms to do likewise.
A landmark UN report to be unveiled next week will warn global warming and pollution are ravaging Earth's oceans and icy regions in ways that could unleash misery on a global scale.
Speaking to reporters Friday, Guterres acknowledged Monday's summit would not solve everything.
"My main objective is to make as much noise as I can, and to do as much as I can to support as many actors involved in this as I can, especially in relationship with the youth," he said.
SOURCE: Agence France-Presse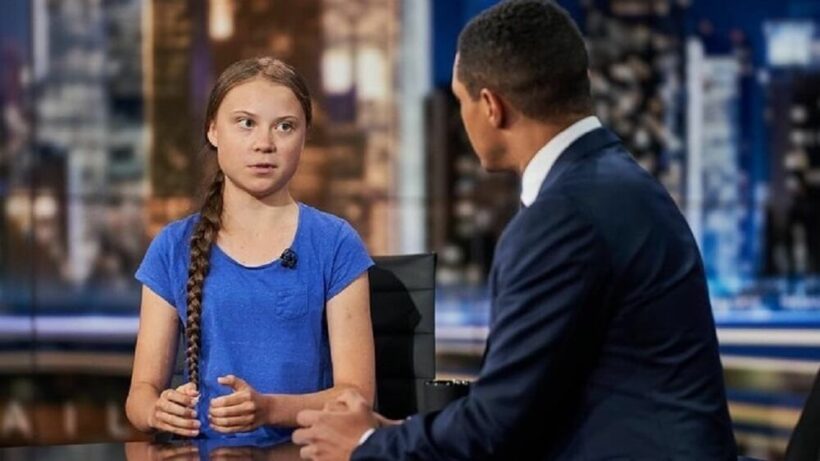 PHOTO: livekindly.co
Keep in contact with The Thaiger by following our
Facebook page
.
Phuket university's safe-sex campaign attracts 390 volunteers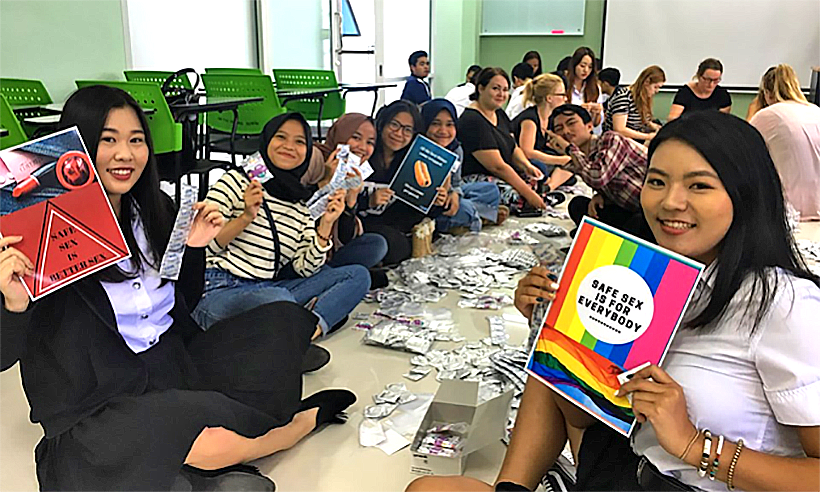 Yesterday, saw the return of Prince of Songkhla University's Safe Sex Campaign. Now in its third year, some 390 PSU students turned up to support the campaign by making safe sex packs, which are then distributed free to bars in Patong. The safe sex packs include a condom and lubricant.
It was the biggest turn-out of students since this corporate social responsibility program began 3 years ago. It was supported by students from all over the world, including many students studying the University's intercultural communications course. 
Carex, the company who very kindly donate the condoms, shipped 60,000 condoms to PSU for the big day yesterday. Students then worked together to put the condoms together with lubricant and information on HIV testing, into packs for distribution. In the past this activity has always been well attended but yesterday saw the highest number of students taking part.
A whopping 40,000 safe sex pack were completed with 2 hours as 6 rooms on the campus were taken over as the students kept turning up to be involved.
The organisers would like to thank the PSU students for helping promote safer sex on the island of Phuket.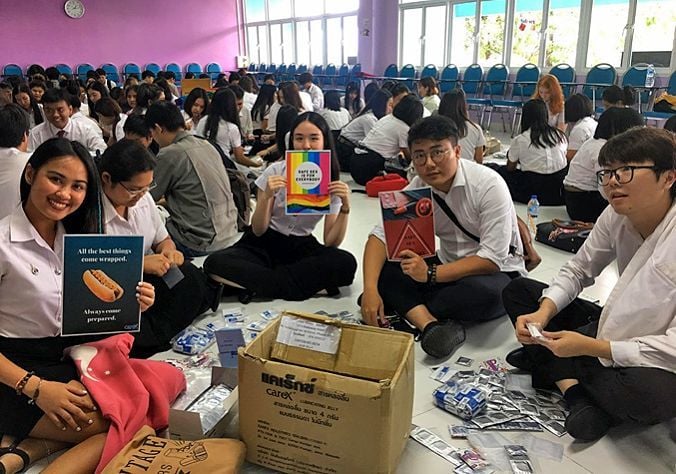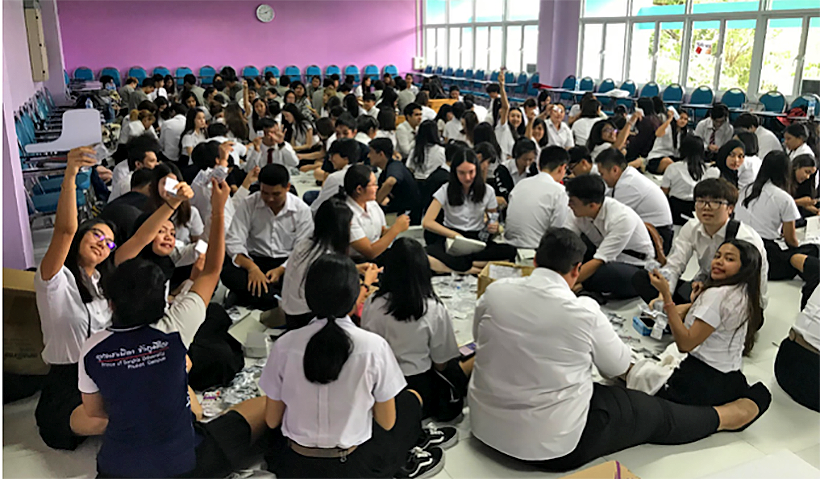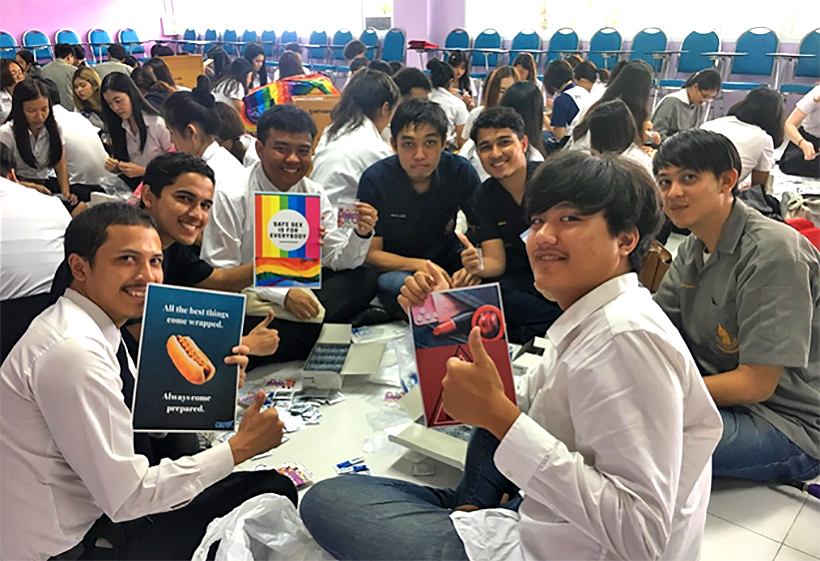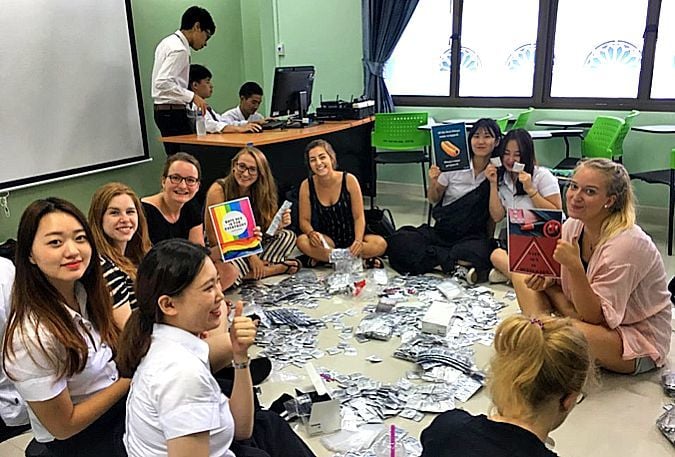 Keep in contact with The Thaiger by following our
Facebook page
.