Leonardo's Instagram post draws attention to Thailand's dugongs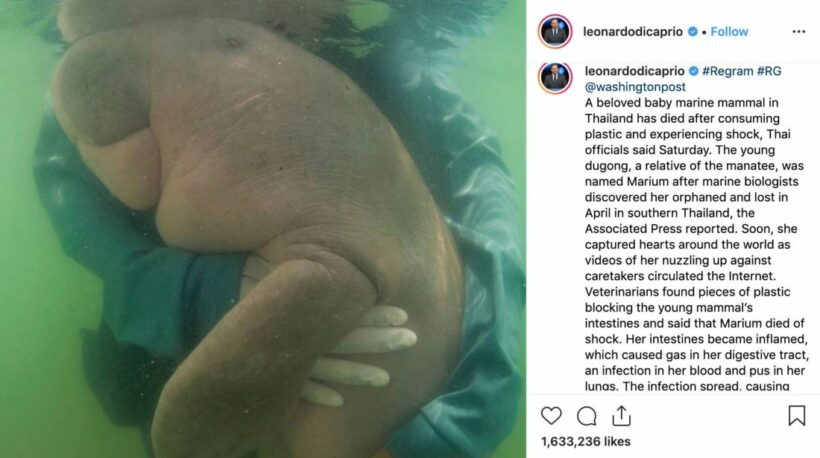 Hollywood star, environmentalist and Instagrammer, Leonardo DiCaprio, has posted the story of Marium the baby dugong in Thailand who died after ingesting plastic.
"A beloved baby marine mammal in Thailand has died after consuming plastic and experiencing shock," he wrote in his instagram post, referring to Thai officials' announcement on Saturday of the death of the dugong.
"The young dugong, a relative of the manatee, was named Mariam after marine biologists discovered her orphaned and lost in April in southern Thailand," he added quoting an AP news report.
"Soon, she captured hearts around the world as a video of her nuzzling up against her caretakers circulated on the Internet."
By this morning the post had drawn about 1.6 million likes and 17,000 comments.
Local news media in Thailand covered the story of Marium and Yamil, two baby dugongs that were unable to be saved, whilst many others have washed up on coastal beaches over the past year.
The Andaman Coast, home to Phuket, Krabi, Koh Phi Phi, Koh Lanta and many other tropical tourist magnets, is severely contaminated by plastic waste. The celebrity's post will help draw attention to the coastal region's environmental challenges. The Andaman coastline runs from Ranong down to Trang and Satun near the Malaysian border.
Meanwhile, Earth Alliance, an organisation to combat climate change and biodiversity loss, launched last week by Leonardo DiCaprio, businesswoman and philanthropist Laurene Powell Jobs and investor and philanthropist Brian Sheth. Since launching in 1998, the Leonardo DiCaprio Foundation has provided more than $100 million in grants to projects both at sea and across all seven continents.
Keep in contact with The Thaiger by following our
Facebook page
.
Rescuers remove 4 metre python from Chon Buri car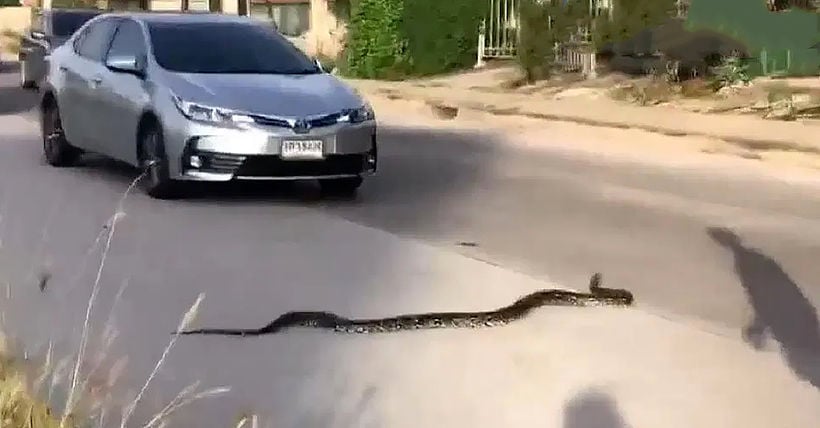 A 4 metre long python has been carefully extracted from a car in Chon Buri's central city district. It took rescue workers around 2 hours to locate and remove the reluctant reptile. Earlier, the snake was spotted by an unnamed local motorist, who stopped traffic to let the python safely cross Bypass Road in the Huay Kapi area. Afterwards it made its way to a car parked at a nearby house and slithered inside. Rescue workers and a professional snake handler were called to remove the animal. Parts of the sedan had to be disassembled to get at the the snake, […]
Thai agriculture minister to take a delegation on a coconut harvesting tour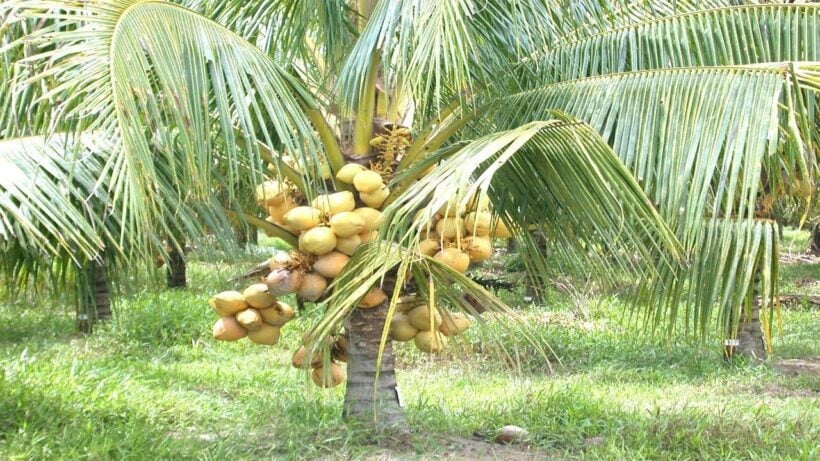 The 'Monkey Business' story has drawn a lot of attention following the People for the Ethical Treatment of Animals' companies about alleged abuse and misuse of trained macaque monkeys to pick Thai coconuts for commercial purposes. After a week of articles, videos and debate about the relative merits of using monkeys to pick coconuts, the Thai Agriculture Minister formerly invited international delegates to come and inspect the situation and "see for themselves". But they're not going to a monkey training farm or an older style 'family' farm that still uses monkeys to pick coconuts. Diplomats from European embassies in Bangkok […]
Activists want Thailand to lead total ban on wildlife trade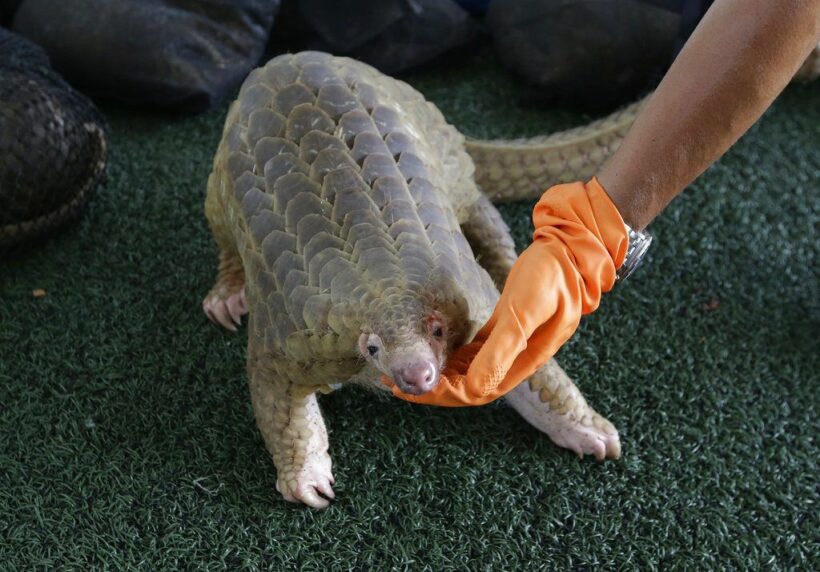 With the Covid-19 pandemic continuing to sweep the globe and the World Health Organisation saying 75% of all emerging infectious diseases are zoonotic, campaigners against wildlife crime say Thailand could become a global leader in helping to prevent pandemics by cracking down on poaching and ceasing to be a gateway for illegal wildlife trade. Activists believe this could help stop animal-to-human disease transmission, saying data show that the majority of emerging diseases usually originate from wet markets – where wild animals are caged and sold for food. At a press conference yesterday to launch the global campaign "Endpandemics", Steven Galster, […]