27 deaths from Dengue fever already this year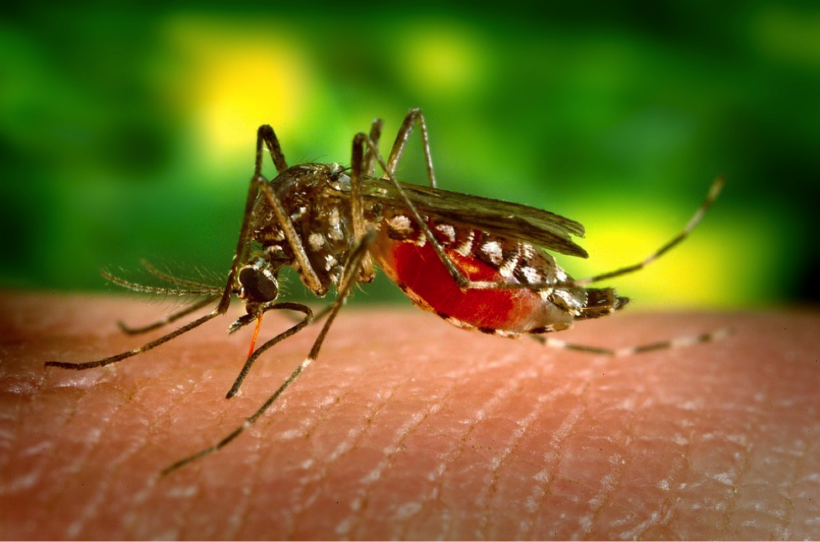 27 people have died from dengue fever in Thailand so far this year. That's the highest fatality rate, year on year, in the past five years.
The Public Health Ministry deputy permanent secretary Dr Supakit Sirilak has reacted by sending an urgent letter to related agencies to prepare measures to prevent more dengue fever deaths.
It's estimated there will be about 10,000 new cases of dengue fever a month or about 95,000 dengue fever patients nationwide for the whole of 2019, according to Supakit in the letter attached with a guideline for patients.
According to the Bureau of Epidemiology, 18,000 people were infected with the dengue fever virus from January 1 to May 1 this year, and 27 of them, including 12 children, had died.
Department of Disease Control director-general Dr Suwannachai Wattanayingcharoenchai says the mosquito-borne infection caused a sudden high fever for 2-5 days along with severe headaches and pain of eye sockets and joint/muscle, loss of appetite, vomiting, coughing without running nose, skin rash, and bleeding from gum.
It also could lead to a shock episode, failure of the blood circulatory system, kidney and liver failure, and even death, he said.
Factors that posed more risks to severe or fatal dengue fever symptoms were the patients' pre-existing chronic ailments such as diabetes, obesity, high blood pressure, heart disease, asthma, alcoholism, thalassemia or a previous history of having dengue fever, he added.
SOURCE: The Nation
Read The Thaiger's Top 10 ways of avoiding dengue HERE.
Keep in contact with The Thaiger by following our
Facebook page
.
Bhumjaithai ministers will quit if herbicides are not banned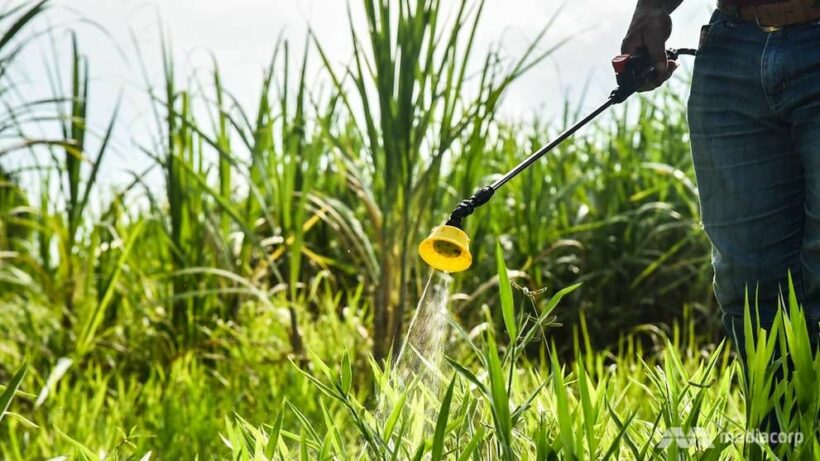 Lobbying is intensifying over a final decision to ban three controversial herbicides – paraquat, glyphosate and chlorpyrifos. With farmers, agri-business interests, environmental activists and social media all putting pressure on decision-makers to sway their decision, the biggest pressure is from within the ruling Palang Pracharat government.
Increasing pressure is now being applied to the National Hazardous Substances Committee after the Deputy PM and Public Health Minister Anutin Charnvirakul announced that the Bhumjaithai party's ministers, who oversee the use of the herbicide trio, will resign if the committee does not decide to completely ban the three toxic chemicals.
The resignation of the minority partys' Ministers from the coalition government would force Palang Pracharat into risky minority government territory where they would lose any no-confidence motion.
Speaking at a hotel in the southern province of Phatthalung, along with six other Bhumjaithai party MPs, Mr. Anutin reaffirmed the party's demand, in the public interest, for a complete ban on the herbicides.
He said that two representatives of the Health ministry, who sit on the NHSC, will definitely vote to ban the substances as he called on the committee for an open vote, instead of a secret ballot as it had done in the past.
According to Thai PBS World, when asked about the opinion of Mr. Chadha Thaiseth, an MP from Uthai Thani province and elder brother of Deputy Agriculture Minister Mananya Thaiseth who suggested the party's ministers overseeing the use of the herbicides must resign if they are not banned, the deputy prime minister said they were ready to quit "if we cannot control those people."
Mr. Anutin did not elaborate which ministers should quit, but it is understood he was referring to himself and Ms. Mananya.
The National Hazardous Substances Committee is yet to set the date for a final decision on the ban.
SOURCE: Thai PBS World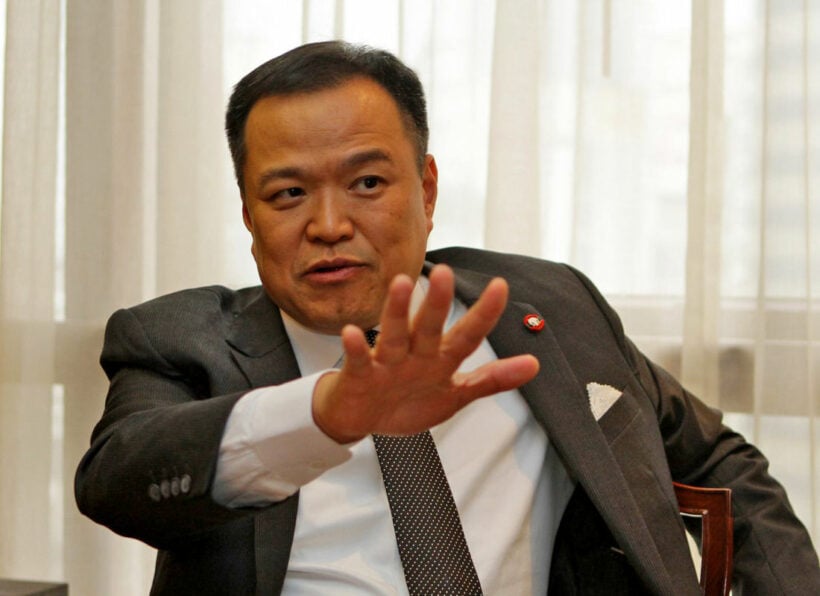 PHOTO: Deputy PM and Public Health Minister Anutin Charnvirakul
Keep in contact with The Thaiger by following our
Facebook page
.
Two more Thai marine parks declared ASEAN heritage parks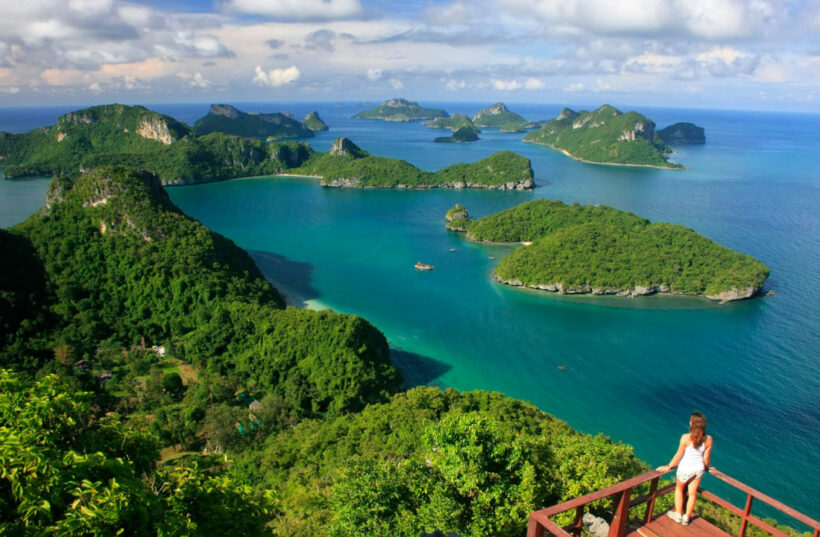 PHOTO: bluestars.info
"The two marine parks are Thailand's fifth and sixth to be given the status of ASEAN heritage parks."
Two southern Thailand national parks have been recognised as ASEAN heritage parks at this week's 15th ASEAN environment ministers' meeting in Siem Reap, Cambodia, the home of Angkor Wat. Warawut Silpa-archa, Thailand's Minister of Natural Resources and Environment, told reporters the ASEAN environment ministers voted unanimously to designate Haad Chao Mai-Koh Libong No-hunting Zone and Ang Thong marine parks as the 45th and 46th ASEAN heritage parks.
Ang Thong Marine Park, west of Koh Samui in the Gulf of Thailand, is made up of 42 islands rich in natural diversity, with a rare orchid, the Venus slipper, only available in the park. It is also the feeding ground for Bryde or Bruda whales, bottlenose dolphins and green turtles.
Haad Chao Mai-Koh Libong No-hunting Zone Marine Park, off Trang province, is rich in sea grass and corals and is the feeding ground of dugongs.
The two marine parks are Thailand's fifth and sixth to be given the status of ASEAN heritage parks after Khao Yai National Park, Tarutao, Surin-Similan-Similan-Phang-nga Bay marine parks and the Kaeng Krachan forest complex in Kanchanaburi province.
To qualify as ASEAN heritage parks, they must meet certain criteria, such as ecological richness, natural characteristics, regional representation, high conservation importance, proper management, cross-boundary characteristics and connectivity between cultures and the ecological system and natural diversity.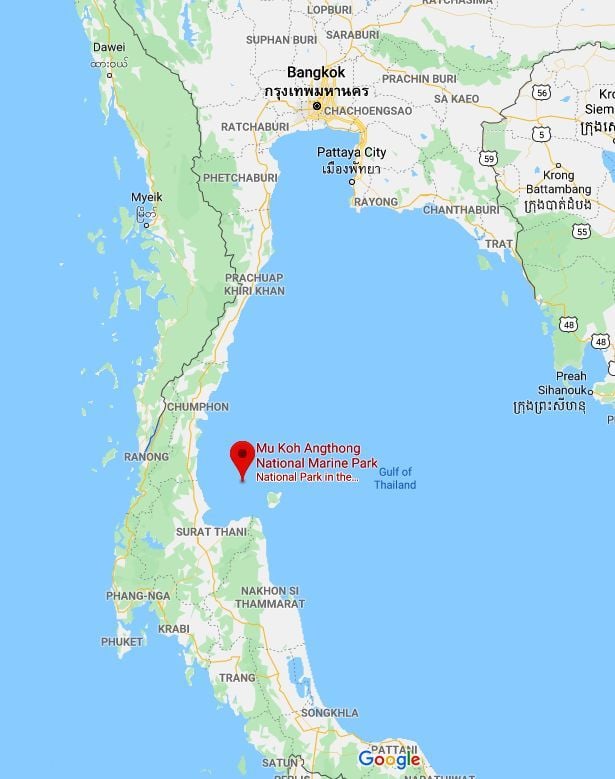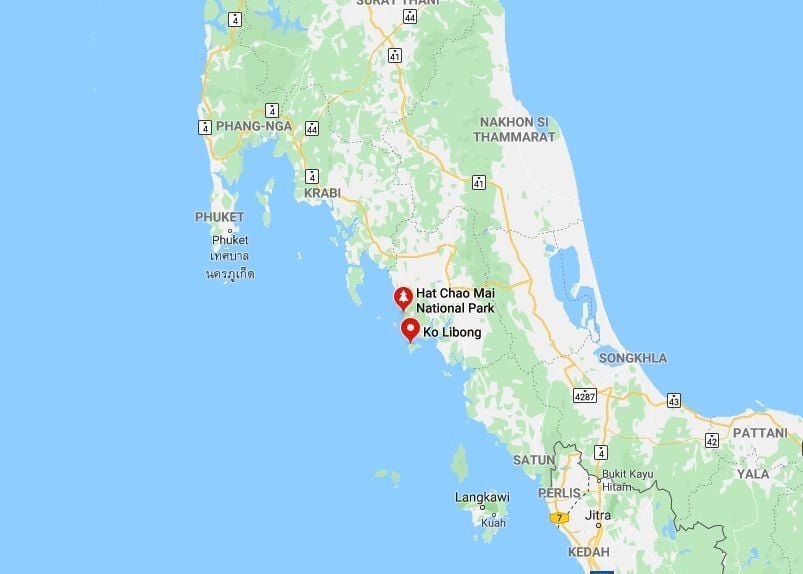 Keep in contact with The Thaiger by following our
Facebook page
.
5 more dead elephants located by drone at Khao Yai park waterfall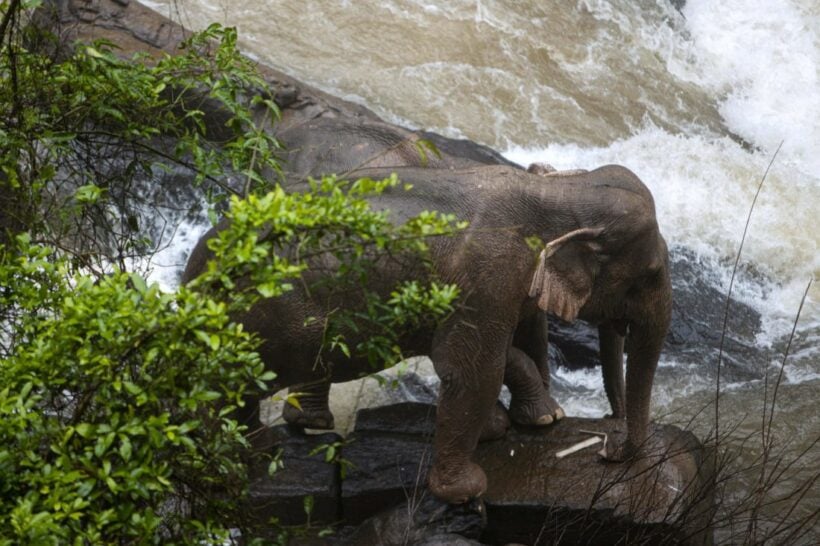 PHOTO: One of the elephants spotted on Saturday before disappearing in the forest – AFP
Sending up the video-enabled drones at the Khao Yai National Park, north east of Bangkok, has spotted five more dead elephants. Park officials are still working out how to retrieve the bodies of six others dead elephants in the same area after a herd stumbled into a ravine over the weekend. The area where the elephants died is in Pak Phli district of Nakhon Nayok.
The five additional elephant bodies were located near the Haew Narok waterfall close to the same location where six others were found on Saturday.
The total of eleven dead elephants is one of the biggest losses to Thailand's wild elephant population in a national park on record. Officials believe all were from the same herd. The reason the herd plunged into the ravine remains unknown although authorities speculated a younger elephant may have strayed and the older elephants were rushing to save it.
Two other elephants, understood to have survived and likely ran into the adjacent forest, are still be located in case they were injured. The drones, that spotted the additional five bodies, are being deployed to help find the missing pachyderm pair.
A huge net, capable of handling weights up to 40 tonne, has been erected further downstream in case the bodies are washed further down the ravine. They are trying to prevent the rotting bodies from polluting the downstream reservoir. Authorities also want to examine the beasts to try and find more clues about the incident.
SOURCE: Bangkok Post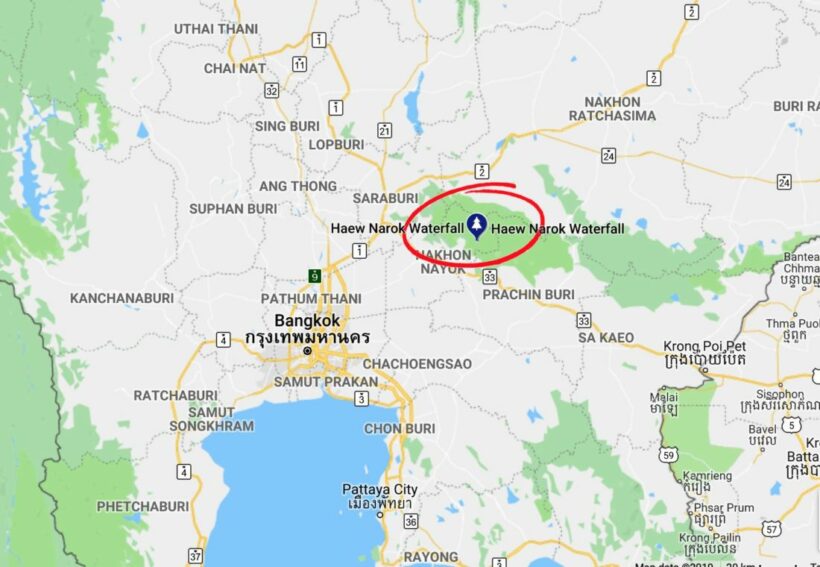 MAP: Google Maps
Keep in contact with The Thaiger by following our
Facebook page
.