Asian stock markets mostly rise on positive news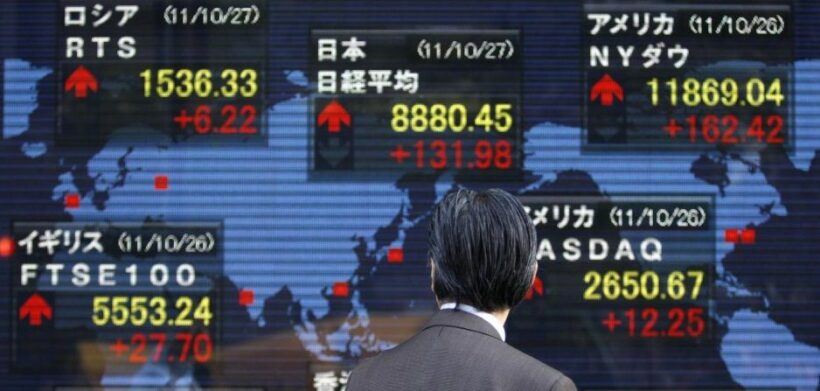 "China announced it would resume trade talks with the US in Washington next month."
Most Asian equities and currencies rallied today, building on the previous day's advance as investors were cheered by a number of positive developments on trade, Hong Kong and Europe.
Markets were already on an upward trajectory after the leader of Hong Kong withdrew a controversial extradition bill that had sparked months of sometimes violent protests in the financial hub.
But the good news kept coming as the day wore on, with news that Italy had formed a new moderate, pro-European government, while British MPs moved closer to passing a law preventing a no-deal Brexit.
Then on Thursday morning, China announced it would resume trade talks with the US in Washington next month. The announcement provided a small sign of progress in the long-running row that has dragged on the global economy and stock markets.
Asian equities were broadly in positive territory, tracking a healthy lead from Wall Street, where the S&P 500 moved to within touching distance of a new record high.
Tokyo ended more than two percent higher and Shanghai jumped 1%, with Sydney 0.9% up.
Seoul gained 0.8%, Singapore 0.3%, and Taipei and Wellington 0.9% each. Manila, Bangkok and Jakarta were also well in positive territory.
However, Hong Kong ended with marginal losses. Having soared almost four percent on Wednesday on the back of Chief Executive Carrie Lam's shock decision to withdraw the bill, profit-takers moved in, while there was also some concern the offer will not be enough to avert more unrest.
SOURCE: Agence France-Presse
Keep in contact with The Thaiger by following our
Facebook page
.
Out of 37 countries, Thailand has the worst pension system, says Bloomberg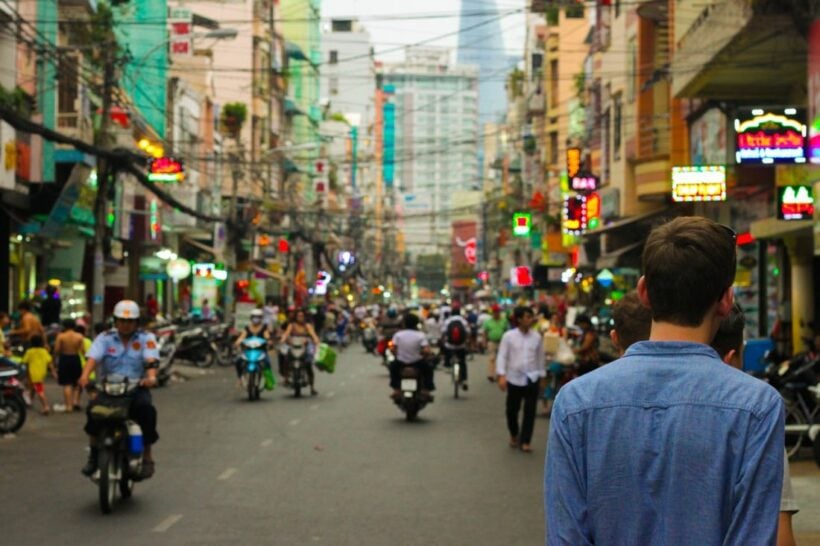 Thai Residents reports that on Sunday, Bloomberg published an article on the world's best pension systems, using information gathered from the 2019 Melbourne Mercer Global Pensions Index.
The survey looked at the pension systems of 37 countries with metrics including employee rights, savings, the number of homeowners, growth of assets, and growth of the economy. The purpose of the analysis was to determine what was needed to improve state pension systems and to gauge the level of confidence citizens had in their state pension system.
The Netherlands and Denmark were found to have the world's best state pensions, with Australia, Finland, Sweden, Norway, Singapore, New Zealand, Canada, and Chile next. Out of all 37 countries, Thailand finished last, with what the report described as an extremely ineffective and ambiguous system.
"Thailand was in the bottom slot and should introduce a minimum level of mandatory retirement savings and increase support for the poorest."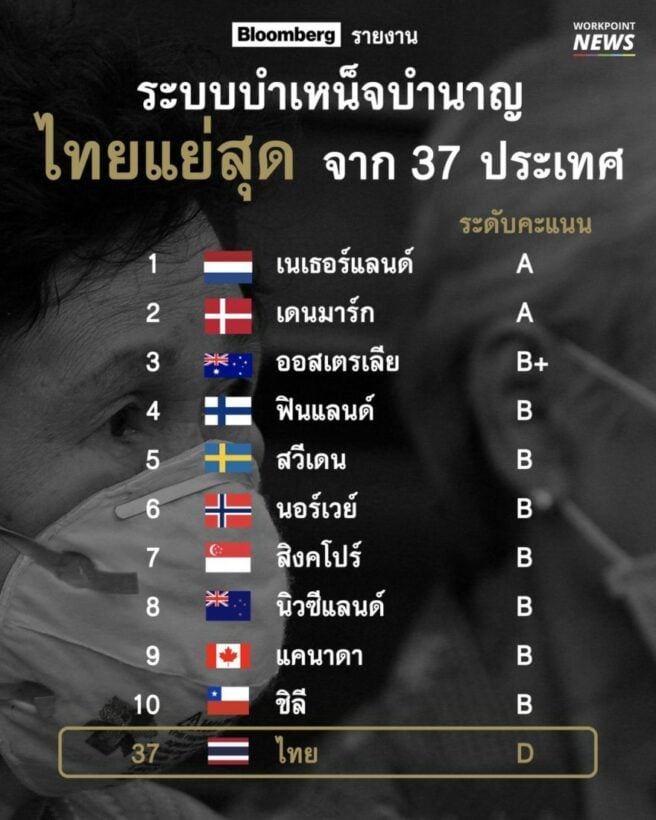 Photo: WorkpointNews
Thai Residents states that only those employed within the government system in Thailand are eligible for a pension based on salary. For most Thai citizens, pension amounts vary from 600 baht to 1,000 baht a month, depending on the recipient's age.
A report carried out by The Securities and Exchange Commission (SEC) advises Thai citizens to have at least 4 million baht saved by the time they retire, but Thai Residents reports that 60% of Thai retirees have less than 1 million baht in savings, with one in three citizens who have reached retirement age are forced to continue working in order to survive.
SOURCE: thairesidents.com
Keep in contact with The Thaiger by following our
Facebook page
.
Tourism Council of Thailand cites Thai baht as biggest challenge to tourism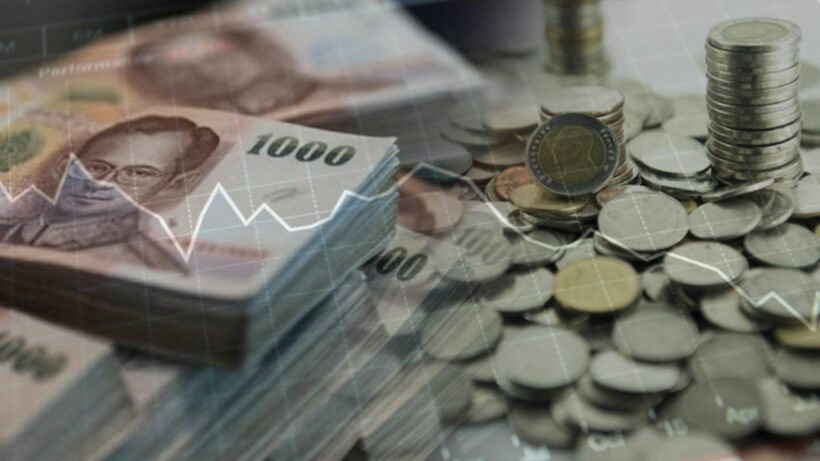 The strong Thai baht is proving to be the biggest obstacle in trying to lure tourists, according to The Tourism Council of Thailand who have had to lower its projection of over 40 million foreign visitors this year down to 39.7 million.
The president of the council says the surging baht is the main reason for the decline.
"It's frightening to see the baht so close to 30 to a dollar. It's the key reason for arrivals and receipts growth being lower than expected."
The country's significant current account surplus is being blamed for the strengthening of the currency and Somchai Amornthum from Krungthai Asset Management (KTAM) says that although the surplus is less than it was last year, it could still strengthen the baht, albeit at a slower rate.
"The baht could break past the 30 per dollar band at some stage next year, but the degree of currency appreciation is not expected to be too strong." KTAM predicts that the baht will be at 31 to the dollar by the end of the year and 30 by the end of next year.
It has outperformed every other Asian currency this year with its strength hurting exporters and the tourism industry. The Bank of Thailand is limited in what measures it can introduce, with the policy interest rate already low, and Somchai says any further policy easing would have limited effect.
SOURCE: chiangraitimes.com
Keep in contact with The Thaiger by following our
Facebook page
.
Airline on brink of collapse, TG president warns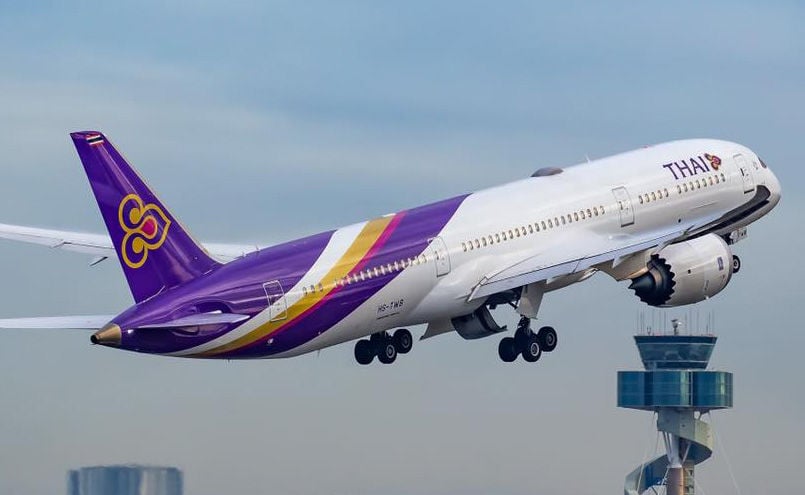 The president of Thai Airways has announced that the national flag carrier is in deep financial trouble and may have to fold unless staff members unite to work harder.
He also said that there may still be time, though not much, to save the company. "Otherwise speculation that THAI is going bankrupt will materialize and there is a chance that we will reach that point," he declared, directly contradicting his claim earlier this month that that the carrier has no liquidity crisis.
In his speech on Tuesday to THAI executives at the company's head office, the president cited fierce competition from low-cost airlines on the northern domestic routes, which used to generate a third of the airline's revenue, adding that European routes have been affected by the strong baht and Brexit.
The airline is facing disruption to operations from cut-throat competition in the aviation industry in general, the closing of air space by some countries, high fuel costs and the grounding of a number of planes while they undergo major maintenance.
He disclosed that the airline ran up about six billion baht in losses in the first half of this year, which is expected to increase to 10 billion baht by year's end. Losses for the past five years total 36 billion baht.
Although the situation looks grim, he said that he would not give up and urged staff members to "wake up and do something in earnest, because there is little time left for us. There is no more comfort zone, and we will all be dead if the ship sinks."
SOURCE: thaipbsworld.com
Keep in contact with The Thaiger by following our
Facebook page
.