Half a tonne of high grade compressed marijuana seized in NE Thailand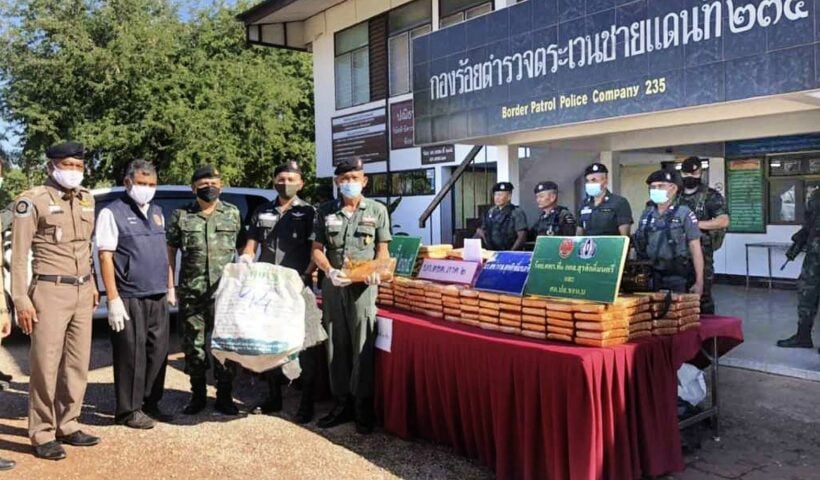 Thai border police have seized half a tonne of "high grade marijuana" Nakhon Phanom province, north east Thailand, saying a border with Laos and the Mekong River. Border police announced the seizure of 480 kilograms of marijuana during a routine roadside search.
Police announced that a car was intercepted on a road near Ban Khok Sawang. The driver, 25 year old Likit Boonprasit, was detained and later arrested by border police. They found 12 fertiliser sacks containing a total of 480 1 kilogram "bricks" of of compressed marijuana. He told police the marijuana had been smuggled across the Mekong in long-tail boats from Laos.
The man said he would be paid 30,000 baht to deliver the marijuana to Bangkok. He told police that the delivery instructions were to be sent to him as he headed towards Bangkok. More than 3 tonnes of high grade marijuana out of Laos have been seized in Nakhon Phanom over the past month.
At the end of last month border patrol police seized 556,000 methamphetamine pills and 138 kilograms of compressed marijuana in That Phanom district, on a road near the Mekong River.
In that case police found 3 fertiliser sacks containing 556,000 methamphetamine pills and 4 other sacks with 138 kilograms of Marijuana in an abandoned vehicle.
Police claim the pills were being transported from Myanmar, via Last, as an alternative route into Thailand. They were then smuggled by long boat across the Mekong river.
Road routes and traditional border crossing have been closed as a result of the Coronavirus pandemic.
SOURCE: Chiang Rai Times
Keep in contact with The Thaiger by following our Facebook page.
Never miss out on future posts by following The Thaiger.
Police arrest "prime suspect" in narcotics case linked to 10 deaths in Bangkok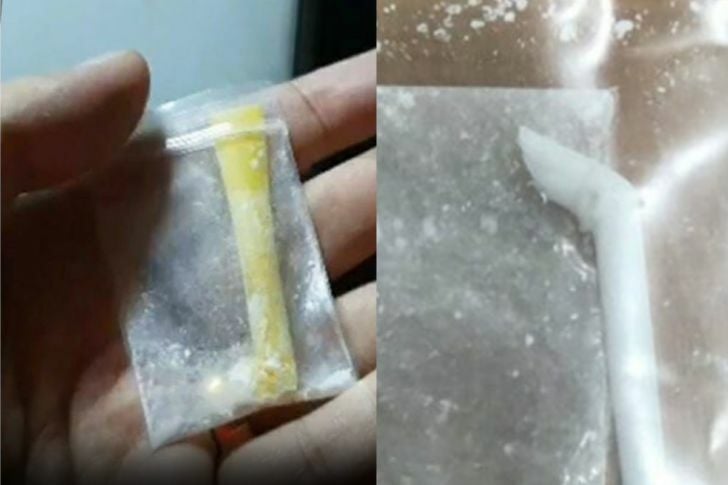 Police arrested a man suspected of producing the ketamine-based illicit drug cocktail linked to at least 10 deaths in Bangkok. The man is also charged with attempted murder for allegedly shooting his girlfriend at a Bangkok apartment.
Police say 33 year old Amornthep Chalermwat, known as Un Kiwi, fled Bangkok and was arrested in Phetchabun's Bung Sam Phan district yesterday. Police say Amornthep admitted to distributing the "K powdered milk" drug cocktail, but denies producing it.
Police say the narcotic cocktail contains ketamine, methamphetamine, heroin and the sedative diazepam. The mix of drugs is suspected to have caused 10 deaths in Bangkok. Others have been hospitalised after taking the drugs and losing consciousness.
On January 9, Thachchai Klomjai fell unconscious and his boyfriend died after taking "K powdered milk." When Thachchai regained consciousness, he told police he bought the drugs from Amornthep and another suspect, Kulnathee Iemloy, who Amornthep also named and has been arrested. Bangkok police reported 6 other deaths that weekend from "K powdered milk."
The next day, Amornthep allegedly shot his girlfriend, Apisa Hongkhan, at an apartment in the Chatuchak area. Police say the woman was severely wounded. They suspect Amornthep shot is girlfriend out of suspicion that she had stolen the drug cocktail and sold it.
Some small-scale dealers have been arrested over the past week, but police say they believe Amornthep is a prime suspect.
SOURCE: Bangkok Post
Keep in contact with The Thaiger by following our Facebook page.
Never miss out on future posts by following The Thaiger.
Central Thailand hospital adding marijuana to spa restaurant menu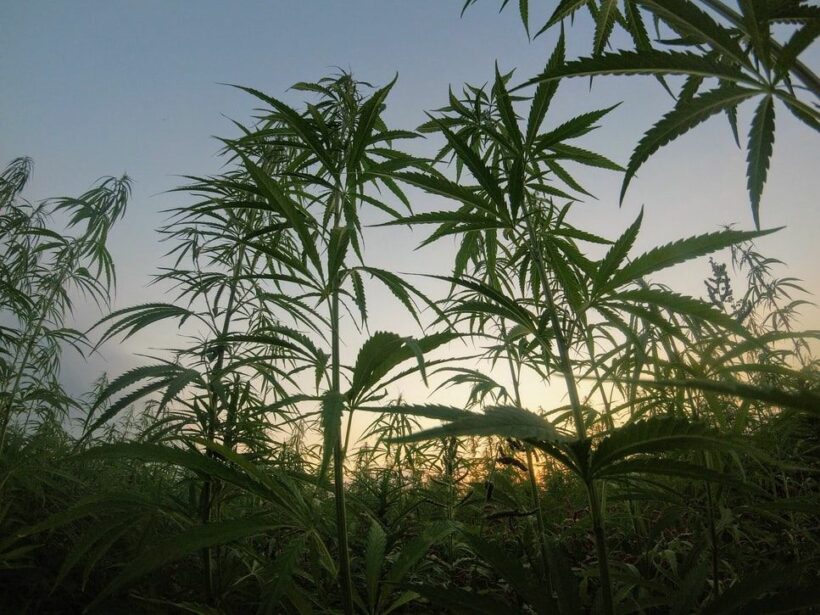 A little sprinkle here and a little sprinkle there. A central Thailand hospital is now adding marijuana to its spa restaurant menu. The Chaophraya Abhaibhubejhr Hospital, in Prachin Buri, is serving patients dishes and drinks prepared with marijuana leaves at its Abhaibhubejhr Day Spa.
Asala Chaocharoen, one of the hospital's pharmacists, says they have developed the menu item using 1 to 2 leaves from marijuana in a dish. Such dishes are putting customers in "a relaxing and good mood", along with helping them sleep and eat better. But she is warning those who over-medicate as she says 5 to 8 leaves a day should be the maximum to consume as it can cause drowsiness.
The marijuana dishes were rolled out on January 6 and included spicy soup, fried fish and fried bread with a minced pork spread. To wash it all down, customers could drink marijuana soda. The legality of the additives may indeed attract the attention of authorities in coming days.
Elsewhere in Thailand, Maejo University is gearing up to join the world market for marijuana by testing different strains and levels of THC and CBD, the psychoactive and medicinal elements in marijuana. It recently witnessed the handing over of 400 kilograms of the plant to Khon Kaen University's pharmaceutical facility to be processed and developed into medicine under a project that started in 2019.
The value of the 400 tonne of marijuana is 16 million baht, or 40,000 baht per kilogram. A Maejo University spokesperson says that Thai marijuana used to be among the best in the world, but as other countries legalised the plant, Thailand needs to catch up to the market.
The university is also developing many strains of marijuana that feature a lower amount of THC as well as hemp with the hope of being able to develop more medical products in the future. As of now, rules and regulations are still being finalised, but those in the public who want to join the industry won't have to wait much longer.
SOURCE: Chiang Rai Times
NOTE: The Thaiger does not condone or encourage the intake or smoking of marijuana under any circumstances, except under medical supervision.
Keep in contact with The Thaiger by following our Facebook page.
Never miss out on future posts by following The Thaiger.
Thai laws, how to stay out of jail in Thailand | VIDEO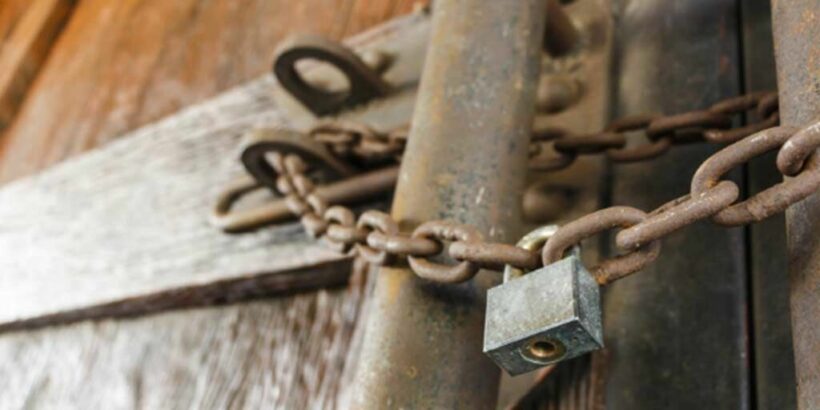 Thailand has plenty of laws, some of them applied more vigorously than others. Some not at all. But the ones they do apply can get you in hot water or, at worst, in a Thai jail. You DON'T want to end up there. Here's a few of the better and lesser known Thai laws from The Thaiger. You can visit all our videos, and subscribe to our channel HERE.
https://www.youtube.com/c/TheThaiger/videos
Keep in contact with The Thaiger by following our Facebook page.
Never miss out on future posts by following The Thaiger.