7 swim to Koh Samui to raise marine ecosystem awareness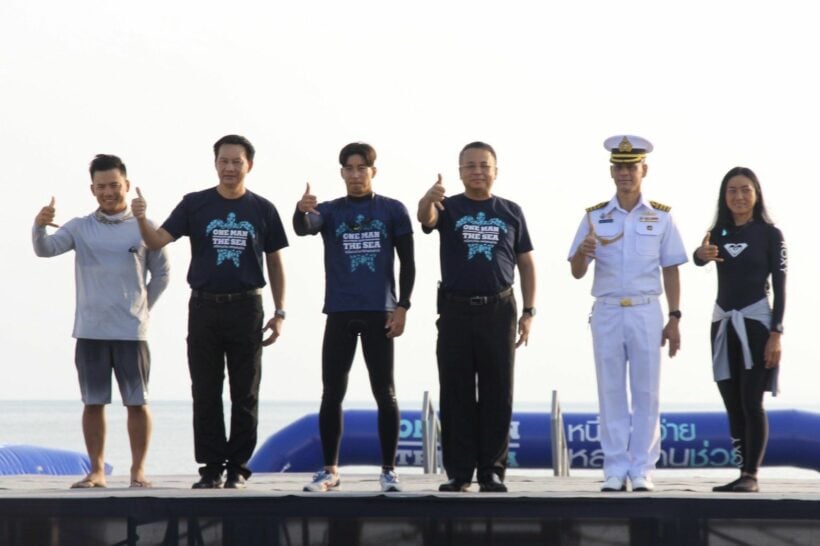 7 swimmers, including actor and singer Phakhin Khamwilaisak, also know as "Tono", have begun an 82 kilometre ocean swim for over 18 days to increase public awareness of the environment and the need to reserve Thailand's marine ecosystem. They are also raising money to buy equipment for hospitals treating rare marine animals. The campaign hopes to raise the profile of the marine ecosystem and the need to stop dumping garbage into the sea.
Director general Sophon Thongdee of 'Marine and Coastal Resources Department' together with Surat Thani's governor Witchawut Jinto launched the campaign "One Man & the Sea'' at a pier in Don Sak district of Surat Thani province this morning.
The 7 swimmers will stroke their way from the pier to Koh Samui, stopping at 12 small islands, for a distance of 82 kilometres over 18 days, predicting to complete the marathon on April 5.
The 7-member team, who are accompanied by a coach, swam to Koh Likan, a distance of 1.6 kilometres, this morning. It took them about 30 minutes. Today they are heading to Koh Nok Phao, another 6.4 kilometres, and staying overnight on the island, having completed a total of 8 kilometres for the day.
33 year old Tono says he was excited to see pink dolphins swimming near Don Sak pier.
"Almost 100 celebrities had earlier shown interest in taking part, in the mass swimming campaign was cancelled due to the spread of the coronavirus."
On the first day of the campaign, donations quickly reached 1.3 million baht.
Keep updated on the official campaign Facebook page, "Kebruk". Donations can be made via internet banking or by SMS.
SOURCE: Bangkok Post
ถ่ายทอดสดการว่ายน้ำในช่วงที่สองระยะทาง 2 กิโลเมตรของโครงการ One Man And The Seaหนึ่งคนว่ายหลายคนช่วยสดจากเกาะริกัน จ.สุราษฏร์ธานี.ช่องทางบริจาคธนาคารไทยพาณิชย์ สาขาเพชรบุรีตัดใหม่ชื่อบัญชี: มูลนิธิบูรณะชนบทแห่งประเทศไทยฯ เพื่อโครงการเทใจ (TRRM FOR TAEJAI)เลขบัญชี 043-272833-9…บริจาคผ่านทาง SMS ครั้งละ 25 บาท พิมพ์ T แล้วส่งมาที่ 4545909 (ทุกเครือข่าย)…ติดตามการถ่ายทอดสดตลอดกิจกรรมได้ทาง เฟซบุ๊กแฟนเพจ "เก็บรักษ์" รวมถึงข้อมูลของโครงการได้ทางอินสตาแกรม "เก็บรักษ์"…#OneManAndTheSea#หนึ่งคนว่ายหลายคนช่วย#โลกเปลี่ยนได้เริ่มที่เรา

Posted by เก็บรักษ์ on Thursday, March 19, 2020
Keep in contact with The Thaiger by following our
Facebook page
.
Never miss out on future posts by
following The Thaiger
.
Tigers and tiger body parts seized from Thai zoo investigated for alleged wildlife smuggling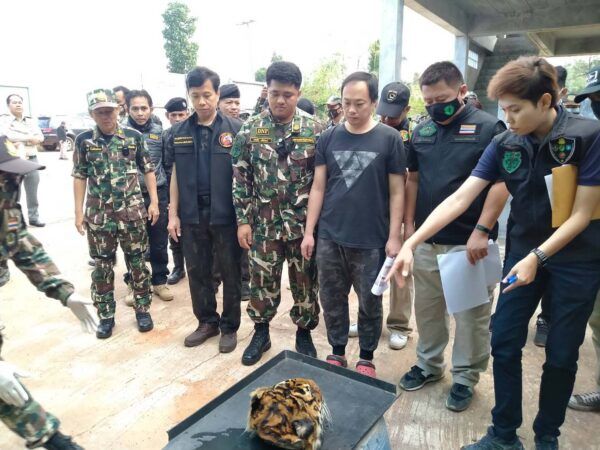 In a crackdown on suspected wildlife trafficking, the Department of National Parks, Wildlife and Plant Conservation seized 5 tigers from a private zoo in the Isaan province Mukdahan. DNA tests confirmed that at least 3 of the 5 tiger cubs are not related to the tigers in the Mudka Tiger Park & Farm, leading officials to believe the wildcats were smuggled in, according to DNP director general Prakit Wongsriwattanakul.
Thai media reports say that some of the tigers seized were not alive and photos of a severed tiger head apparently have been posted by various Thai news websites.
Apparently, this isn't the first time the Mukda Tiger Park & Farm has been investigated. In January 2018, DNP officials seized protected species from the park including red pandas, grey-shanked douc monkeys and elongated tortoises.
Officials are conducting DNA tests on another 20 tigers and the results will be released by the end of the month. If found guilty of wildlife smuggling, the park owner could face up to 5 years in prison.
SOURCE: Bangkok Post
Catch up with the latest daily "Thailand News Today" here on The Thaiger.
Keep in contact with The Thaiger by following our
Facebook page
.
Never miss out on future posts by
following The Thaiger
.
Protected hornbill dies from gunshot wound, 2 suspects in police custody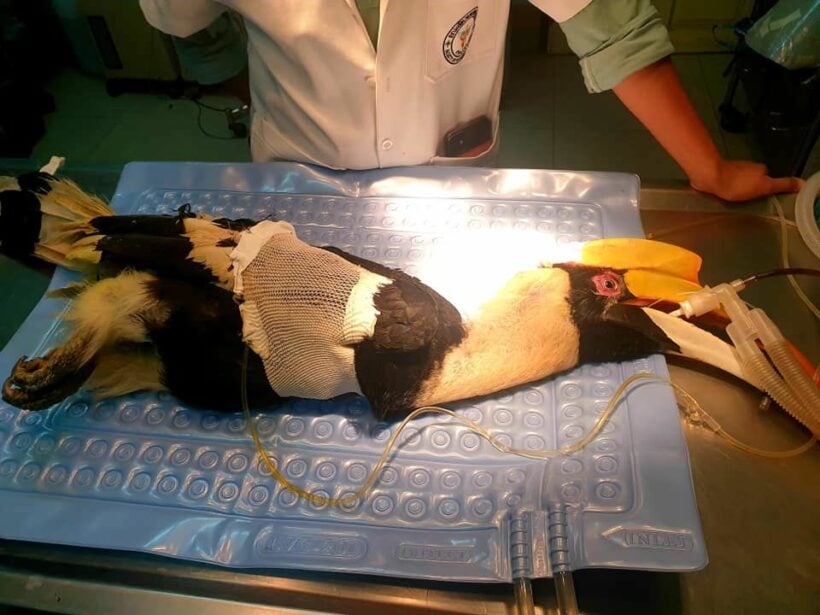 A protected great hornbill died after 5 days of medical treatment for a severe gunshot wound. 2 suspects are now in police custody and officers have seized a .22 calibre rifle, according to Thai PBS.
A tourist found the injured bird near the Khiriphet waterfall on Koh Chang. The hornbill, known in Thai as a nok nguek, was treated at the Nuern Plub Wan animal hospital in Chon Buri. The great hornbill's condition rapidly deteriorated and veterinarian Phadet Siriadmrong says the hornbill suffered brain stem death.
The great hornbill, Buceros Bicornis, is listed as a vulnerable species on the International Union for Conservation of Nature's Red List of Threatened Species. According to IUCN, hunting his substantial threat to the great hornbill.
Hunting poses a substantial threat to the species. Because of its predictable behaviour when regularly visiting the same feeding sites, it is easily targeted by local hunters.
Thailand's Wild Animal Reservation and Protection Act prohibits hunting preserved or protected wild animals. Those found guilty of violating the act could face up to 4 years in prison and a fine up 40,000 baht.
SOURCES: Thai PBS | Bangkok Post | IUCN
Keep in contact with The Thaiger by following our
Facebook page
.
Never miss out on future posts by
following The Thaiger
.
Rare sighting of an endangered clouded leopard at Isaan mountain range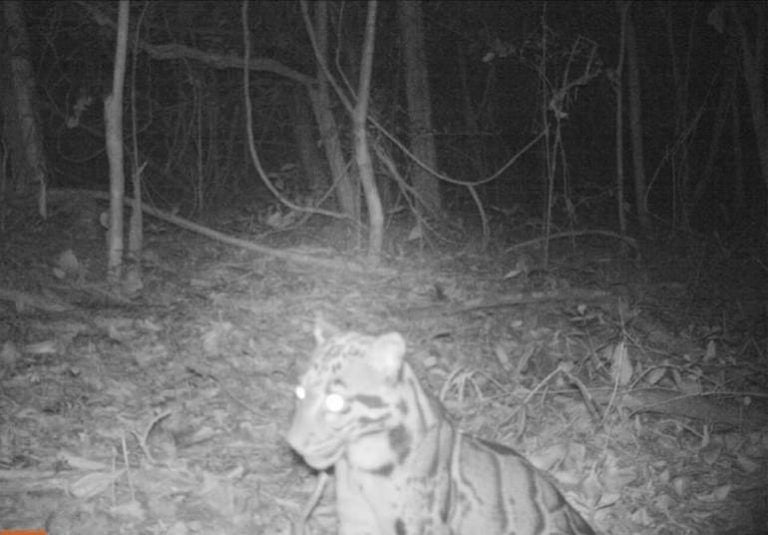 An endangered clouded leopard was spotted at a mountain range in the Isaan province Si Sa Ket. The rare sighting, captured using a camera trap, was the first time in about 20 years the wildcat has been seen in the Phnom Dongrak mountain range which borders Cambodia.
Since the park rangers stepped up patrol against poaching and made efforts to increase food and water sources, more small predators like foxes, dholes and leopard cats have been returning to the area, according to director of a local conservation office Chaiwat Limlikhit-aksorn.
"Today in the Phanom Dong Rak Wildlife Sanctuary there is a clouded leopard, which is a medium sized predator."
Camera traps were set up by local conservation officials from November 1 to 24, capturing footage of the rare clouded leopard. The cameras also filmed hog deer, Asiatic wild dogs, a Malaysian night heron and a leopard.
The clouded leopard is classified as a vulnerable species by the International Union for Conservation of Nature. The organisation says the leopard is hunted for the illegal wildlife, adding that the leopard skins have been seen in market surveys along with bones used for medicines and meat for exotic dishes.
Clouded Leopard exploitation for pelts are well documented in several countries, including the infamous Tachilek market along the Thai–Myanmar border. The frequency of Clouded Leopard parts available at market indicates increased pressure from hunting…However, the trade of cat parts from Myanmar into Thailand has diminished and reaffirms the role of China in the trade of cats out of Myanmar.
Sightings of the clouded leopard have also been reported at the Kaeng Krachan National Park, Huai Kha Khaeng Wildlife Sanctuary, Khao Sok National Park and Khao Yai National Park.
SOURCES: Bangkok Post | IUCN| Thai PBS
Keep in contact with The Thaiger by following our
Facebook page
.
Never miss out on future posts by
following The Thaiger
.