90 day ban on transporting horses to control AHS virus outbreak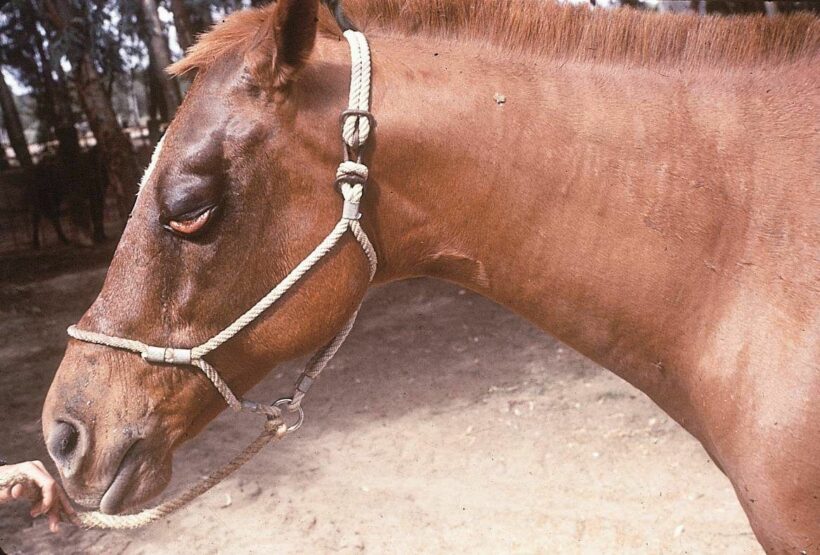 Thailand has issued an order banning the movement of all horses nationwide in an effort to stop the spread of African Horse Sickness , which has already killed more than 200 horses in the kingdom. The Ministry of Agriculture announced the order yesterday, effective for 90 days.
The disease has already killed nearly 200 horses in the country.
A spokesman for the the ministry says the AHS deaths have been reported in 4 provinces including Nakhon Ratchasima, Prachuap Khiri Khan, Chon Buri and Phetchaburi since the outbreak began on March 26.
The ministry's Livestock Department and the National Park, Wildlife and Plant Conservation Department told reporters that they're still investigating the source of the virus.
Horse farm owners are calling on livestock officials to trace the origin of AHS and list it on the Animal Disease Act to pave the way for strict enforcement of animal health regulations. Some farm owners have told the department they suspect zebras imported from Africa are the most likely cause
Many farms have also reportedly threatened a lawsuit against the livestock department for failing to prevent the disease. Officials say they are in the midst of consulting experts for the use of a vaccine to prevent the disease.
SOURCE: Khaosod English | xinhuanet.com
Keep in contact with The Thaiger by following our
Facebook page
.
New scheduled departure times for people leaving Phuket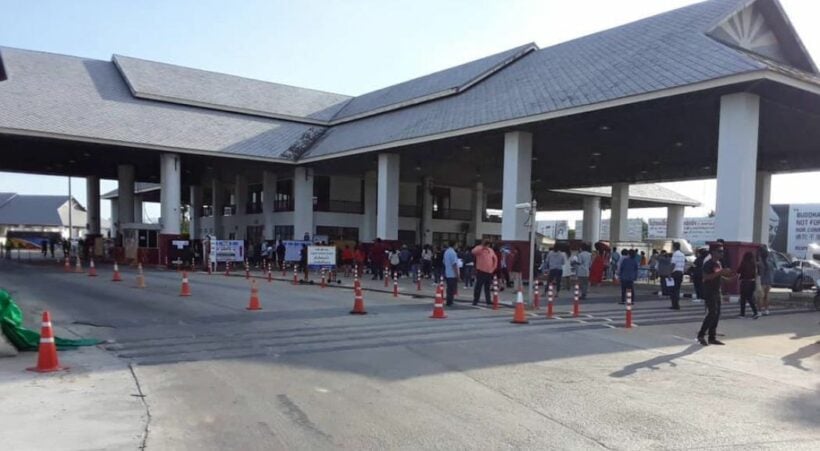 While Phuket officials have allowed tens of thousands of people to leave the island to head back to their home provinces, the Phuket provincial government only allowed Phuket residents to leave the island in their own vehicles on April 30 and May 1, being the 'first round' and 'second round' of the mass exodus.
But on the first day there was traffic jams for kilometres and general chaos around the Tha Chatchai Checkpoint, along with not-very-happy people. Only a few of the total people queueing up managed to leave the island on that first day. Since then the Phuket provincial government has set new guidelines for people who want to leave the island.
The new strategy is a time based queue registration system. Those who wish to leave Phuket must first sign up via a website booking and select a scheduled time. Tha Chatchai Checkpoint, will be open for 700 people to exit every hour starting from 5 am – 8 pm, allowing a total of 10,500 people per day.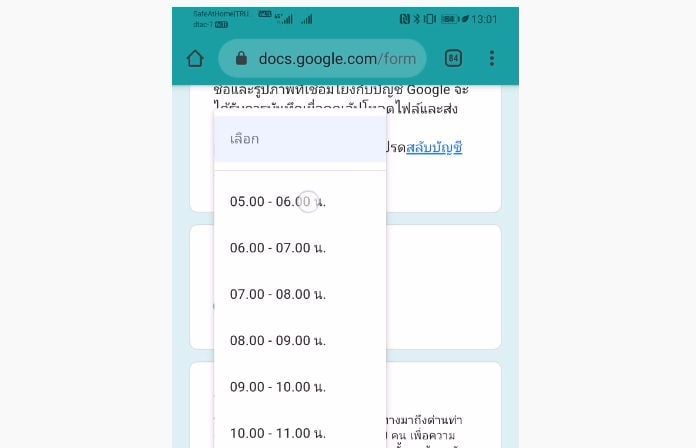 The passengers must also pass the fit-to-travel requirements at the checkpoint. This is done by providing a certificate from the 'provincial administration for Covid-19' which states that travellers are Covid-19 free. Inquires can be made in advance at the Phuket Provincial Police (building 191) or through their Facebook page at '191phuket'.
Buses and vans will also be available for people who have booked in advanced. People must reserve a specific time.
"If you do not arrive within the requested period, you must go back to register again."
SOURCE: Phuket Police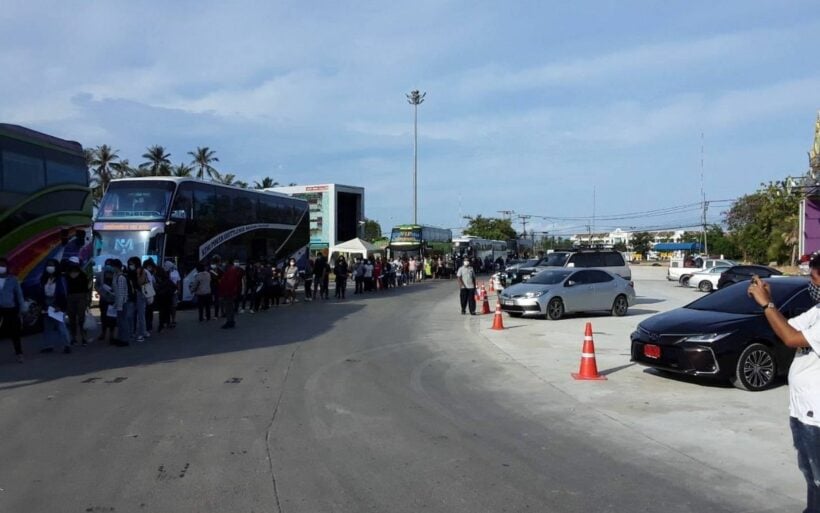 Keep in contact with The Thaiger by following our
Facebook page
.
Hundreds seek Emergency loans from the Government Saving Bank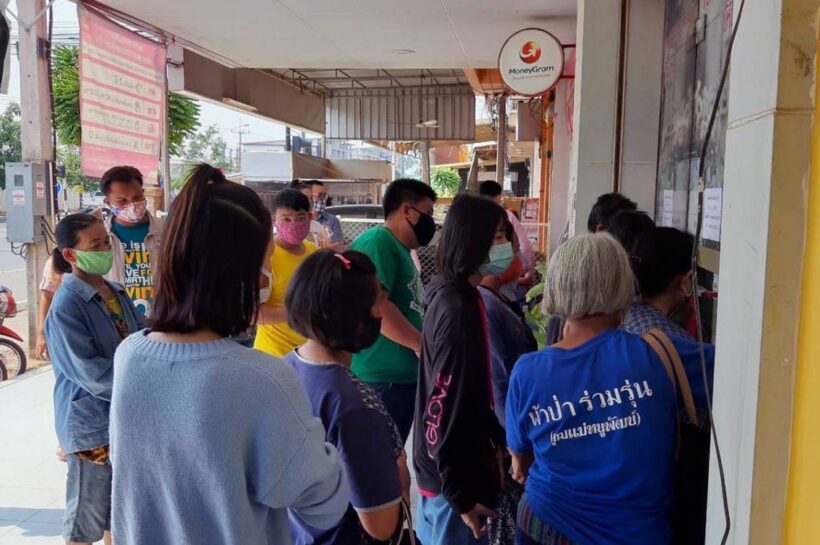 Parn Phet Market Government Savings Bank branch in Mukdahan (north eastern Thailand) reports that hundreds of people have lined up to seek emergency loans from the government to help those affected by the Covid-19 crisis. The queue was stated to have been so long that it stretched out onto the street.
After making their online applications, those applicants were asked for a face to face interview. GSB offers loans of 10,000 and 50,000 baht at low interest rates to self-employed people and those holding paid jobs affected by the crisis.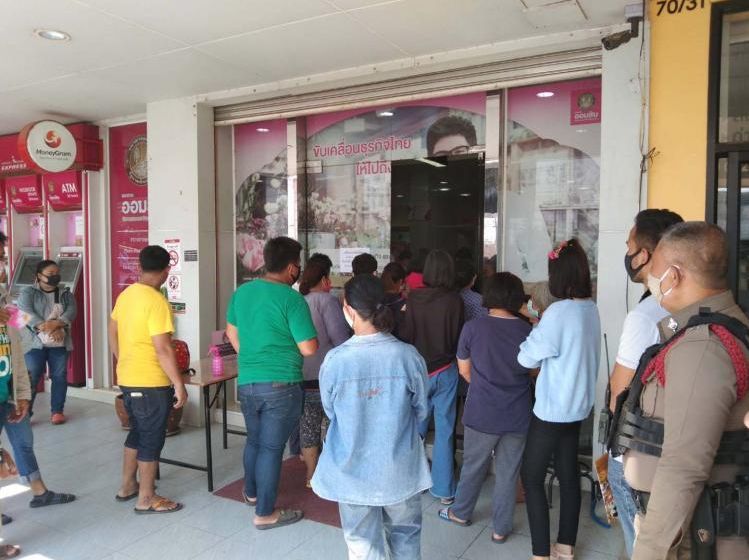 A maximum loan of 10,000 baht can be paid for the self-employed group at an interest rate of 0.1 % over two years, without any payments required for the first six months. Applicants must be Thai nationality, at least 20 years of age, have a residency certificate and contact number. The loan is valid for people who earn no more than 30.000 baht a month, such as traders, sellers, bus drivers, taxi drivers and guides.
In the meantime, persons with fixed incomes can take loans of up to 50,000 baht, which can be repaid over 3 years. This loan requires a guarantor or guarantee of property. To be eligible, a Thai national must have a residence certificate, can show that the Covid-19 outbreak affected his or her income, and is over the age of 20.
The government has set aside 20 billion baht for this stimulus scheme.
SOURCE: The Nation
Keep in contact with The Thaiger by following our
Facebook page
.
Update on Chiang Mai's Covid-19 situation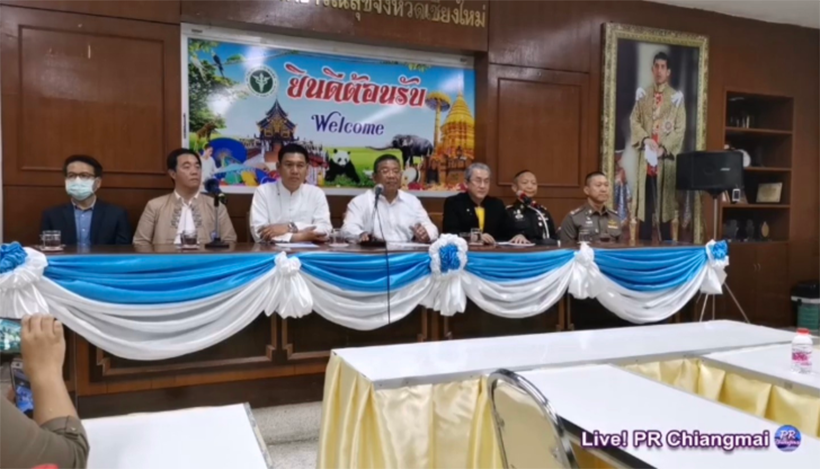 A report of the situation in the Chiang Mai states that at this time there are still no reports of any additional Covid-19 infections being found in the northern city. The total still remains at 40 infected, 38 discharged from hospital, 1 death of a patient who died in the hospital, and 1 patient remaining in hospital receiving medical attention.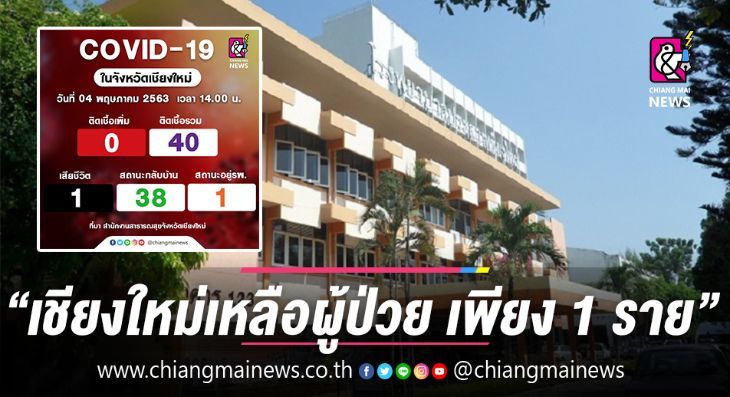 A total of 1,401 citizens were considered high risk personnel. Of that number 1,348 people have now returned home while 53 still remain in quarantine.
Those who travel from Bangkok and suburbs to Chiang Mai – in total, there are now 16,711. Out of that number, 15,825 have completed their 14 day isolation while 886 still remain in home quarantine. 1,509 people who have travelled from "hi risk" communicable areas are being tracked and monitored. There are 9 people still in the local state-run quarantine, 8 at the Nakara Boutique Hotel Chiang Mai and 1 at May Flower Grand de Chiang Mai.
SOURCE: Chiang Mai News
Keep in contact with The Thaiger by following our
Facebook page
.