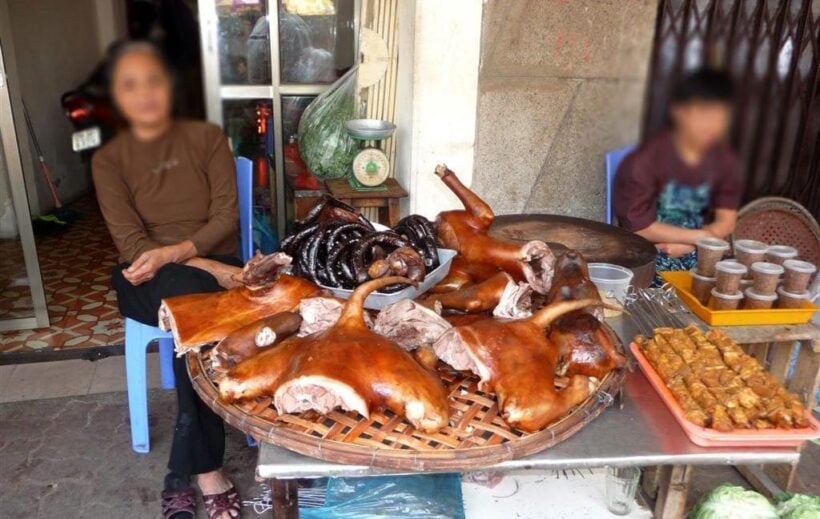 by Paul Kennedy – Viet Nam News/The Nation
An international animal welfare charity is welcoming the news that the city government is considering banning the consumption of dog meat. But only in certain areas.
Humane Society International say it's time for those who make a living from slaughtering and selling dogs to look for another profession, and understand the dangers of selling the meat.
This week Hanoi People's Committee issued a statement saying the practice of dispatching, trading and eating dog and cat meat was cruel and left a bad impression on tourists and expats. They also pointed to the possibility of diseases that could affect people who eat infected meat.
Dog meat, either raw or cooked, can be found in markets and restaurants all over the capital. There are reports of dogs being stolen from homes and sold for consumption.
Embracing the reputation of a "civilised and modern city", Hanoi authorities hope the practice will stop. Stalls selling raw dog meat on Tam Trinh Street in Hai Bà Trưng District are still busy despite the statement.
But Thẩm Thị Hồng Phượng, country director of the Humane Society International, believes those who make a living from catching, slaughtering, transporting and selling dog meat should better understand the consequences surrounding the trade.
"A survey carried out in 2016 revealed that people in the North eat more dogs than people in the South, so there is a transportation trade to carry dogs from the South to the North. About 20,000 dogs are transported every month from the South to the North. Because of that, there is a danger of rabies spreading."
She estimates around one per cent of all dogs in the country carry the rabies disease. She says her organisation wants to help with education, along with re-homing dogs that were in the past destined for the dinner plate.
"Once they have better knowledge of disease control, in the humane ways of treating the dogs, I believe that they will change themselves to a better or a different livelihood," Phượng added.
"For so many years they have had income from that business. I believe those involved in that business are not only the restaurant owners but also the traders, the transporters, the vendors."
Read further HERE.