Gunman kills 3 at Northern Thailand radio station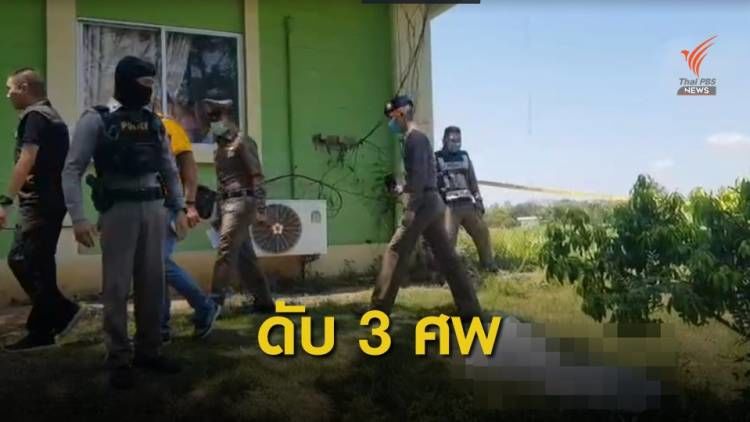 Thai media reports 3 people are dead after a shooting today at the National Broadcasting Services of Thailand radio station in Phitsanulok, Northern Thailand. One other person is injured. Khaosod English reports that the suspected gunman, Win Sonsuk, has already been arrested. He was a staff member at the radio station. He was working as a transmitter engineer.
One of the dead people is the director of the radio station. Another was a senior technician.
Police currently suspect the motive may be a personal conflict with other staff members. He was waiting for police when they arrived at the crime scene. He was carrying two guns at the time of the shooting.
SOURCE: Khaosod English
#เหตุยิงกัน3ศพ#สถานีวิทยุกระจายเสียงแห่งประเทศไทยจังหวัดพิษณุโลก#เจ้าหน้าที่คุมตัวผู้ก่อเหตุเมื่อเวลา 11.00 น.วันที่ 27 พฤษภาคม 2563 ที่บสถานีวิทยุกระจายเสียงแห่งประเทศไทยจังหวัดพิษณุโลก. (สวท.พิษณุโลก) 137/1 ม.5 บ้านคลอง. อ.เมือง จ.พิษณุโลก นายวิม สอนสุข นายช่างไฟฟ้าชำนาญงาน ตำแหน่งนายช่างเครื่องส่ง เกิดอาการคลั่ง ใช้อาวุธปืน ขนาด 9มม. และ .38 รวม 2 กระบอก เป็นอาวุธมีทะเบียนของผู้ก่อเหตุ ไล่ยิงเจ้าหน้าที่ภายใน สวท.พิษณุโลก มีผู้เสียชีวิต คือ 1.นายสานิตย์ บุตรมางกูล ผอ.สวท.พิษณุโลก เสียชีวิตอยู่บริเวณด้านนอกด้านหลังอาคาร 2.นายจิรวุฒิ สุเมธเทพานันท์ นายช่างไฟฟ้า อาวุโส เสียชีวิตอยู่บริเวณกลางห้องโถงของ สวท. และ 3.นายภูมิศรัณญ์ พันธ์ภูมิ นายช่างอาวุโส เสียชีวิตอยู่ภายในห้องจัดรายการวิทยุ นอกจากนี้ยังพบผู้ได้รับบาดเจ็บสาหัสอีก 1 ราย คือ นายปรุง จันทร์แดง ช่างเครื่องส่ง หลังก่อเหตุมือปืนรอมอบตัวอยู่ในที่เกิดเหตุ สาเหตุเบื้องต้นคาดเกิดจากปัญหาส่วนตัวภายในที่ทำงาน#Ch3Thailandnews

Posted by Ch3ThailandNews on Tuesday, 26 May 2020
Keep in contact with The Thaiger by following our Facebook page.
Never miss out on future posts by following The Thaiger.
Another drug bust near the Mekong River, 500 kilograms of cannabis seized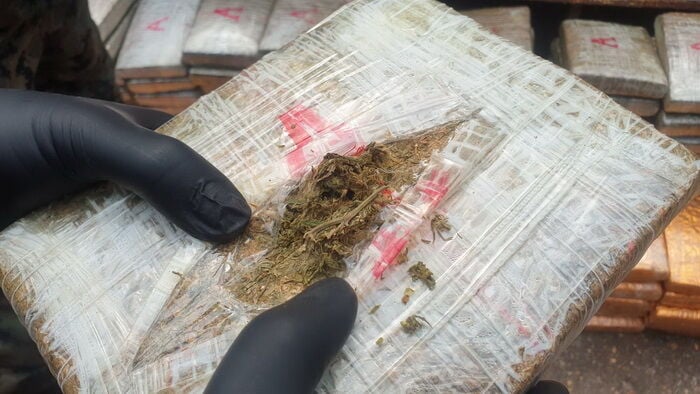 In another drug bust in Northeastern province Nakhon Phanom, police arrested a man and seized 500 kilograms of compressed cannabis. Just yesterday, border patrol police in the province seized 920 kilograms of compressed cannabis from a boat on the Mekong River. In both cases, police suspect the cannabis came from Laos, just across the river.
Police say they searched a black Nissan Navara pickup around 1am in the province's Na Kae district. Police opened the truck's bed cover and found 12 sacks with 500 packages of dried, compacted cannabis. Each package of cannabis weighed 1 kilogram, similar to the previous bust on the river.
28 year old Saravut Butngam was arrested. Saravut previously worked in construction, but has recently been unemployed. He allegedly told police that a man called him with an opportunity to make 50,000 baht. He was told to drive the pickup truck from a petrol station in the Na Kae district to a specified location in the neighbouring province Sakon Nakhon, police say. From there, another driver would take over.
Border police commander Sippanan Sornkhunkaew says he suspects the cannabis seized in the province was trafficked from Laos across the Mekong River. He says he believes the cannabis was planned to be trafficked to Southern Thailand and then smuggled across the border, possibly to Malaysia.
On Sunday morning, police confiscated 920 kilograms of cannabis from a boat on the Mekong River. When police approached the boat, men jumped off onto a smaller boat and fled the scene. The dried, compacted cannabis was wrapped in 1 kilogram packages.
SOURCE: Bangkok Post
Keep in contact with The Thaiger by following our Facebook page.
Never miss out on future posts by following The Thaiger.
Police seize 920 kilograms of cannabis smuggled across the Mekong River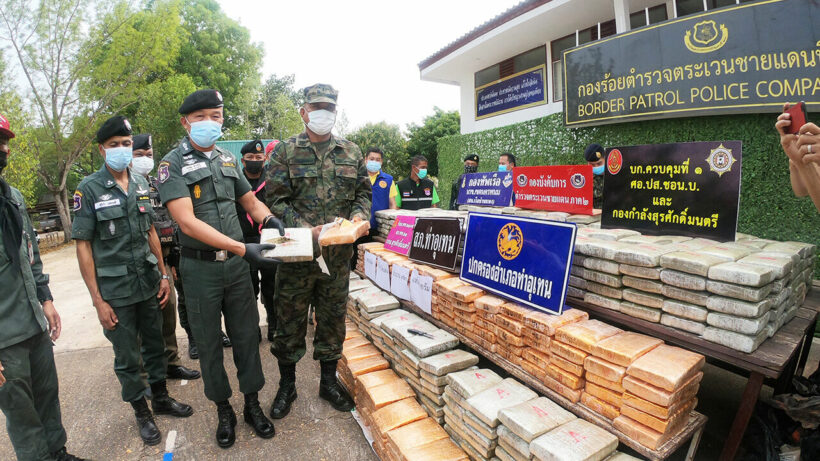 In a major bust on the Mekong River, notorious for drug smuggling, border patrol police seized 920 kilograms of dried, compacted cannabis from a boat along the Nakhon Pathom riverbank, bordering Laos.
Police were tipped off about a large shipment of drugs being trafficked across the Thai-Laos border. Police spotted a boat around 4am yesterday. When police moved in, men onboard the boat jumped onto a smaller boat and sped off. Police found 23 sacks filled with 1-kilogram packages of compressed cannabis.
In the recent months, police have seized more than 5 tonnes of cannabis. While the Thai government has been loosening measures on cannabis, allowing parts of the plant with low traces of the psychoactive component tetrahydrocannabinol, or THC, to be used in food and medicinal products, trafficking cannabis is still illegal. Cannabis with high amounts of THC is still classified as a Category 5 narcotic.
SOURCE:Bangkok Post
Keep in contact with The Thaiger by following our Facebook page.
Never miss out on future posts by following The Thaiger.
Royal Thai Police accused of "ticket" promotion system to buy senior positions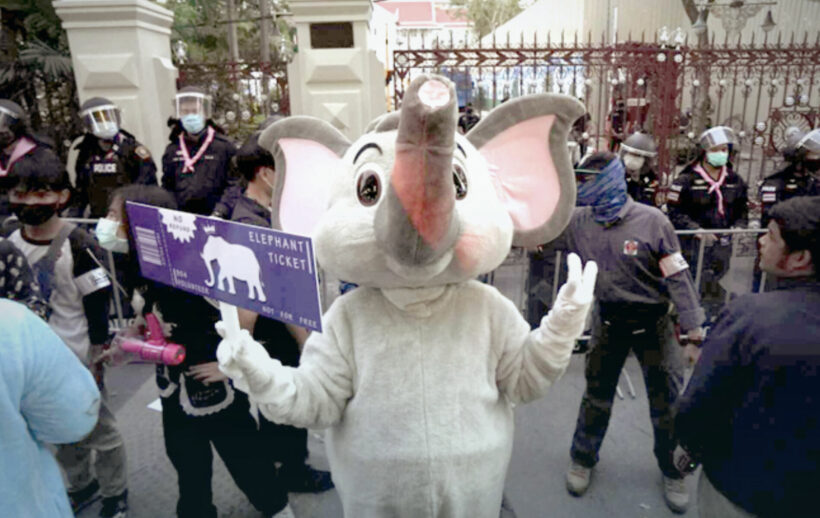 The Royal Thai Police are being accused of using so-called "elephant tickets" to buy their way into promotions and pay their way up the police force's chain of command. The corruption among the police force and the buying of positions without meeting the requirements for a promotion has been a longtime problem, according to the Bangkok Post.
The "elephant ticket" issue was recently brought to light by an opposition MP at a censure debate who said it fast tracked the promotion system and allowed some people who were unqualified and undeserving to raise their rank. Some Thais have protested the "elephant ticket." Many gathered in front of the Royal Thai Police headquarters in Bangkok last week, including one person who dressed up as an elephant.
At the censure debate on February 19, Move Forward Party MP Rangsiman Rome called out PM Prayut Chan-o-cha, who chairs the Police Commission overseeing the Royal Thai Police, and said the prime minister allowed the "elephant ticket" promotions. Prayut later said there were problems within the police force and that he would handle it.
Police who want a promotion need a ticket, which is basically just a reference or a stamp of approval from a senior officer or even a politician or business person. To get an "elephant ticket," some can pay for the ticket. A source told the Post that positions for police superintendents cost between 5 to 10 million baht.
Others can get a ticket by doing favours for their superior or even just serving their superior for a long time, sources told the Bangkok Post. The higher the position a senior officer has, the more tickets they have to give out.
To read the full special report by the Bangkok Post, click HERE.
Keep in contact with The Thaiger by following our Facebook page.
Never miss out on future posts by following The Thaiger.