Symptoms improved for 70% of patients on cannabis treatment – Health minister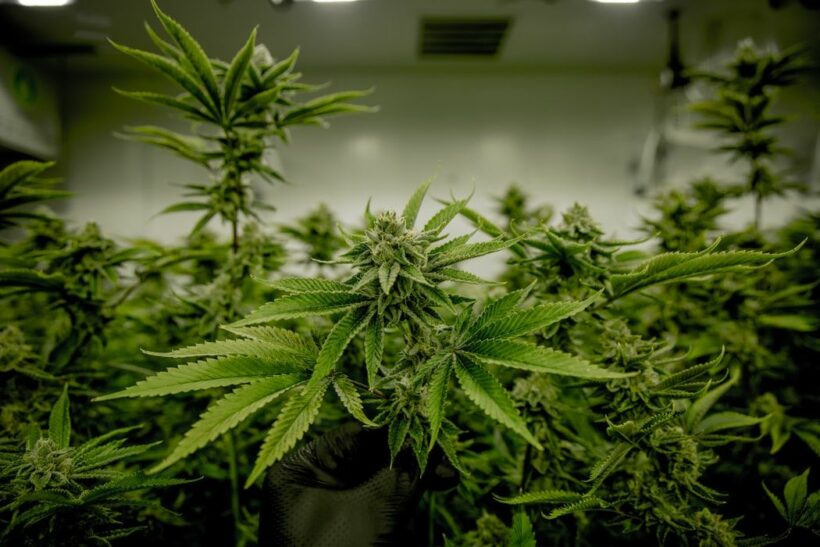 Thailand's pro-marijuana public health minister boasts that symptoms have improved for at least 70% of the country's medical cannabis patients. Thailand's 311 medical cannabis clinics at hospitals have treated more than 14,200 people, most who are diagnosed with terminal cancer, according to Public Health Minister Anutin Charnvirakul.
Other patients using the cannabis treatment are patients with Parkinson's disease, drug-resistant neuropathic pain and insomnia. The Bangkok Post says 98% of the patients have experienced no "side effects," but did not report on what is considered a "side effect" of cannabis.
Many cannabis patients have been treated with the THC:CBD (1:1) extract. THC, which stands for tetrahydrocannabinol, causes psychoactive effects (gets you high) while CBD, which stands for cannabidiol, is being studied for health benefits like treating anxiety and relieving pain.
In a previous report by the Bangkok Post, the National Cancer Institute reported that 14 terminal cancer patients receiving a THC:CBD treatment said their pain was relieved by more than 50%. They also had more appetite, gained waited and slept better after 3 months of treatment, according to a specialist from the Government Pharmaceuticals Organisation.
Anutin has been an advocate for medical cannabis and even planted seedlings at a government grow facility. In a recent training session, Anutin said the ministry will promote the use of medical cannabis to patients who need it.
Department of Medical Services director general Somsak Akksilp says the department is making steady progress in educating health workers on medical cannabis, adding that 11,750 health workers have been trained since 2019.
SOURCE: Bangkok Post
Catch up with the latest daily "Thailand News Today" here on The Thaiger.
Keep in contact with The Thaiger by following our
Facebook page
.
Never miss out on future posts by
following The Thaiger
.
US senators introduce resolution in support of Thailand's pro-democracy movement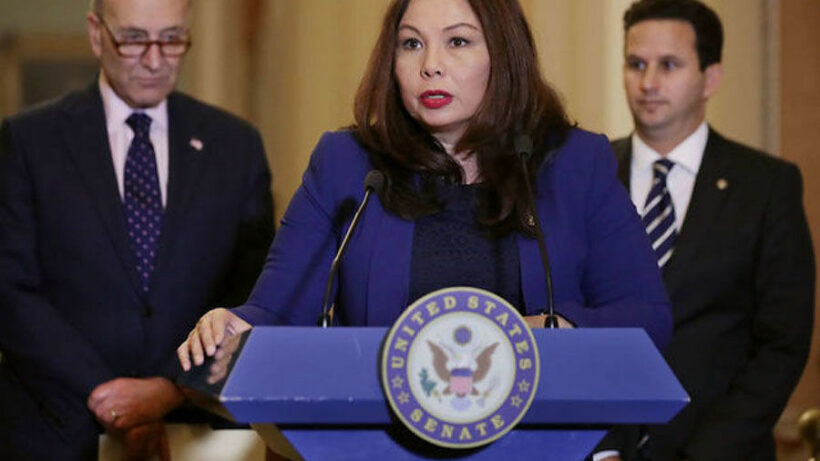 The US Senate has called on the Thai government to end violence against political activists, as it introduced a resolution in support of the pro-democracy movement. 9 members of Congress introduced the resolution, including Thai-American senator Tammy Duckworth, who has previously served in the US military.
"As a Thai-American who fought to protect the right to peacefully protest here at home, I know that both the longstanding, strong relationship between the US and Thailand as well as every individual's inalienable democratic rights are critically important to uphold and defend. Thailand is a strong partner with the US, both in terms of our shared national security priorities and economic relations, and the Thai people have a proud history of democratic reform. I urge Thai leadership to listen to the people and respect the democratic principles at the heart of the government they've worked so hard to form."
A press release from the Senate says the resolution, "underscores the United States' commitment to human rights, democracy and the rule of law in Thailand. The senators' resolution follows recent demonstrations by Thailand's pro-democracy movement, which have been met with violence and repression by the country's monarchy and government."
The resolution says the military-drafted 2017 Constitution is at the root of the problem, accusing it of eroding democracy and the protection of citizens' rights in the Kingdom. It points out that in the 2019 election, PM Prayut Chan-o-cha managed to maintain his grip on power through the support of an unelected Senate appointed by the military. The election is seen by many independent monitoring groups as having been deeply flawed and skewed in favour of the PM and his administration.
The resolution also criticises the dissolution of the opposition party, Future Forward, saying that process too was flawed and based on spurious accusations. It also claims the Thai government has not done enough to investigate the enforced disappearances and killings of Thai political activists elsewhere in Asia.
The government's response to the ongoing political protests has also come in for criticism, with the resolution saying it consists of, "intimidation tactics, surveillance, harassment, arrests, violence and imprisonment", prompting UNICEF to voice concern over the risks to children attending political rallies.
Meanwhile, Senator Bob Menendez says pro-democracy activists in Thailand are only seeking what's fair.
"Thailand's reformers are not seeking a revolution. They are simply yearning for democratic changes to their country's political system, for freedom of speech and assembly, and for Thailand to be a part of the community of democratic nations."
SOURCE: Nation Thailand
Keep in contact with The Thaiger by following our
Facebook page
.
Never miss out on future posts by
following The Thaiger
.
Covid-infected Thai returnees: Myanmar hotel in the spotlight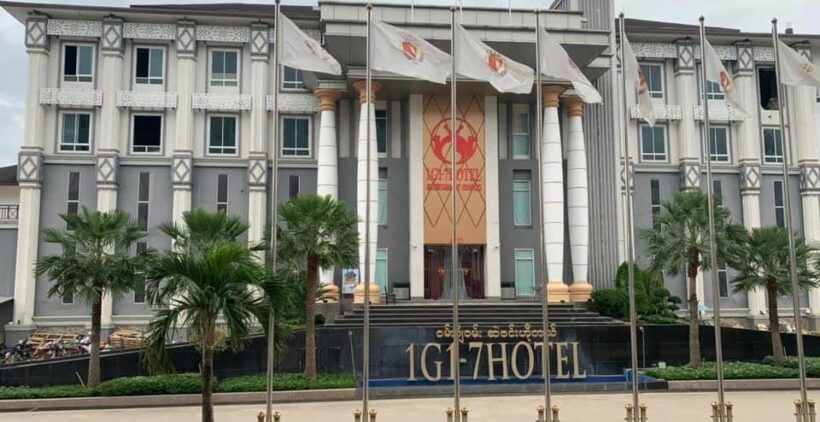 With the news that at least 10 Covid-infected Thai women working in Myanmar bypassed health checks and quarantine on their return to the Kingdom, all eyes have turned to their place of work. Interest in the 1G1-7 Hotel has grown as a result of a resident in the border town of Tachileik claiming it is used as a centre for prostitution. The luxury, 100-room, 4-storey hotel is only 1.5 kilometres from the border checkpoint in Chiang Rai's Mae Sai district.
The Bangkok Post reports that it's been operational for 4 – 5 years and is one of the largest entertainment complexes in Tachileik. According to a local source, its clients are high-end guests, with room rates going from 1,200 baht to 10,000 baht a night. The hotel has a pub, bar, and disco on the ground floor, with over 20 VIP karaoke rooms on the second floor. The cost of hiring a karaoke room ranges from 500 to 2,000 baht an hour.
According to the Bangkok Post report, the hotel is a joint venture between Thai, Burmese, and Chinese investors. It's understood one investor from China has the largest stake in the entertainment complex.
The venue is reported to have at least 180 Thais working there, with reports that Thai women are very popular with its clientele, who are described by the Tachileik resident as, "fat military generals from Yangon". However, with Covid-19 cases escalating in the town, many of the workers fled, sneaking back into Thailand at various points along the porous border, bypassing health checks and quarantine. All returnees have since tested positive for Covid-19 and are now in quarantine, while officials trace hundreds of people who came into contact with them. One of those contacts, a Chiang Rai man, has also tested positive for the virus.
Keep in contact with The Thaiger by following our
Facebook page
.
Never miss out on future posts by
following The Thaiger
.
Thailand News Today | Burmese border #&#!!!, Charges for Penguin, 9 dead in floods | Dec 4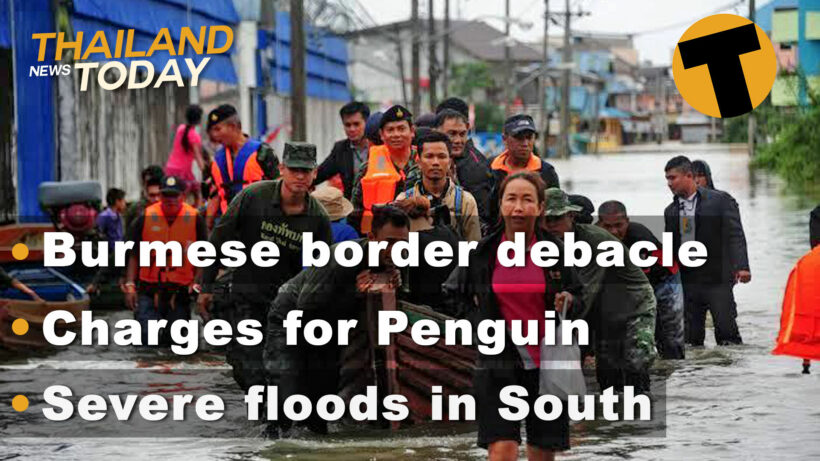 Thailand News Today, coming to you from the relatively dry Phuket, compared to the horrible flooding in parts of southern Thailand.
5 shot and in critical condition after gang clash in Phitsanulok
5 people have been shot and critically wounded in what police believe to be a turf war between 2 rival gangs in Phitsanulok, Central Thailand.
Police say gang members attacked another gang in the Wang Thong district because they were on "their territory." Police say the alleged attackers threw ping pong bombs and fired shots at the rival gang members. The victims were reportedly found with several bullet wounds and are now in critical condition. Police are continuing their investigations into the attacks and shootings.
Covid-19 spread through commercial sex at Myanmar hotel, border resident claims
A resident of Myanmar's border town Tachileik claims the recent Covid-19 outbreak has spread at a commercial sex venue parading as a hotel. 10 Thai women have so far tested positive for the coronavirus after returning from the location they had worked at. Some confirmed they worked at the 1G1 Hotel.
A local resident has told local media that a group of "fat military generals" from Yangon, where infections continue to rise, had sex with Thai women working at the venue.
The payment for services was up to 10,000 baht for the Thai girls working there.
Meanwhile, a Facebook page that appears to be linked to the hotel advertises jobs for "beautiful women." One post offers a 3 day position to earn 30,000 baht, saying the "entertainment" job has "high class business customers."
150 Thai workers ask to be allowed home from Myanmar's virus-hit Tachilek
The Department of Disease Control says up to 150 Thai nationals have now applied to return from Myanmar, as Covid-19 cases rise in the Burmese border town.
The requests come as health officials attempt to trace hundreds who came into contact with a number of Covid-infected Thai women who crossed back into the Kingdom illegally, bypassing health checks and quarantine.A man in Chiang Rai who had contact with the women has since tested positive for the virus and we're awaiting the results of many more tests as of today.
A total of 10 women, all of whom were carrying the virus, are believed to have made the illegal crossing. 2 of them subsequently boarded flights to Bangkok and Phitsanulok.
The Thai military is working with other relevant agencies to block the border crossing at the second Thai-Myanmar Friendship Bridge, in the Mae Sai district of Chiang Rai. At least 80 officials, accompanied by additional troops, are being deployed to check illegal border crossings. #gateshutafterhorsebolted
Thai Constitutional Court official files contempt charge against protest leader
A student protest leader is facing charges of contempt after he made statements on Facebook critical of the Constitutional Court ruling to acquit PM Prayut Chan-o-cha.
Tuesday's ruling allows the Thai prime minister and former Army General to continue occupying a military-owned residence. Critics have argued that allowing Prayut, a retired general, to say at the Army residence is a conflict of interest.
Now the director of the Constitutional Court's litigation office has filed the charge against pro-democracy protest leader known as Penguin. The director says the Facebook posts were defamatory to the court and had tarnished its reputation.
In addition to the Facebook posts, Montri says the protest leader made an offensive speech following the court ruling at the Lat Phrao intersection in Bangkok. Police are now investigating the claims to determine if charges should be pressed.
Khao San Road remains empty during the day, night crowds keep the street alive
Without foreign tourists at Bangkok's famous backpacker mecca, Khao San Road has gone quiet.
While the nights draw local crowds, it's definitely not what it used to be and the once bustling street remains largely empty during the day time.
The deserted street during the daytime remains an ongoing problem for traders who have long term rents with big price tags attached… reflecting the busy international traffic that used to mingle there.
The area has had a reputation for being an eclectic party street with noisy hostels, cheap alcohol and balloons filled with laughing gas but without the foreign tourists, many of the hotels on the street are now closed with most of the traders unable to quickly adapt to the new market conditions.
Severe flooding in southern Thailand kills 7
Heavy flooding in the south of the country has already killed 7 people, while many others have been injured.
The worst of the flooding, which has affected 9 provinces, is in Nakhon Si Thammarat, which has had over 6 days of persistent rain. In total, the floods have affected over 261,000 households and tens of thousands of people. Vast areas of land are submerged, with road and rail travel severely affected in places.
Other southern provinces hit by the heavy rain and flooding are Surat Thani, Phatthalung, Trang, Satun, Songkhla, and Pattani, Yala and Narathiwat down along the Malaysian border.
Keep in contact with The Thaiger by following our
Facebook page
.
Never miss out on future posts by
following The Thaiger
.