Round 'em up, ship 'em out – another 500 foreigners arrested in crackdown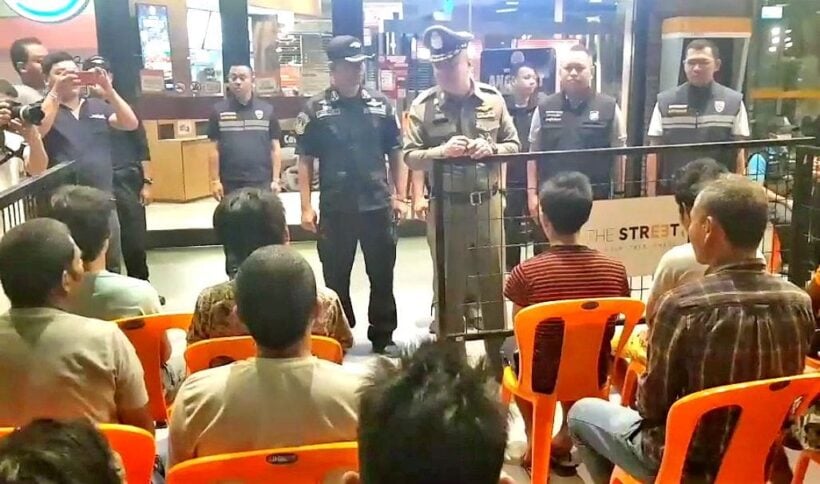 Authorities have rounded up another 503 foreigners for overstaying their visas, entering Thailand illegally and assorted other crimes during simultaneous searches at 217 locations around the country early today.
Immigration Police Bureau deputy chief Pol Maj-General Itthipol Itthisarnronnachai says the raids are part of the government's crackdown on transnational scammers, card skimmers and drug traffickers, as well as foreigners breaking immigration laws.
The searches took place at locations including four schools, 73 private firms and shops, six service establishments and 50 hotels and hostels, he said.
4 Iranians,3 Lao, two Russians and an American, an Indian, a Chinese and a Mongolian were charged with overstaying their visas.
94 Lao, 86 Burmese, 68 Cambodians, 2 Vietnamese and an Indian and South Korean were charged with entering the country illegally.
There was an additional 121 Thais, 50 Cambodians, 40 Burmese, 6 Lao, 6 Vietnamese, 3 Indians, 2 Filipinos, 2 Chinese, 2 Australians, 2 Russians and a Briton, a South Korean, a Greek and a German who were detained on numerous other charges.
He said 43 separate operations were included in the clampdown and resulted in the arrest of 6,971 foreigners.
Last year in October, following a deadline set by the Thai PM to seek out, arrest and deport overstayers and criminals, it was declared there were no more illegal foreigners living in Thailand.
SOURCE: The Nation


Read more headlines, reports & breaking news in Thailand. Or catch up on your Thailand news.
Deputy PM promises 'no coup' after the election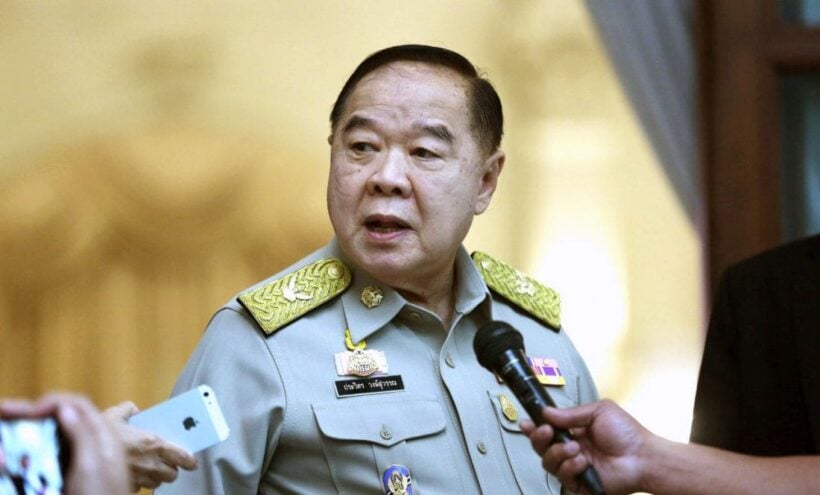 Thailand's Deputy PM General Prawit Wongsuwan is hosing down speculation that there could be another coup after the March 24 general election if the votes don't support the pro-military parties.
Responding to questions about his role in maintaining peace and order around this Sunday's election, General Prawit says there is "nothing to worry about", including the situation in the three southernmost provinces of Yala, Pattani and Narathiwat.
He says there are no special orders to officials in charge of security affairs.
He told reporters to ask the Ruang Palang Prachachart Thai party founder Suthep Thuagsuban about his reported threat to stage street protests if the pro-Thaksin Pheu Thai party wins the election (again).
General Prawit dismissed speculation that he would act as a negotiator to help form a coalition government with the pro-military Palang Pracharat party. He also said that PM Prayut Chan-o-cha had not asked him to stay on after the election.
On the eve of the election (tomorrow), most parties will hold major campaign rallies in Bangkok and in their respective political strongholds, according to Thai PBS.
It is unlikely that any single party will win a majority of the lower house seats and will need to negotiate a coalition with other parties. If no party wins a majority of lower house seats, the combined houses of parliament, which includes the military-appointed upper house, will sit to choose an 'outsider' prime minister which could be almost any Thai citizen.
King awards rescuers of Mu Pa football team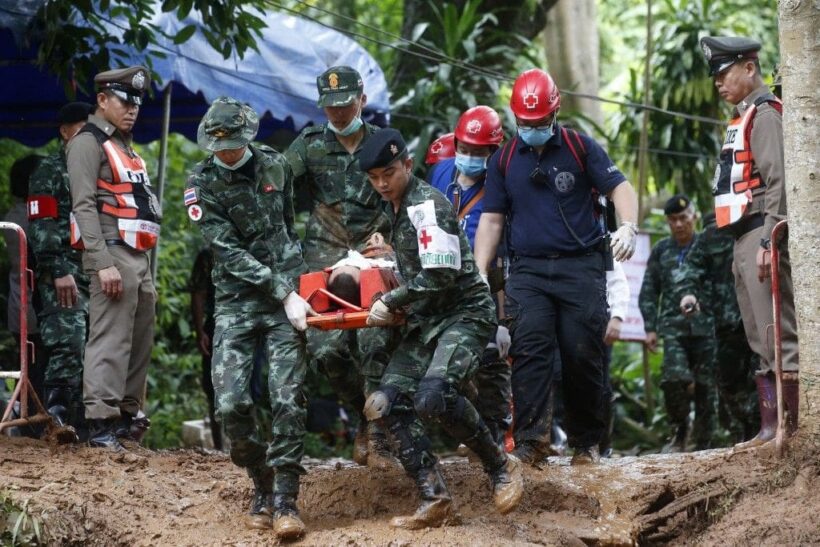 His Majesty the King has awarded 187 people, including 115 foreigners, with The Most Admirable Order of the Direkgunabhorn for the rescue of the Mu Pa football team last July.
The announcement in the Royal Gazette reads the government recognises that those people who helped those in peril performed good deeds and deserved to be honored.
They will be granted the Most Admirable Order of Direkgunabhorn.
The Most Admirable Order of the Direkgunabhorn was established by King Bhumibol Adulyadej (Rama IX) on July 22, 1991 to be bestowed upon those who have rendered devotional services to the Kingdom of Thailand.
The title Direkgunabhorn (ดิเรกคุณาภรณ์) roughly translates as "Noble order of abundance and quality."
SOURCE: NNT | Wikipedia
Mu Pa football team helps recover equipment from Tham Luang Caves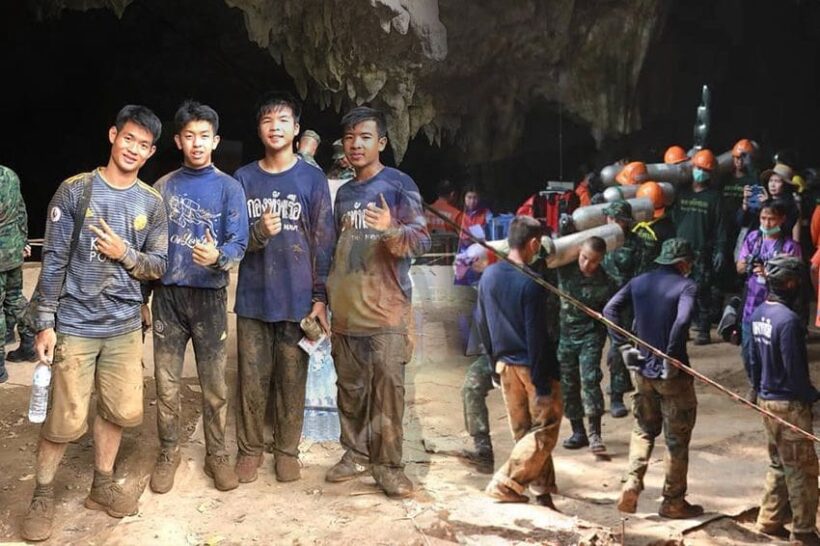 PHOTOS: The Chiang Rai PR Office
The 27 year old Coach Aek (left), and other members from the Mu Pa (Wild Boar) football squad, were on hand to help recover equipment from the Tham Luang Caves this week.
Chiang Rai's Tham Luang caves, the scene of the international cave rescue last July, remains closed to all visitors since February 19 to allow Thai Navy SEALs to enter and recover equipment left in the five kilometre cave network after the rescue mission.
Read more about the retrieval mission HERE.
The Chiang Rai PR Department reports that navy seals and officers from the Department of Disaster Prevention and Mitigation have been recovering equipment and 40 oxygen tanks left inside the cave since the rescue of the 13 team members last year.
See The Thaiger's short video of the rescue mission HERE.