Rawai locals protest against high Dengue rates in southern Phuket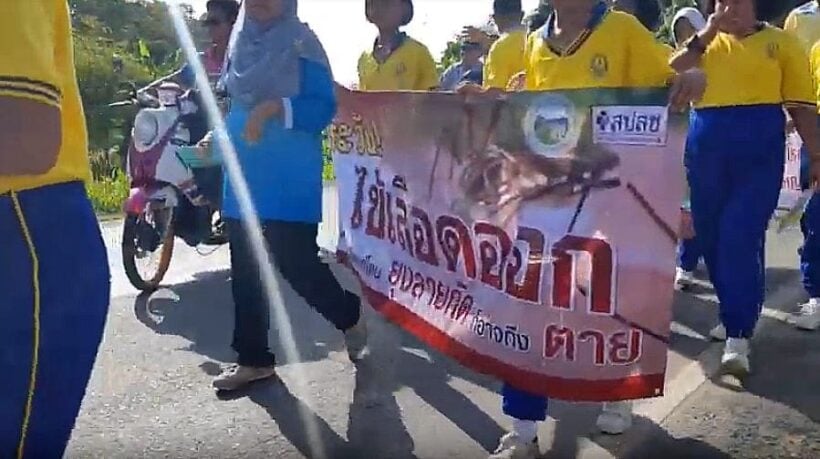 VIDEO: Nicholas Spaethe
Rawai and Nai Harn locals in southern Phuket, along with the Rawai Or Bor Tor Mayor Aaron Solos, protested this morning about the rise in Dengue Fever cases in the area.
They say they are concerned about the high rates of contracting the virus in the south of the island and are calling on the provincial government to pay more attention to preventative resources, including spraying and educating locals to maintain the areas around their house to remove the breeding grounds for mosquitos.
In 2018 there were two deaths from Dengue in Phuket – one in Rassada and one in Mai Khao.
The province of Phuket has recorded the highest death rate due to dengue fever nationwide. Of the 357 reported infections, two infected people have died. (Data: First half of 2018)
Phuket figures highly in the statistics due to its high transient population and the many mangrove areas along the east coast, a favorite breeding ground for mosquitoes. The island is also littered with old tin mine lakes that are filled with stagnant water.
Last year Thailand health officials say the country topped the 50,000 mark with dengue fever cases.
According to the Ministry of Health's Bureau of Epidemiology, a total of 50,079 cases have been reported from the 77 provinces up to August 27. 65 of those cases died from complications related to the disease.
Dengue fever is an infectious disease carried by mosquitoes in mostly tropical zones around the world. Dengue used to be called "break-bone fever" because it often causes severe joint and muscle pain that patient's describe feels like bones are breaking.
People contract the dengue virus from the bite of an infectious Aedes mosquito – you can't get dengue from another human.
Read the Top 10 ways to avoid contracting dengue HERE.


Read more headlines, reports & breaking news in Phuket. Or catch up on your Thailand news.
Boating no-go zone set for  HRH Princess Sirivannavari visiting Phuket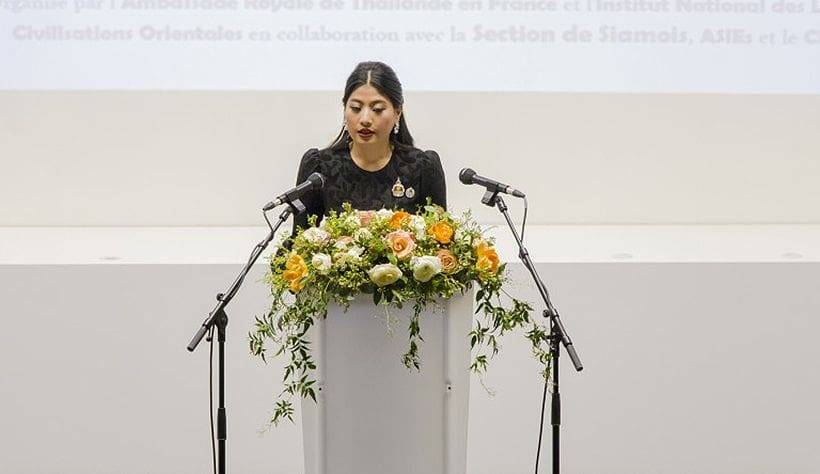 Her Royal Highness Princess Sirivannavari Nariratana is visiting Phuket today to inaugurate a new marine research vessel. A boats no-go zone has been set.
The Phuket Marine Office has announced "Her Royal Highness Princess Sirivannavari Nariratana is visiting Phuket today to inaugurate the new marine vessel at the Phuket Marine Biological Centre (PMBC)"
"The official ceremonies is from midday to 5pm,  No boats may enter in the special zone during HRH Sirivannavari's visit from midday to 5pm which are…
1. Latitude 7º48'42.36" North Longitude 98º22'21.70" East
2. Latitude 7º48'01.74" North Longitude 98º22'08.56" East
3. Latitude 7º47'49.25" North Longitude 98º24'33.99" East
4. Latitude 7º47'03.49" North Longitude 98º24'12.01" East?
For non-nautical types, here's a more helpful map. The exclusion areas are between the PMBC and Koh Lon in Chalong Bay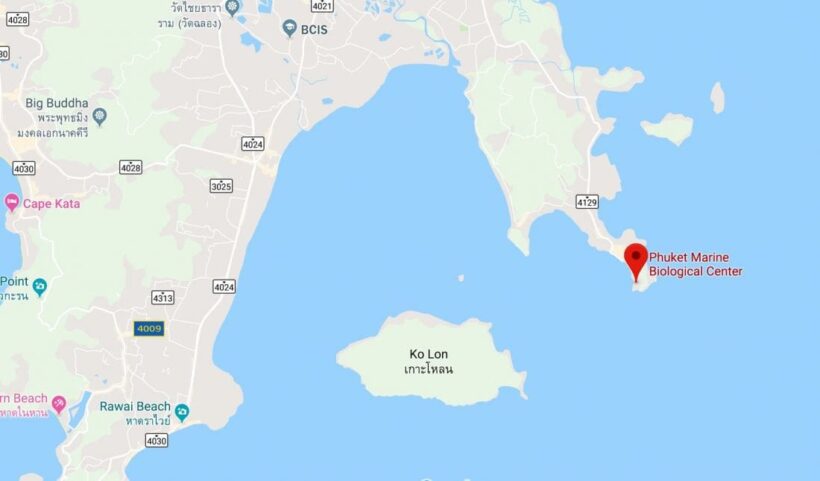 UPDATE: Water truck driver presents himself to police after motorcycle death on Kata hill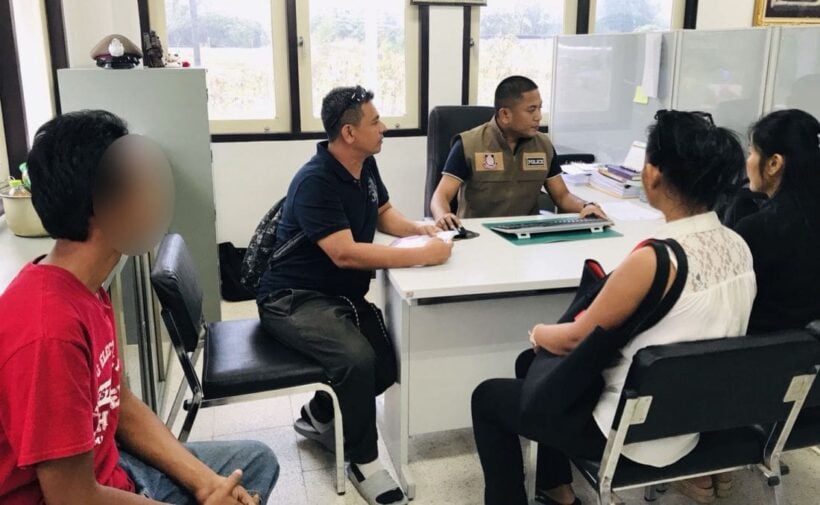 A water truck driver has presented himself to Karon Police after yesterday's road accident on Kata Hill that killed a female motorcycle rider.
She died after skidding on oil spilled on the road, falling off the motorbike and being crushed by a water truck in Kata last night. Two others motorists following being also crashed and sustained injuries.
Read more about yesterday's incident HERE.
This morning the water truck driver, Apichart Sripan, has himself to Karon Police for questioning over the incident.
Karon Police report that a drug and alcohol test has been conducted returning a zero result. But he has been charged with reckless driving causing injury and death.
In our earlier report, police say witnesses report the truck stopped 100 metres down the road. They say the driver got out of the truck to inspect the wheels. Witnesses tried to take photo of him but he got back into his truck and sped away.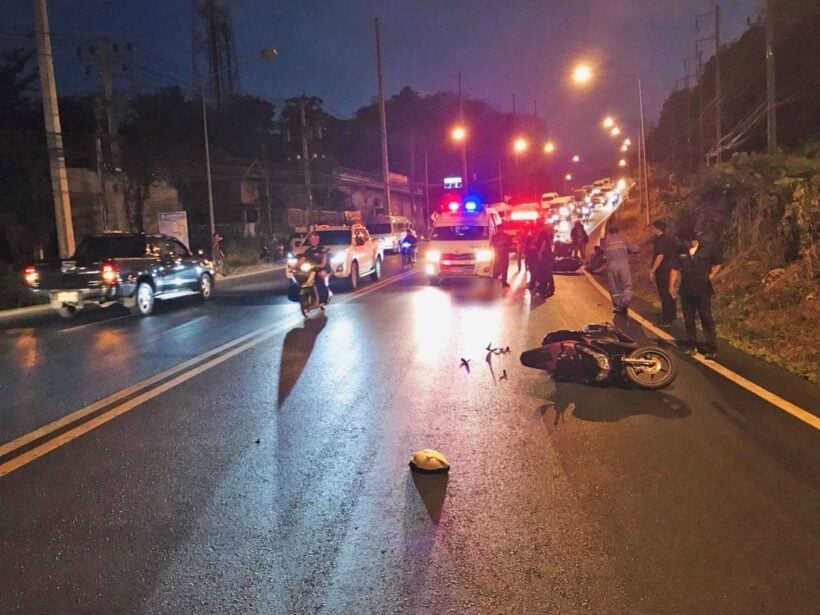 68 Ridley's sea turtles hatched on Phang Nga beach – VIDEO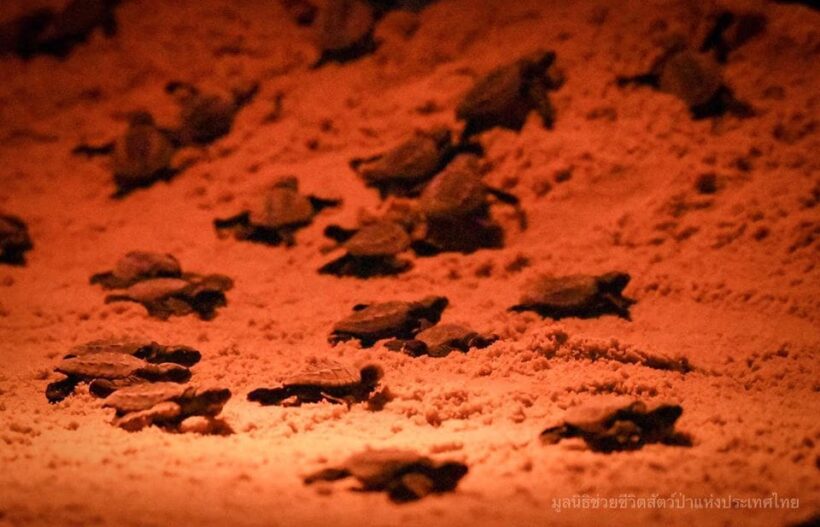 PHOTOS/VIDEO: The Wild Animal Rescue Foundation of Thailand
68 Ridley's baby sea turtles have hatched on Tha Sai Beach in Thai Muang, Phang Nga and made their way to the sea last night.
Ridley's sea turtles, a protected species in Thailand, have returned recently to Phang Nga beaches to breed over the past few months following a 23 year absence.
Read more about the return of the Ridley's turtles HERE.
Last night 68 baby Ridley's sea turtles, from 81 eggs survived, hatched and headed straight for the Andaman Sea. Two of them didn't hatch and 11 eggs weren't fertilised.
Bon voyage little turtles!